Number one, Milorganite is not made out of No. 2. Let's get that straight from the get-go.
Despite what you may have heard, this Milwaukee-made fertilizer does not contain human feces.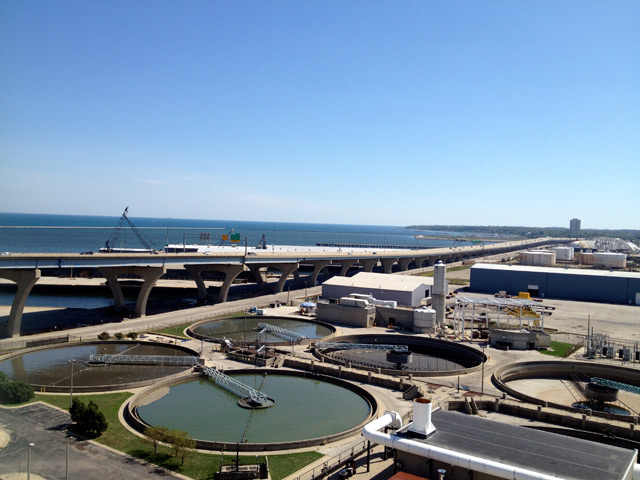 SCROLL TO THE BOTTOM TO SEE MORE IMAGES
On a tour of the Jones Island plant, Milwaukee Metropolitan Sewerage District agency services director Jeff Spence and public information manager Bill Graffin wanted to dispel that myth at the start.
It is sorta true, however, if you believe that you are what you eat. Let me explain.
Three thousand miles of household laterals and another 3,000 miles of sanitary sewers send water and liquid waste to the MMSD via the sewer system. The deep tunnel project, which is 28.5 miles long, serves as an overflow storage system that can hold up to 521 million gallons.
The water is pumped to two plants – one on Jones Island and the other in Oak Creek – and at Jones Island it first undergoes a screening process that removes objects of all sizes, like towels, gravel and sand.
That water then moves to a series of circular holding tanks (pictured above) for a process called primary clarification. Here solids sink to the bottom, and oils and grease rise to the top for skimming.
The next step is where Milorganite (a smashing together of Milwaukee Organic Nitrogen) really begins to happen. The water flows from the primary clarification pools to long storage channels where biological treatment takes place. These pools of churning water are murky, and tiny solids can be seen. But that's not human waste. It's bacteria – like aspidisca, arcella, vorticella and others – that breaks down the organic material in the water.
As we gaze at the water, Graffin explains that the murkiness is the coagulation of the microscopic bacteria, which live a very short lifespan in the water. About a fifth of the bacteria comes out to enter the Milorganite-making process and the rest is reintroduced to the churn.
So Milorganite is actually the dead bacteria, not poop (which is the bacteria's food).
"The bacteria require a tremendous amount of air and that's where most of the energy cost comes from, pumping these big tanks full of air," says Graffin.
Behind us is a low building with a sign that reads "Mixed Liquor Gallery." Spence and Graffin chuckle graciously at my booze jokes, as if they hadn't heard them a million times before, then explain.
"South Shore is a different kind of plant, it's an anaerobic digestion plant," says Spence. "So what we have down there is a breakdown of solids, digested solids. They're shipped back up here. Milorganite is made of two different types of sludge: digested and waste-activated. You've got flows coming in – water that's processed here and water that's processed at South Shore – and it comes together (in the Mixed Liquor Gallery) in a certain percentage and all those bugs make up Milorganite."
Entering the manufacturing building – it's the large one you can see from the Hoan and from Summerfest, with the big smokestack on top – I'm immediately reminded of the industrial scenes in Antonioni's film, "Red Desert."
There are rows and rows of pipes of all sizes, the din of machinery, darkness illuminated by a yellowish light.
"I just marvel at this place from an engineering perspective," says Spence. "For something that seems so simple, there's so much that's going on here.
"As you walk through you'll see a lot of duplication of systems, from filter beds to dryers. There are 24 belt filter press beds and we've got 12 dryers, and it can all be managed depending on flow; how much you've got coming into the plant. We don't get to run 12 dryers until the heavy season, which is from January through April or May (when) we have so much flow coming through.
"There's a lot of redundancy ... to deal with volume."
Spence adds that the repetition of systems also allows the plan to run continuously while being able to keep everything in good working order, too. The Milorganite itself is extremely abrasive and takes a toll on machinery, requiring constant upkeep.
During summer, the plant produces an average of around 105 tons of Milorganite a day. During other parts of the year that average can go up to nearly 200 tons per day. MMSD expects to make about 45,000 tons of Milorganite this year.
Milorganite was first sold for commercial use in 1926 and its popularity soared in the following decades. It is now sold across the U.S., Canada and the Caribbean. It exceeds the criteria for the EPA's "Exceptional Quality" rating and is certified by the USDA because it is made from renewable sources. It's production is among the largest recycling programs in the world.
I express my surprise at how few people I've seen so far, both outside and inside, and Spence says, "It's such a large facility but you don't see a lot of folks. Most of the folks you'll see are maintenance folks, repair guys."
Graffin adds that there are about 220 employees here. Scientists and other employees work at MMSD headquarters on Seeboth Street in Walker's Point.
We head to the top of the building and work our way back down. From the roof – which offers amazing views of Milwaukee in every direction – the Hoan Bridge seems almost so close you could reach out and touch it. It also provides a perfect place to get an aerial view of the systems at the Jones Island plant.
Up here there are solar panels, which help run the plant. Recaptured methane is also used to defray energy costs.
After snapping more than a few pictures and getting an "aerial tour" of the plant, we go back inside, passing a floor with a relatively low ceiling. On the access door, which is partially ajar, there is a plain engraved sign that reads "Penthouse."
We stop to view the belt filter presses first. Here, a series of wide, flat beds are covered in Milorganite. It's sopping wet on one end and almost completely dry on the other. The water is pressed out so that less than 10 percent moisture is maintained. At the end, rollers squeeze out some more, dropping the product down a few floors to the dryers.
Twelve dryers may not sound like much, but each dryer is a giant horizontal cylinder that looks like it might be longer than your average freight rail car. The noise and the heat in this part of the plant verges on intense.
Here I finally get an answer to a question I've had since I was a child visiting my grandparents on the far end of Walker's Point. "What's that smell?" That corn-ish, somewhat acrid odor is the scent of Milorganite being made!
Graffin leads us to the north end of the first dryer, where there's a round door that reminds me of a coffee roaster. He opens the door and we can see the nearly finished Milorganite swirling around. Sticking in a ladle, he draws out some pellets and I can see that they are not uniform in size.
Different sized pellets are destined for varied uses. Tiny ones – or greens grade – work perfectly on golf courses, bigger ones are good for residential/retail use and some Milorganite is sold to other manufacturers, too.
"We sell different nitrogen percentages to those markets, as well," says Spence. "So at some points of the year we produce a product that's six percent nitrogen. At this time of year we can't get to six and we don't add anything to get it up to six so we market it as a five percent nitrogen.
"Nitrogen content is an effect of what's coming in and with any treatment process you've ammonia coming off of it that's carrying away nitrogen. At hotter times of the year ammonia's coming off at faster rate so you've got less nitrogen."
Inside, everything is monitored by two workers – the day of my visit they were both named Andre – seated in an air-conditioned room full of screens monitoring the facility.
Outside, we can see the silos that store the finished Milorganite and like agricultural silos, care must be paid here to avoid hot spots. Next to the silos a covered hopper car is ready to be filled with Milorganite.
The water that came into the plant at the start of the process? After it left biological treatment, it was disinfected and neutralized before returning to Lake Michigan. Often, a gathering of fishermen in boats – especially at South Shore – marks the site the outflow, where the warm water attracts fish.
When we stopped to see the site of the outflow on Jones Island, we peered into one of the pools of water waiting to go back to Lake Michigan. A seagull floated on the water's surface. Spreading its wings, it lifted itself into the air, leaving behind a contribution of its own. The water is now truly ready to go back to Lake Michigan.
System monitor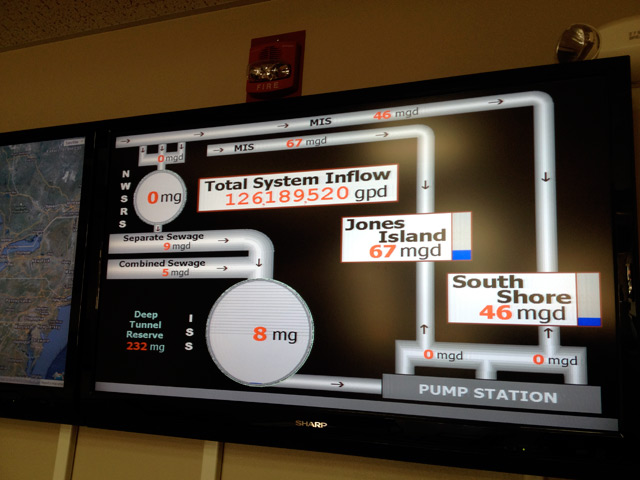 MMSD control room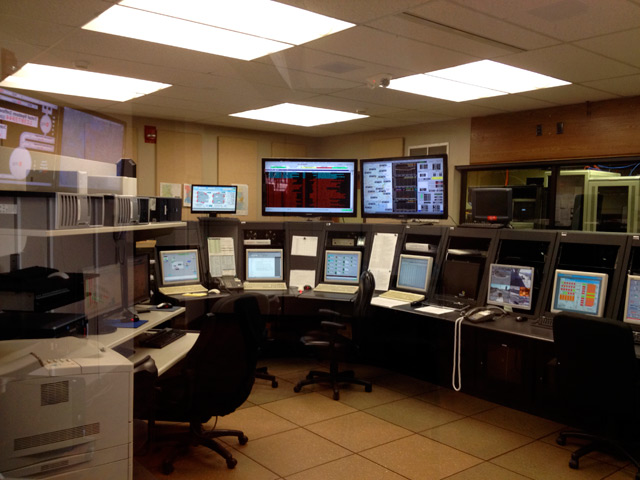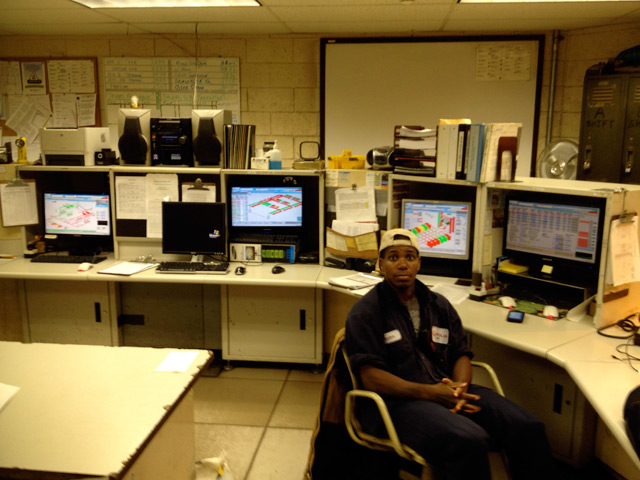 Penthouse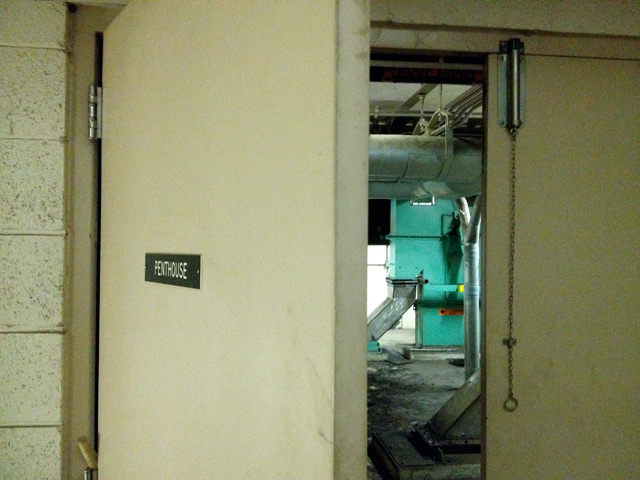 Rooftop solar array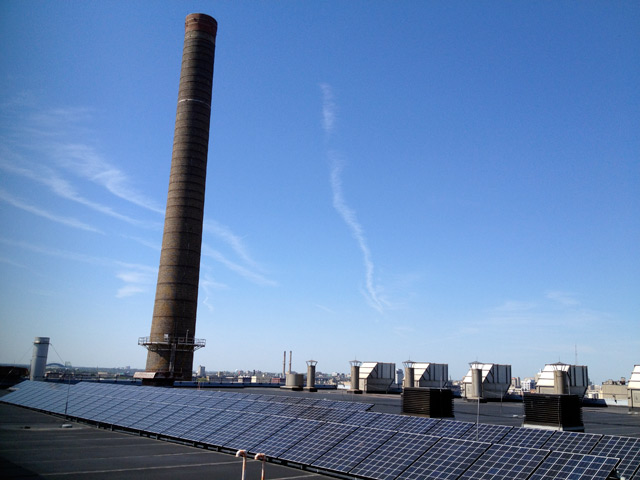 Storage silos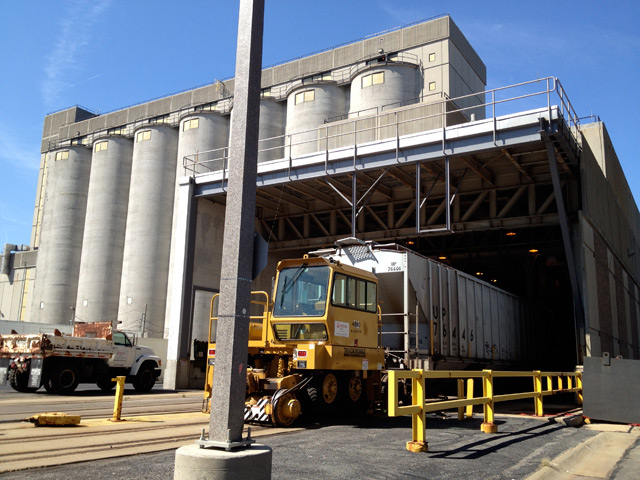 Mixed liquor gallery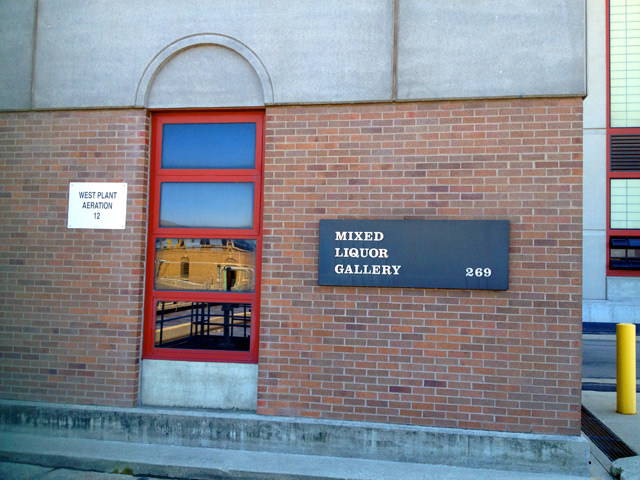 A panoramic view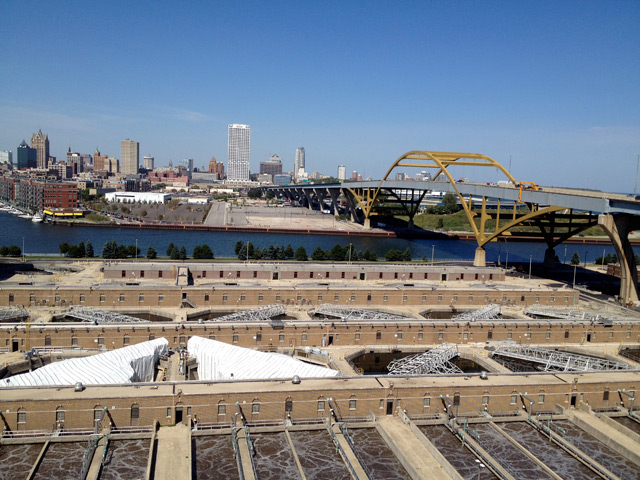 Clarification tanks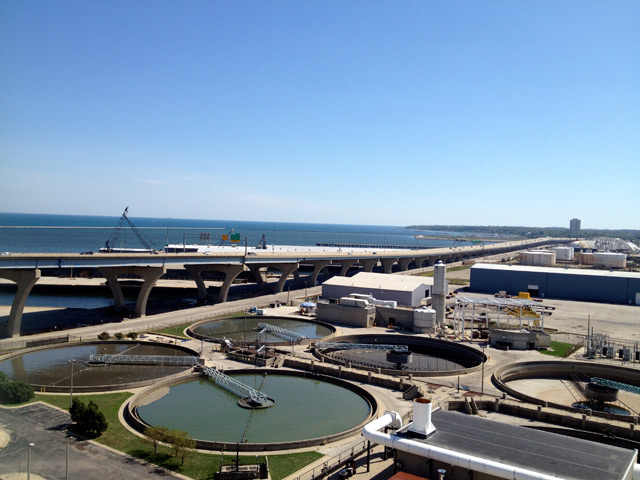 Biological treatment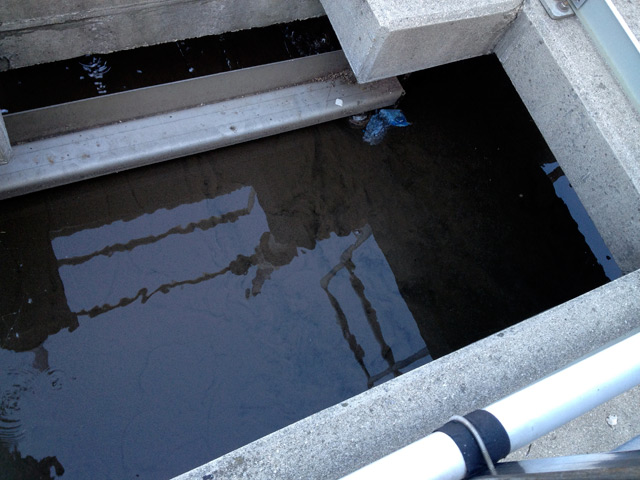 Neutralized tanks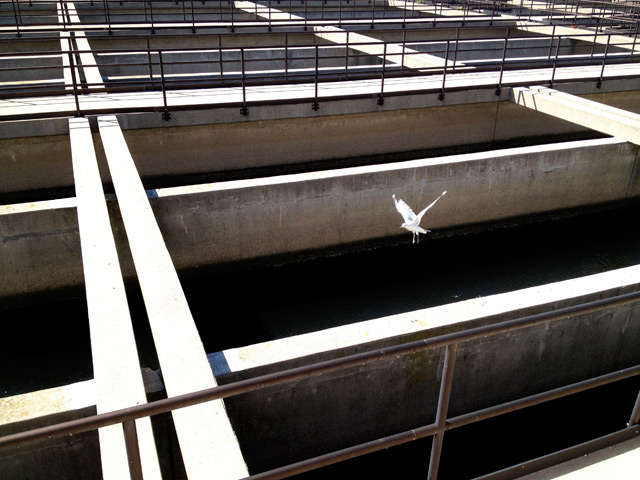 Incoming screening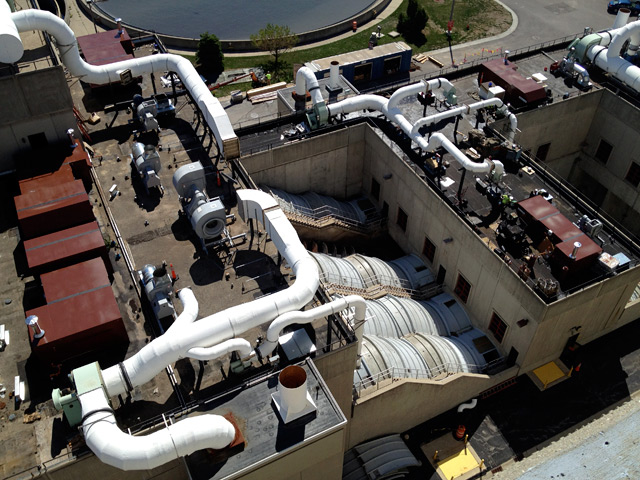 Lake return outflow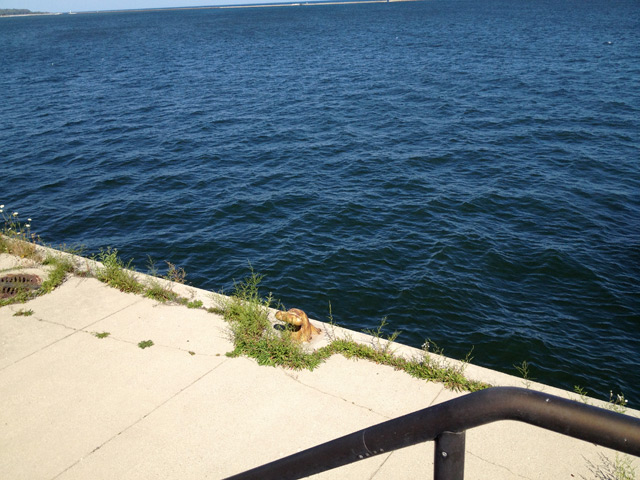 Dryers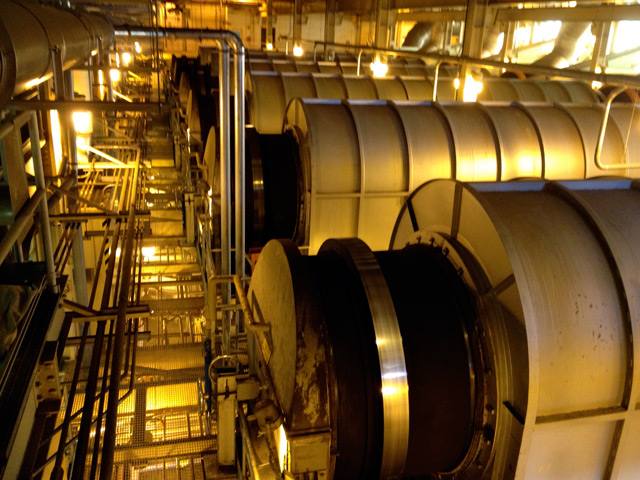 Fresh Milorganite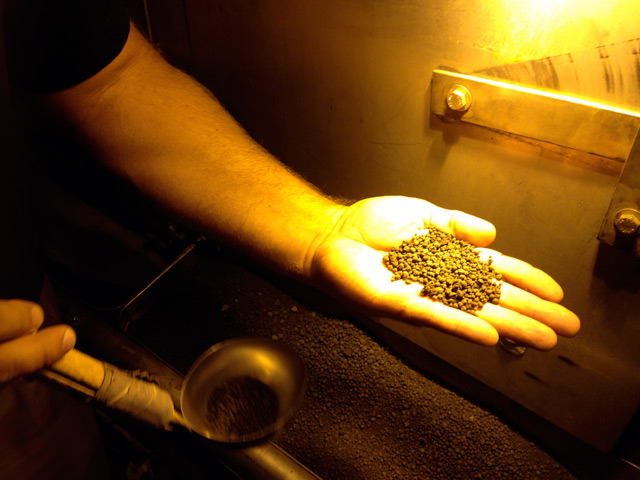 Pellets drying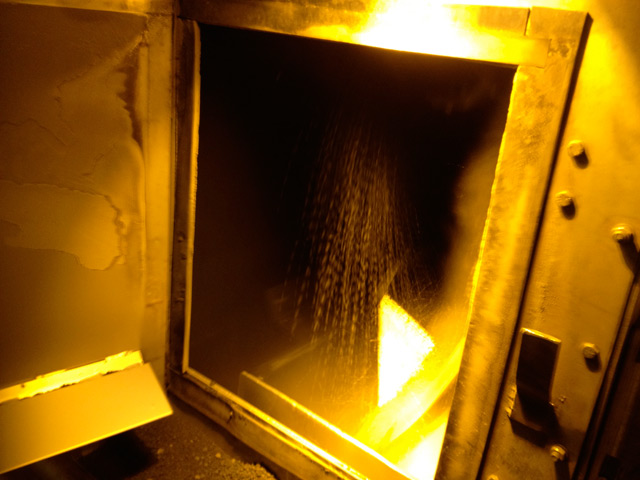 Press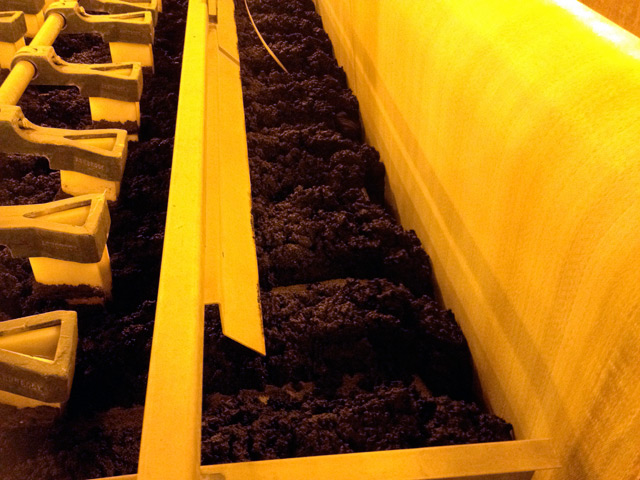 Aerial view of presses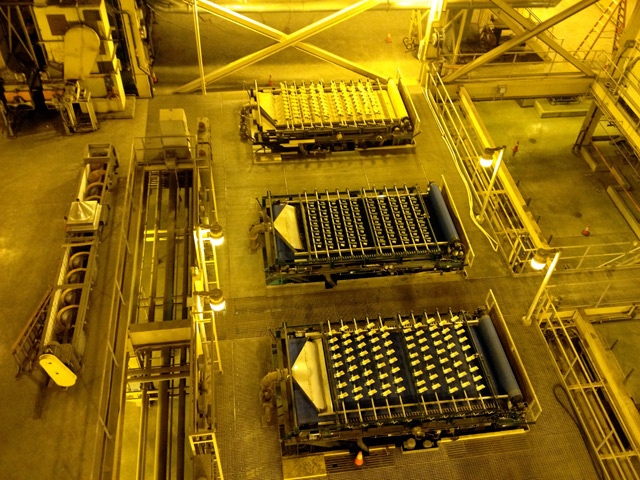 Press runoff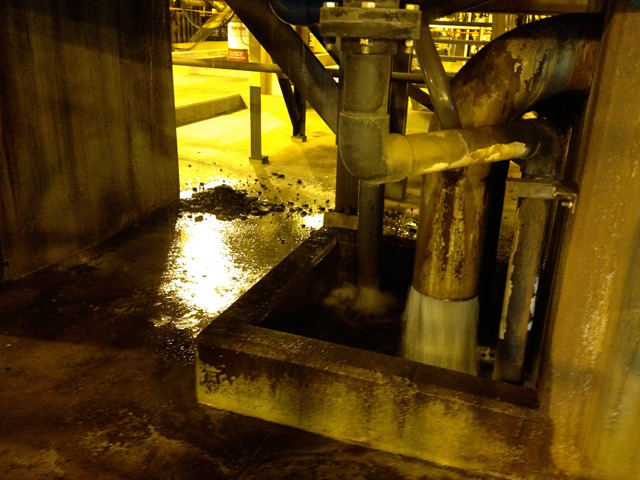 In the press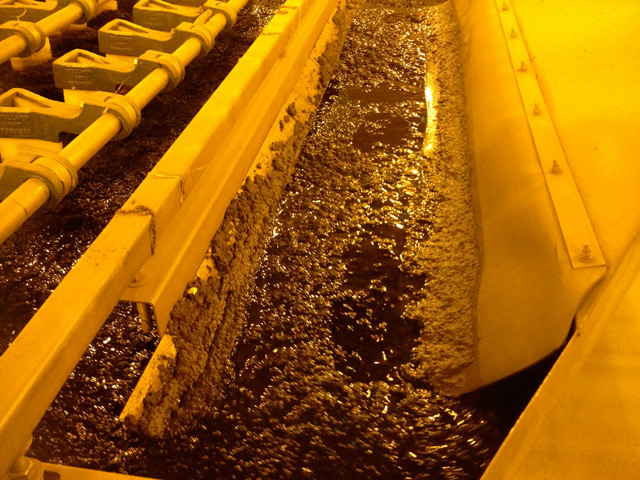 Born in Brooklyn, N.Y., where he lived until he was 17, Bobby received his BA-Mass Communications from UWM in 1989 and has lived in Walker's Point, Bay View, Enderis Park, South Milwaukee and on the East Side.
He has published three non-fiction books in Italy – including one about an event in Milwaukee history, which was published in the U.S. in autumn 2010. Four more books, all about Milwaukee, have been published by The History Press.
With his most recent band, The Yell Leaders, Bobby released four LPs and had a songs featured in episodes of TV's "Party of Five" and "Dawson's Creek," and films in Japan, South America and the U.S. The Yell Leaders were named the best unsigned band in their region by VH-1 as part of its Rock Across America 1998 Tour. Most recently, the band contributed tracks to a UK vinyl/CD tribute to the Redskins and collaborated on a track with Italian novelist Enrico Remmert.
He's produced three installments of the "OMCD" series of local music compilations for OnMilwaukee.com and in 2007 produced a CD of Italian music and poetry.
In 2005, he was awarded the City of Asti's (Italy) Journalism Prize for his work focusing on that area. He has also won awards from the Milwaukee Press Club.
He can be heard weekly on 88Nine Radio Milwaukee talking about his "Urban Spelunking" series of stories.