There are monumental iconic buildings in Milwaukee like Henry Koch's City Hall and Santiago Calatrava's Milwaukee Art Museum Quadracci Pavilion, but there are also icons on a more neighborhood scale.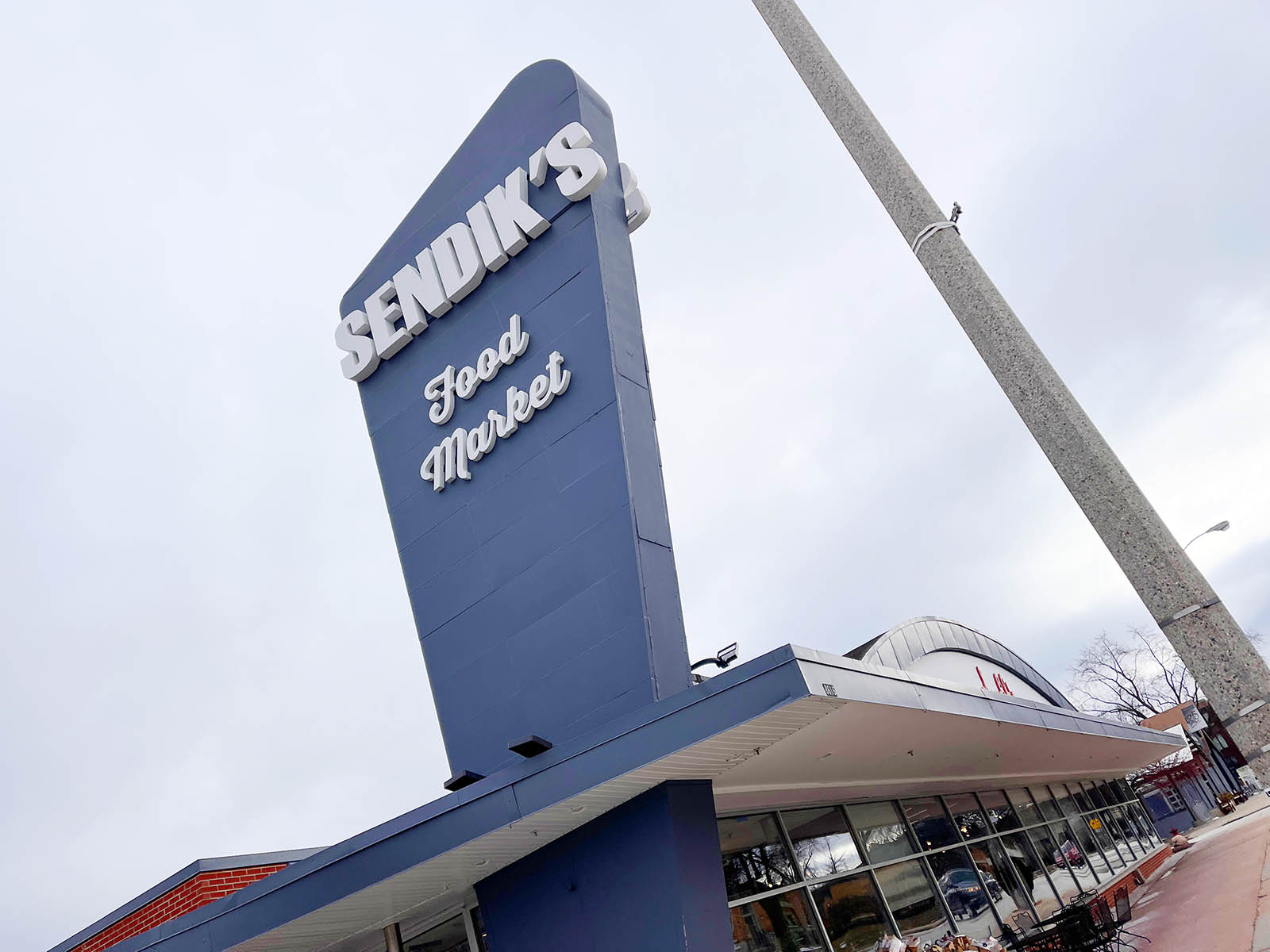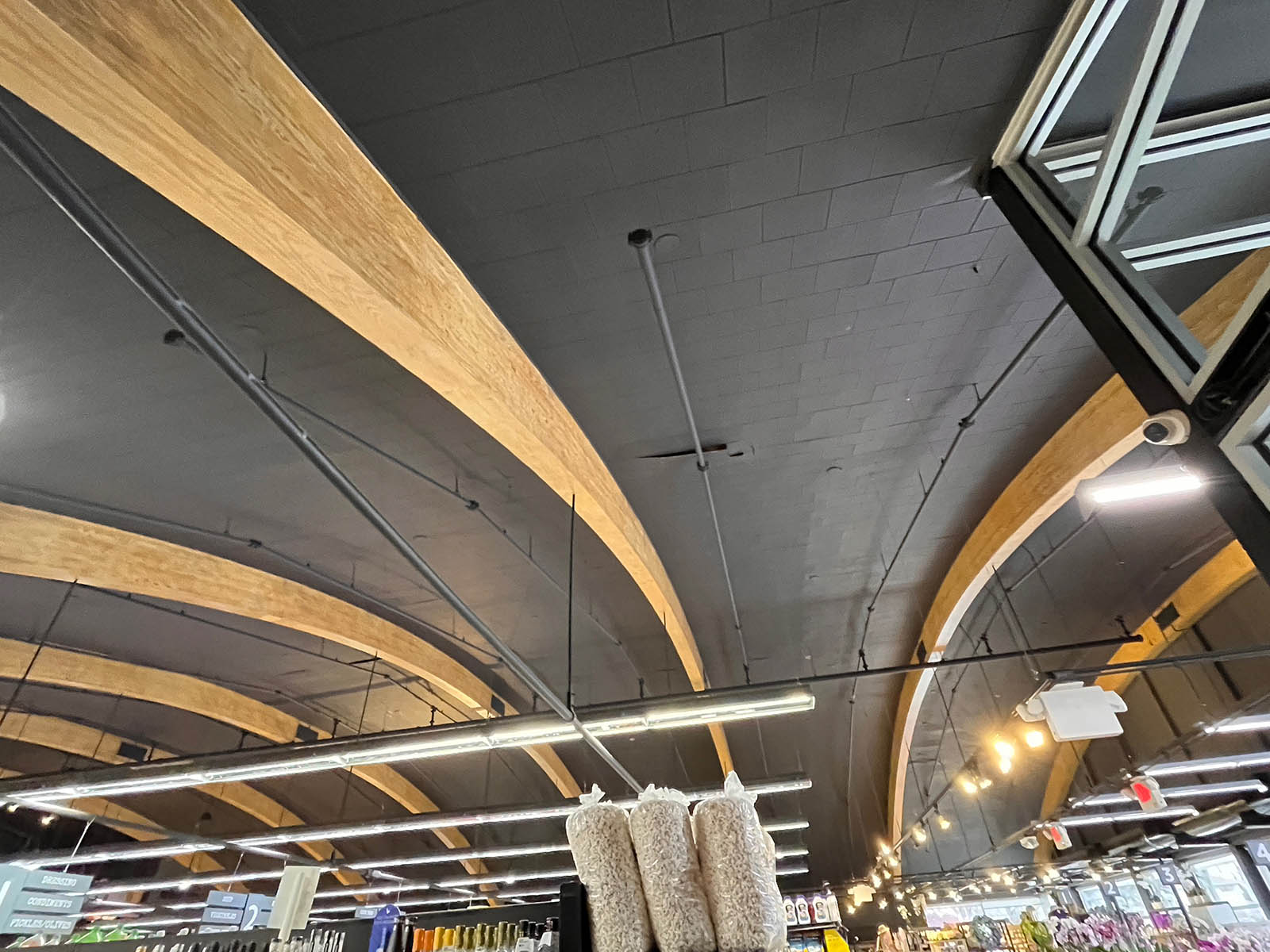 Think custard and former Boy Blue stands, or the Eschweiler-designed Wadham's pagoda gas stations. Or, the former Kohl's Grocery Stores with their sweeping arched roofs.
These supermarket gems – scattered around Wisconsin and neighboring states – are instantly recognizable. Regardless of their occupants now, we know immediately that these stores were built by Kohl's.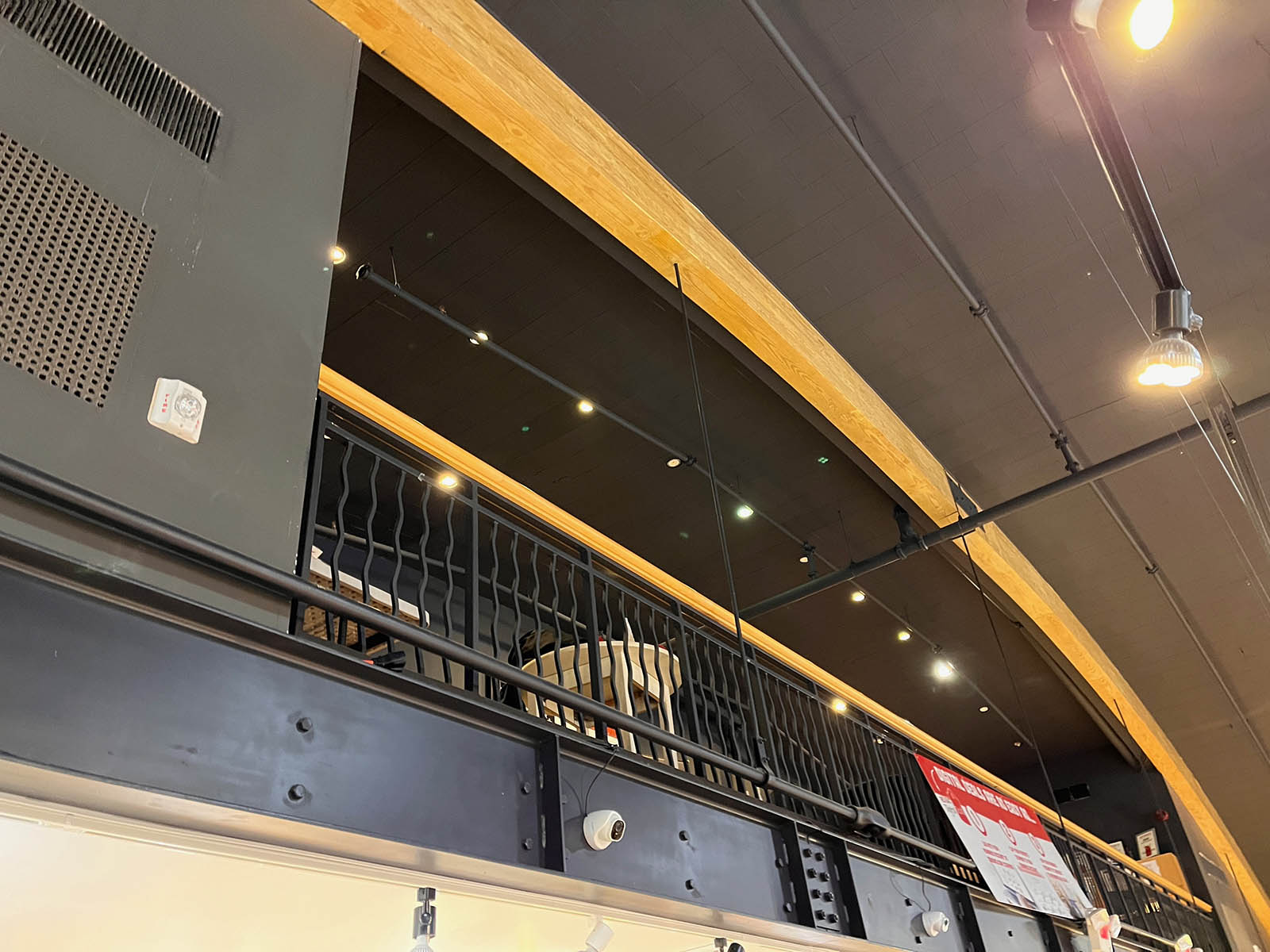 According to co-owner Ted Balistreri, three of the 18 Sendik's Food Markets are located in former Kohl's stores, two of which are of the arched design.
One in New Berlin has been so heavily altered that you can't really tell it's arched (except from the air), and the other is the Wauwatosa location, 8616 W. North Ave. This one was the first of the Kohl's arched-roof stores to be constructed.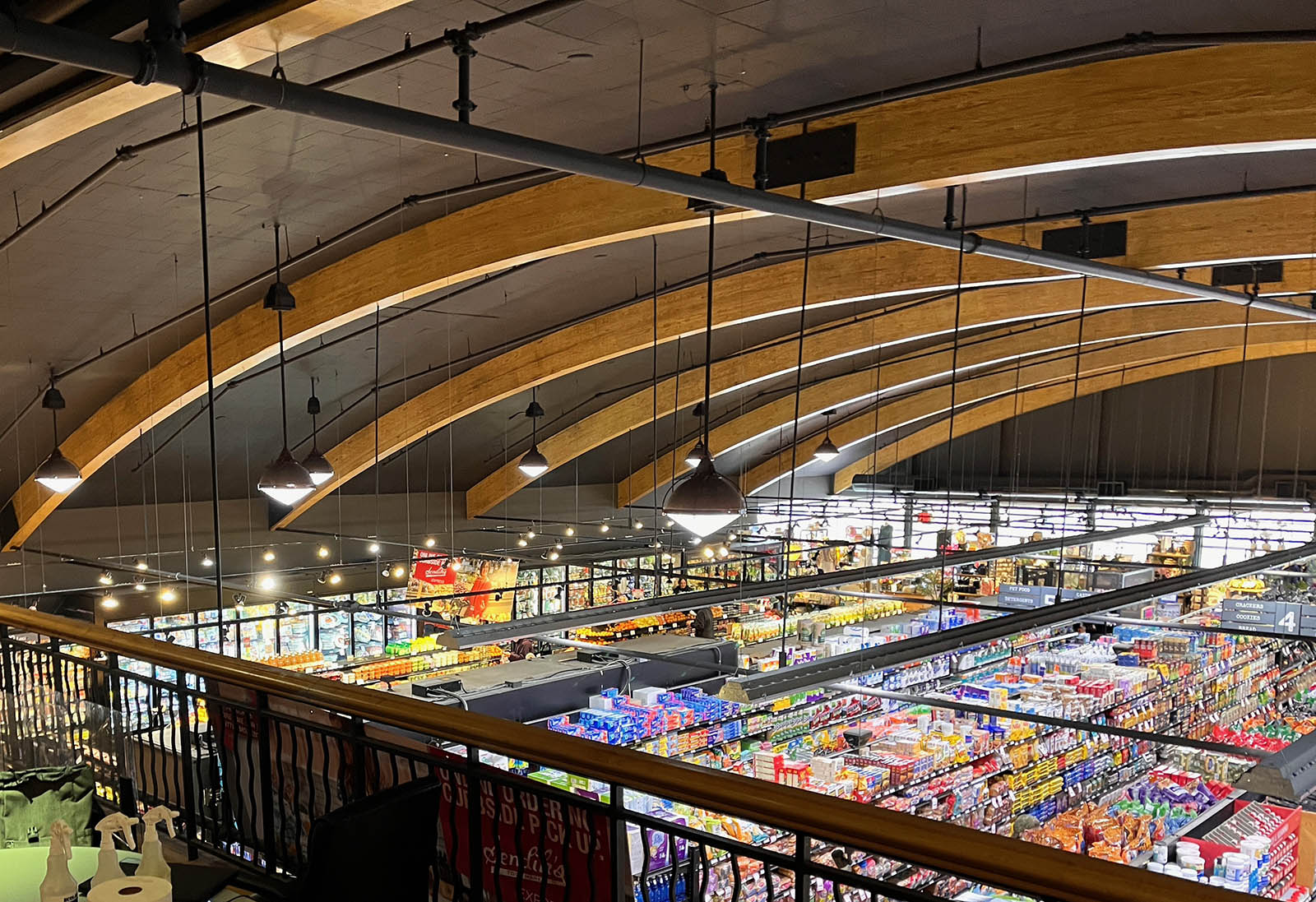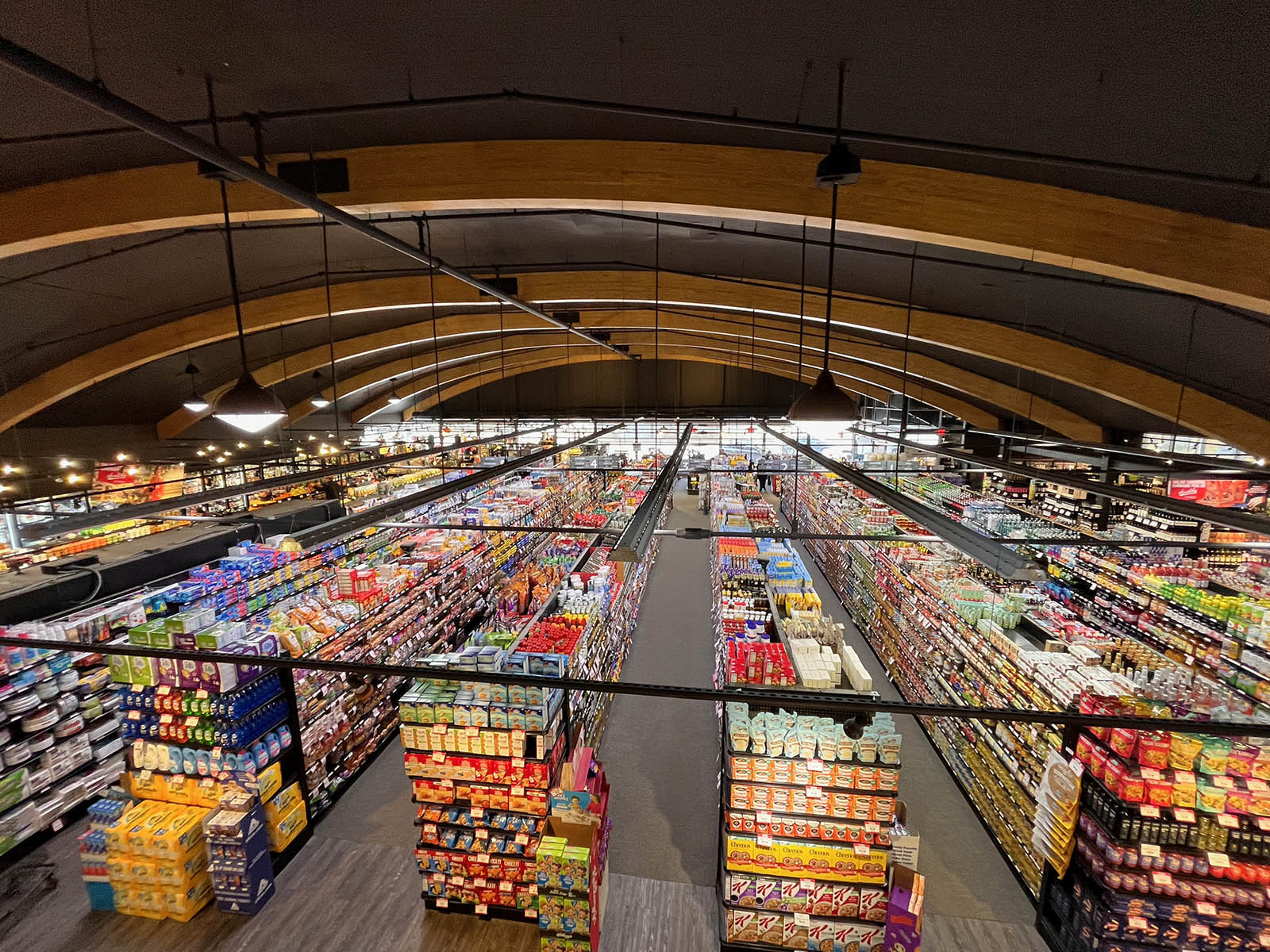 "We love it," says Balistreri, who with his siblings, owns the business started by his grandfather.
"I'd love to open Sendik's stores in all the old barrel ceiling Kohl's stores," he adds, maybe only half-joking.
We met at the Tosa store for a tour of the building, which started up on the mezzanine at the back, where we could see out over the whole place. This area was originally open to the public and housed the Kohl's health and beauty/toiletries section.
Nowadays, it's for employees only. But up here we can get a closer look at the hefty laminated beams that arc gracefully from one side to the other, as well as at the iron tie rods that provide stability and are barely noticeable from the shop floor.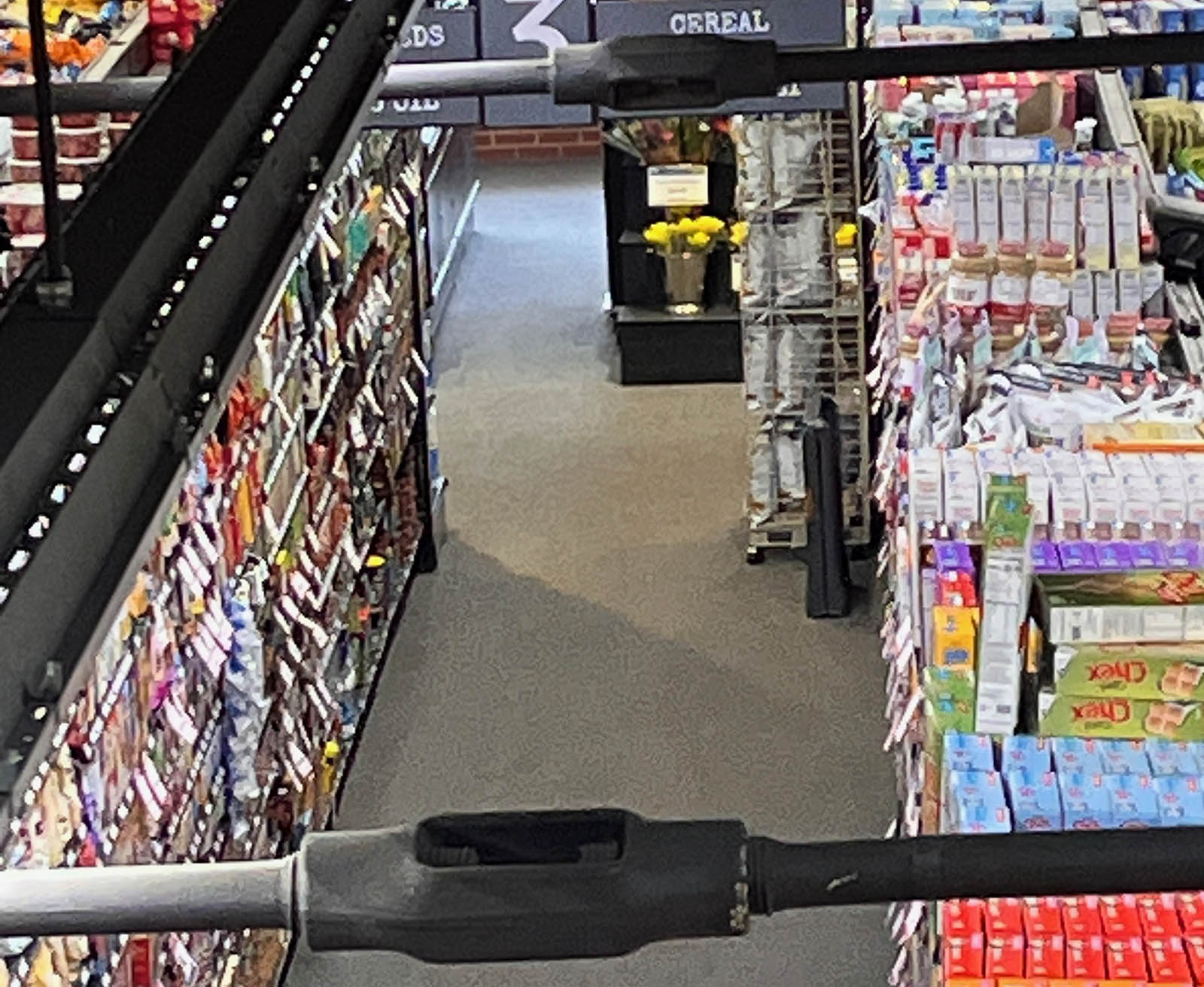 "Kohl's was leaving the marketplace," Balistreri recalls, thinking back to 2003. "They had put it on the market along with a bunch of their properties around the metro area and we put a bid on it and we won.
"Kohl's was still operating right up until the time of the sale. We remodeled it, we took about three months, and opened it in March of 2004."
In addition to reopening the mezzanine overlook – which had been blocked off when Kohl's closed the upper level to the public – Sendik's also built a much-needed addition to the back with a freight elevator and a loading dock. It also expanded a bit to the west, adding the low-ceilinged section that now houses the beer, dairy and cheese coolers.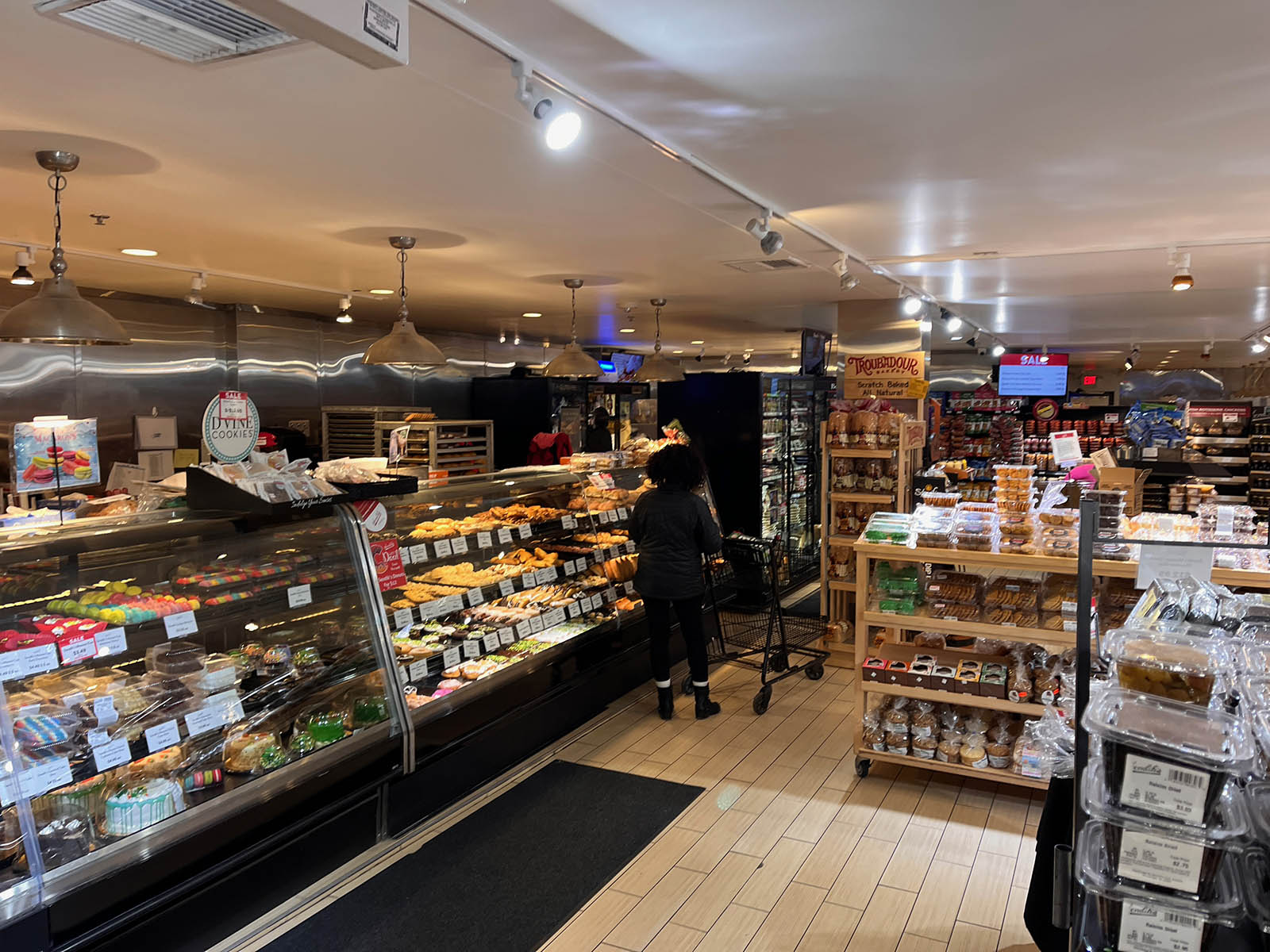 "They also had covered up these beautiful beams," Balistreri recalls, "painted all of this white. So we had it all exposed so that you could see these incredible, beautiful beams. The craftsmanship on it is so amazing."
Cosmetically, the Balistreris also replaced the tile flooring and the lighting. And they tightened those ties a bit on the advice of an engineer.
"They originally had that glass in the front was on a slight slant," Balistreri says of the midcentury feature that sloped the windows outward toward the top.
"It was really cool, but it was not a really safe. Our glass contractor refused to do it, so we ended up having to straighten it out, because of the safety issues."
But perhaps more than any other arched-roof former Kohl's, this Sendik's location really embraces the beauty of the original design and construction and uses it for the same purpose.
Max Kohl – who started in the grocery business in 1927 – opened his first full-fledged supermarket at 46th and Burleigh in 1946. Just four years later he tapped modernist architect Fritz von Grossman to design the first arched-roof store for his new location on North Avenue in Wauwatosa.
The design would be tinkered in future iterations.
The Kohl's arched stores may have been inspired by Philadelphia's similarly designed Penn Fruit stores, though sources suggest those may not actually have pre-dated the Kohl's design.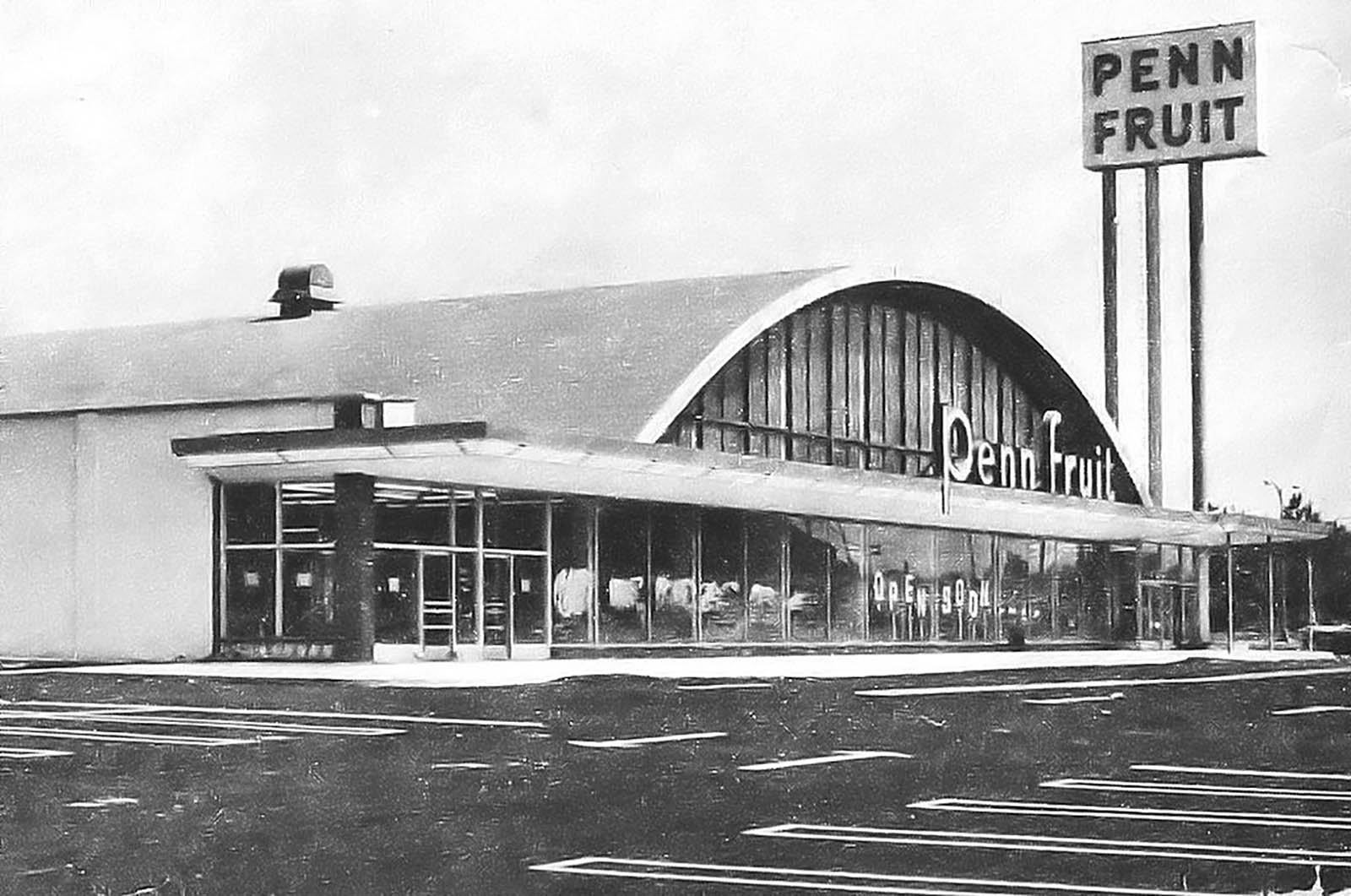 Frederic "Fritz" von Grossmann was born in 1904 in Minneapolis and studied at University of Minnesota, Massachusetts Institute of Technology and Harvard Graduate School of Design. After working as State Architect for the Civil Works Administration in South Dakota, he became Regional Architect of the U.S. Department of Agriculture Resettlement Administration in Nebraska.
Sometime in the 1930s, von Grossman arrived in Milwaukee and worked at AO Smith and then in the studio of architects Herbst & Kuenzli, before opening his own practice in 1939. He partnered with Donald Grieb from 1949 to 1952, before resuming his own practice.
It was during the Grieb era that von Grossman met Max Kohl.
"The family lived in a West Milwaukee home and von Grossmann began his architectural design office nearby in the upper level of an Arthur Read-owned movie theater, the Sherman Theater, at 4632 W. Burleigh in 1939," reads a City of Milwaukee Historic Designation Report for another building von Grossman designed, the now-razed Forest Home Library.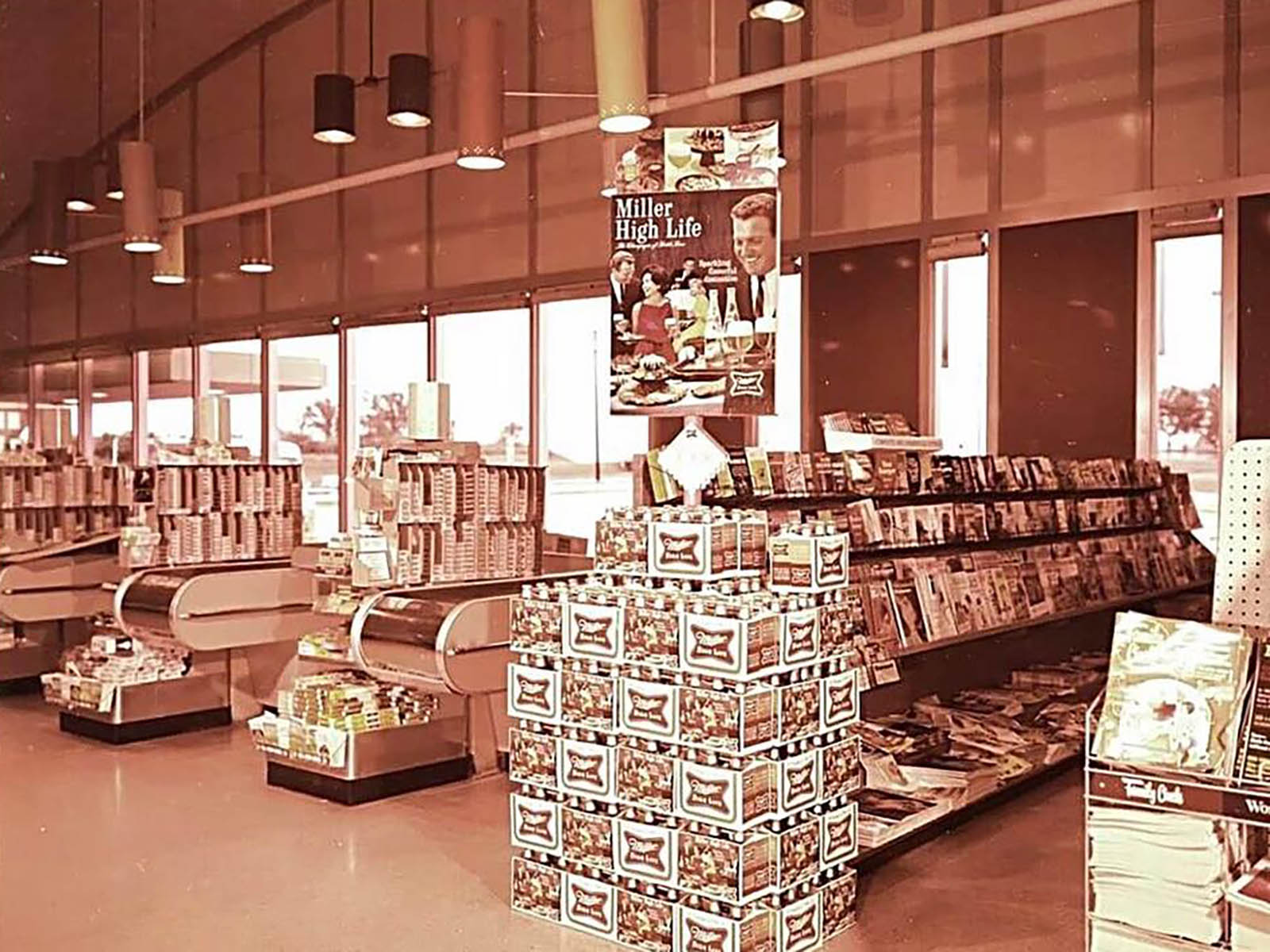 "At the time, the first Kohl's grocery was located directly across the street and through this proximity, Herb Kohl and Fritz von Grossmann started a long friendship.
"In the early 1950s, Von Grossmann would debut his innovative and iconic design for Kohl's grocery and department store that would be reproduced throughout Milwaukee and Wisconsin at large. The design featured the 'use of laminated wood arched trusses' which eliminated the need for columns, created a flexible and open space, and 'represented a considerable saving in steel'."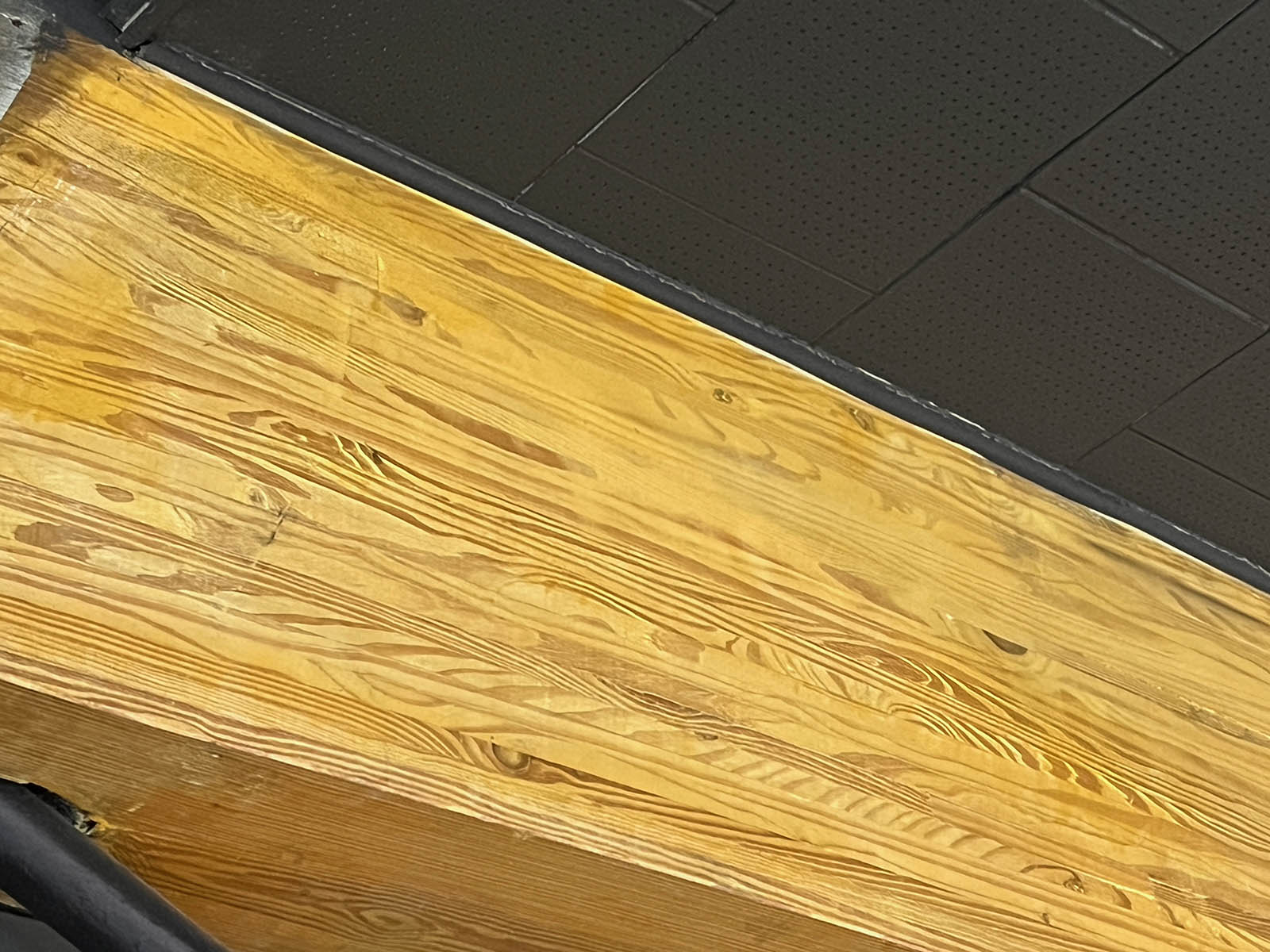 Inside, the trusses provided 95 feet of clear, unobstructed space, perfect for a grocery store layout. The curtain wall of glass at the front added copious light.
The 45-foot-tall sign (17 feet wide at the top) – which the architect believed to be the biggest in the state at a food store – ensured the distinctive building was visible from a distance.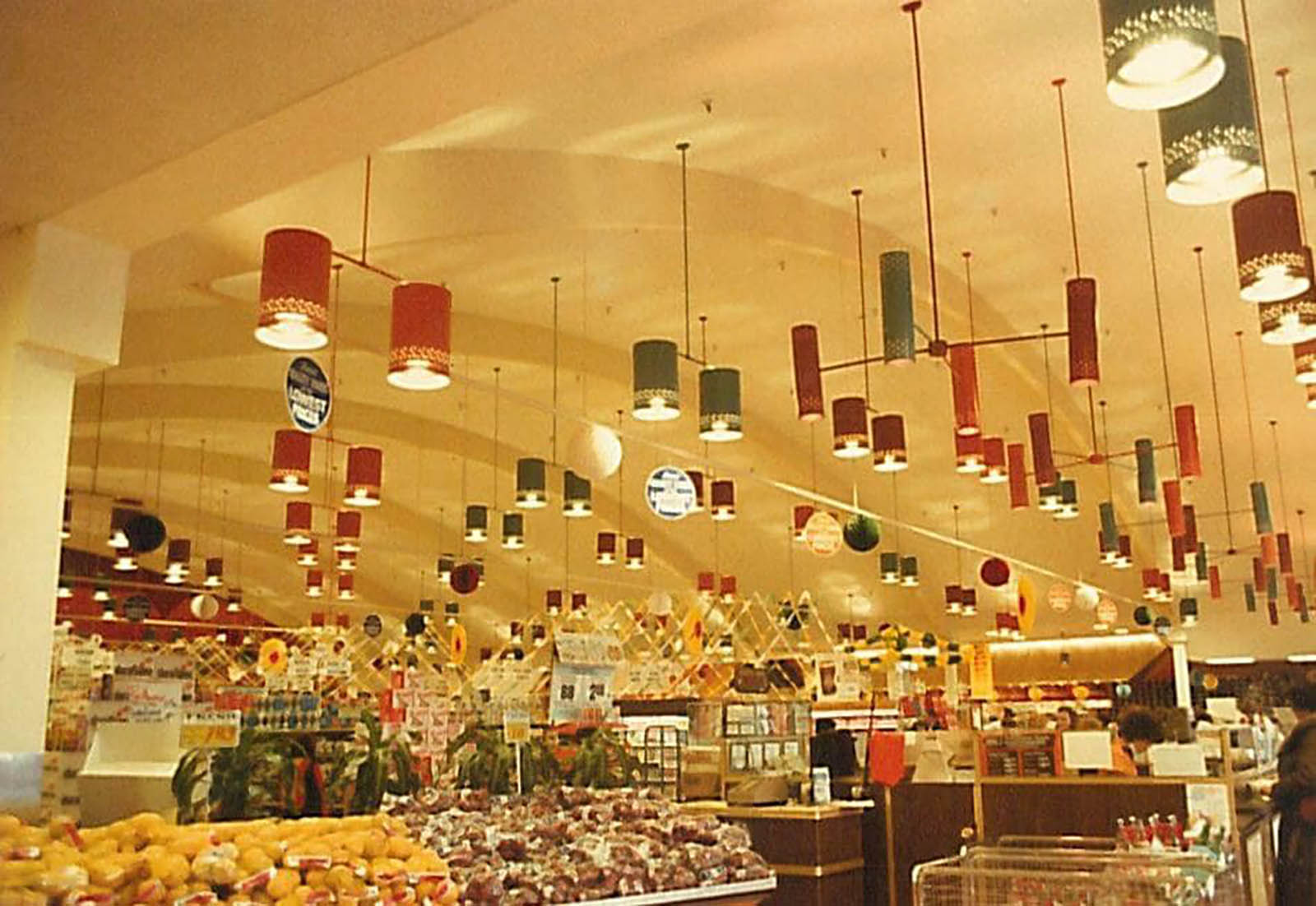 "Another design feature," wrote the Milwaukee Journal on July 22, 1951, "is a large projecting canopy which overhangs a sloping double glazed show window approximately eight feet. The sloping glass reflects the pavement and sidewalk, eliminating glare in the show window. Further, the city sidewalk area, boulevard area and the setback to 15 feet have been paved with dark maroon colored cement.
"The plan for the building includes space for 93 automobiles in the 300-foot block. The parking lot is the first to be installed under the new Wauwatosa store parking ordinance.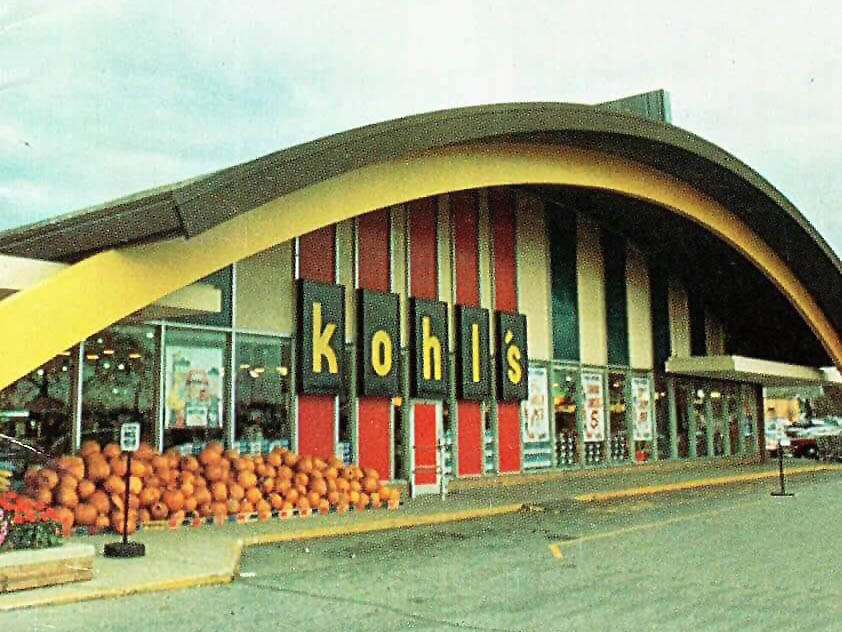 "In addition to the actual interior store space of 11,000 square feet, the plan provides a mezzanine space measuring 75 by 15 feet to be used as a drugstore (an innovation in supermarket merchandising)."
Ads and articles at the time of opening called the $150,000 brick, glass and wood building a "wonder store" and "America's most modern and beautiful supermarket."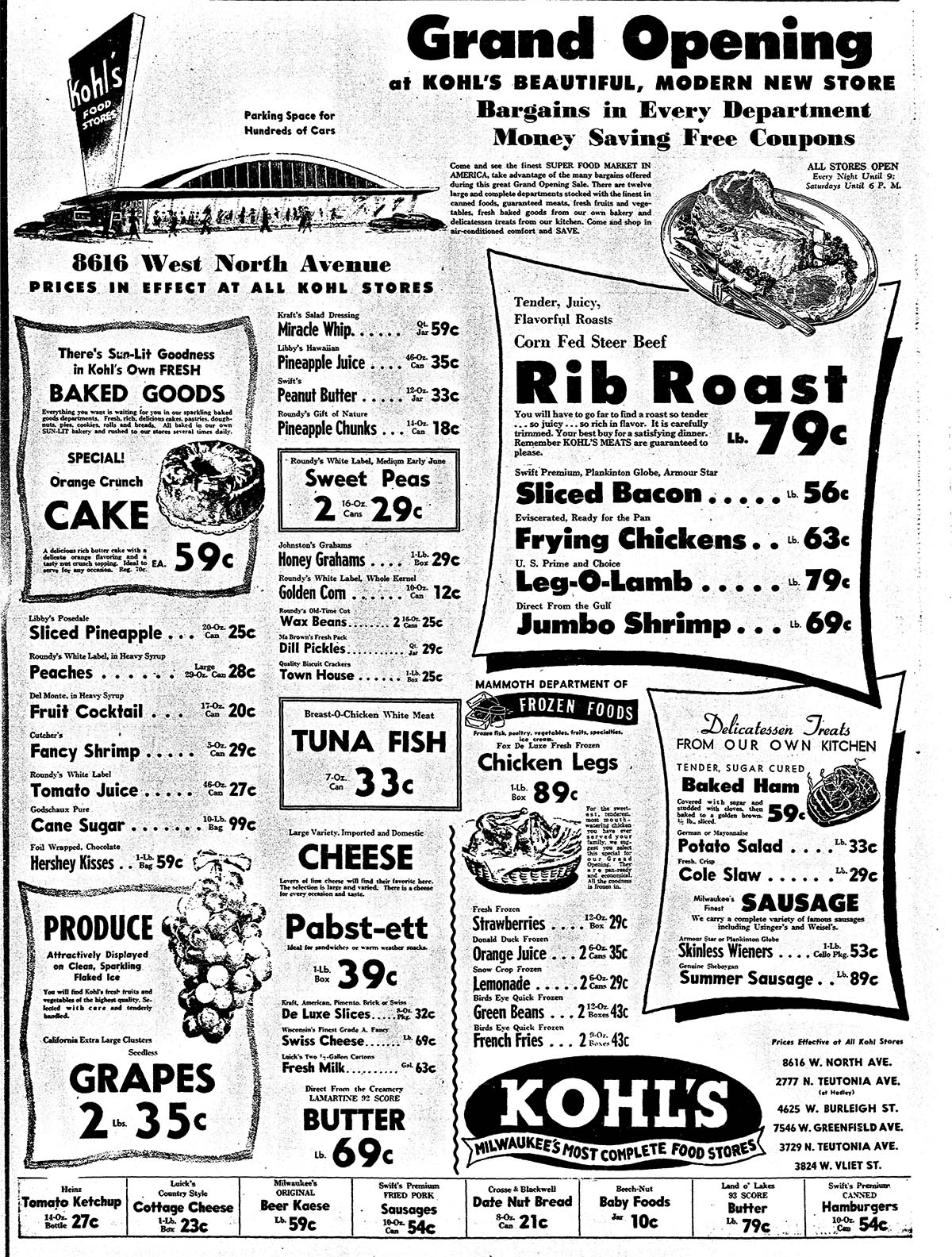 All these years later, much of that hyperbole still rings true.
The store – one of six Kohl's locations at the time – opened on Wednesday, Aug. 22, 1951.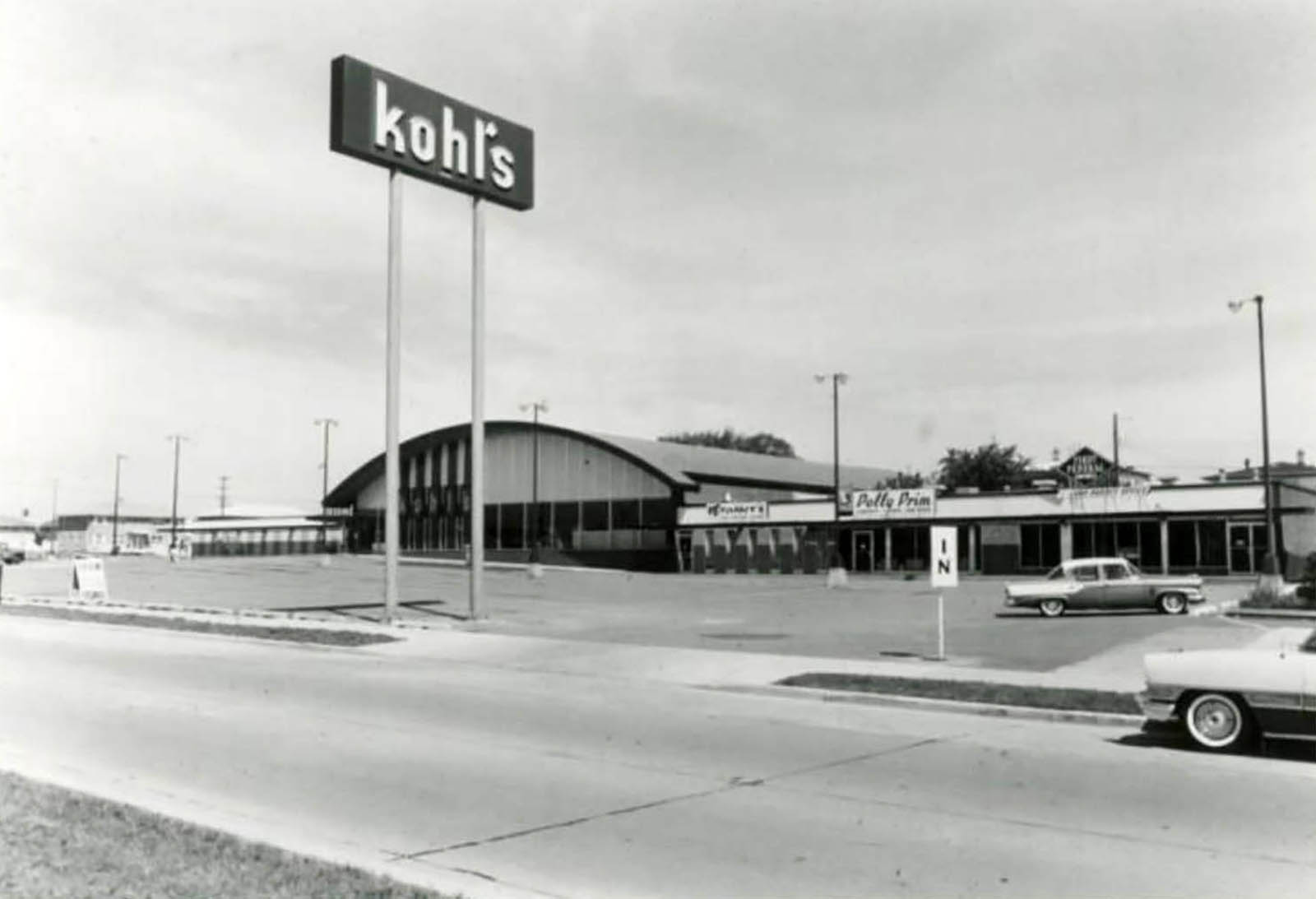 "Ingredients for the successful opening of a new supermarket?," asked the Sentinel the next morning, rhetorically, "Kohl's at 8616 W. North Ave., Wauwatosa, had the recipe Wednesday. Thousands of customers, sunshine, bargains, music, air conditioning, floral tributes, busy sales help, excited youngsters and their parents, and cash registers ringing merrily. If there had been a brass band, nobody would have been surprised."
But all the action wasn't on the sales floor, the paper noted.
"The public saw only half the activity Wednesday. In the basement, conveyor belts hummed with produce for the floor above and trucks discharged their loads of canned goods into chutes. The incinerator was fed regularly with accumulated rubbish. As fast as the big freezers were filled, their contents were needed on the sales floor."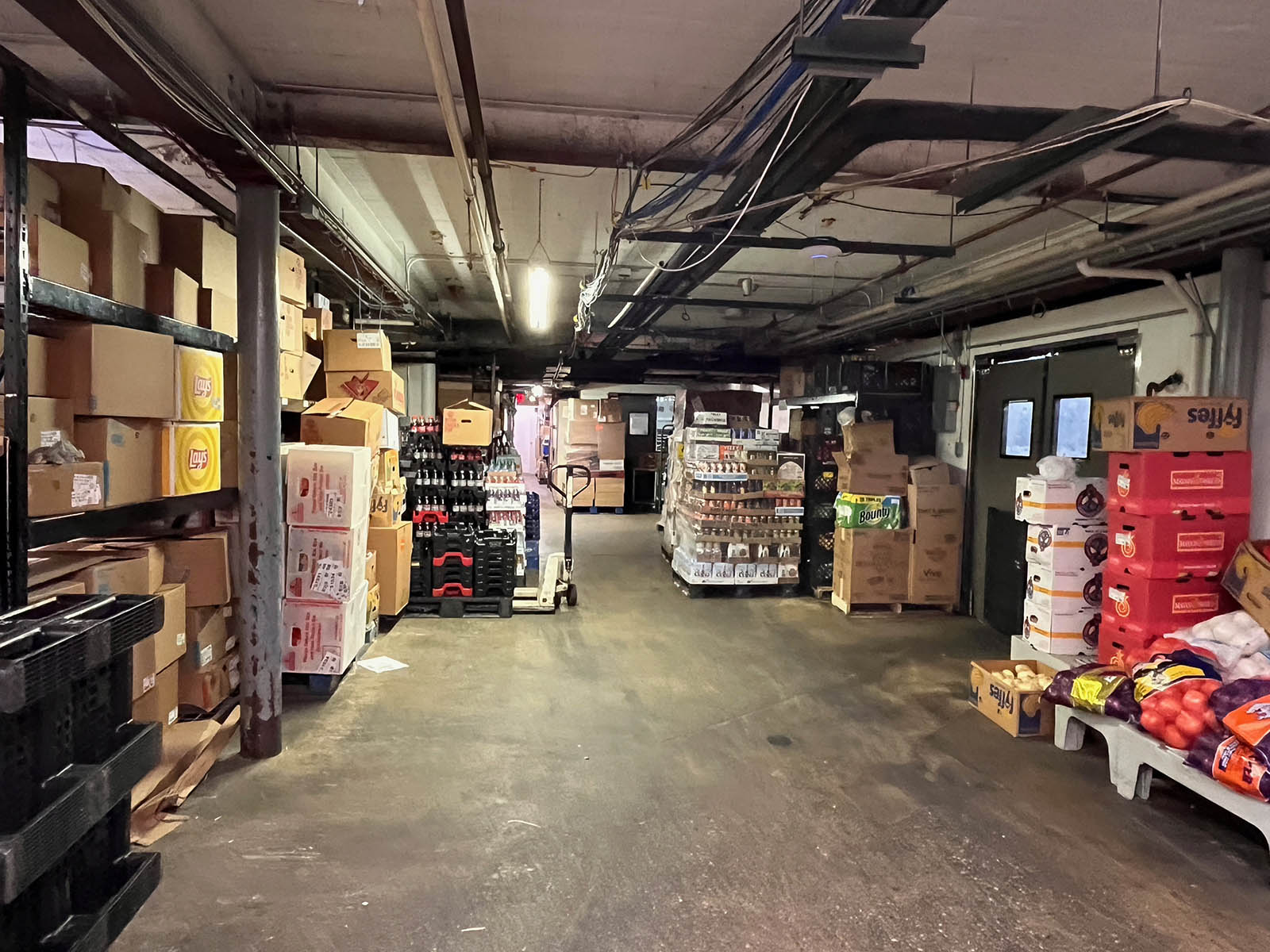 Having read that, I ask Balistreri if we could see the lower level at Sendik's.
First, we stop in the addition at the back, where there is the elevator, loading dock and cardboard baler (thankfully, there is no more incinerator).
There had been an alley behind the store, but that was vacated to allow for the addition, Balistreri explains.
"They did not have a loading dock because when this was built trucks would park in the alley to unload and everything came in through a conveyor," he says.
"So it was all hand-stacked, one package at a time. It all went down on a conveyor to the basement and then it was brought up, I believe, by conveyors, as well, for stocking."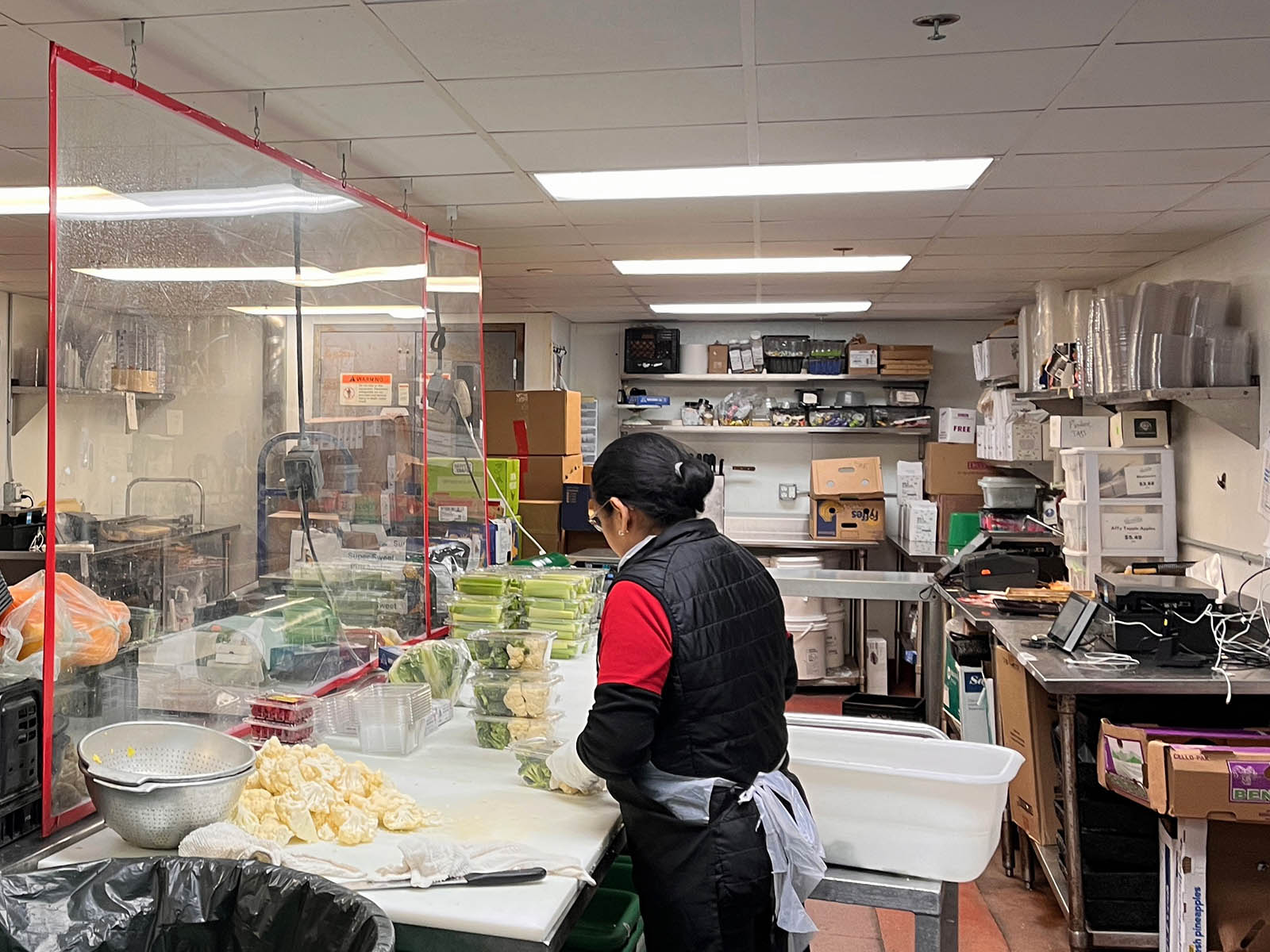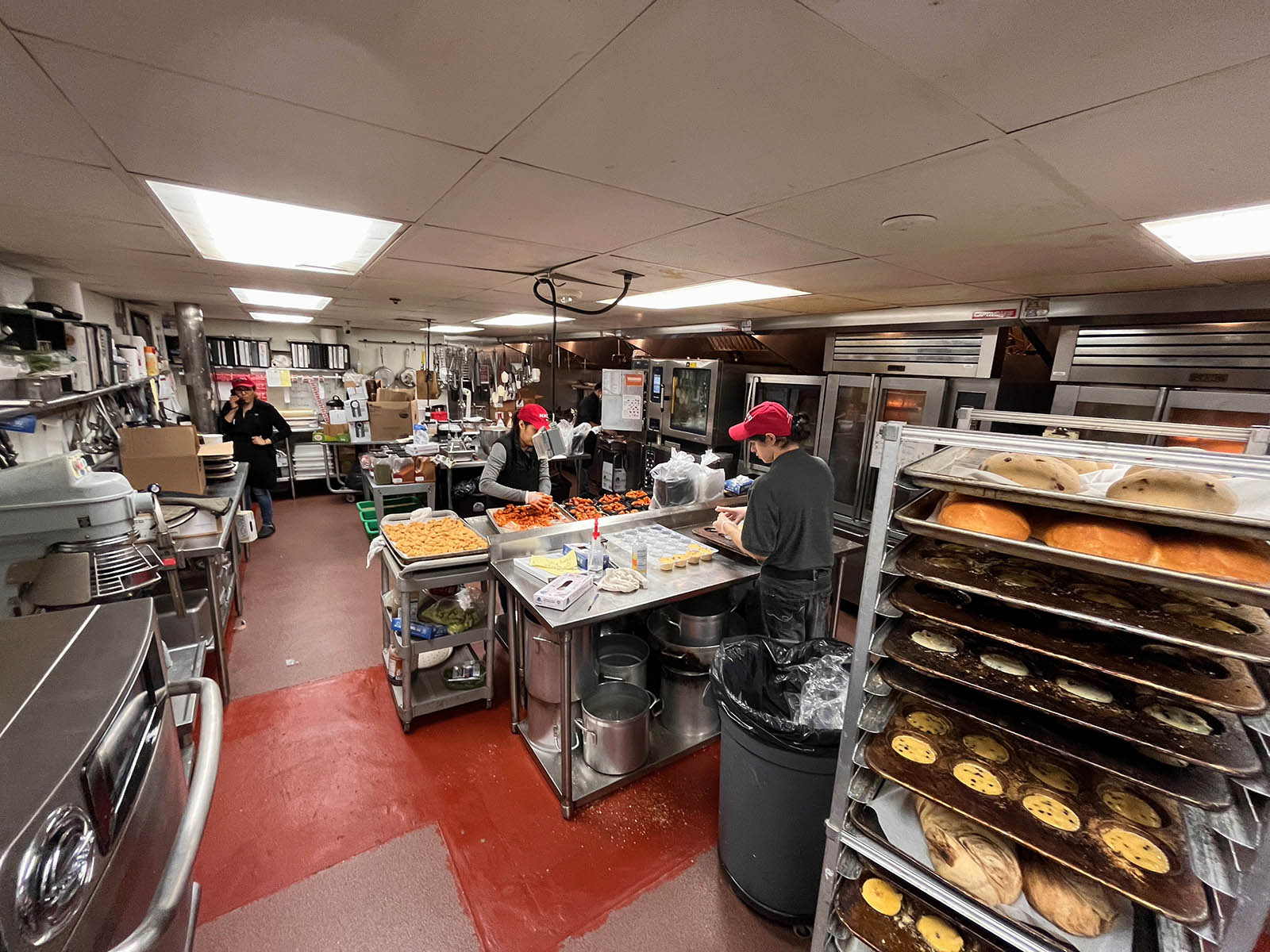 During the renovation, Sendik's installed a full kitchen in the basement, too. In one space we see a worker assembling grab and go containers of cut vegetables. In another, a baker makes muffins while another worker prepares chicken wings.
There are storerooms full of craft beer and whiskey, others brightened by cut flowers and a meat locker and butcher's room where steaks are cut and beef is ground.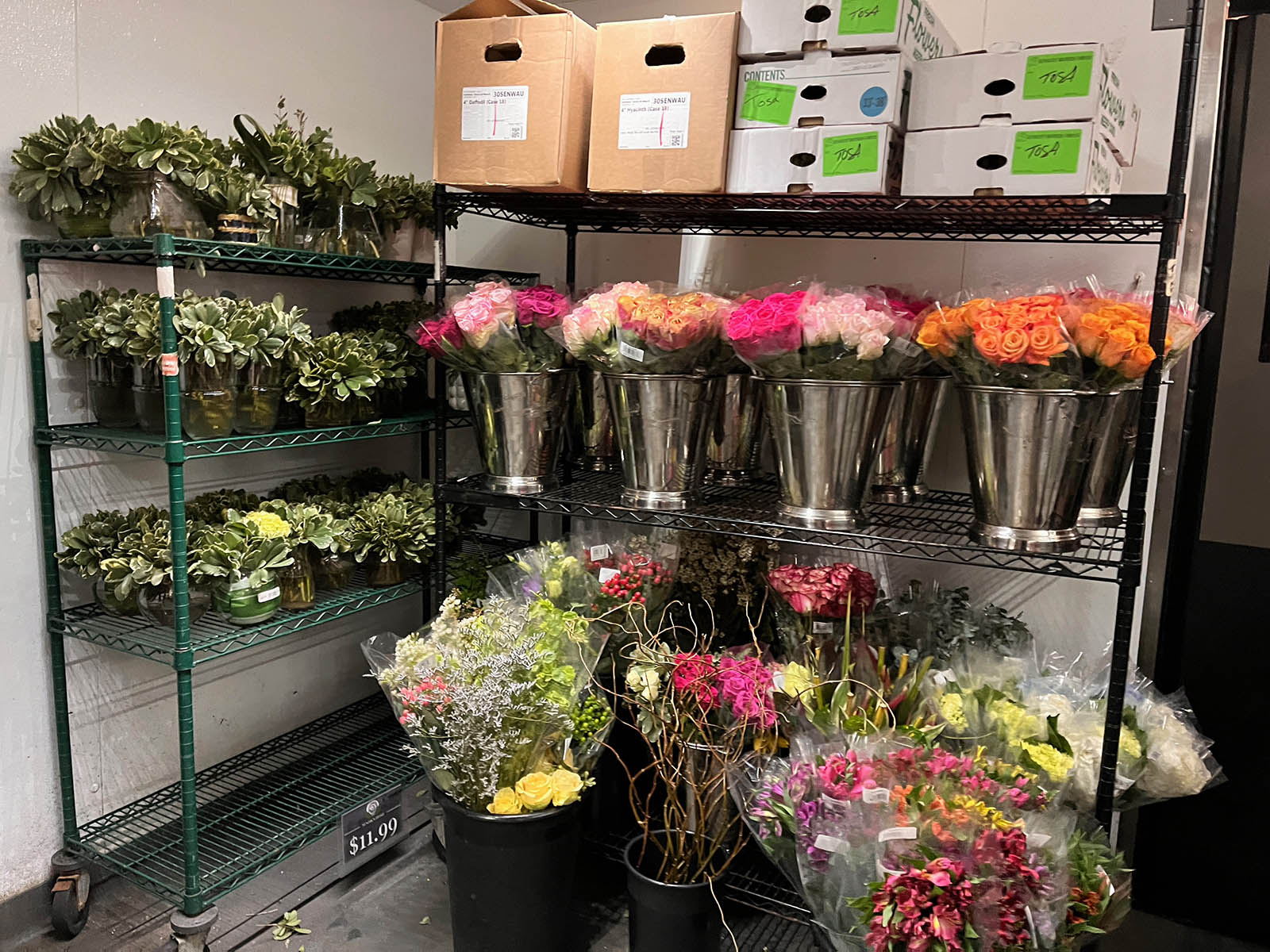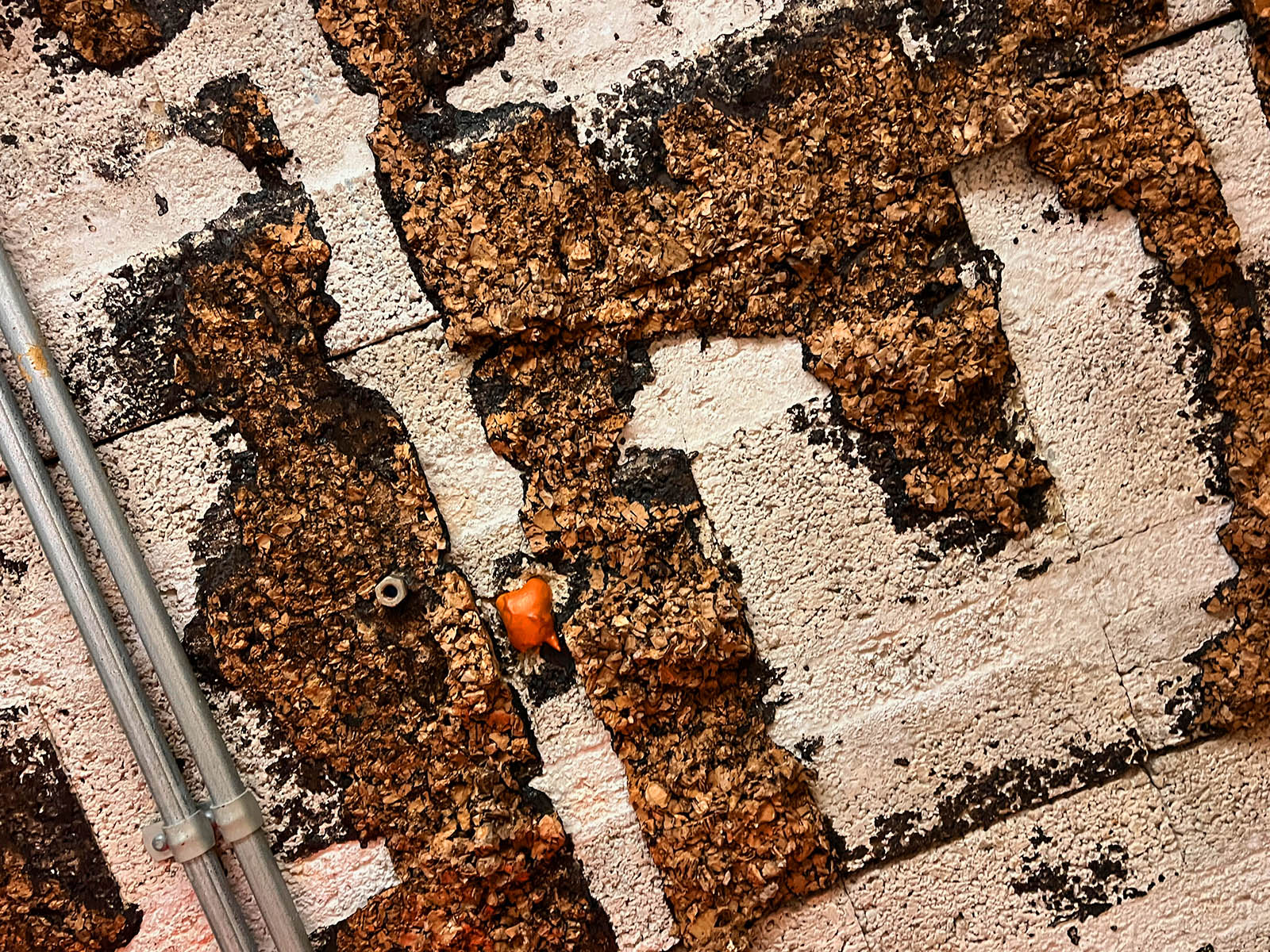 In a stockroom that was once a cooler, Balistreri points to the ceiling where we can see remnants of cork on the ceiling.
"One of the amazing things that was really cool was cork was their insulation for the refrigerated coolers," Balistreri says. "We tore that all out and put in modern coolers. We replaced the boilers and everything like that with up-to-date HVAC equipment."
Like the Kohl's store when it opened, Sendik's employs nearly 100 workers, with more coming in seasonally, such as at the holidays.
Some of the original Sendik's employees at this location – and at least one still on staff 20 years later – had worked at the Kohl's store, too, and simply stayed on.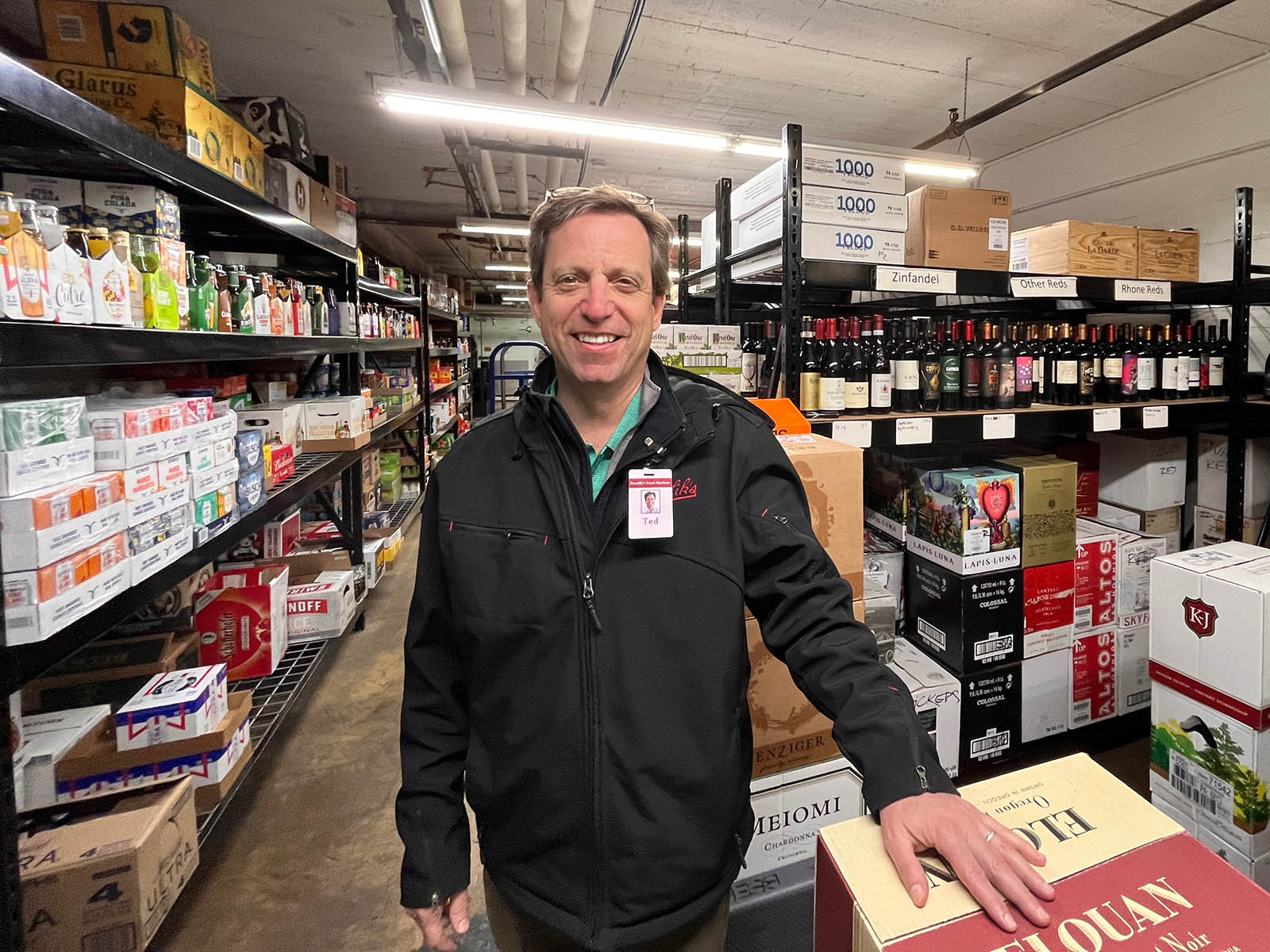 "We've been blessed," says Balistreri of the smallest of his supermarkets, at just 14,000 square feet. "We have got a great, dedicated team that loves doing this.
"I love this store; I love the community here. This store, even though it's smaller, just has such a great neighborhood feel. We get a lot of walk-in traffic, which is wonderful from people in the neighborhoods. I'm not supposed to have a favorite, but this is good as it gets."
Born in Brooklyn, N.Y., where he lived until he was 17, Bobby received his BA-Mass Communications from UWM in 1989 and has lived in Walker's Point, Bay View, Enderis Park, South Milwaukee and on the East Side.
He has published three non-fiction books in Italy – including one about an event in Milwaukee history, which was published in the U.S. in autumn 2010. Four more books, all about Milwaukee, have been published by The History Press.
With his most recent band, The Yell Leaders, Bobby released four LPs and had a songs featured in episodes of TV's "Party of Five" and "Dawson's Creek," and films in Japan, South America and the U.S. The Yell Leaders were named the best unsigned band in their region by VH-1 as part of its Rock Across America 1998 Tour. Most recently, the band contributed tracks to a UK vinyl/CD tribute to the Redskins and collaborated on a track with Italian novelist Enrico Remmert.
He's produced three installments of the "OMCD" series of local music compilations for OnMilwaukee.com and in 2007 produced a CD of Italian music and poetry.
In 2005, he was awarded the City of Asti's (Italy) Journalism Prize for his work focusing on that area. He has also won awards from the Milwaukee Press Club.
He can be heard weekly on 88Nine Radio Milwaukee talking about his "Urban Spelunking" series of stories.