"Bar Month" at OnMilwaukee is brought to you by Miller Brewing Company, calling Milwaukee home since 1855. For the entire month of March, we're serving up fun articles on bars, clubs and beverages – including guides, the latest trends, bar reviews, the results of our Best of Bars poll and more. Grab a designated driver and dive in!
Milwaukee may be a city with strong German roots, but when it comes to pubs, we're as Irish as Brian Boru. From the North Side to the airport, from Lake Michigan to Elm Grove, there's many a place where you can kick back, relax, raise a pint and toast slainte.
Some of these places may not smack you over the head with a shillelagh of Irish authenticity, but they've got it where it counts – what's more Irish, after all, than a good time and a great beer?
AJ O'Brady's
N88 W16495 Main St., Menomonee Falls, (262) 250-1095
ajobradys.com
AJ O'Brady's is the place to be in downtown Menomonee Falls. With a spacious bar and plenty of tables, it's just as much a restaurant as a pub, and the food is great. They've also got a killer Happy Hour deal, breakfast on Saturday and Sunday, and a lovely view of The Falls themselves. It may not smack you over the head with a shillelagh of Irish authenticity, but what's more Irish than a good time and a great beer?
The Black Rose Irish Pub
2856 N. Oakland Ave., (414) 763-6526
blackrosemilwaukee.com
Sharing space with SoLo Pizza, this spot offers enticing happy hour specials and a menu that features reuben rolls, Irish stew and the usual suspects. There are sports on the flat screen TVs and a friendly, welcoming vibe.
Bub's Irish Pub
N116 W16218 Main St., Germantown, (262) 255-1840
bubsirishpub.com
Ireland comes to the heart of the Northwest Side thanks to the dad of one of the Trinity Irish Dancers and his 15,000-square foot pub. Food and drinks are served daily along with a happy hour, and you can usually catch live music on the main stage. It's also a great spot to catch the Packers.
Caffrey's Pub
717 N. 16th St., (414) 933-9047
caffreyspub.com
This Marquette upperclassmen hide-out straddles the line between college bar and Irish pub in the space formerly occupied by the Ardmore Bar, where The Replacements rocked Marquette back in the day. Caffrey's boasts the largest heated outdoor patio on the Marquette campus.
Campbell's Irish Pub
4068 S. Howell Ave., (414) 483-4546
campbellsirishpub.com
The former Packy's Pub has been utterly transformed, thanks to a visit from "Bar Rescue." With plaid tapestry and wood slats, along with plenty of Irish paraphernalia donning the walls, Campbell's has a definite Celtic flair. Grab a beer or a creative cocktail and enjoy a game of darts. You'll also find a host of Irish-inspired fare on their pub grub menu, which features dishes from Bushmills glazed wings to Dublin sausage and mash. Bonus: they offer up Irish breakfast every Sunday.
Champion's
2417 N. Bartlett Ave., (414) 332-2440
championspub.com
Tucked away just off North Avenue, Champion's serves up a proper pint in a cozy neighborhood tavern. Formerly located on Murray Avenue, the third-generation family-run bar is now more than 50 years old. The outdoor deck boasts a TV, and Champion's is always a great place for a game of cribbage, shuffleboard or bowling.

The Clarke Irish Pub
314 W. Main St., Waukesha, (262) 549-3800
theclarkehotel.com
This treasure, run by the folks from The County Clare and located adjacent to the Clarke Hotel, offers up a great spot to enjoy and celebrate the music, food and drink of Ireland. Warm up by the fireplace or grab a seat and enjoy Irish entertainment most days of the week. Feeling hungry? Head over to the Irish restaurant for corned beef and cabbage, Irish stew or a selection from the monthly chef's menu. No matter what you choose, you're sure to find an experience that will make your Irish eyes smile.
County Clare
1234 N. Astor St., (414) 272-5273
countyclare-inn.com
A pub, a restaurant and an inn. They serve up great food, wonderful beer and Irish music. Root soup, wonderful meat loaf, smoked salmon and, of course, corned beef are all favorites on the menu. They even do brunch.
Finn McGuire's
5171 S. 108th St., Hales Corners, (414) 427-8900
finnmcguires.com
New to the southwest suburbs, Finn McGuire's brings the tradition of the Irish "local" to Hales Corners. The Irish pub and grill has a steady schedule of cover-free live music and a diverse menu of pub grub and old world standbys.
Flannery's
425 E. Wells St., (414) 278-8586
flannerysmilwaukee.com
OK, so it's a bit more than an Irish pub and restaurant. But, it has an Irish name and it's where you see "everyone you know."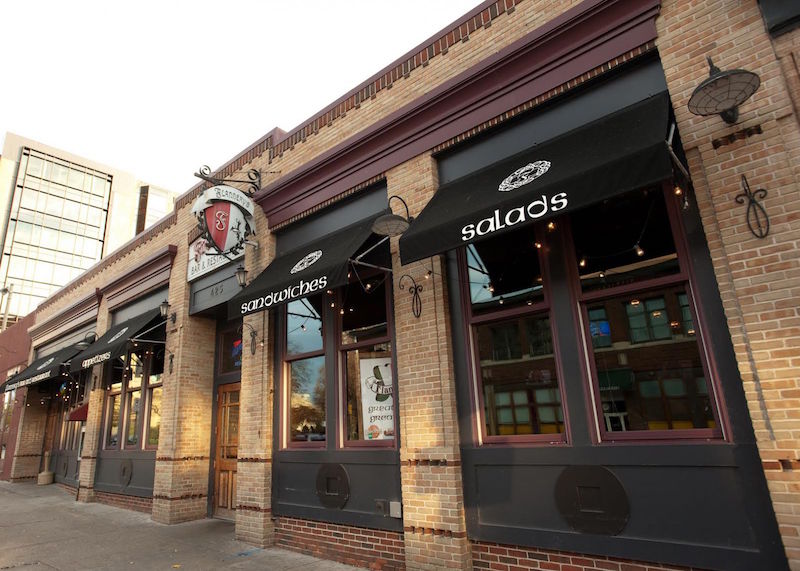 Halliday's Irish Pub
1729 N. Farwell Ave., (414) 278-9290
Halliday's on Facebook
It's not the fanciest of bars, but it's one the few Irish pubs in Milwaukee that looks a lot like something you'd actually see in Ireland: a corner tap with a lot of character. It also has a great outdoor patio and friendly staff.
The Harp Irish Pub
113 E. Juneau Ave., (414) 289-0700
theharpirishpub.com
Located in the heart of the Water Street bar district, The Harp's riverfront patio is a Milwaukee must-see and the pub grub doesn't hurt, either.
House of Guinness
354 W. Main St., Waukesha, (262) 446-0181
houseofguinness.com
In the heart of downtown Waukesha, House of Guinness has 15 beers on tap. Like any good Irish pub, there's live music most weekends.
McBob's Pub & Grill
4919 W. North Ave., (414) 871-5050
mcbobs.com
This family business is best for cold beer and pub food on the northwest side. In addition to all the expected pub options, McBob's serves food seven days a week. Visit for breakfast Friday through Monday, beginning at 8 a.m., and sample a McGinnity, Campbell Scramble or McRoberts Plaid.
McGillycuddy's
1135 N. Water St., (414) 278-8888
mcgillycuddysmilwaukee.com
McGillycuddy's is more Water Street than Irish, but it's still a good time. They have both Guinness, Harp, Bass and Smithwick's on tap, as well as several Irish bottled beers. The menu is large and varied (the wings are especially notable) and c'mon – they have something called a "Whiskey Club." What's not to love?
McKiernan's Irish Pub
2066 S. 37th St., (414) 226-6761
mckiernans.com
This South Side pub, on 37th between Becher and Burnham – a favorite of Ald. Bob Donovan – serves lunch from 11 a.m. and has a range of specials, including a taco night, Friday fish fry and happy hour specials from 4 to 6 p.m. Mondays through Thursdays.
Mo's Irish Pub
142 W. Wisconsin Ave., (414) 272-0721
10842 W. Bluemound Rd., Wauwatosa, (414) 774-9782
mosirishpub.com
With two locations – one in the heart of Downtown Milwaukee, the other in Tosa – Mo's offers a truly Irish combination of good food, good draught and lively socializing. Many aspects of Mo's were selected in, and imported from, Dublin to ensure the décor accurately portrays an original Irish pub. And, listen for the Gaelic dialect you'll hear from some members of the staff whose Celtic roots provide an added dimension of authenticity.
Mulligans Irish Pub and Grill
8933 S. 27th St., Franklin, (414) 304-0300
mulliganson27th.com
Mulligans has daily happy hour specials from 2 to 6 p.m. and 10 p.m. to midnight, as well as a Friday fish fry. If you're up for it, take Paddy's Lament Burger Challenge. If you can eat the three-pound burger plus the accouterments in 60 minutes or less, the burger is free and you earn a $50 Mulligans gift card.
Murphy's Irish Pub
1613 W. Wells St., (414) 344-0116
murphysirishpub.net
Murphy's is all Marquette. Sure, it's a Irish bar, too, but it sticks to its ranking by Playboy.com as one of the best college bars in the country as much as it toasts its Irish roots.
O'Brien's Pub
4928 W. Vliet St., (414) 453-6200
obriens-irishpub.com
O'Brien's boasts two bars, ample table seating and a space for playing music. The pub fare is cheap and satisfying, the beer is cold and the staff is friendly. The regulars swear by the mozzarella sticks.
O'Connors Perfect Pint
8423 W. Greenfield Ave., West Allis, (414) 395-7468
O'Connors on Facebook
If you're looking for an intimate spot to dive into a few pints of Guinness, Strongbow or Smithwick's, O'Connors just might be your perfect watering hole. And if you love soccer, even better. If you'd prefer to avoid the crowds that pack into the bar on weekends, head there on a weekday when you're more likely to find a seat at the bar.
O'Donoghue's Irish Pub
13225 Watertown Plank Rd., Elm Grove, (262) 641-2730
odonoghuesirishpub.com
This great neighborhood spot is a fine place to kick back, relax and chat with friends old and new. Whether you're craving a reuben or thirsty for a cold one on tap, you can be sure that at O'Donoghue's it will be served up with a smile.
O'Lydia's
338 S. 1st St., (414) 271-7546
olydias.com
Formerly Slim McGinn's, O'Lydia's opened in 2011 and features an assortment of Wisconsin micro-brews and 16 beers on tap, plus all the classic pub fare, dinner specials and even brunch. O'Lydia's also boasts a 60-person party room, open air patio and enclosed patio bar. Throw in a free shuttle to Brewers games, and what more could you ask for?
O'Sullivan's Public House
12525 W. North Ave., Brookfield, (262) 784-1656
O'Sullivan's on Facebook
Despite being billed as an Irish sports bar, this Brookfield pub is definitely more pub than bar. And it's family friendly to boot. Most items on their menu are typical pub fare, but there are a few surprises as well, including a must-try Irish stew!
Paddy's Pub
2339 N. Murray Ave., (414) 223-3496
paddyspub.net
The charming couple that owns Paddy's treats everyone like a close friend, with a warm smile and cold pint. A dimly lit interior is augmented by a great little courtyard (weather permitting, of course).


Slim McGinn's West
14735 W. Lisbon Rd., Brookfield, (262) 373-1500
slimmcginns.com
This cozy pub located at the intersection of Brookfield and Menomonee Falls provides respite for those who enjoy Irish-style bar fare, cocktails and a rotating selection of beer on tap. Enjoy the game on their HD televisions, or just hang out with family or friends. Want to know all the secrets of the Irish? Ask about their hosted pub tours in Ireland!
Trinity Three Irish Pubs
125 E. Juneau Ave., (414) 278-7033
trinitythreeirishpubs.com
Trinity Three Irish Pubs features three distinct pubs (Duffy's, Foy's and Gallagher's), all with different colors and feels. The food is as Irish as you'll find in Milwaukee: the menu begins by listing a pint of Guinness in the appetizers section, and moves on to Irish stew, shepherd's pie and corned beef on rye, among much more. The Reuben rolls are our favorite.