'Tis Dining Month, the tastiest time of year! This means we're dishing up fun and fascinating food content throughout October. Dig in, Milwaukee!
In honor of Dining Month, we're resharing this story of a classic Milwaukee restaurant (and, now, bar!). Enjoy!
Although the scent wafting from the kitchen might be new, the sight of the Red Mill Inn, 1005 S. Elm Grove Rd., in Brookfield, is one that many generations of residents have seen.
Built as a house in the 1840s, the place got a number of additions over the years and morphed into a roadhouse by the end of Prohibition (and potentially earlier as a speakeasy). It's been welcoming drinkers and diners ever since.
"I've heard everything from a stagecoach stop to a brothel to then it was a supper club for the better part of 70 years," says co-owner Mark Zierath. "The place is just chock full of rooms. It's all additions."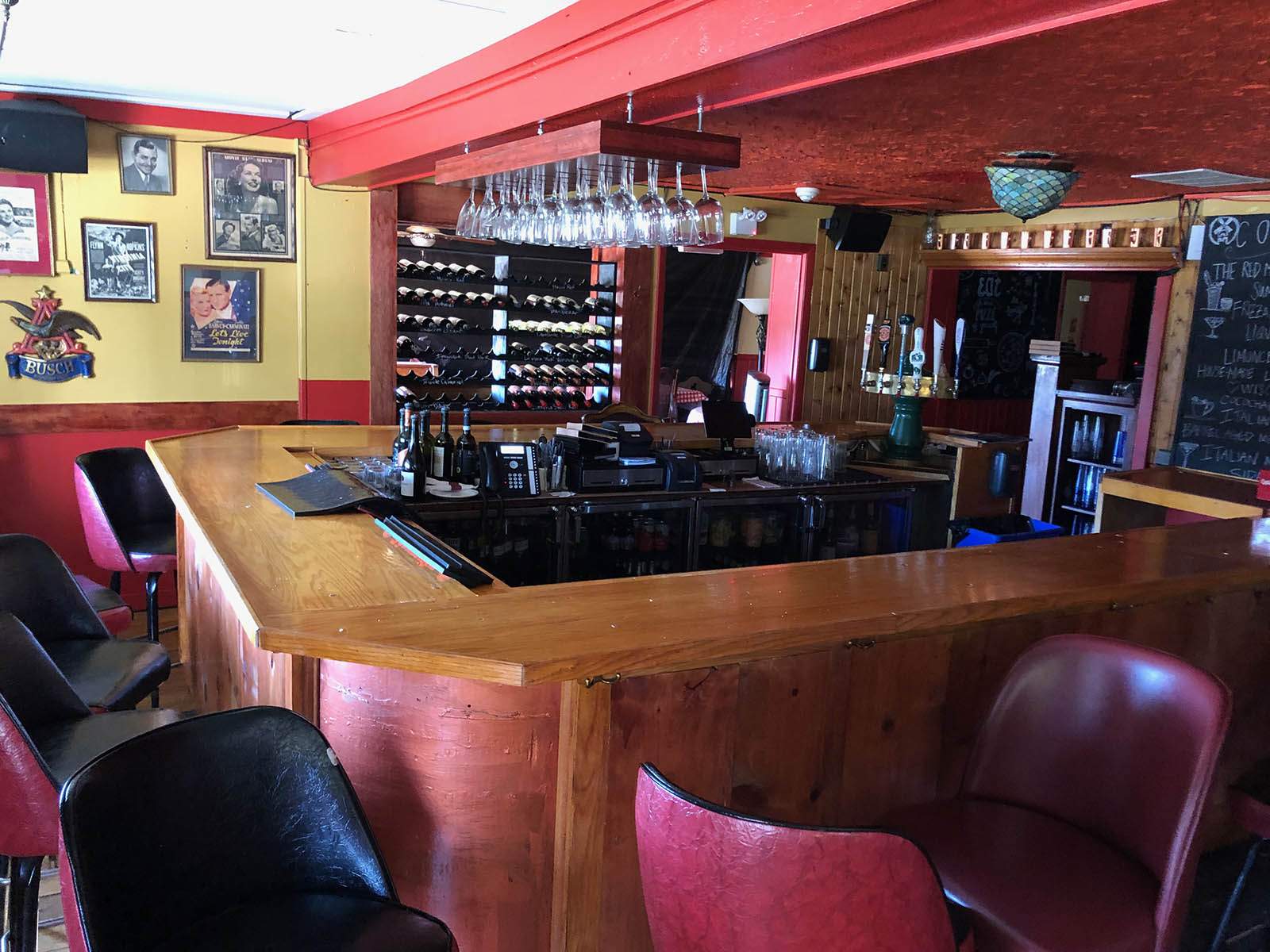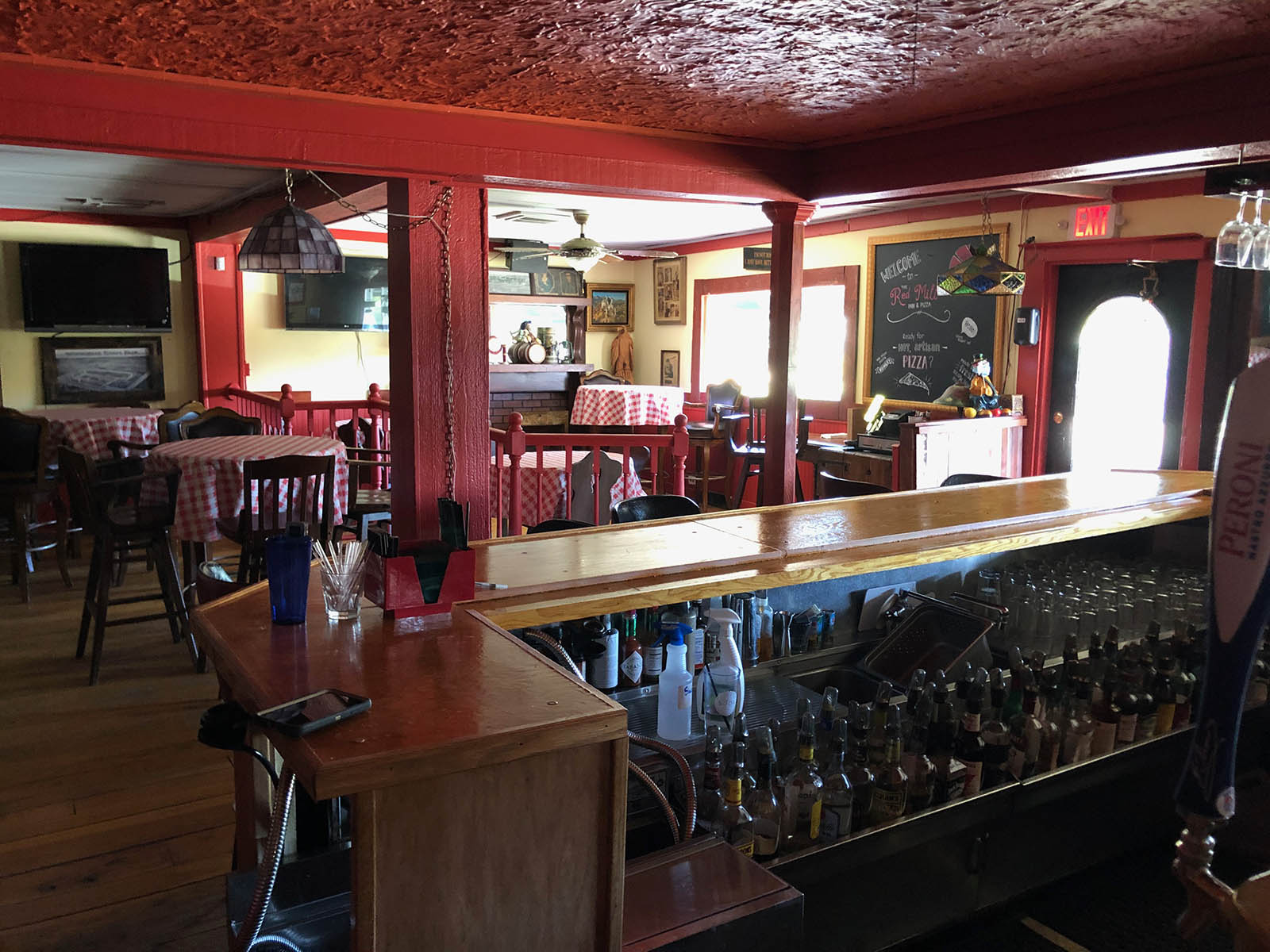 Under its new ownership – Brian Eft and Zierath also own Von Trier on Milwaukee's East Side, and Zierath, who recently closed Jackson's Blue Ribbon Pub Downtown, owns Ella's in Delafield – the Red Mill still offers fish fry and other familiar menu items, alongside a range of beer, wine and cocktails, but it has also added a pizza oven and is turning out some popular pies.
"It had been a supper club for years," says Zierath. "Actually, in its biggest heyday was a jazz place," he adds, showing me an album recorded at the place and released in 1980, though the leisure suits on the front cover shout 1975.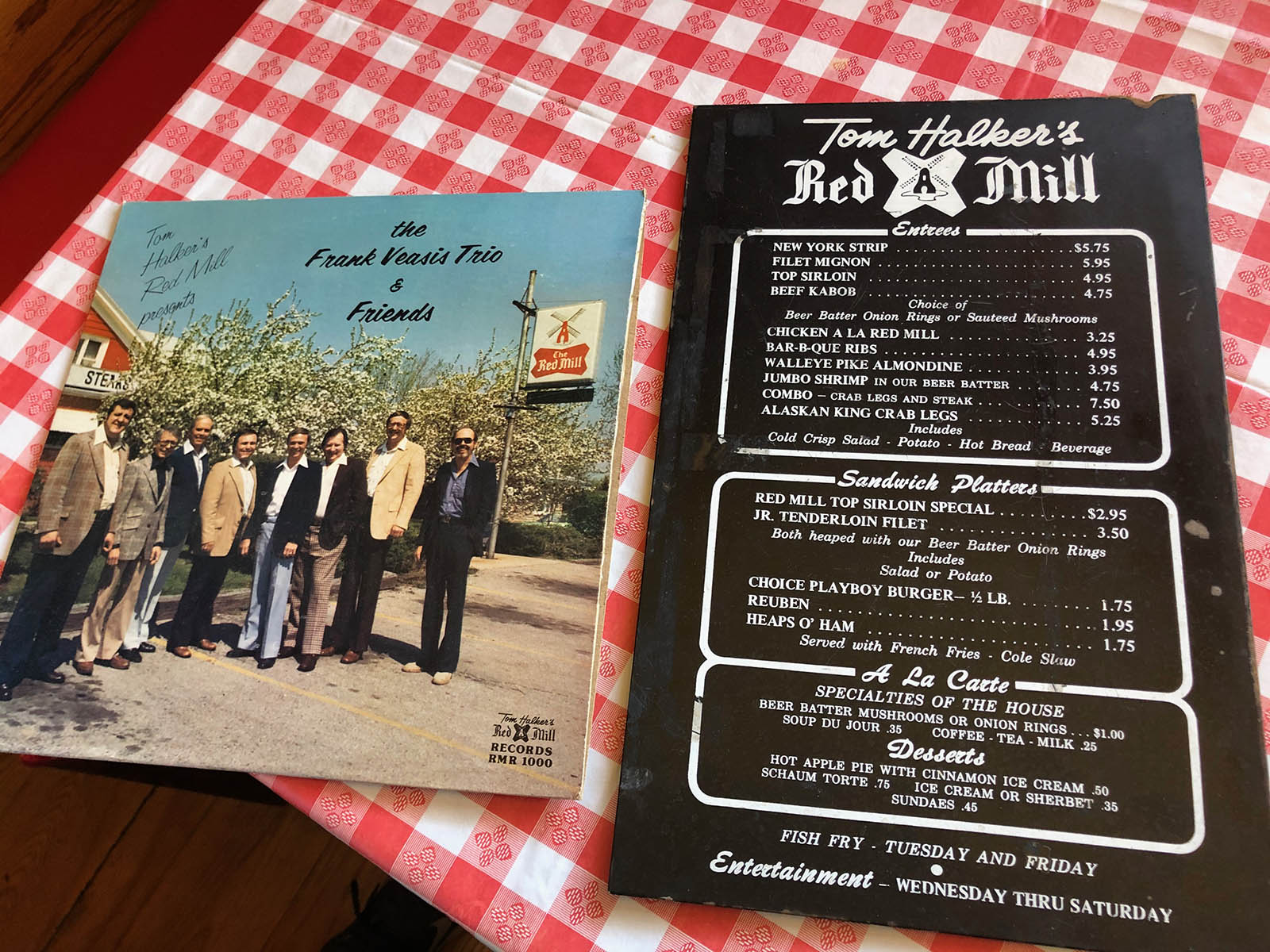 "When I did the walk through here, for whatever reason, the place just screamed Italian to me. It just reminded me of a place in Chicago's Little Italy or the North End in Boston or something. Just this old, established neighborhood Italian joint."
While the Italian part is new, the established neighborhood joint has long been the case for the Red Mill Inn.
Nineteen years after Brookfield's first white settler, William Howe, arrived in 1820, Samuel S. Breese bought 60 acres of farmland where the restaurant now sits. In 1840, the census recorded a population of a mere 148 souls in Brookfield.
In 1847, after the death of his wife Dorothy, August Vogel, who was born in 1825, came to the area from Germany with his three sons, Christian, William and Charles. The same year, he bought the Breese farm and erected the earliest part of the Red Mill building.
By 1850, the population of Brookfield had boomed to 1,944.
When Vogel died in 1861, the farm went to Charles and five years later, Christian, who had been farming his own land in nearby New Berlin, took over, planting corn and wheat, according to a history on the Red Mill website, and raising some cattle for milk and meat.
The Vogels sold their farm to a cousin, Liberty V. Garvens, in 1928, who consolidated the land into his existing 160-acre farm east of today's Elm Grove Road. But he sold the 60-acre plot to siblings Lottie A., Albert L. and Helen P. Kinsey on March 2, 1929, and two and a half months later, the Kinseys, who traded in real estate, sold the land to the Wisconsin Trust Company and the Garvendale subdivision was platted.
It's unclear exactly when Nick Millen got the property – there was apparently a land contract with him and Anton Sweykata in 1929, but also a formal sale to Millen and his wife Emma (nee Luedkte) in 1937 – but Millen appears to have been the first to run the place as a roadhouse.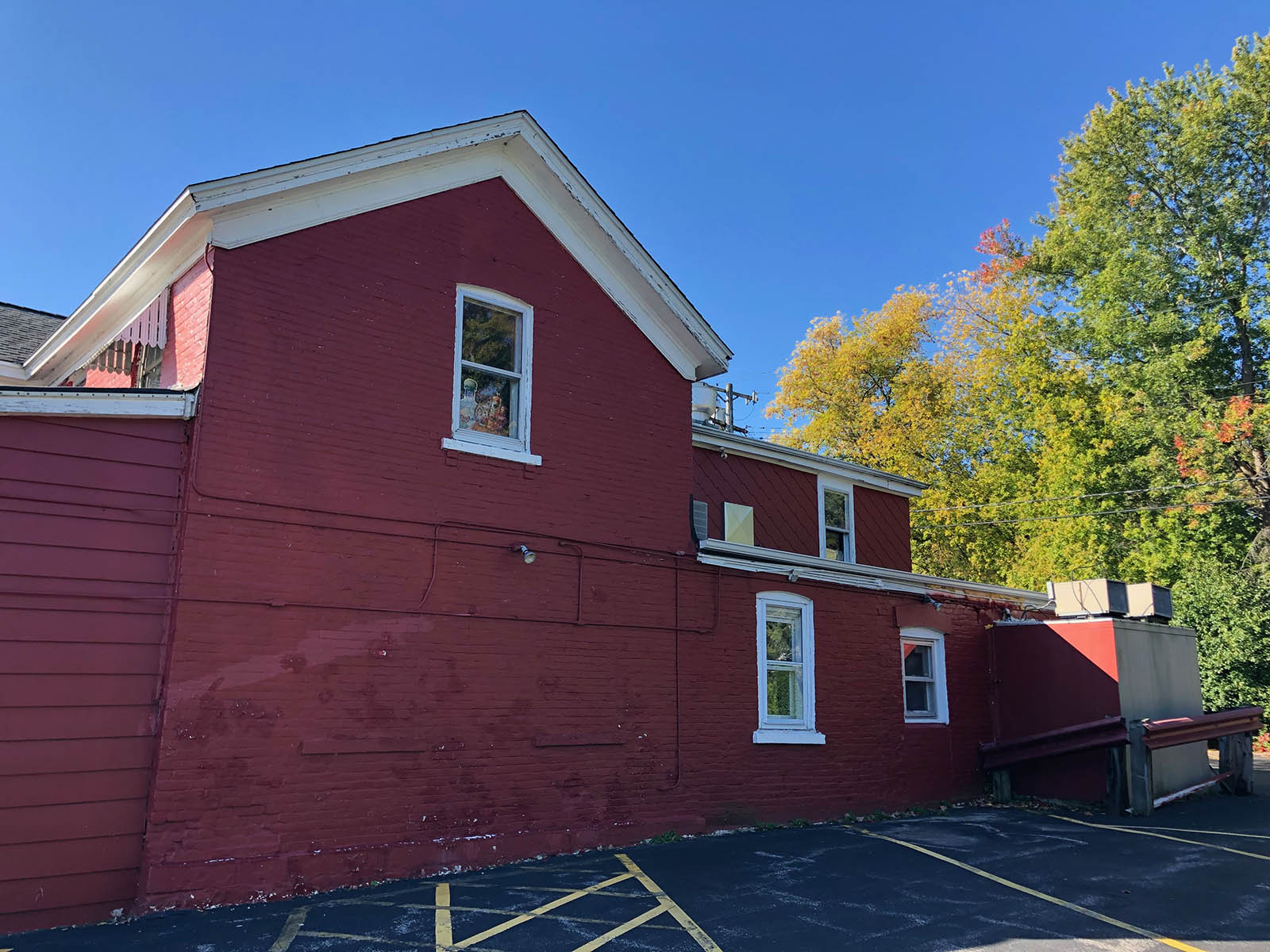 According to the City of Brookfield website, Al Capone established a residence and distillery on Brookfield Road, in the 1920s and its possible that from the late 1920s, Millen was a customer, although that's purely speculation.
What's not speculation is that in July 1936, Millen's Garvendale Inn was one of five roadhouses, "on Waukesha County highways near the Milwaukee County line," that were closed after the town board denied renewal of their licenses.
"Complaints had been made that women entertainers and 'come-on' girls had been maintained at the places," wrote the Milwaukee Journal, adding that not long before, "Circuit Judge C.M. Davison condemned conditions in roadhouses close to the county line."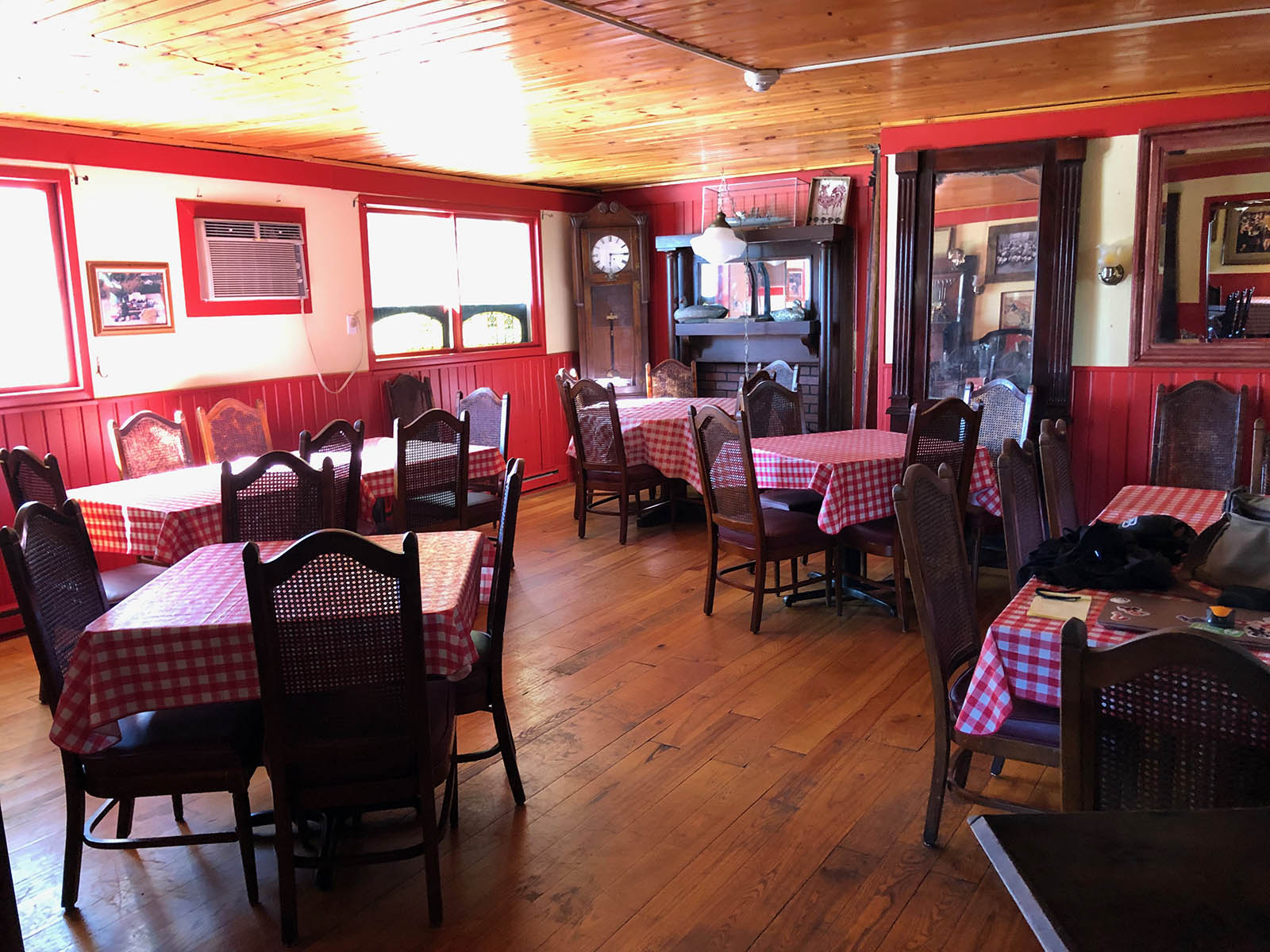 It is likely the Millens, who had 10 children, added to the building.
In October 1937 Emma died during childbirth at the age of 53 and the following year Nick testified in a case against a Waukesha judge, and according to the Red Mill's own history narrative, the first floor, "sometimes served as a house of 'ill fame'."
In 1945, Milen sold to the property to Joseph and Adris Blicharz, who leased the bar to a couple guys named Behlke and Pesch, who remodeled the interior.
Two years later, Oren and Nine Foss bought it and continued to run the Garvendale Inn until 1949, when they sold to Kenneth and Henrietta Behlke (presumably the same Behlkes as previously) and George and Jeanette Lindberg.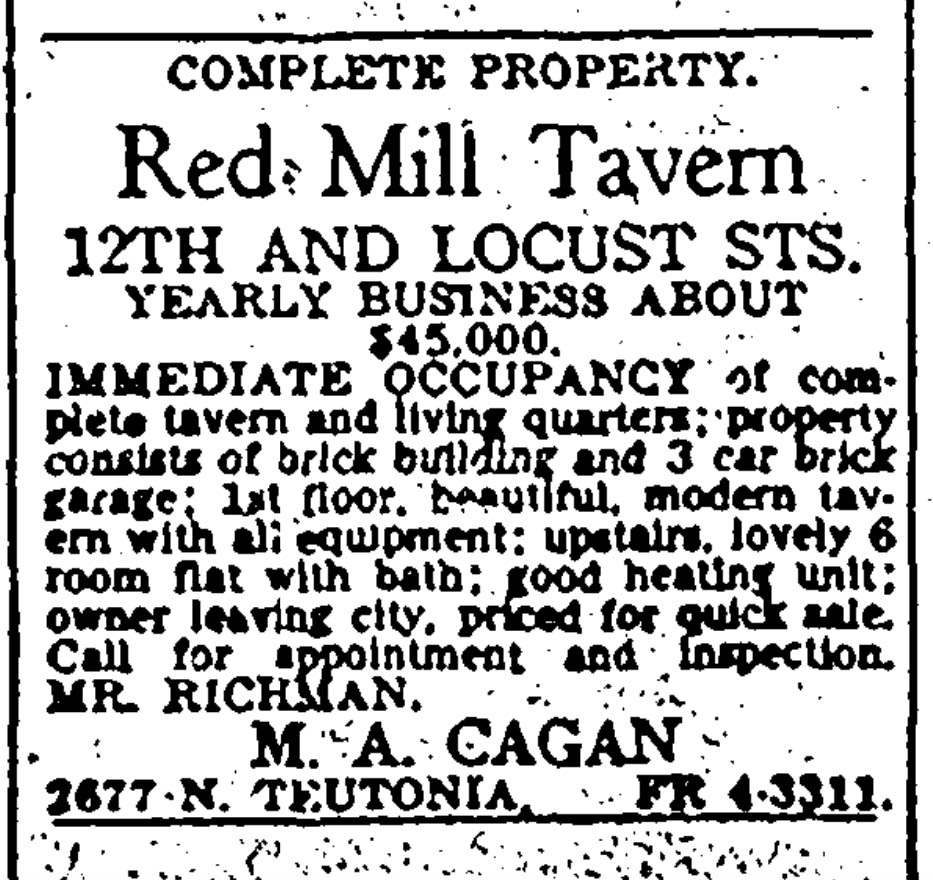 The two couples again reconfigured the bar and lasted but a few years, selling in 1954 to Conrad Schaeffer Jr. and his wife Marie, who had been running The Red Mill Tavern, at 2900 N. 12th St., at Locust Street, which was listed for sale in early 1953 (pictured below in a Google image).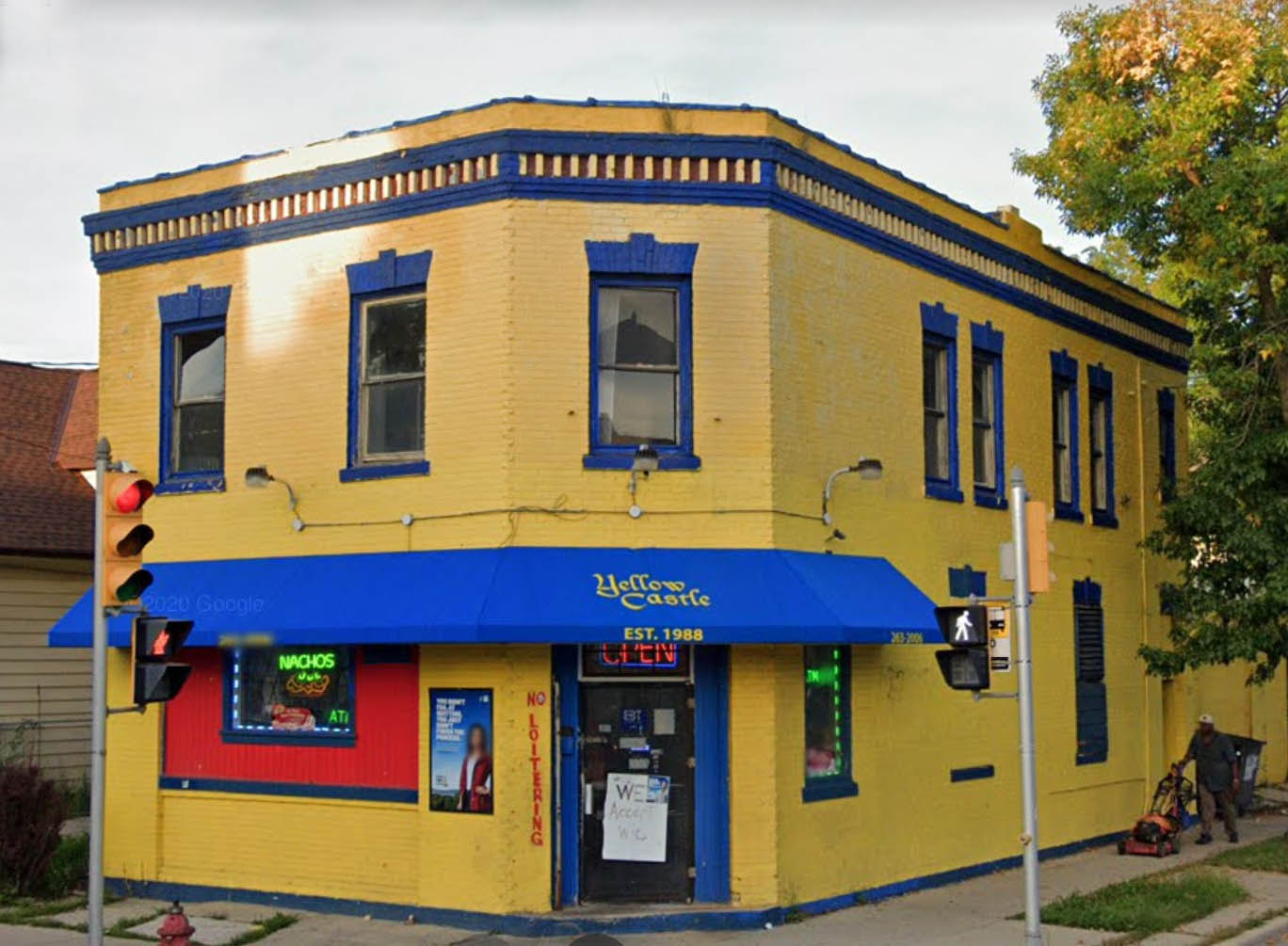 At this point, the Garvendale was renamed the Red Mill, as the Schaeffers brought their previous tavern name along with them.
"They kept the bar and also started a restaurant business," notes the Red Mill website history. "Because they needed more space for business, Conrad wanted to add another room. However, building codes would not allow an addition for this purpose. Conrad then claimed he needed a bathroom and shower downstairs because he resided upstairs.
"This addition was not against building codes and was approved. Conrad added a large living room and a bathroom with a shower in it. That is how it came about that there is a shower in the unisex restroom of the restaurant today. The added living room became the restaurant's first dining room. Later, a fully equipped kitchen was added downstairs and the Red Mill restaurant business was started."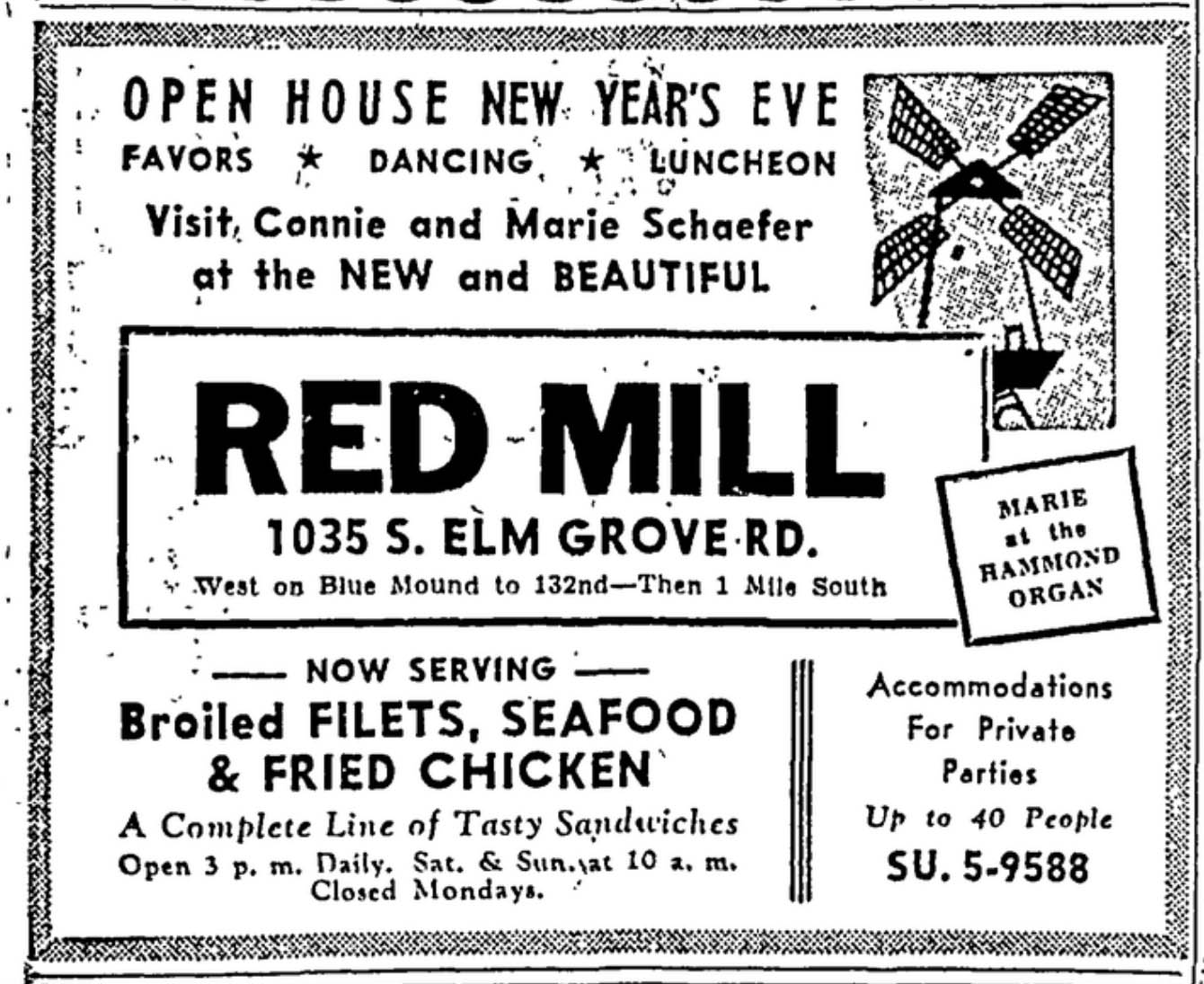 In 1963, you could get a filet mignon for $3.95 and a lobster tail cost the same, each including a salad, potato, beverage and dessert. A shrimp plate was a dollar and a burger just 35 cents. Friday fish fry was $1, a quarter more if you wanted walleye.
Marie, who was a member of MKE Musicians Association, local 8, American Federation of Musicians, played organ at the supper club.
Marie Schaeffer died at age 61 in 1965, and in 1969 the business was sold to Tom and Katie Halker, who added another dining room by converting a garage on the west side of the building.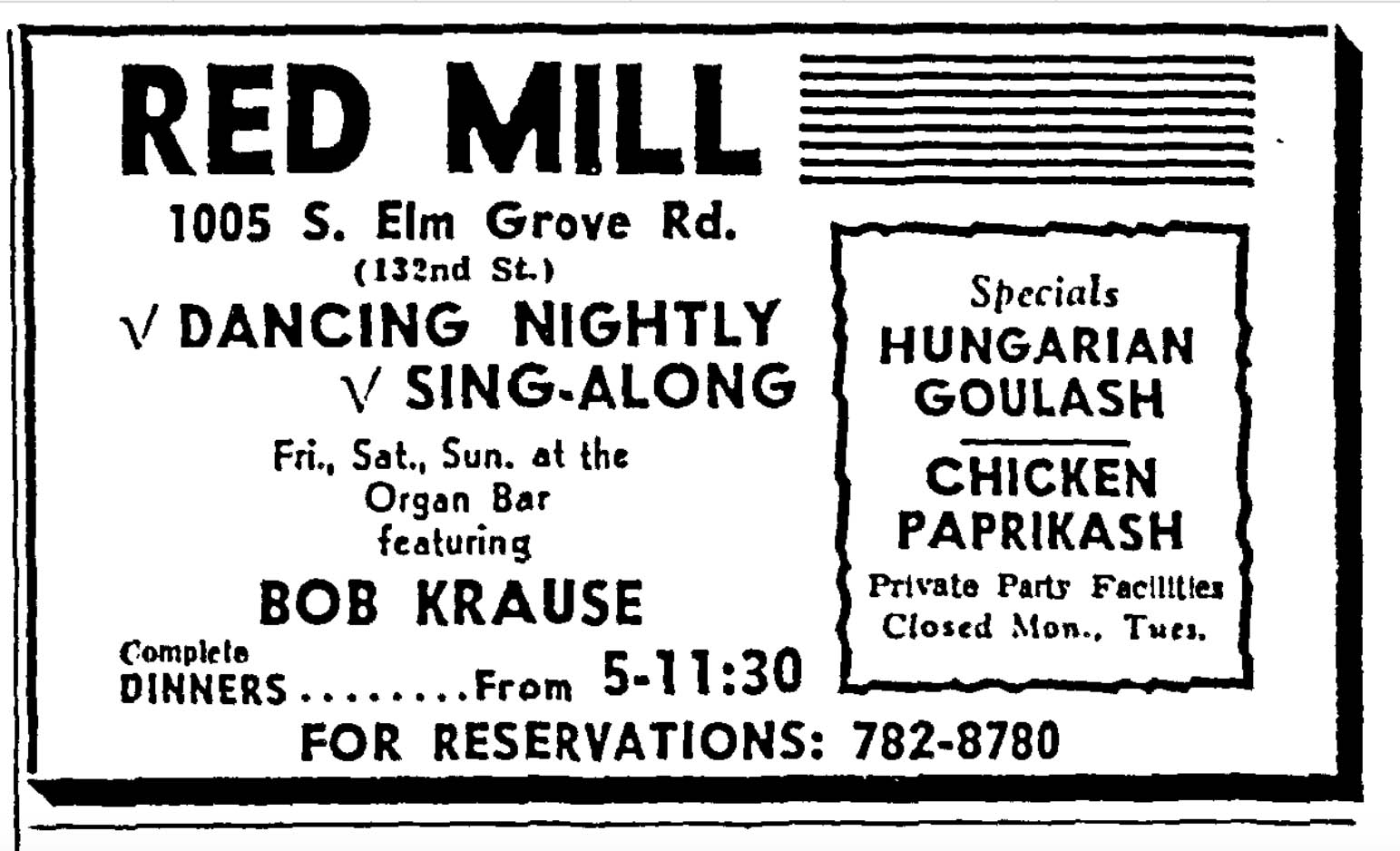 Ads from 1966 (above) and 1971 (below).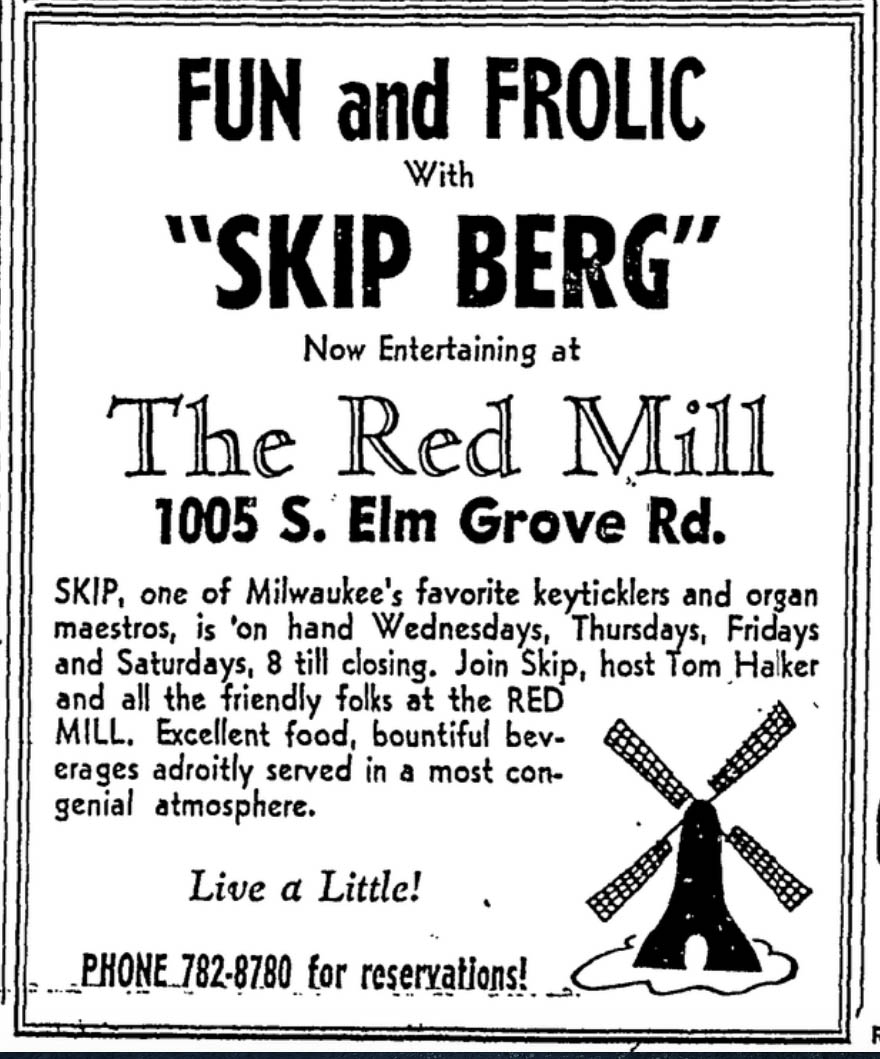 The Halkers added jazz and of course slowly upped the prices to reflect the reality of the world. Now a burger was $1.95 and a New York strip steak was $7.50. A decade later, those ran $3.95 and $13.95.
"I remember the day we closed on the place," recalls the Halker's son David, who was a 14-year-old high school freshman then. "Connie and Bee Schaefer lived upstairs. There was actually a shower in the ladies bathroom in the main dining room where they took showers.
"On the day of closing, my Ddad and a few of his buddies showed up to start renovation. Connie and Bee sat at the bar at 8:30 in the morning drinking stingers, smoking cigarettes. (It) sas a surreal scene."
David recalls that his father had no background in restaurants and ran the Red Mill as he thought it should be run from a patron's point of view. He wanted good, uncomplicated food and great music.
"As you walked in to the right was the piano bar," he remembers. "We called that area the music room. Went from the beginning with a guy playing a Wurlitzer organ with singalongs following a bouncing ball to Skip Berg with his off color routine to the very refined Frank Vlasis trio.
"Dad replaced the organ with a glass top covering a baby grand piano. Add the legendary clarinet player Chuck Hedges and some famous walkin musicians and it was really something special. It was also emblematic to my dad's vision of what a fine night out experience could be."
Halker says that when the upstairs living room was converted to a dining room, the Red Mill would serve upwards of 600 fish fry dinners on a Friday.
"On Friday nights, fish fry night, a group of Dixieland players would sit in with the group," he says. "It was always three deep at the bar. We later closed the upstairs at the request of the Brookfield Fire Dept. A good move. "
Tom Halker brought the discipline he learned in the Army Air Corps to the place, says his son.
"(He) drove the operation to excellence. Look sharp, don't be late, dont be slow, don't be sloppy, smile, etc. My dad was a front man. He realized early on that for many, a night out at the Red Mill for a family fish fry was a big deal. He would always recognize the regulars calling them out by name. Made them feel important because they were important. He treated everyone with respect. He was the brand.
"My mom Katie was endeared by many," the younger Halker says. "She was the hostess with the mostest."
In 1990, the Halkers retired to Florida, leasing the Red Mill, but when it hit rocky waters two years later, they returned to right the ship. Not long after, they sold on a land contract to David DeRuyter, who also ran the Red Mill East at 4034 W. Good Hope Rd., which also hosted live jazz.
Katie died at age 72 in 1997, and in 2002, financial woes again struck the business and Halker again returned to run it after claiming that DeRuyter violated their 20-year land contract.
By 2008, the Mill was run by Brian Normoyle and the Grant family, who gussied the place up before selling it to Butch Schettle – of Butch's Clock Steak House and Butch's Old Casino Steak House in Downtown Milwaukee – who added his name to the place, calling it Butch's Red Mill Pub & Eatery.
In 2019, Schettle sold to Zierath and Eft, who removed a column and some doors to add the pizza ovens in the kitchen. But, otherwise, they're not changing much.
"It's an old building, so there's always a lot of challenges," says Zierath, who takes a break from repairs to damage from a roof leak to show me around. "But it hasn't been anything real major. It's absolutely a landmark. I mean, this thing has been here for so long."
It is really a maze of spaces cobbled together over the years. Inside the main entrance, the bar is on the left and the former stage area on the right, where there is restaurant seating.
Off to the south and west are more dining rooms and at the back and north are kitchen and other back-of-house spaces.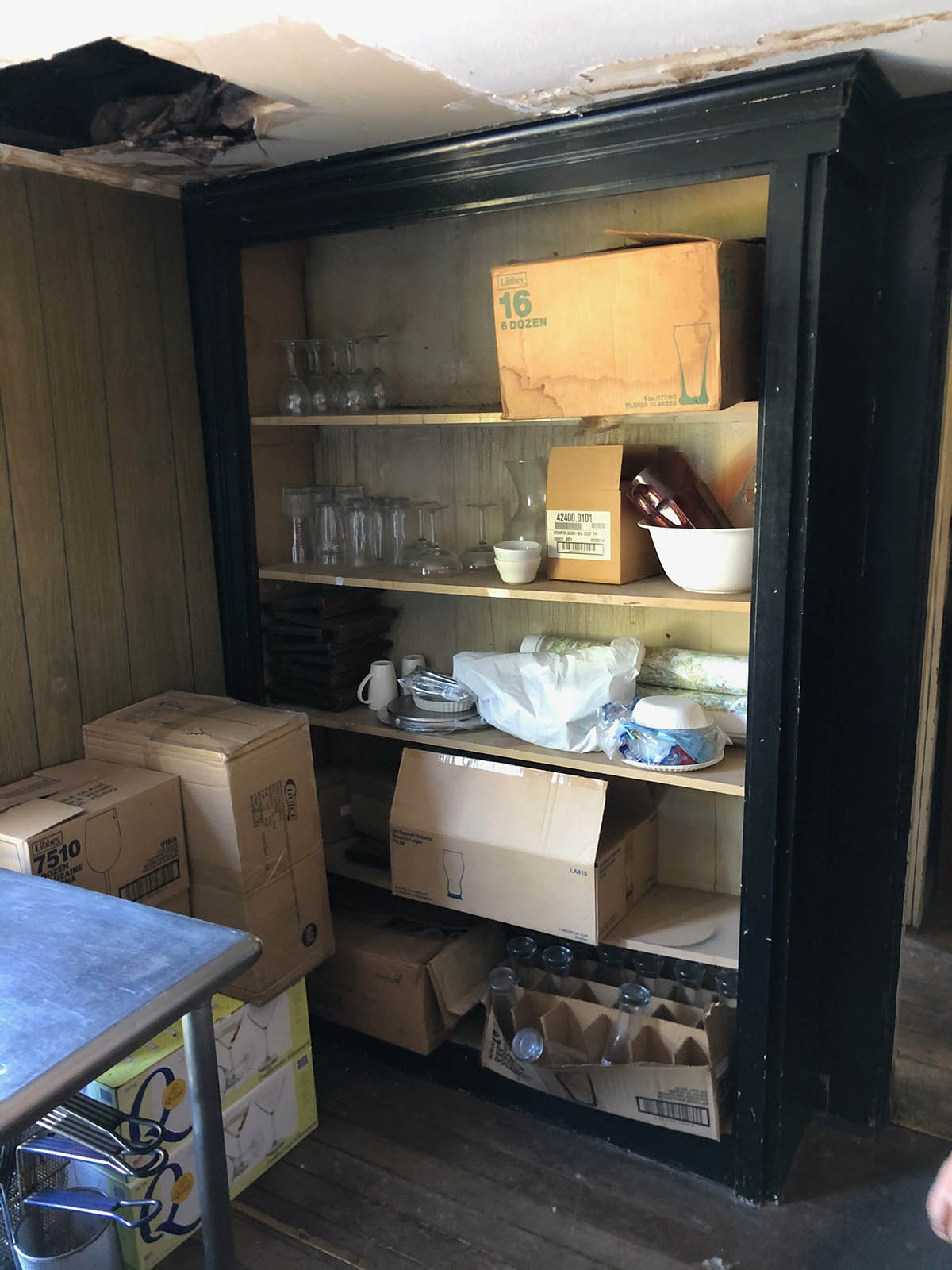 Upstairs, which is now office and storage space, you can see the kinds of things you'd expect in an apartment: closets, bathroom, decorative trim around doorways, built-ins.
In the basement, the original footprint can be determined by its rubble foundation, built with stones found on the land back in 1847. There's also the lower part of the cream city brick chimney, which suggests the exterior brick, now painted red, is also CCB.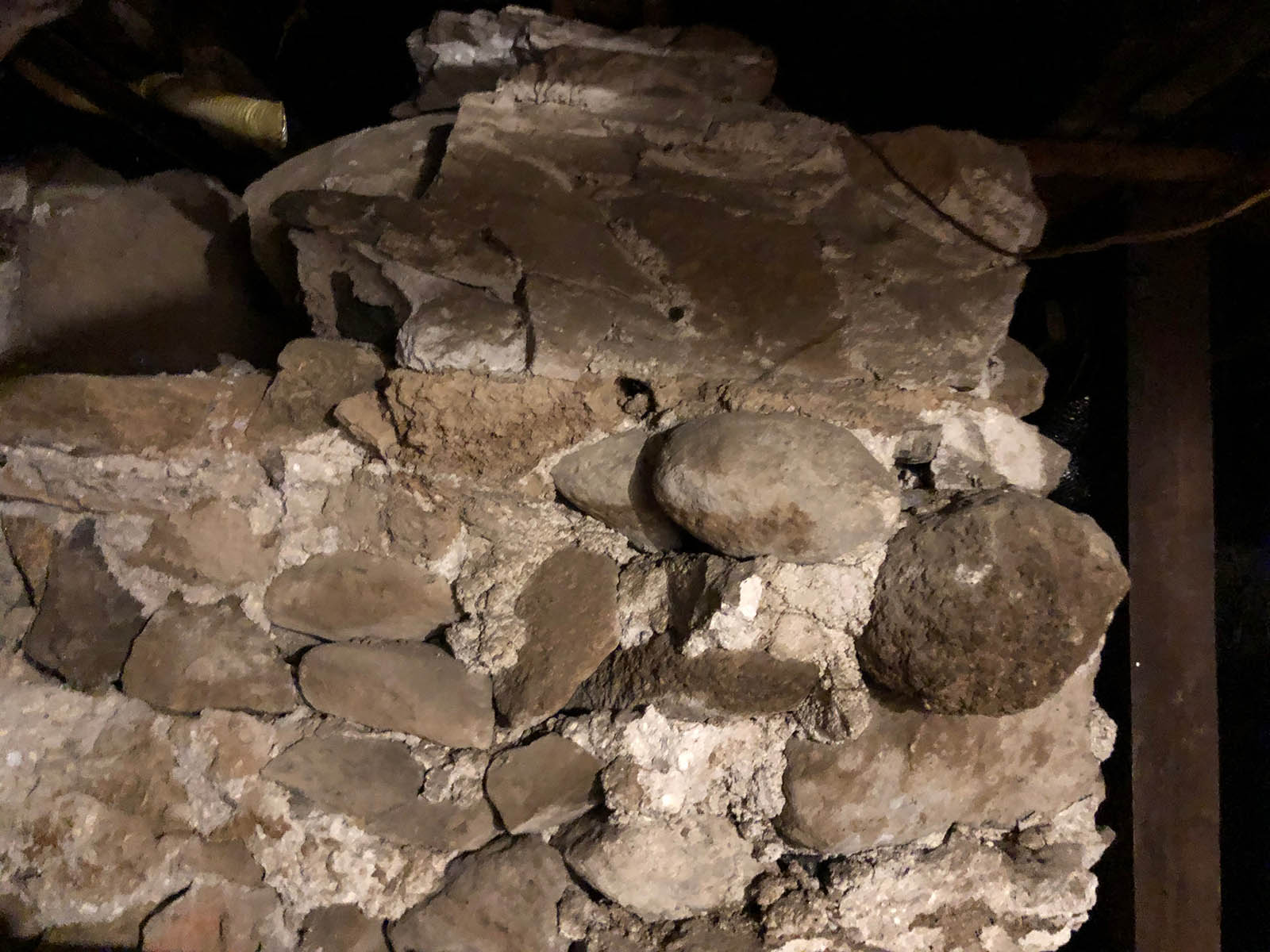 "We bought the building about 13 months ago, and then we literally had only been open about 45 days prior to the shutdown," says Zierath. "We were doing really well. Business was really starting to catch on. The dining room was busy every night, and then the pandemic hit.
"Since the reopening, we're not open Monday or Tuesday, and I was contemplating closing Wednesdays and Sundays and just doing Thursday, Friday, Saturday. And then last night, a Wednesday, we had a really busy night. Fridays are real good. Saturdays are decent."
Tables are spaced out and although there is no limit on capacity in Waukesha County, Zierath says that hasn't been an issue.
"We've never gotten (near capacity) yet since the reopening," he says. "It's been slow. Friday nights are carrying us because we do just a ton of carry-out on Friday night."
The Red Mill attempted offering delivery but it didn't work out, so that's on hold. The owners had planned to offer lunch service, but the volume isn't there, so that, too, is something that will come in the future.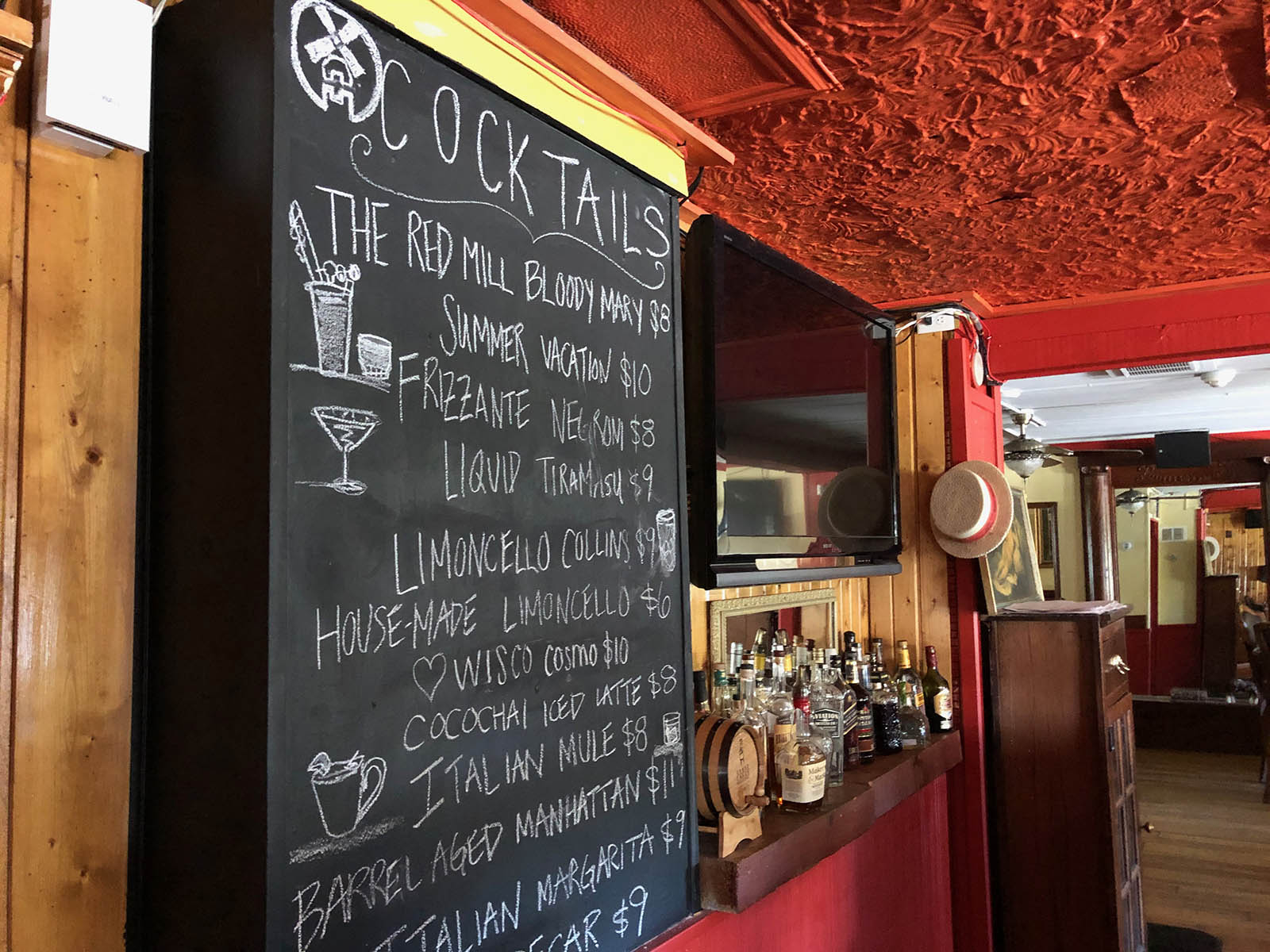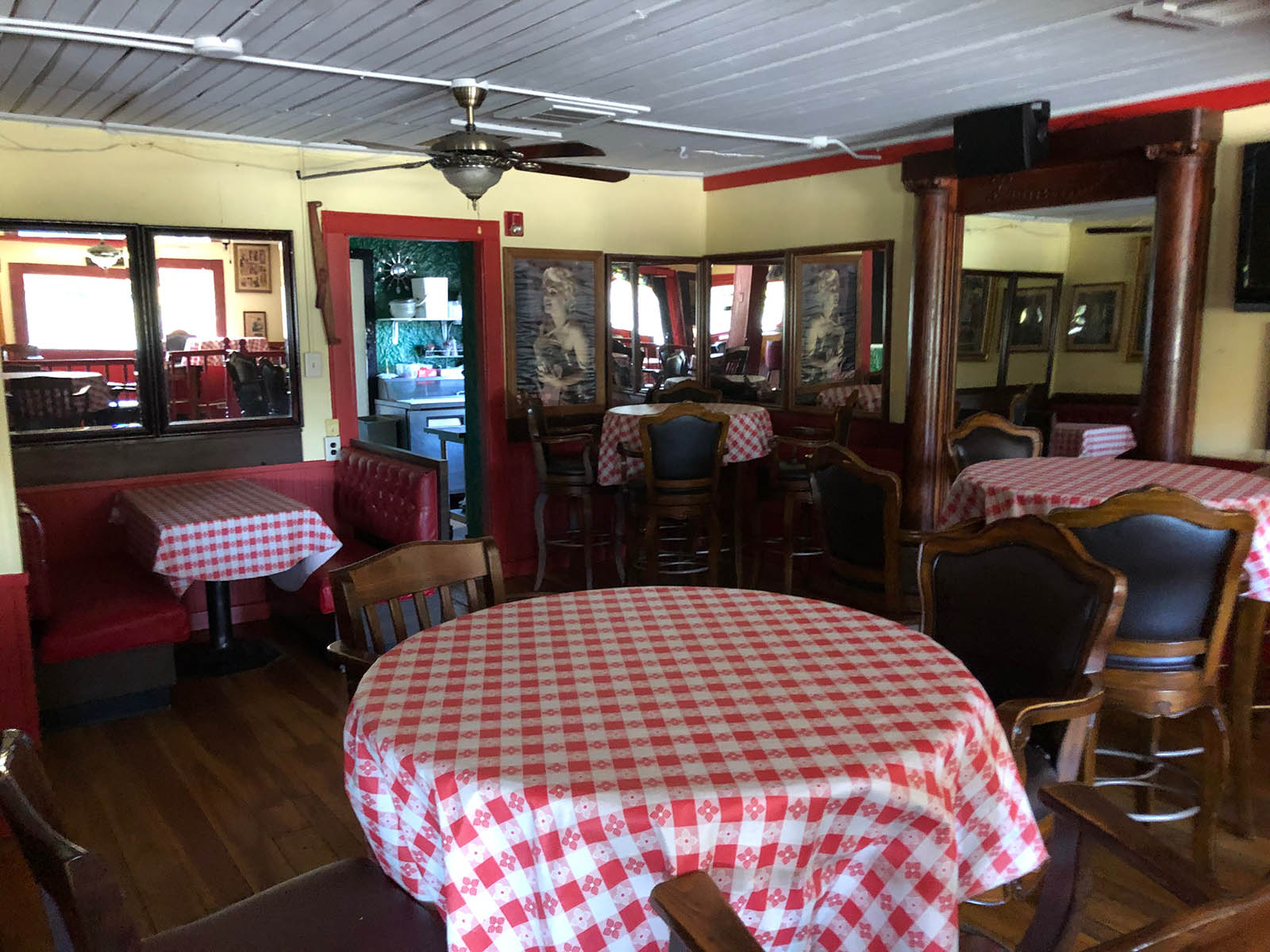 "But the carryout has been very strong, curbside on Friday nights with our fish fry. Even though we're Italian place, our Friday night fish fries, it's out of this world. This place has had a Friday night fish fry for 60-plus years.
"My grandmother used to live right up the street. I remember coming by here as a kid and the cars would be parked in every direction."
There must be a lot of customers with long memories of the place.
"Oh yeah, I get everything from 90-year-olds in here saying, 'Oh my God, I've been coming in here for decades,' to younger generations coming in and saying, 'Oh, my grandma brought me here for my 16th birthday'," says Zierath. "I've overheard customers tell their kids, 'This is where grandpa used to hang out.'
"It's definitely a multi-generational place. People young and old remember it or have some sort of memory, some sort of attachment to a place whether through a grandparent or a parent or whatever."
So, how have customers reacted to the switch from standard supper club fare to Italian?
"They're fine with the menu," says Zierath. "Right now what's really been garnering a lot of attention is our specialty pizza. Our chef, Christopher Rolfson, he does a different specialty pizza every week, and it's amazing how creative he's become.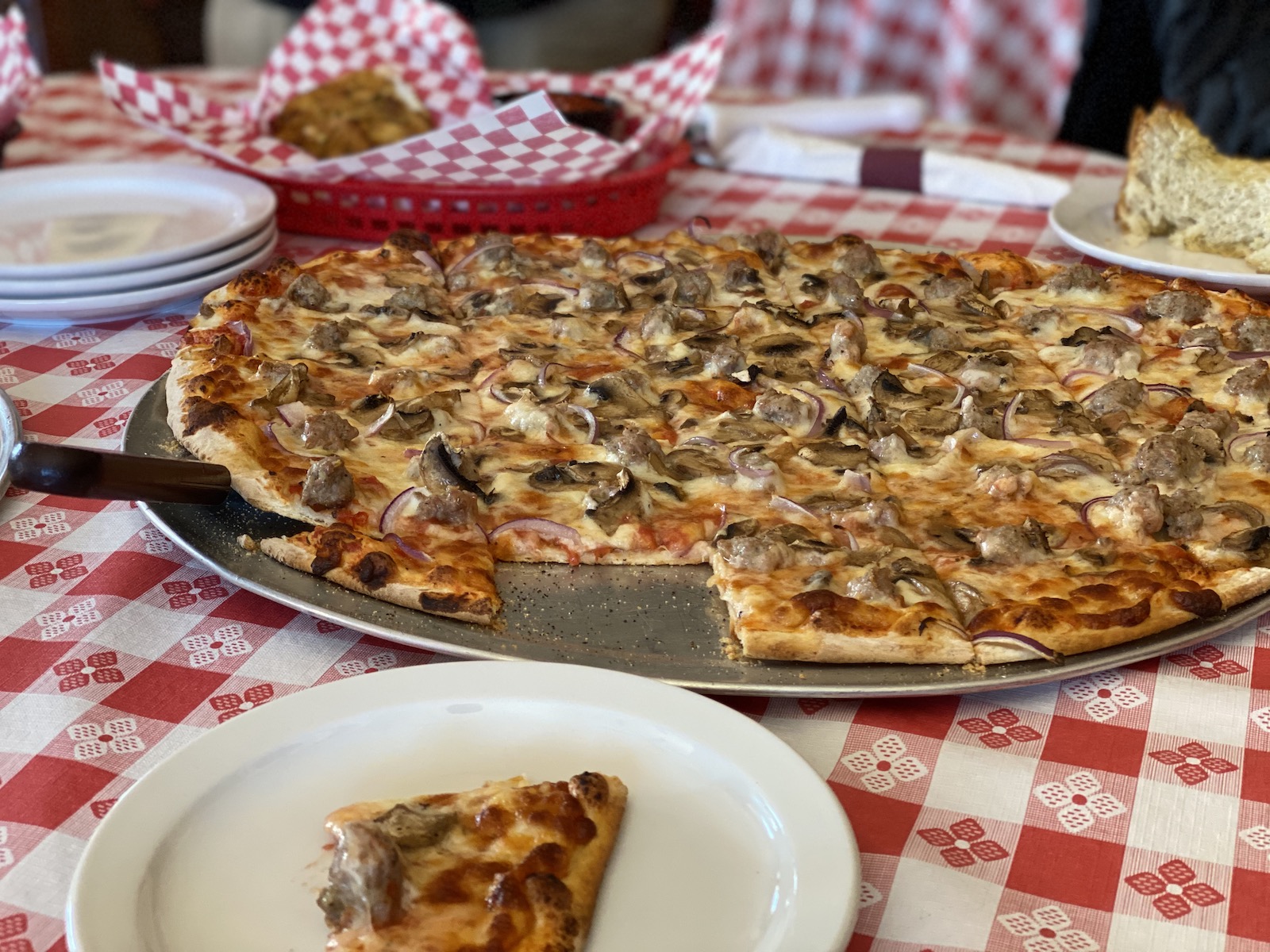 "There's been an unbelievable the response to these pizzas. One of them, he called it Wakey, Wakey, Eggs and Bakey – it was a bacon and egg pizza – was probably the best pizza I've ever had in my life. He's got one that he did with pepperoni and dill pickle slices. People want it on the menu. We're getting calls for it. 'When are you doing the pepperoni pickle pizza?' So that's going on the menu."
The pizza has a cracker-thin crust and everything is made on-site, except, notably, the sausage.
"Our produce is delivered daily, sourced locally as much as we can," says Zierath. "We literally got a guy named Vinny. Vinny's Sausage. He's a legitimate company that makes our Italian sausage for us to spec. People rave about our Italian sausage. They're just like, 'Wow. This sausage is unreal.' And he literally is this little Italian guy. He's got to be in his late 60s, early 70s, even, maybe. It's hard to tell."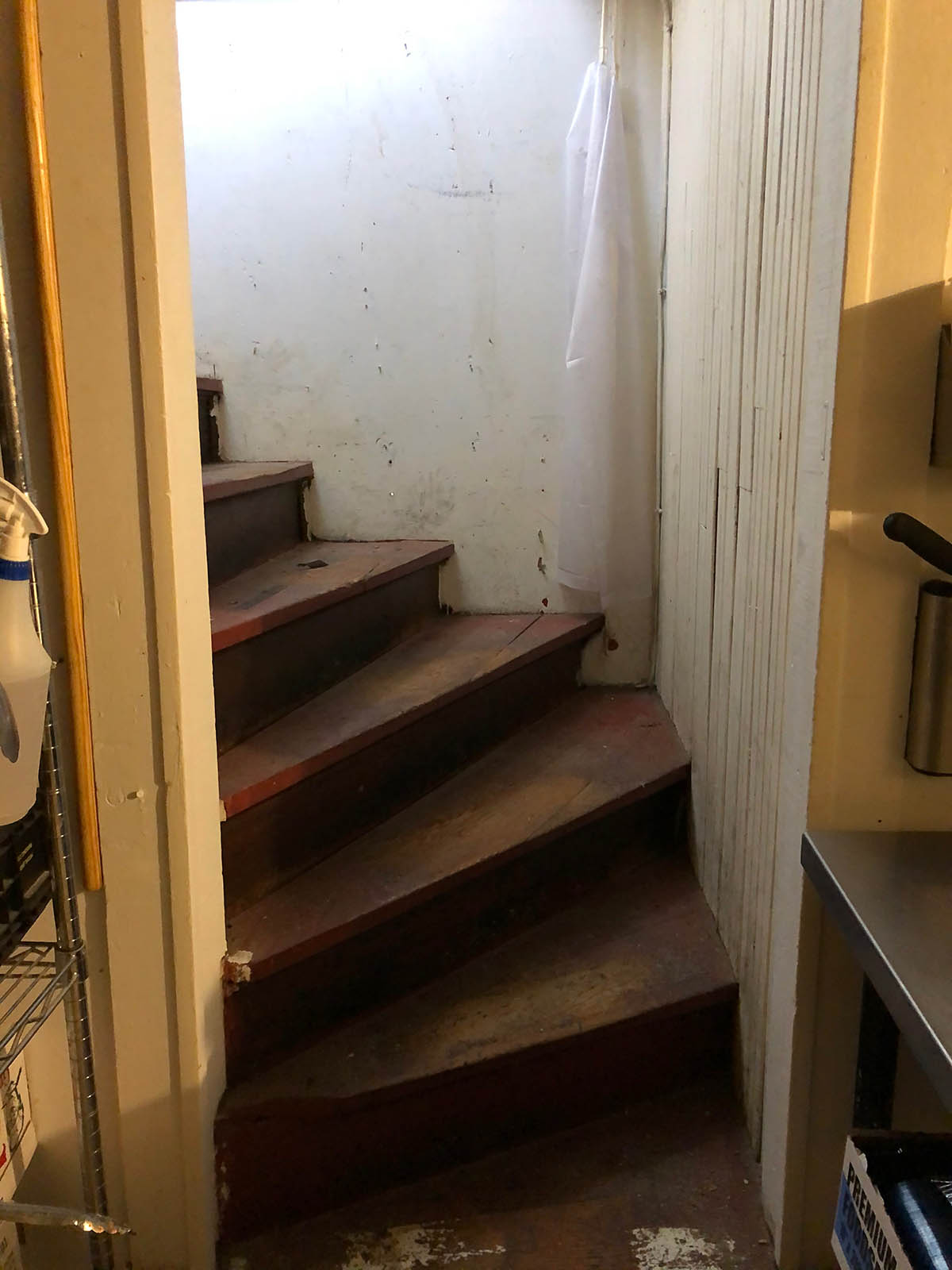 Though business is a little slow, Zierath is not worried for now. He says that the previous owner, from whom the restaurant was purchased on a recorded land contract, has been great to work with during these difficult times.
"Butch came to me right away and said, 'Look, what's the difference if you pay me off in five years or you pay me off in five years and six months? It makes no difference to me. If you can't make a payment, you let me know and we'll tack it on the backend'."
Like most restaurateurs at the moment, Zierath is looking for ways to draw in customers and to that end, he's hoping to build a patio out front. Though there are challenges, since the restaurant is the sole business in the heart of a residential area, he's hoping the extenuating circumstances will help get it done.
"Just a big deck with maybe some fire tables or something," he says. "You've got to have outdoor seating these days. Everyone wants to sit outdoors, and there's enough space. It wouldn't eliminate a single parking spot, and we can still keep green, with a lot of planters and stuff like that."
And, of course, there is also the work required by a 173-year-old building
"Yeah, obviously this building is going to need a ton of upkeep, but there are a lot of things I'll be able to do; I'm pretty handy. It'll just be small improvements as we go. It's hard because of the money situation. It's a double-edged sword."
Born in Brooklyn, N.Y., where he lived until he was 17, Bobby received his BA-Mass Communications from UWM in 1989 and has lived in Walker's Point, Bay View, Enderis Park, South Milwaukee and on the East Side.
He has published three non-fiction books in Italy – including one about an event in Milwaukee history, which was published in the U.S. in autumn 2010. Four more books, all about Milwaukee, have been published by The History Press.
With his most recent band, The Yell Leaders, Bobby released four LPs and had a songs featured in episodes of TV's "Party of Five" and "Dawson's Creek," and films in Japan, South America and the U.S. The Yell Leaders were named the best unsigned band in their region by VH-1 as part of its Rock Across America 1998 Tour. Most recently, the band contributed tracks to a UK vinyl/CD tribute to the Redskins and collaborated on a track with Italian novelist Enrico Remmert.
He's produced three installments of the "OMCD" series of local music compilations for OnMilwaukee.com and in 2007 produced a CD of Italian music and poetry.
In 2005, he was awarded the City of Asti's (Italy) Journalism Prize for his work focusing on that area. He has also won awards from the Milwaukee Press Club.
He can be heard weekly on 88Nine Radio Milwaukee talking about his "Urban Spelunking" series of stories.