When the musical "Rent" comes to the Marcus Center for the Performing Arts next week for its 20th anniversary tour, Aaron Alcaraz will play the beloved character Angel.
Angel is one of the main roles in the musical and for many, the favorite of the show. The kind and comical character is either a transgender woman or a drag queen – it's unclear and fans differ in opinion – who is a street drummer and HIV+.
A retelling of Puccini's "La Bohème," "Rent" takes place in New York City in 1989 when the AIDS epidemic was catastrophic. The story follows Angel, along with six other artists who, despite struggles, are living a life of love.
Alcaraz, who is 23, joined the touring cast very recently and says he never imagined he'd get to play his dream role so early in his career. OnMilwaukee had an inspirational chat with him earlier this week.
OnMilwaukee: Where did you grow up and when did you start performing?
Aaron Alcaraz: I'm from Los Angeles, which is where I lived until I went to Ithaca College (in New York) where I just graduated with a BFA in musical theater. I always loved to sing and was in choir, but it wasn't until high school that I fell in love with musicals.
What was your first musical?
My first musical was "High School Musical" and I still love everything about it. It was after my second musical, "The Wizard of Oz," that I knew I wanted to do this professionally. I was in the ensemble for both shows, but the director of "Oz" saw something in me and pulled me aside and invited me to audition for an acting group he had put together. I auditioned and I got in and then had acting classes for the first time. I was very lucky to have this experience.
Were you a fan of "Rent" before getting the gig as Angel?
Absolutely. I grew up watching it and it was one of the first movie musicals that captured me. Before I was involved in musical theater I was in choir and for two concerts we sang material from "Rent" and I loved it.
The character of Angel always spoke to me the most. Such a strong character full of joy and love and life. It was always a dream role of mine. I really didn't think I'd get this opportunity so soon after graduating from college. I am so happy to be here.
How long have you been on tour with "Rent?"
Not very long. I'm very new. We're in Charlotte (N.C.) right now and this is only our second week of the show. It's been great so far.
Considering you're so new to professional theater I'm wondering if you've been interviewed before?
Actually, this is my second interview. My first was earlier today.
Wow, you're a natural. Extremely well spoken!
Thanks.
So how did you prepare for the role of Angel?
The biggest thing was the heels. I had never worn heels before. Even during the audition I didn't wear them, but once I found out I had the job I went out and bought myself a pair of affordable heels and started walking around everywhere in them. I was so thankful that I did, because by the second rehearsal they had me jumping on and off tables in heels. I'm really happy I took time for the "training heels" first!
What is your favorite part of the show?
My favorite part is performing "Seasons of Love." It starts off the second act and it's one of the more well-known songs from the show. It's my favorite because the audience is waiting for it. We come out, line up in the front of the stage and get the chance to look out at the audience and make connections with different audience members while singing. It's so nice to see and hear to see their reactions. I've seen people crying, singing along, hugging in their seats. It's such a unifying moment between the audience and the cast. A really beautiful moment.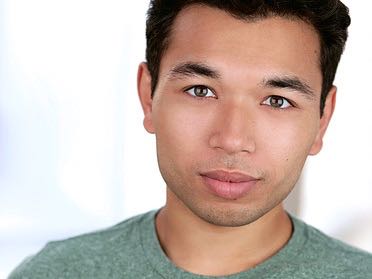 Even though Rent takes place in the late 80s/90s and AIDS survival rates are, thankfully, much higher, how is the show still relevant today?
No matter what time period – and especially today – a show with a diverse cast speaking about love and acceptance and living each day to its fullest is something everyone can appreciate. I think people today, based on the political climate, appreciate this message more than ever.
How do you personally relate to Angel?
I connect with the aspect of joy that Angel brings everywhere. He's also very empathetic and caring and brings a good time to everyone around him. I aspire to be like that in my life. And I also aspire to have the amount of confidence that Angel has. He knows who he is and what he wants and the kind of energy he wants around him. Whether drumming on the street or dressing up and being fabulous, he brings so much joy and light and confidence into the world and it helps me, as Aaron, to strive to be more like Angel in everything I do.

Molly Snyder started writing and publishing her work at the age 10, when her community newspaper printed her poem, "The Unicorn." Since then, she's expanded beyond the subject of mythical creatures and written in many different mediums but, nearest and dearest to her heart, thousands of articles for OnMilwaukee.

Molly is a regular contributor to FOX6 News and numerous radio stations as well as the co-host of "Dandelions: A Podcast For Women." She's received five Milwaukee Press Club Awards, served as the Pfister Narrator and is the Wisconsin State Fair's Celebrity Cream Puff Eating Champion of 2019.