Upstairs in the Quadracci Powerhouse theater, the goal is deception, putting on an act.
But downstairs in the historic buildings occupied by the Milwaukee Repertory Theater, when cracks appear it's no put-on.
Many buildings Downtown are constructed on wood pilings that have provided support for more than a century. But these pilings need to be keep submerged to prevent deterioration. While at Northwestern Mutual, for example, there's been no problem, other sites have had issues.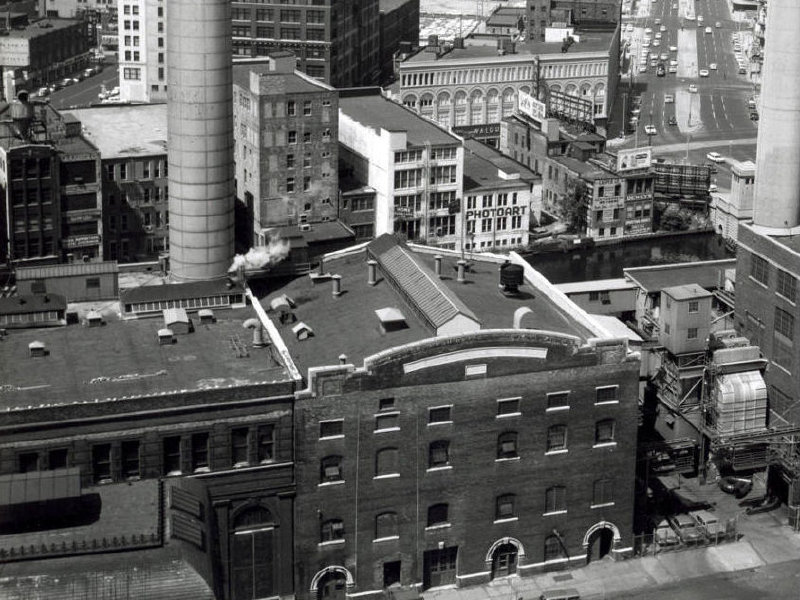 When the Auditorium was converted to the Milwaukee Theatre, a section on the north end of the building was demolished because the subterranean pilings were ruined. Now, the tamarack pilings that hold up one of two century-old The Milwaukee Electric Rail and Light Co. power plant buildings that were converted into the home of the Rep beginning in 1985 are threatened.
"We've known that there has been an issue since 2011," says Chad Bauman, who has been Rep managing director for a year. "When I took the job, I knew that we had a $1 million fix that had to occur. Now it's 1.75 (million).
"You know these things happen. The building is from 1897, so anytime you buy a historic home and you go to renovate it, you open the walls and you find things. It's kind of the same position we're in."
Despite being built on the banks of the Milwaukee River, groundwater levels beneath the building have been falling. And the effects have not only been measurable, but apparent to the naked eye.
In the basement, the Rep's Chief Engineer Mark Uhrman shows me a spot where the wall and ceiling are being pulled apart. Upstairs, there's a door that used to open just fine, but now scrapes against the floor.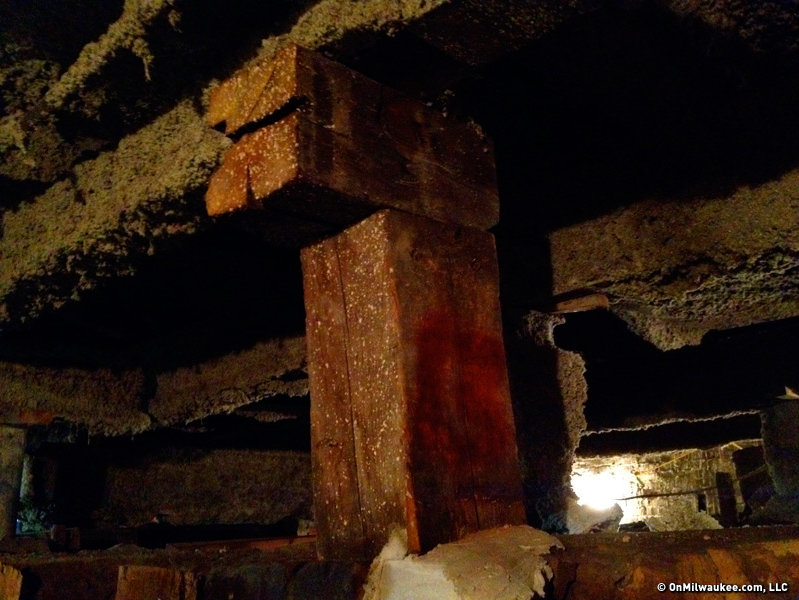 In another area, we see the huge brick supports that once held the unimaginable weight of giant electricity-generating dynamos.
A 1985 photograph showed them to be more or less perfectly level. Now, even I can see that they're tilting inward.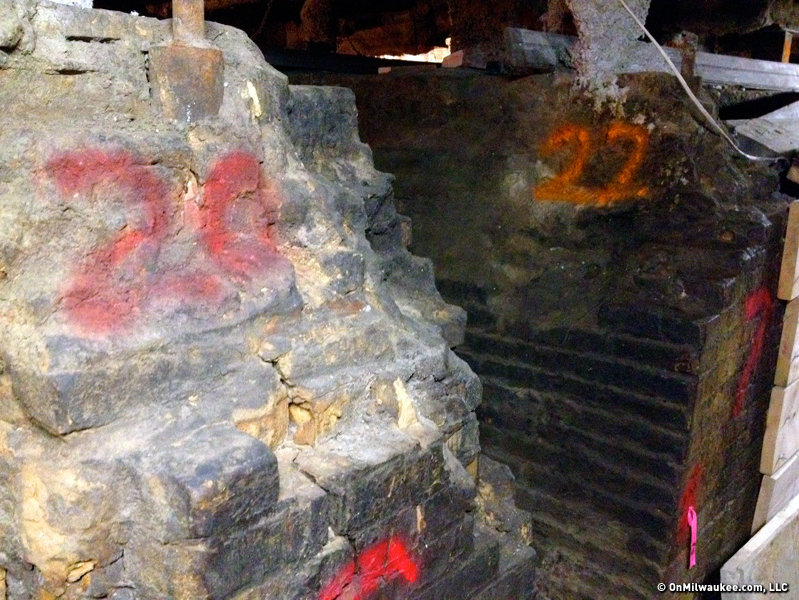 The issues are in the older building in the complex, to the north of the plant that faces Wells Street, erected between 1897 and 1900. It is an unusual building. Head down to the basement and look up at the ceiling and you'll see a rather unexpected building material.
In the 1930s, when a floor was added, the electric and rail company, surely in a Depression-era effort to save money, relied on a resource it already possessed.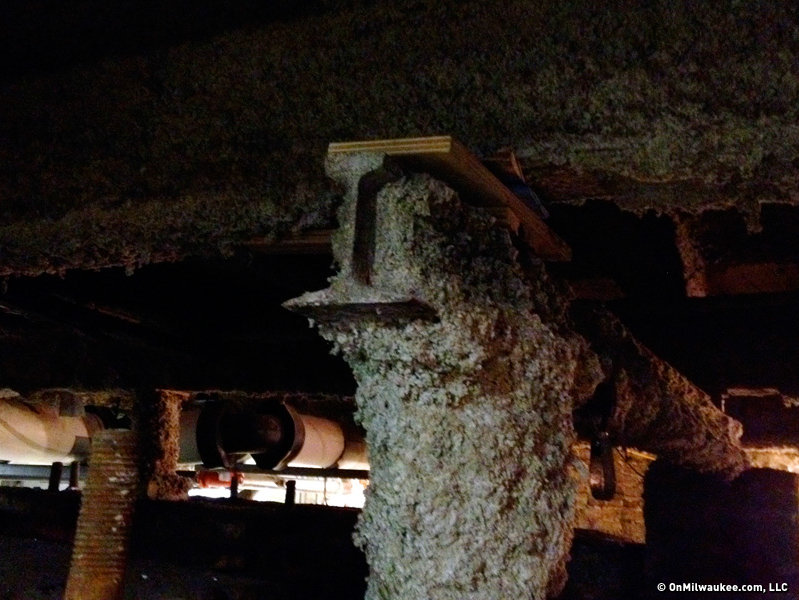 "Most of the grid down here is basically old railroad track (pictured above)," says Uhrman. "It's plenty strong enough. It supports a train, so why not use it?" The supports for the dynamos were used as support for the new floor above, too. Interestingly, a range of other supports appears around the space.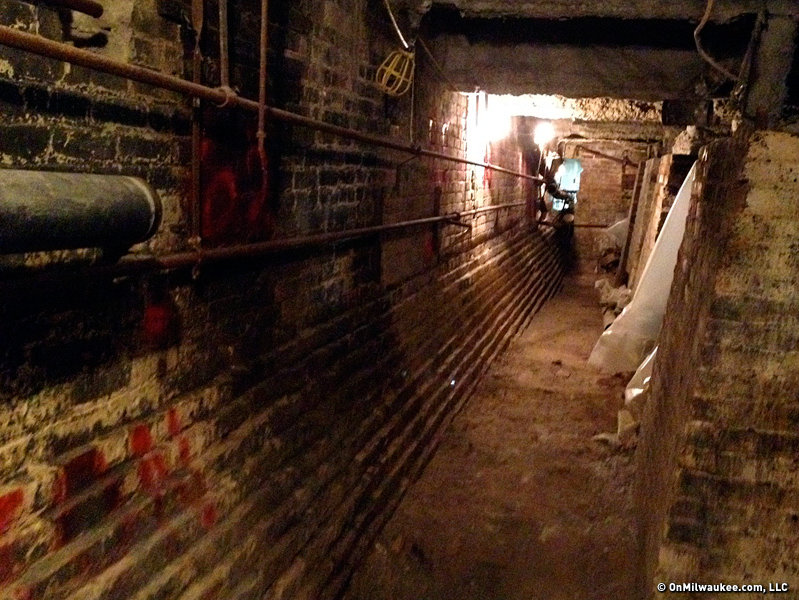 In one area, it's a short column of cream city bricks. In another, it's a couple solid-looking 4x4 beams, one standing vertical, with another lying on top.
There is no sense, though, that building materials are the issue here, at least not beyond the pilings we can't see, because they are below the floor upon which we stand.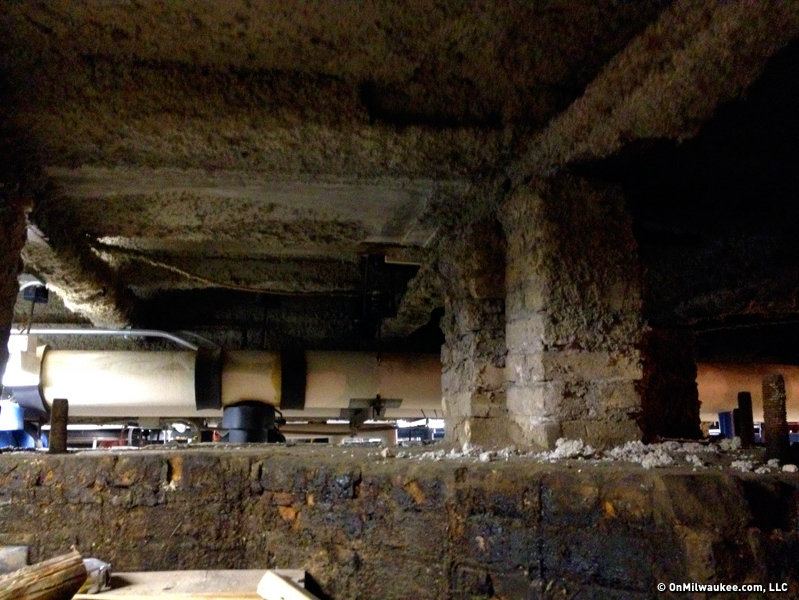 The problem, Bauman and Uhrman say, is the receding groundwater level, which has exposed to the tops of the pilings, which were placed in groups, with each group being tied together with a concrete cap.
"I started by bringing a company in here and we had the whole basement surveyed," says Uhrman. "We have about 35 points and about every eight months to a year, we bring them in and we have them recheck the points to see where we're at."
The surveys started to confirm what the eye was already suggesting. So, one of the caps was busted open so engineers could take a look.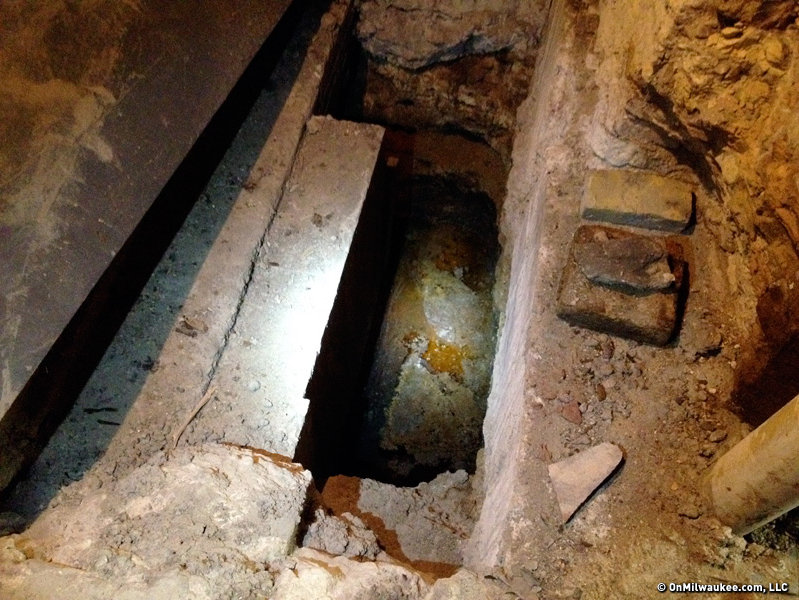 "We needed to see what the piles were like," says Uhrman, while standing down in the hole. "This is the cap right here," he says, pointing to a giant slab of concrete.
Seven feet of concrete, rock and soil was removed -- by hand -- so that the piles could actually be seen.
"We took pictures of the piles and we found in this area that none of the piles are actually touching the bottom of the cap," says Uhrman. "So they cut all the bad wood out, and they put steel columns in place, they put rebar through the piles, and then we poured our
elasticized concrete back in here and it goes seven feet all the way underneath there and that becomes a repair."
Climbing out of the hole, Uhrman shows me a pile of pilings and it's amazing to see these sections of tamarack trees that surely date to at least the 1700s. They're eight or 10 inches across, with tight growth rings. More than even an 1897-1900 building, touching these pilings feels like touching history.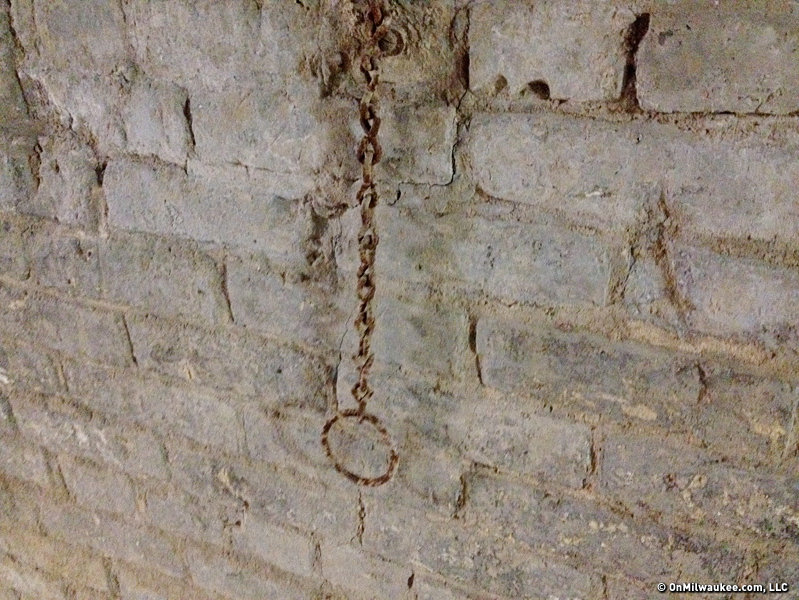 Now that the first group of pilings is done, construction workers will make their way around the basement to check and fix -- as necessary -- the pilings under every cap.
"We're going to repair it in small sections and they call it hopscotch," says Uhrman. "You do an area and you keep doing this until you keep your integrity and everything in play. The second part of it is we're going to put a new system in here for support. It'll be steel posts."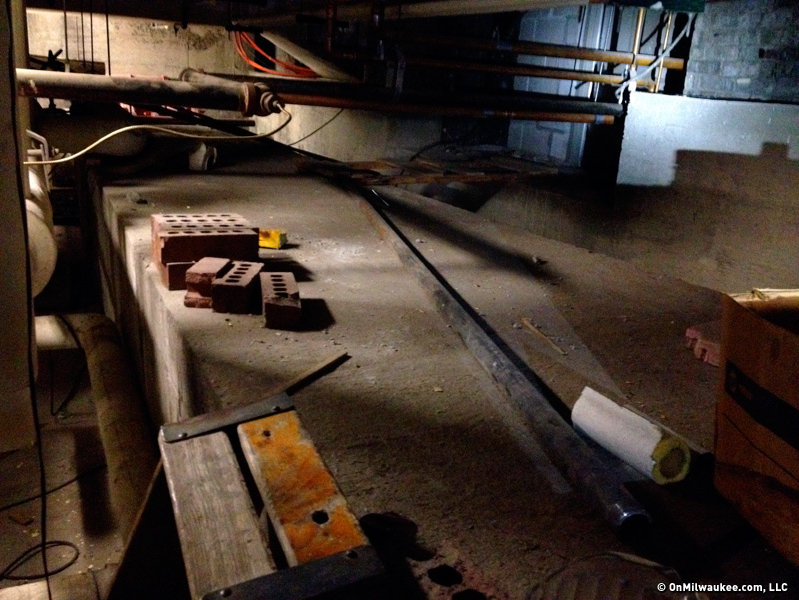 Before any more work can be done, however, a giant hole must be made in the 1897 wall and a couple yards beyond, another will be blasted through a 1980s wall that separates the basement from the Milwaukee Center garage. This will allow the "spoils" -- soil, rock, brick, etc. -- to be removed from the basement, which is a pretty tight space already.
When the work is complete, there will be an automatic watering system in place to ensure that the pilings remain entirely submerged in the future.
Bauman says the bulk of the funds required to pay for the repair work and the monitoring and watering system have already been raised.
"We've raised $1.475 million. We have 300,000 dollars left to raise," he says. "We've hired a construction firm. We're in the middle of negotiating contracts right now, which is time consuming. We hope to resolve all of the contractual issues within the next week or two. Here by mid to late June, we should be shovels in the ground."
The work is expected to take six to nine months to complete, but the timeline, like the budget, is, in Bauman's words, "based on the supposition that a lot of them need to be fixed." Bauman says the budget has a contingency, should all of them require repair.
"If we don't solve this issue, then everything we do here at The Rep is in jeopardy. So from that perspective, there's no better use for the $1.75 million," Bauman says.
"That said, if we didn't have this issue, we could definitely find sexier things to spend $1.75 million on."
Born in Brooklyn, N.Y., where he lived until he was 17, Bobby received his BA-Mass Communications from UWM in 1989 and has lived in Walker's Point, Bay View, Enderis Park, South Milwaukee and on the East Side.
He has published three non-fiction books in Italy – including one about an event in Milwaukee history, which was published in the U.S. in autumn 2010. Four more books, all about Milwaukee, have been published by The History Press.
With his most recent band, The Yell Leaders, Bobby released four LPs and had a songs featured in episodes of TV's "Party of Five" and "Dawson's Creek," and films in Japan, South America and the U.S. The Yell Leaders were named the best unsigned band in their region by VH-1 as part of its Rock Across America 1998 Tour. Most recently, the band contributed tracks to a UK vinyl/CD tribute to the Redskins and collaborated on a track with Italian novelist Enrico Remmert.
He's produced three installments of the "OMCD" series of local music compilations for OnMilwaukee.com and in 2007 produced a CD of Italian music and poetry.
In 2005, he was awarded the City of Asti's (Italy) Journalism Prize for his work focusing on that area. He has also won awards from the Milwaukee Press Club.
He can be heard weekly on 88Nine Radio Milwaukee talking about his "Urban Spelunking" series of stories.