A few years ago, in a little piece about local businesses spurred on by their vintage matchbooks, I wrote a little about The Ritz Tavern on the North Side and asked if anyone knew more. Someone did.
First, here's what I wrote: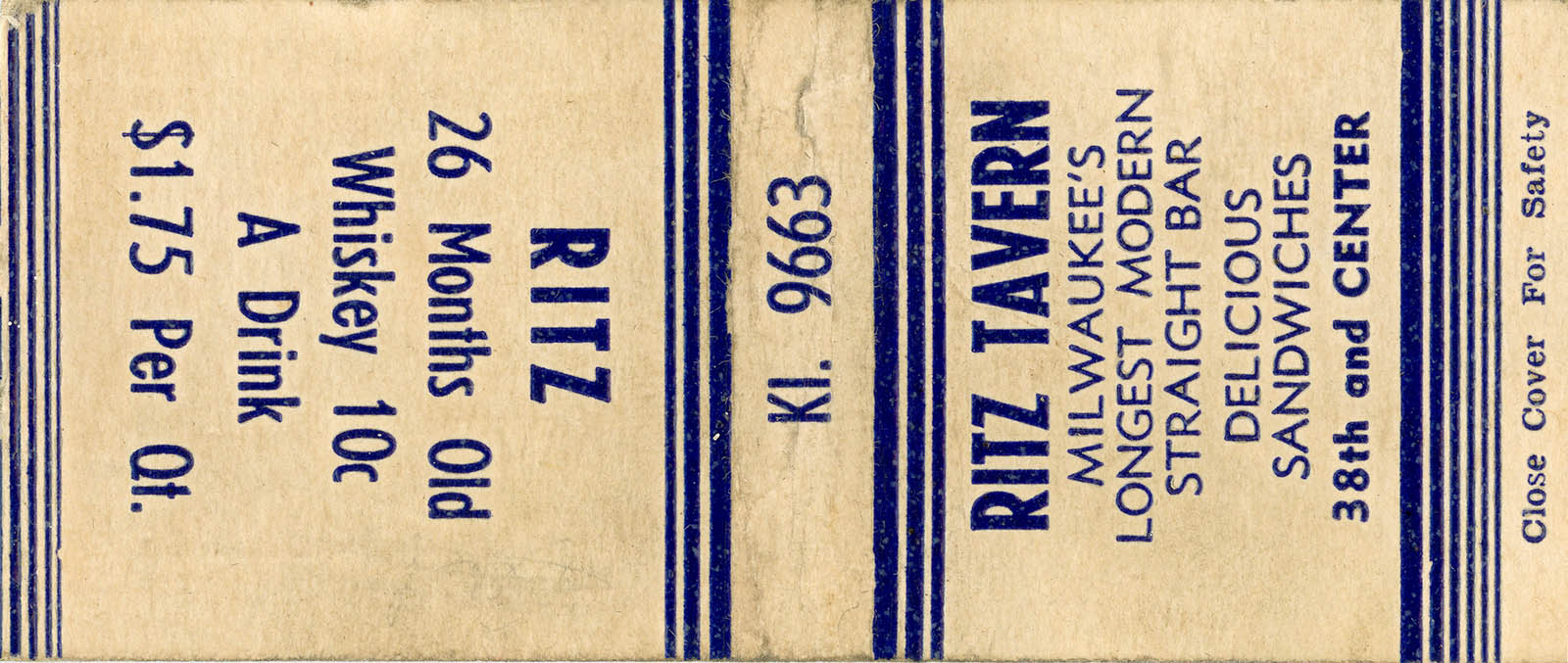 Although the building is still there, housing a liquor store, the Ritz Tavern only survived into the 1990s. It opened after Repeal at 36th and Center, but moved to 3729 W. Center in 1936, where "Rudy (Krueger) and Les" boasted "the longest straight bar in the city, outside of the downtown district." It appears another Ritz opened at 25th and Fond du Lac in 1938 and afterward Krueger was running the Center Street location alone. Perhaps a spat led to to Les opening a competing Ritz or perhaps both Ritz taverns were owned by the pair.
Reader Ken Berg recalls, "my parents used to take me to the Ritz Bar in the late '50s for an excellent Milwaukee fish fry. At that time it was always called Jerry's Ritz Bar and it appears a companion location existed at 17th and North called Jerry's Pheasant Bar. Both had the similar maroon glazed tile."
Recently, I received an email from Richard Grosenick.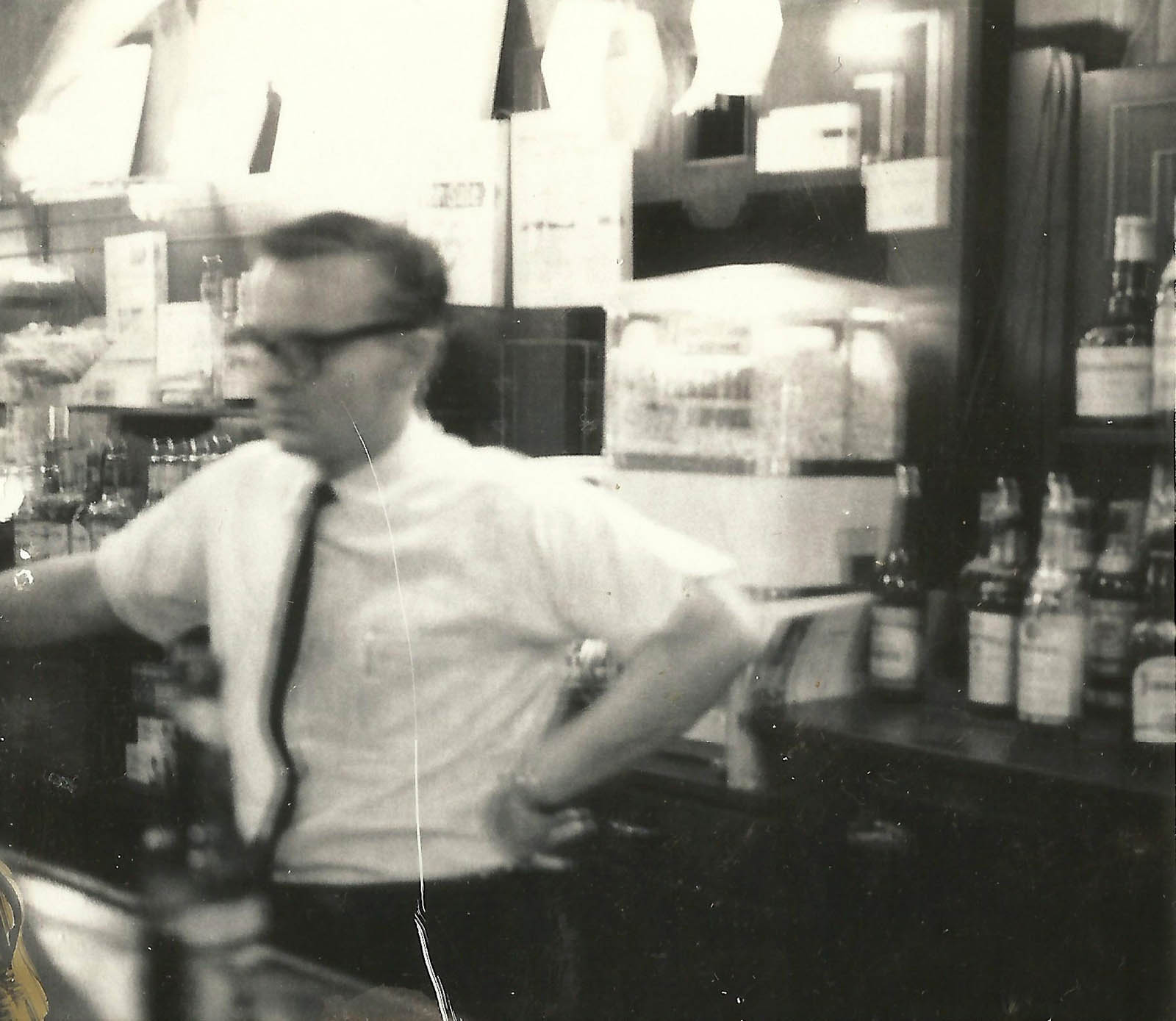 "My father, James Grosenick, owned the Ritz Bar – renamed from the Ritz Tavern when his father, my grandfather, Elmer "Jerry" Grosenick, bought it – on 37th and Center until it was sold in the '90s," he said.
"If you are interested, I would be happy to give you more details."
Well ... yeah!
Grosenick shared these memories of the place and his family's connection to it:
My grandfather started with Jerry's Pheasant Bar (1726 W. Center St.) around 18th and Center; My mom told me that my grandfather had the Pheasant Bar during WWII (note: it was already open in the late 1930s), and that he had it open 24 hours to accommodate the three shifts of workers ran back then. He then bought the Ritz Tavern sometime in the late 1950s.
"I was told that the Ritz was famous as the first 'fast food' restaurant in Milwaukee. Apparently my grandfather decided to provide a quick lunch for the nearby plant workers so they could come in and get a meal on their 30-minute lunch hours (plus a drink or two). So he focused on burgers and fries, plus fish fry on Friday. He had a wonderful German cook named Erma who handled almost all of the cooking up until the Ritz was sold. I remember her breading tray after tray of fish on Thursday to be ready for Friday. After the Ritz sold, she moved to Grosenick's in Brookfield until she retired.
"My grandfather had three sons: Gilbert, who first managed the Ritz and then went on to own the Pheasant Bar in St. Francis (4016 S. Packard Ave); Gerald, who owned the Village Inn in Menomonee Falls; and my father, who bought the Ritz, I think in the 1960s, from my grandfather.
"My father also owned the Annex, a bar on Sherman and Fond du Lac; the Circle Inn (formerly the Meet Market) where Children's Hospital (was) down near the Marquette campus; Jake's on Hampton (later Diamonds) on 76th and Hampton; and Grosenick's supper club on 125th and Burleigh (formerly the Rustic Hut, now Boulder Junction).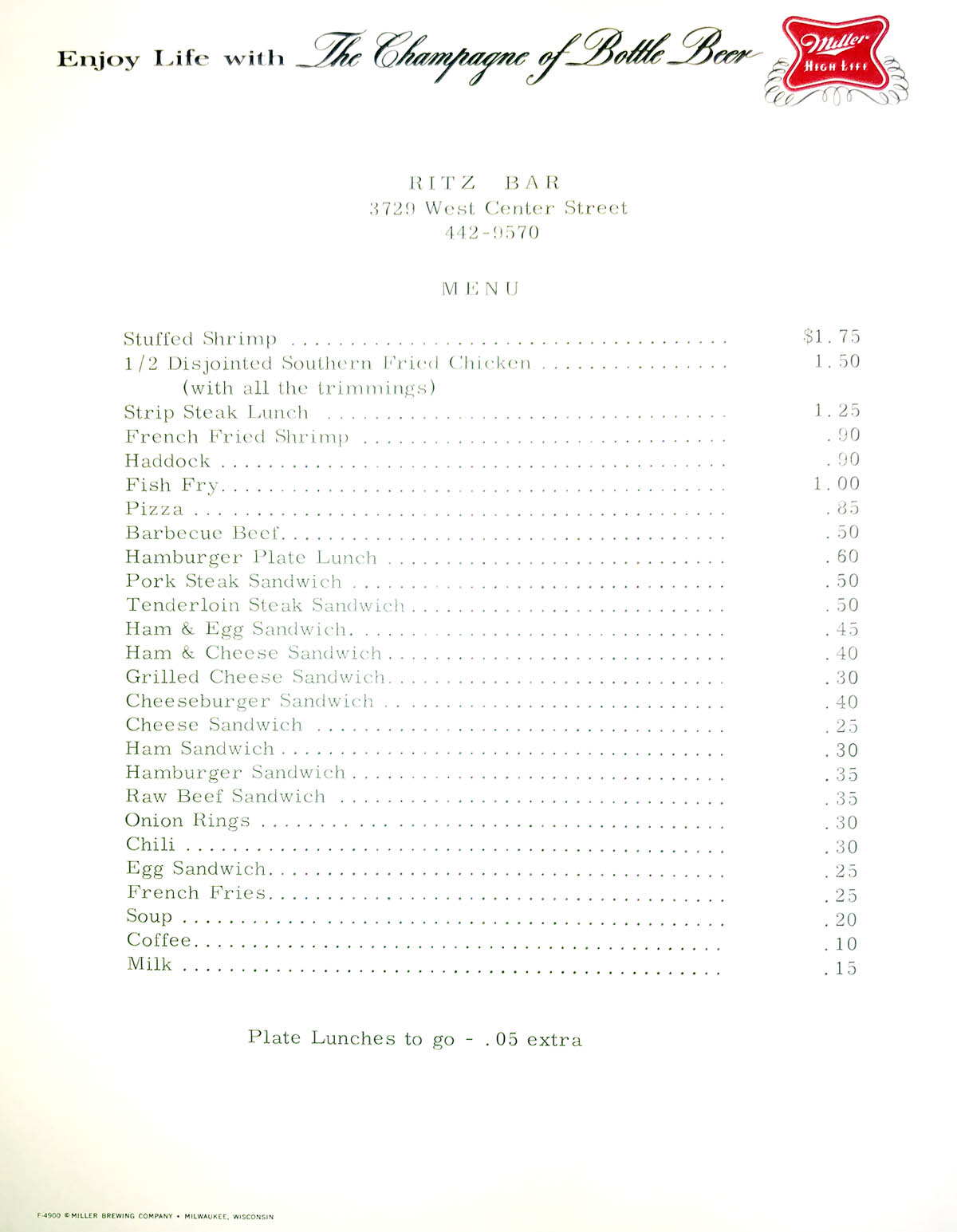 "I worked at the Ritz and later Grosenick's. I remember the neighborhood deteriorating in the late 1970s and early 1980s – neighbors used to dump their bulk trash in our rear parking lot. I had to haul away mattresses and scrap lumber from the exterior stairwell leading to the basement so the delivery men could get food into the basement walk-in cooler and beer into the back storage rooms.
"(That) prompted my father to sell, but he waited too long and ended up dumping the place for a very low price. I'm not sure if he sold directly to the folks who now run the Ritz Fish Market there.
"My father got rid of most of his memorabilia when he retired to Florida, and the rest disappeared after he died. The other two brothers are also dead. The only next generation member that went into the restaurant business was my cousin Jerry, son of Gerald. He owned Jerry's Old Towne in Germantown; he retired at 50 but then owned Exit Realty in Germantown until retiring last year."
In an interesting aside, in early 1984, the Journal wrote about James Grosenick's trip to Vegas.
"A Milwaukee restaurant and tavern owner had half an hour to kill before catching a plane home from Las Vegas last week. So he dropped three silver dollars into a slot machine at the MGM Grand Hotel."
When five sevens appeared, Grosenick won $915,836, at that point the largest jackpot in the hotel's history.
The win was a surprise, says Grosenick's son, because he wasn't much of a gambler.
"The Lord has been good to me," Grosenick told Gerald Kloss. "And I think right now the good Lord is doing a super job."
Born in Brooklyn, N.Y., where he lived until he was 17, Bobby received his BA-Mass Communications from UWM in 1989 and has lived in Walker's Point, Bay View, Enderis Park, South Milwaukee and on the East Side.
He has published three non-fiction books in Italy – including one about an event in Milwaukee history, which was published in the U.S. in autumn 2010. Four more books, all about Milwaukee, have been published by The History Press.
With his most recent band, The Yell Leaders, Bobby released four LPs and had a songs featured in episodes of TV's "Party of Five" and "Dawson's Creek," and films in Japan, South America and the U.S. The Yell Leaders were named the best unsigned band in their region by VH-1 as part of its Rock Across America 1998 Tour. Most recently, the band contributed tracks to a UK vinyl/CD tribute to the Redskins and collaborated on a track with Italian novelist Enrico Remmert.
He's produced three installments of the "OMCD" series of local music compilations for OnMilwaukee.com and in 2007 produced a CD of Italian music and poetry.
In 2005, he was awarded the City of Asti's (Italy) Journalism Prize for his work focusing on that area. He has also won awards from the Milwaukee Press Club.
He can be heard weekly on 88Nine Radio Milwaukee talking about his "Urban Spelunking" series of stories.