To look at the striking Art Deco facade of the Rivoli Theatre, W62 N567 Washington Ave., in Cedarburg, you'd surmise that you're seeing a vintage 1930s movie house. And you'd be right.
But the facade isn't original. Instead, it replaced a 1970s white brick face that current theater co-director Alice Voight accurately describes as looking "like a bank."
The front, however, is based on the original design and was designed by Poellot Architects, LLC and The Kubala Washatko Architects, Inc. and completed in 2007.
A trio of great photos from the great Cinema Treasures site.
Circa 1936 above, and, below, 1939 and 1940.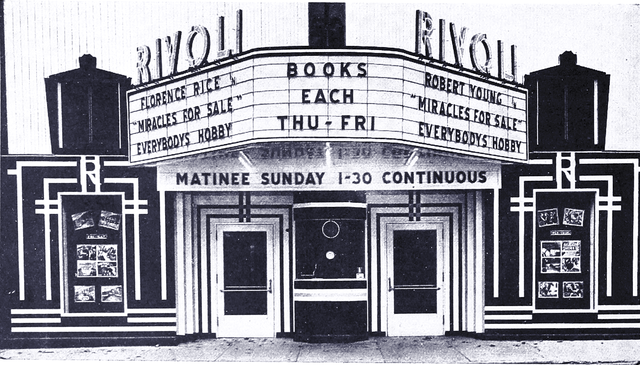 The Rivoli is, for the first time, one of the venues for this year's Milwaukee Film Festival and, in honor of that distinction, I went up to get a tour.
.@MKEFilm expands into Third Ward and Cedarburg's Rivoli Theatre for 2019 festival https://t.co/qDUhRY63yW pic.twitter.com/RJDDbYL9UO — OnMilwaukee (@onmilwaukee) July 25, 2019
Early days
The earliest known building on the site was constructed in the 1840s by Christian Boerner, who ran a general store there. In an interesting plot twist, in 1849, he traded his store for his cousin C. Friedrich Boerner's shop in Milwaukee.
C. Friedrich died in 1878 and his sons and widow continued to run the dry goods store, renaming Boerner Bros. The cream city brick building, erected already by 1855, got an update and expansion, likely in the 1880s – the number of dates assigned to the building's construction is simultaneously astounding and confounding – and a separate but adjacent building likely dates to about 1909.
In the 1910s, another investor joined the struggling company, which was renamed Boerner-Kuether Company, but that just delayed the inevitable and the store closed in 1925.
A series of images (courtesy of the Rivoli) depicting the Boerner shop, in, from top, 1855, 1884, undated, 1909 and 1912: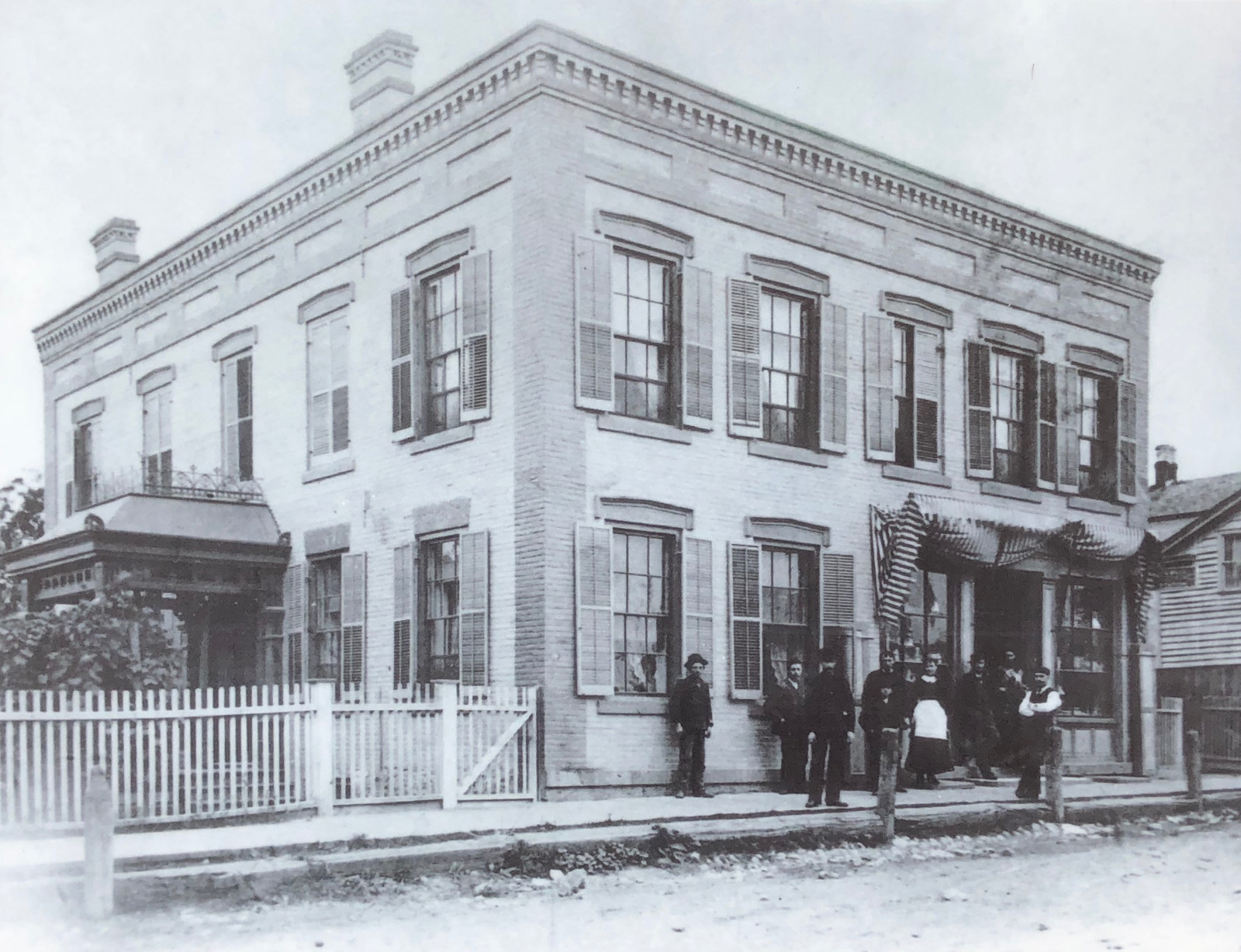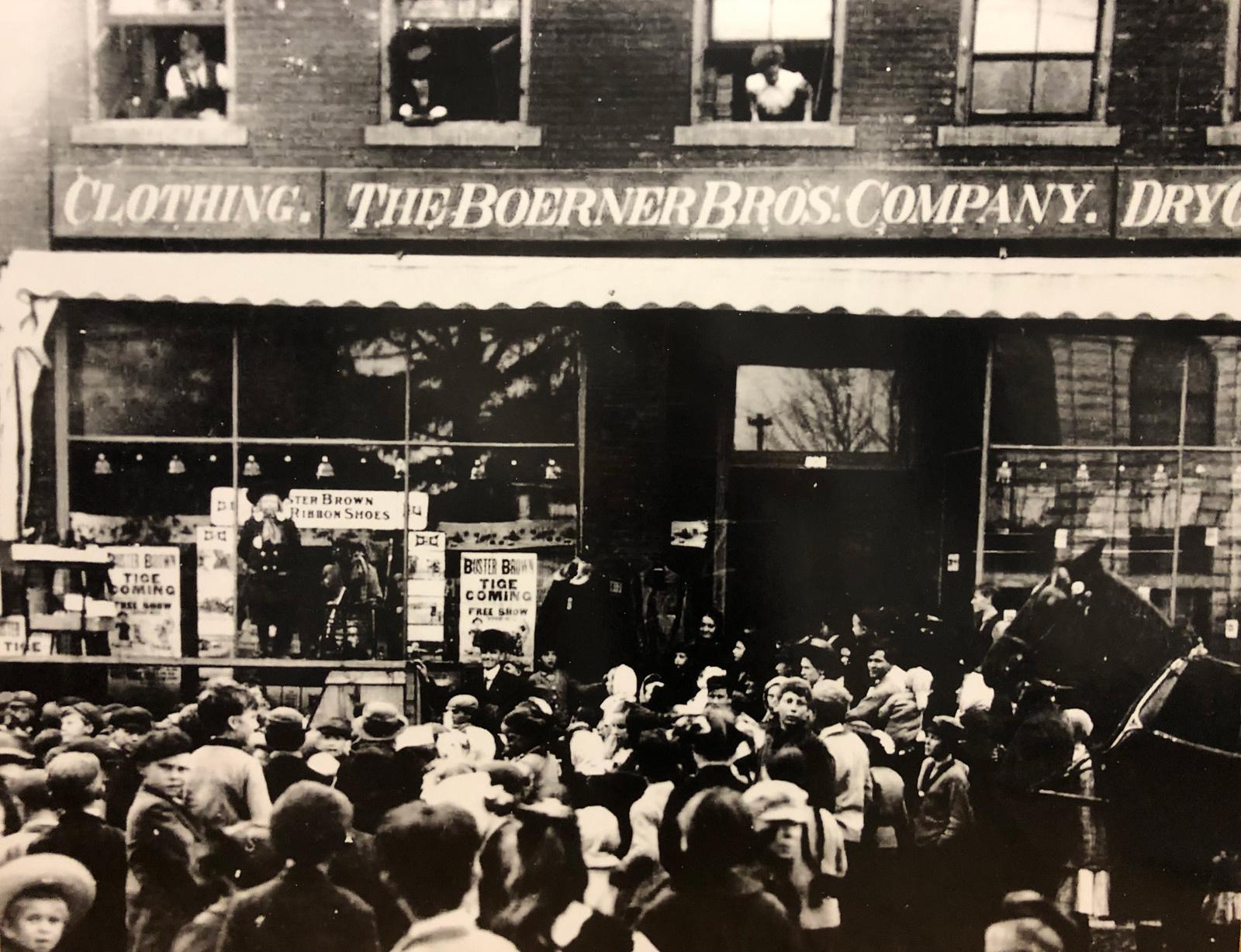 A decade later, Mark Morgan – described in various sources as a "Cedarburg entrepreneur" and a theater operator from Milwaukee – converted the store into a 400-seat cinema and built the marquee and added an Art Deco facade on the lower half of the front. The upper half was covered in corrugated tin.
The Rivoli opens
According to the Rivoli web site, "The building's new Art Deco facade boasted black Carrara glass, plenty of chrome trim, an Electrolite Silhouette marquee, and sidewalk ticket booth. The opulence continued inside the theater, with 'seats of full-upholstered velour which are extremely modern … heavy carpeting of a unique design … light fixtures … ultra-modern in design, giving the patrons a colorful hue of lighting effects.' Also noted in the opening night program: 'A feature of the new Rivoli will be the ladies' powder and lounging room, modernly equipped and handsomely furnished.'"
In that same program celebrating opening night – Jan. 11, 1936, when "A Tale of Two Cities," starring Ronald Coleman, was screened – Morgan was quoted as saying, "Ours is a mission to make other happy. What a pleasure to be so engaged!"
Other than a few very brief closures for upgrades and renovations, the theater has operated continuously since then, though admission has gone up from its original 25 cents (15 on Bargain Tuesdays!), though not by much.
The Rivoli in 1948. (PHOTO: Rivoli Facebook)
The Rivoli was leased for 10 years by the Marcus Corp. on Jan. 3, 1956 with a 10-year option, which it clearly took on a few occasions, because the Milwaukee cinema chain operated the venue until 2006, by which time capacity was down to 250 seats due to wider Wisconsin rears and, therefore, seats.
A 1995 photo, showing the 1970s facade. (PHOTO: Marcus Theatres)
A new owner and big changes
In 2006, the nonprofit Cedarburg Landmark Preservation Society purchased the theater and almost immediately learned that Marcus had made clear its intention not to renew its lease.
"The guy that owned it, he put it up for sale on a quick sale," says Jerry Voight, who runs the theater administration with his wife Alice. "We think it was something that the buyers didn't know, because within a month after it was purchased by the Preservation Society, Marcus notified them that they were leaving."
Marcus had planned to leave in six months, but extended it to nine months.
"When Marcus left, they left everything in place," says Jerry Voight. "They left us, without cost, everything in the auditorium, the projector, popcorn machine. Normally, what a theater chain does is they strip it. But they left everything in place, so they took out their Pepsi cups and their popcorn seed and all that kind of stuff, and we brought ours in. That was seamless."
Plus, the extra three months that Marcus continued to operate allowed the new owners some time to get their act together.
"Originally, (the new owners) cast about for another tenant, another theater operator," says Jerry Voight. "They found one, and he submitted a contract proposal that was for more rent than Marcus was paying. I was sitting in a room when they discussed it. The third time I heard them say, 'We don't know if he's going to play Cedarburg kind of movies.' In other words, are they going to bring R rated movies out here, whatever, X rated movies at the time.
"The head of the Preservation Society decided that they wanted to run it as a volunteer operation. Well, nobody wanted to volunteer to run it, a movie every night, and nobody had any experience in it."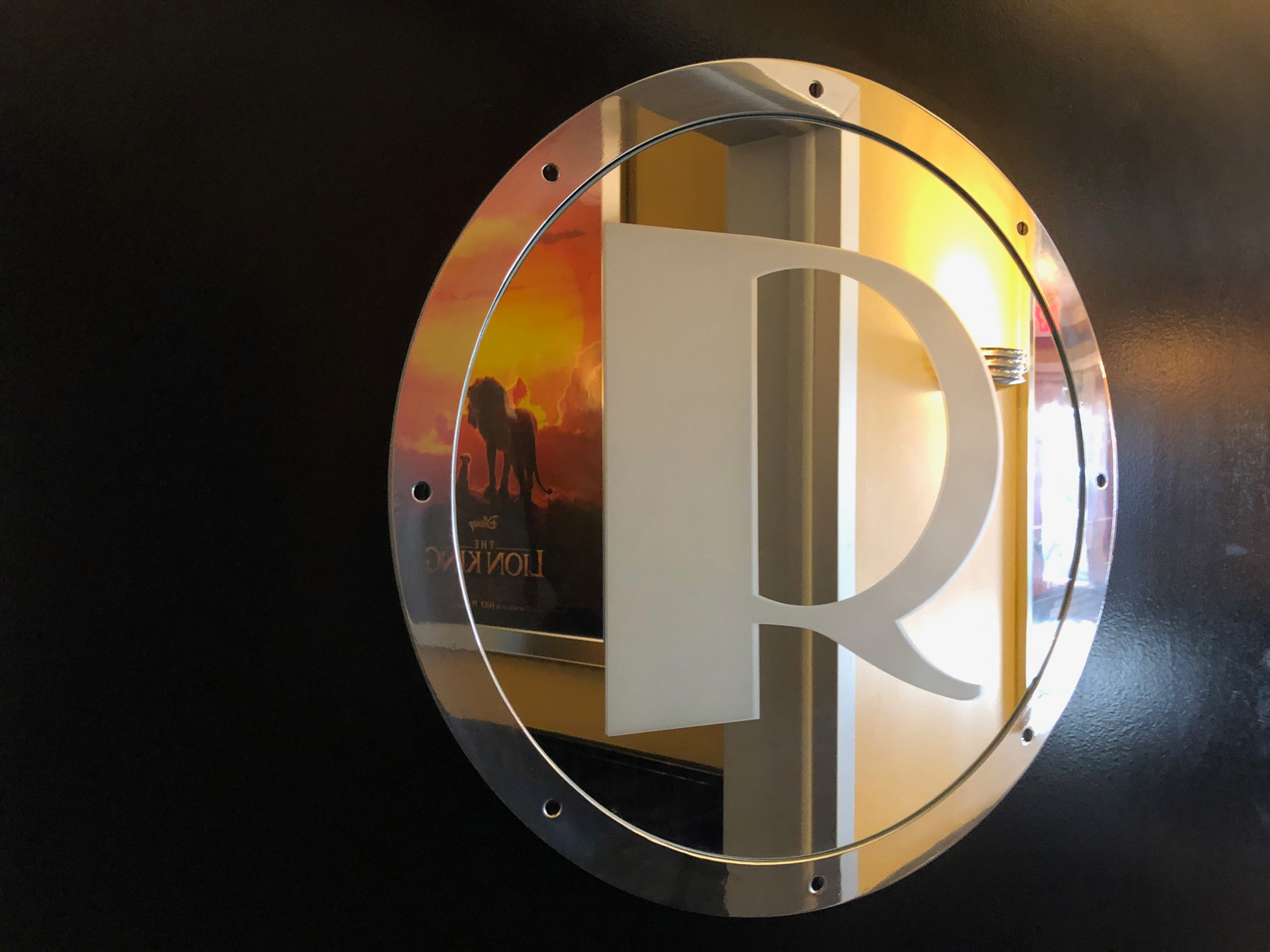 So, the Voights raised their hands and became the first volunteers and they're still on board now.
"If you had made the list of all the jobs in the world, this would not have been in the top 100," says Alice Voight. "We're not business people. We're both (retired) teachers."
But here they are, still running the place, a job they now love. Their pride in the theater is apparent throughout the tour as I catch each stooping over to pick up tiny, nearly imperceptible bits of paper on the floor of the otherwise spotless theater.
The Rivoli remains as it always has been: a single-screen theater. That is a real rarity nowadays, so is the fact that admission is $3.50 and the theater doesn't screen movies rated R. It's a small-town, family-friendly place.
Also a rarity? A theater run almost entirely by volunteers.
According to Jerry Voight, there's typically a single paid employee on duty each day, along with a cadre of volunteers.
"He or she opens up, runs the movie, organizes the volunteers, cleans when it's done," he says.
"We're here five or six days of the week, and help out as staff and whatever, do whatever is needed. If a volunteer doesn't come, we step in. We do whatever is necessary."
"Most of our work is done at our home: phone calls, paperwork," says Alice Voight.
Between the cost of the building and the new facade, the preservation group spent upwards of $1 million to bring the Rivoli back to its former glory. In recent years, the lights have been upgraded, as have the seats, the projection equipment, screen and just about everything else.
While the exterior is classic retro Art Deco – constructed by St. Louis Vitrolite expert Tim Dunn – the interior is comfortably modern, with updated bathrooms and wide, comfortable seats and extra leg room added when the seats were replaced.
After decades as a second-run movie house, the Rivoli is now an "intermediate" one, showing films a week or two, or a month or two, depending on the film studio rules, after initial release. There's a new film each week, says Alice Voight.
"People know that there's a new movie every week," she says. "We have a movie every night at 7, and matinees every Saturday and Sunday. We try to keep it consistent so that people know what to expect."
"We have nine shows a week," Jerry Voight adds, "and we average about 100 people per showing over those nine. It's very popular. Part of that is the ambience. Part of it is it's very inexpensive. $2 on Tuesdays. It's a good deal. We're in the black."
Milwaukee Film Festival
This year, the Milwaukee Film Festival – which runs Oct. 17-31 – adds the Rivoli as one of its venues, replacing the Fox Bay Theater in Whitefish Bay.
The move is a means to further expanding the geographical reach of the festival, which already has venues in various Milwaukee neighborhoods, says Milwaukee Film's Karina Henderson.
"For us, for the Rivoli and for the Cedarburg community, I think the biggest thing this means is making the festival more accessible to a broader audience," Henderson says. "We always want to connect more people with the truly special films and events that the festival brings to our region.
"This makes the Rivoli and its surrounding communities part of our massive celebration of cinema – a world-class event that is totally unique to our region. And we always love the chance to have more people experience what Milwaukee Film does to enrich our community!"
The Voights, unsure exactly what to expect – having never participated before – are cautiously optimistic. Are they excited?
"Oh, very, very much," says Jerry Voight.
"I'm nervous. Yeah. I'm the one that thinks of all the things that can go wrong," adds Alice Voight, with a smile.
"It's going to be very busy," Jerry says.
The folks at Milwaukee Film are less edgy, which makes sense because they know what's involved and what to expect.
"On the practical side of things, we needed a venue that can provide high-quality screenings and also hold about 200 people to support the operational needs for our festival," says Henderson, who is thankful for underwriting support from the Greater Cedarburg Foundation, Chris and Rick Lane, Ozaukee Bank's Gift's: A Fund Supporting Cedarburg … Now and Forever, and Mary-Kay Bourbulas and Greg Zimmerschied.
"We're incredibly excited to have our festival in Cedarburg at a beautiful and historic venue like the Rivoli. We've been looking for opportunities to expand the festival to include more screens and reach more communities, and the Rivoli checked those boxes – plus they've been a wonderful and willing partner to date."
Listen to "Cedarburg's Rivoli Theater joins Milwaukee Film Festival lineup" on Spreaker.
Born in Brooklyn, N.Y., where he lived until he was 17, Bobby received his BA-Mass Communications from UWM in 1989 and has lived in Walker's Point, Bay View, Enderis Park, South Milwaukee and on the East Side.
He has published three non-fiction books in Italy – including one about an event in Milwaukee history, which was published in the U.S. in autumn 2010. Four more books, all about Milwaukee, have been published by The History Press.
With his most recent band, The Yell Leaders, Bobby released four LPs and had a songs featured in episodes of TV's "Party of Five" and "Dawson's Creek," and films in Japan, South America and the U.S. The Yell Leaders were named the best unsigned band in their region by VH-1 as part of its Rock Across America 1998 Tour. Most recently, the band contributed tracks to a UK vinyl/CD tribute to the Redskins and collaborated on a track with Italian novelist Enrico Remmert.
He's produced three installments of the "OMCD" series of local music compilations for OnMilwaukee.com and in 2007 produced a CD of Italian music and poetry.
In 2005, he was awarded the City of Asti's (Italy) Journalism Prize for his work focusing on that area. He has also won awards from the Milwaukee Press Club.
He can be heard weekly on 88Nine Radio Milwaukee talking about his "Urban Spelunking" series of stories.