The underground rollerskating scene is booming across the United States, including right here in Milwaukee. Although the majority of our local rinks from the 1970s and '80s closed (anyone remember The Palace on Capitol Drive?), groups like Roll Train keep the sport and the camaraderie moving forward.
Ellen Fine and Terrence Clarke founded Roll Train in 2017 primarily as a roller fitness class.
"It's great exercise, very social, gets rid of negativity and allows you to lose yourself – forget about all of your problems – when you're skating," says Clarke.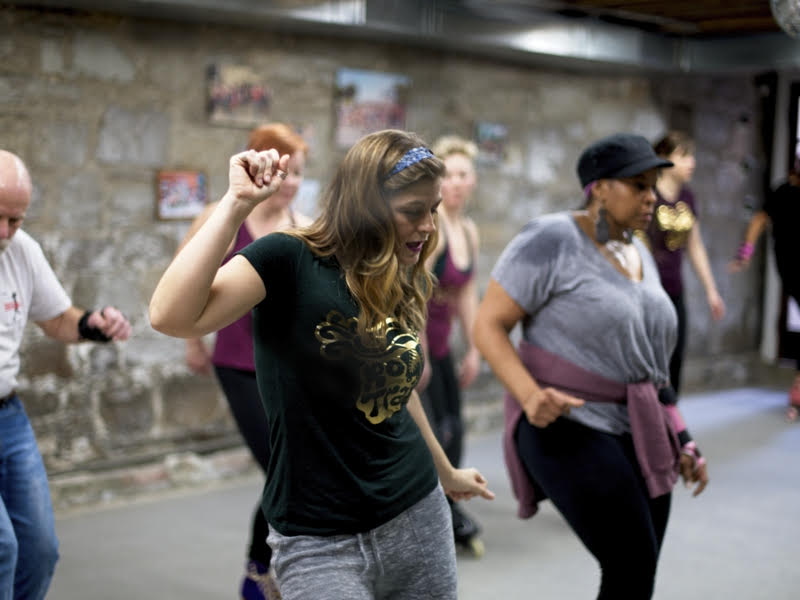 Originally, Fine and Clarke led classes wherever they could find a serviceable space. Today the group's home base is located below Botanical Galactica, 719 S. 5th St.
"We started out without a permanent home. We were more of a traveling skate show," says Fine. "But here with Botanical Galactica is a great fit for us."
On a recent Saturday morning, about 25 people of all ages and skill levels laced up in the modest basement space. Most of the participants wear four-wheeled or "quad" skates in a variety of different colors and adornments like hearts or sparkly lightning bolts, but one woman wears rollerblades. About half of the skaters don matching shirts with "Roll Train" embossed in gold across the chest.
The rollerskaters range in age from 12 to 70. (Yes, 70!) Denny Rauen, 67, joined the group last summer.
"Rollerskating has taken the place of working out at the gym for me," he says. "It's so much more fun. When you're skating it feels like you're defying gravity; almost like you're floating."
Fine, a former Brew City Bruiser roller derby player (aka "Luna Trick"), decided to retire from the sport, but wanted to keep skating non-competitively. She quickly joined forces with Clarke, a lifelong roller skater, and the two now co-lead multiple classes every week.
"For me, skating is community, therapy and the chance to connect with your inner child," says Fine. "It's pure joy."
Roll Train classes include intro, beginner and intermediate/advanced sessions. Private lessons are also available for those who prefer to test the water before committing to a class. Classes are also taught at the LGBT Community Center and Four Seasons Skatepark. The length of the classes are about an hour and the music and routines change often.
"At its heart, Roll Train is a rollerskating fitness class for beginners," says Fine. "It is a completely welcoming, unintimidating experience."
Some Roll Train members travel together to skate jams and parties in other states and perform together at events like the Riverwest24.
"Once you become part of the skate family you're embraced by other skaters anywhere you go," says Clarke.
Every city has its own skating style. According to Clarke, Milwaukee's signature skating style is a mix of Bounce and "JB," a style popular in Chicago that mixes James Brown songs with hip-hop, R&B and the DJs own beats.
Because the majority of Roll Train participants are beginner skaters, overcoming the fear of falling is a big part of the practice.
Tanisha Williams fell when skating this summer and broke her wrist in the process. However, once healed she returned to class, ready to overcome her uneasiness and continue exercising in the way she finds to be the most fun. "Also, I think it's sexy," says Williams.
Clarke and Fine understand that initial fear of falling is natural and they work hard to teach their students about balance and how to fall "properly" if need be.
"A lot of people think they can't skate, but it's really just fear (of falling) that's stopping them," says Clarke. "We're here to help with their fears. People can hold onto us, literally, if they need to."
Watch a brief video of Roll Train in action at a recent practice:
For more information, click here. Also check out Roll Train on Facebook.

Molly Snyder started writing and publishing her work at the age 10, when her community newspaper printed her poem, "The Unicorn." Since then, she's expanded beyond the subject of mythical creatures and written in many different mediums but, nearest and dearest to her heart, thousands of articles for OnMilwaukee.

Molly is a regular contributor to FOX6 News and numerous radio stations as well as the co-host of "Dandelions: A Podcast For Women." She's received five Milwaukee Press Club Awards, served as the Pfister Narrator and is the Wisconsin State Fair's Celebrity Cream Puff Eating Champion of 2019.