The Milwaukee Film Festival kicks off (virtually) on Oct. 15, offering up a full fifteen days of amazing films (including this list of festival "must-sees") available to you right in your very own home.
Of course, every great film deserves a great dinner to be enjoyed alongside. Among the many delicious options available for carry-out is Sanford, 1547 N. Jackson St., a 30-year Milwaukee fine dining staple, which has turned the world of pandemic take-out on its head.
Make them laugh & feed them delicious things
Not only have they gone all out in terms of offering accessible, well executed take-out at a fraction of the price you might expect; but they've done so in fun, unexpected ways. Take their August State Fair-inspired dinner menu, for instance, on which they recreated countless Fair favorites from chocolate covered bacon to corn dogs. Incidentally, they're also rousing smiles while engaging customers with their amusing posts on Facebook and Instagram.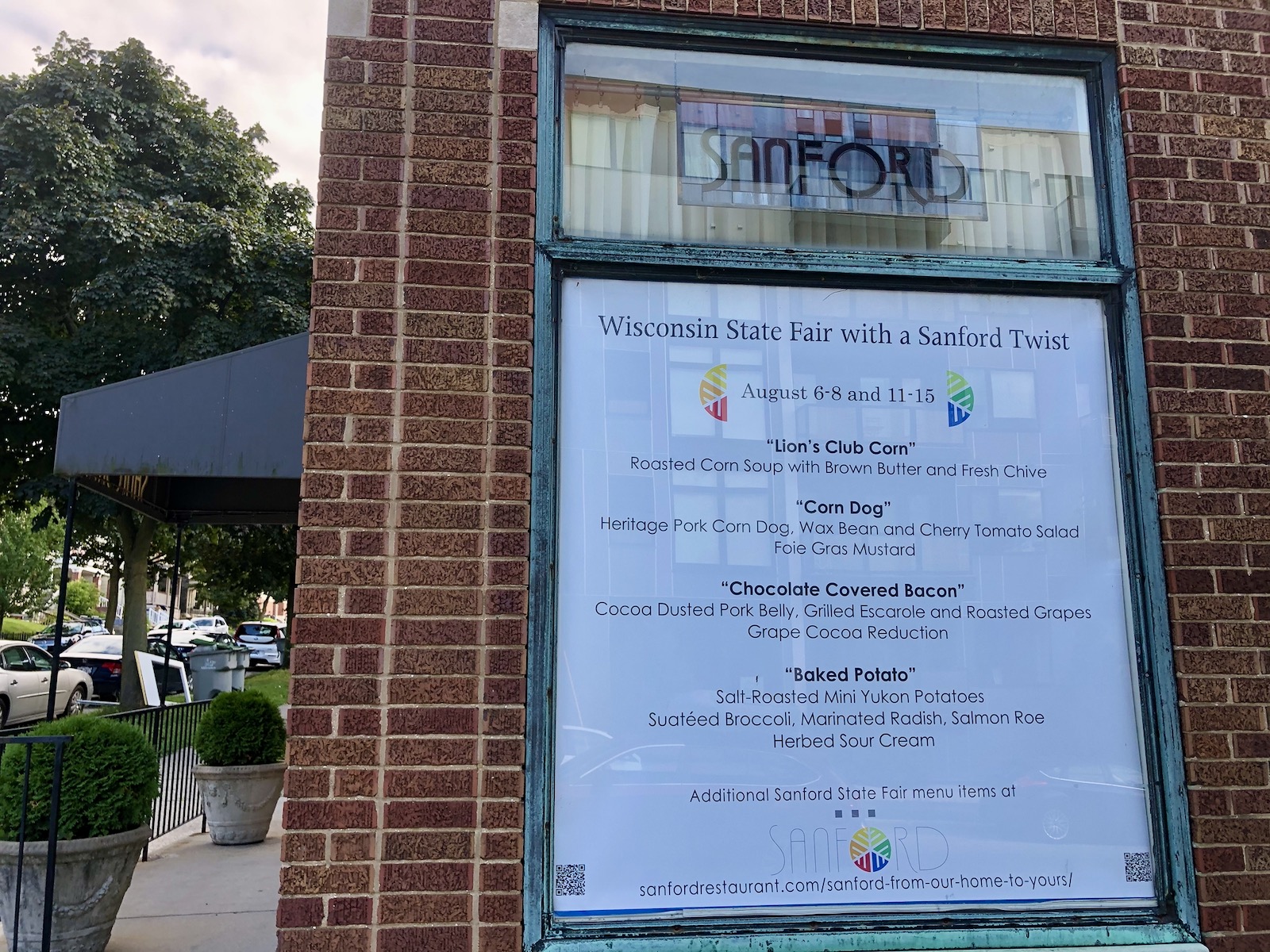 Film inspired fare
"Our Milwaukee Film inspired menus were created in very much the same spirit as our State Fair menu," says co-owner Chef Justin Aprahamian. "It's all about finding silver linings in what has been a very tough year."
"We didn't know what the movies would be shown at the film festival when we started planning. So we started brainstorming. One of the first movies that came up was 'Goodfellas.' The picture of the food in that movie is just painted so well and we could do so much with it."
From there, he says, the idea just snowballed. "We literally looked up dishes that were featured in each of the films," says Aprahamian. "In most cases, we took a few liberties, but everything is definitely inspired by scenes from the films."
Guests can look forward to just over two weeks of brand new movie-inspired family meals (listed below), plus a themed a la carte menu showcasing movie quote inspired dishes including:
"Excuse me, Flo? Uh….what's the Soup du Jour?" (Dumb and Dumber, 1994): roasted cauliflower soup with brown butter cauliflower leaves
"Could someone PLEASE pass the asparagus?" (American Beauty, 1999): "It's not asparagus but it's green and we love this scene so..." Sauteed green beans with almond gnocchi, toasted almonds and balsamic brown butter
The "Royale with Cheese" (Pulp Fiction, 1994): a Sanford quarter pounder with pickle, red onion, lettuce, tomato and aged cheddar on a Pretzilla bun.
"Some cultures are defined by their relationship to cheese" (Benny & Joon, 1993): a grilled cheese sandwich made with grilled sourdough, brie, apple and caramelized onions
"Tortures you with pleasure" (Chocolat, 2000): a 6 oz. cup of molten and decadant spiced hot chocolate
Even beverage offerings are inspired, featuring selections like the Fizzy Lifting Drink (Willy Wonka and the Chocolate Factory, 1971), a ginger and lemon verbena infused shrub served with Cava; and Through the Looking Glass (Alice in Wonderland, 1951), a cherry and grilled pineapple cider infused with a hint of smoked black tea.
And, even though the film festival ends on Oct. 29, Aprahamian says they felt inspired to continue their streak with special Halloween-inspired dishes from the movies "Beetlejuice" and "Indiana Jones and the Temple of Doom."
Enjoy the show!
Aprahamian was kind enough to share a preview of the planned menus at the restaurant, which roll out starting today (Oct. 15). Please note that menus are always subject to the availability of ingredients, so changes could be expected.
Thursday, Oct. 15
Movie: "Goodfellas" 1990
"Razer Sliced" garlic and tomato
Braised pork and veal bucatini
Dessert: Italian plum tart
Serves four for $70
Friday, Oct. 16
Movie: "Apocolypse Now" 1979
Vietnamese shrimp and shellfish stew
Rice noodles and grilled ginger lemongrass broth
Dessert: Baked banana cake
Serves two for $70
Saturday, Oct. 17
Movie: "Ratatouille" 2007
Roasted chicken with ratatouille
Dessert: Pear and brie tart
Serves two for $65
Tuesday, Oct. 20
Movie: "When Harry Met Sally" 1989
Pastrami on rye
"Chef Salad" (vinegar and oil on the side)
Dessert: Apple tart
Serves four for $65
Wednesday, Oct. 21
Movie: "Tampopo" 1985
Ramen: noodles, mushrooms, pickled egg, roast pork belly in a broth made from duck, beef and chicken
Dessert: Green tea cake with strawberry miso preserves
Thursday, Oct. 22
Movie: "Bridget Jones Diary" 2001
Roast leek and potato soup
Grilled chicken with kale, sunchokes and fingerlings
"Caperberry Gravy"
Dessert: Orange marmalade bars
Serves four for $70
Friday, Oct. 23
Movie: "Tortilla Soup" 2001
Mexican octopus stew with red onion and tomatillo
Dessert: Porcupine cookies
Serves two for $70
Saturday, Oct. 24
Movie: "American Psycho" (2000): A Night at Dorsia
Menu to be determined
Tuesday, Oct. 27
Movie: "Soul Food" 1997
Fried chicken thighs
Braised collards and black-eyed peas
Dessert: "Transparent Pie"
Feeds four for $65
Wednesday, Oct. 28
Movie: "Julie & Julia" 2009
Beef bourguignon
Dessert: Rustic apple tart
Feeds four for $75
Thursday Oct. 29
Movie: "The Hateful 8" 2015
Hunters Stew: braised pheasant with elk sausage, cabbage and root vegetables
Dessert: Mocha cream with chocolate hazelnut crumble
Feeds four for $70
Friday, Oct. 30
Movie: "Beetlejuice" 1998
Shrimp "Cocktail"
Dessert: ZAGNUT
Feeds two for $70
Saturday, Oct. 31
Movie: "Indiana Jones and the Temple of Doom" (1984): Dinner of Doom!
Roast pork - snake sausage
Dessert: "Monkey Brains" (monkey bread)
Feeds two for $75
Sanford offers curbside pick-up Tuesday through Saturday from 4:30 to 7:30 p.m. Daily menus are available online. Orders can be placed by phone at (414) 414-276-9608 between the hours of 10 a.m. and 3 p.m.; pick-up details will be discussed at the time of the order.
Lori Fredrich (Lo) is an eater, writer, wonderer, bon vivante, traveler, cook, gardener and girlwonder. Born and raised in the Milwaukee area, she has tried to leave many times, but seems to be drawn to this quirky city that smells of beer and alewives.
Some might say that she is a little obsessed with food. Lo would say she is A LOT obsessed with food. After all, she has been cooking, eating and enjoying food for decades and has no plans to retire anytime soon.
Lo's recipes and writing have been featured in a variety of publications including GO: Airtran Inflight Magazine, Cheese Connoisseur, Cooking Light, Edible Milwaukee, Milwaukee Magazine and the Milwaukee Journal Sentinel, as well as on the blog Go Bold with Butter, the web site Wisconsin Cheese Talk, and in the quarterly online magazine Grate. Pair. Share.