Enjoy this look back at one of our favorite pieces! We continue to publish great new articles daily but will share some unique throwbacks to Milwaukee's (and our!) past.
While so many down-home Milwaukee bars are closed or have been "upgraded," Scaffidi's Hideout, just a hop north of Brady Street at 1837 N. Humboldt Ave., remains pure Milwaukee: friendly, no-nonsense, comfortable fun without pretense.
If it feels like you're among family, it's because you are.
Rick and Mark Scaffidi bought the place with their brother Donald in 1983 ... from their stepfather, Gary Rabon. The interior remodeling done soon after? That was their dad Paul Scaffidi's handiwork.
"We grew up in the bar," says Rick. "We used to clean it before school," adds Mark.
"I was 11 years old and Mark had to be about 9," Rick recalls. "We'd come in and Gary would give us jobs, like cleaning up, stocking up, little things like that. As we got a little older, he gave us a bit more. He gave us some money, so we were happy, got a little allowance. And you know, he just wanted us to be punctual and do a good job and be happy, be proud of your work.
"He was all business. We went in there, he'd say you can have one soda, but you're not sitting here eating chips and candy for free. If you want it, you pay. But it was very welcoming, and the bartenders knew us, and everybody liked us, and it was really a family. Everybody kind of looked out for each other."
And that's how it feels now. I suspect, that's how it's felt for a long time, too.
A tavern with a long history
It's unclear when the tavern and upstairs apartment was built on the northwest corner of what was originally the intersection of Racine Street and Highland (now simply Land) Place, but the earliest reference I could conjure was 1891, when German immigrants Frank and Julia Mackut lived there. An 1894 reference is vague about whether 63-year-old Julia Klatt ran the tavern or just lived upstairs.
But we do know that in 1896, barkeep J.E. Bleean (sic) sought to transfer his liquor license from the place to a new tavern nearby on the 700 block of East Pearson Street, and Frank Wedekin applied for a new license for what would much later become Scaffidi's.
The Mackuts still owned the building as late as 1910 and Wedekin – who lived on Juneau – appears to have continued to run the bar below. In 1903, the Mackuts hired builder August Banash to erect a $400 brick addition to the wood frame building.
By 1920, Frank Borowski, who immigrated from Poland in 1900, operated the bar (now a soft drink parlor thanks to Prohibition) and lived upstairs with his wife Kate and his sons Frank and Raymond, along with Borowski's brother, sister-in-law and a boarder. Those were the days, eh?
Borowski, and his wife after his passing, ran the bar on and off for the next 20 years. In 1930, '31 and '32, it was operated by Joseph Rachwal, Oscar T. Geyer and John W. Drewek, respectively, before Kate took over again once Prohibition was repealed. She rented the bar to Andrew W. Boginski for three years, from '38 to '41.
Borowski put the bar – an "old established wonderful business" – and the upstairs apartment up for sale in hopes of retiring, but that didn't happen, and she was again behind the bar herself from 1942 until '49, when Orville A. Winter took it over and ran it until 1954.
That's when crane operator Henry Groholski – who lived up on Burleigh – took over and renamed it Hank's Hideout, running it until his sudden death from a heart attack in 1955. Hank's appears to have endured its namesake's untimely passing at age 49, and it seems his daughter Virginia Gratton, who had been helping her dad run the place, and his wife Agnes Groholski, kept it going until 1957, when the "good neighborhood business" closed at sat vacant briefly and was again listed for sale in April 1958.
Chester Jasrtomski reopened the bar – in a building still owned by the Borowski family – in 1959, tinkering the name to Chet's Hideout. Three years later, Chet bought the building.
The modern era
In '71 Gary Rabon – who had been a bartender at Regano's Roman Coin – and Jerry Slinker bought the place and renamed it Gary's Hideout (you can see where this is going, right?), and that's when the Scaffidi boys started shoveling the sidewalk and clearing out the basement bottle chute.
In 1976, Rick and Mark's brother Tony bought into Gary's Hideout, and a few years later, a new partnership emerged.
"Tony and Donny decided that they wanted to open a bar, and they wanted Gary, because of Gary's knowledge," says Rick. "Just having him in it I think gave them a good feeling, having somebody who knows the business. They bought a place on 14th and Orchard. And it was called Donny and Tony's Hideout.
"They had two bars going. Gary didn't really have a lot to do, he helped and started it out, getting all the salesmen in there, showed them how to stock and how to do the books. Donny and Tony basically did most of the work. Gary was a silent partner kind of thing."
By then, Mark was tending bar at the joint on Humboldt when, a few months into Donny & Tony's Hideout, Tony wanted out, says Mark, and "it became Don and Mark's Hideout." When Rick was laid off from his job at Allen-Bradley, in 1982, Rick bought Gary out of the Orchard Street place, though the name did not change.
"We ran that bar," recalls Rick. "We stayed there until about '87, when we sold it. In the meantime – '83, that summer, I think in July, I believe – Gary got kind of tired of this bar, too. He was running All-State Maintenance, which was like a cleaning service. They did like fans and ducts, and all that kind of stuff. He wanted to run that place, and he wanted to sell this place, so he asked us if we would be interested in buying it. We're young, we thought, 'Well, we're running two bars, let's see what happens'."
Well, what happens is that almost 35 years later, Rick and Mark Scaffidi still run what has now long since been renamed Scaffidi's Hideout and while it's by no means hidden – it's full of billiards players for leagues four weeknights every week – it is a gem.
The rec room you wish you had
Enter at the corner and you'll walk up a few steps, which is kind of like heading up to the rec room you wish you had.
To the right is the horseshoe-shaped bar, just in front of you is a pool table. There are two more pool tables in the back – all three are lit by hanging lights adorned with "Scaffidis" rendered in curly-cued iron work.
There are some games, a juke box, a couple TVs, dart boards, neon beer signs, the usual bar decor. It feels familiar; it feels right. If you take a stool at the bar – as you should – don't neglect to take a close look up above. When the boys had their dad Paul gussy up the place not long after they bought it, he added criss-cross woodwork to the ceiling, but he left gaps so you could enjoy a glimpse of the original decorative tin ceiling above (pictured below).
There's no kitchen here, but Scaffidi's can make you a solid frozen pizza or sell you some of the best jerky around – from Mike's Country Meats in Campbellsport. Happy hour is from 4 to 7 p.m. every day, offering free pool, $3 taps (including brews from Good City, MKE Brewing Co., New Glarus and Miller) and $3 rail drinks.
One thing that has changed at Scaffidi's over the past couple decades is the clientele.
"We used to see a lot more second shifters," says Rick. "I don't see that much anymore, beside a couple printing companies here. We lost the tanneries. We lost the first shift (at other local manufacturing businesses, too)."
But Scaffidi's does draw service workers from nearby bars and restaurants on a regular basis and neighborhood folks, too. And the pool leagues are a boon, though folks don't often hang out and drink as long after the games as they once did, says Rick.
Though the Scaffidi's are at the bar every day – either Rick or Mark or both – and are hands-on, they're happy to let their staff shine, too.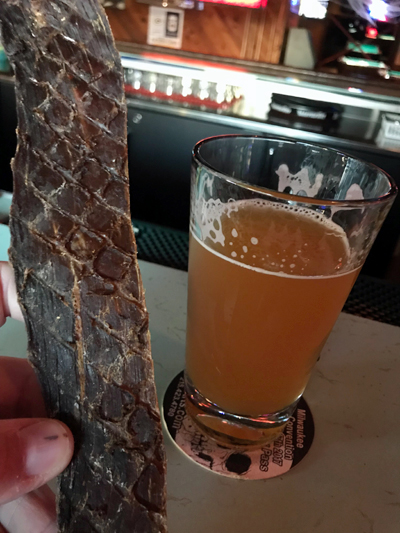 "Running a bar our whole lives, it was fun in our 20s," says Rick. "We worked hard, but we also played hard. Our friends were our customers. We did everything. We went to Brewers games, Vegas trips and baseball teams that played Sundays. Then we would go down to Summerfest. We were just a big family. We had a lot of fun, made a lot of friendships.
"We kind of look through (our employees' eyes) now. You met Jess (LeBlanc). She's really a top-notch manager. She's one of the best employees we ever had, and we've been in business 34 years. I like for her to interact with customers. We work on the weekends, and a lot of the time, she's the one that's doing it. We're just on bar back, and whatever, making sure there's no problems."
"She the one playing the dice games now," Mark adds.
"(Customers) don't want to see me and talk to me," says Rick. "They want to talk to her. It is what it is. But some guys do like to talk to us. They like to hear some stuff, or ask us a couple pool questions, or maybe just want to talk about something. Most of the time they like to talk with the girls."
"(Our staff) is good kids, really," says Mark. "I'm proud. They're happy to come to work. The people that are our regulars are also just awesome kids. The punks are gone. We lived through the old days where it was like the wild, wild west here, in the '70s and '80s. There were fights, not just here, but all the bars.
"We've been in business long enough," says Rick. "I can stop a fight before it starts 90 percent of the time. It's usually, they're chattering. We break it up, with respect."
"You can only be a dumbass for so long," Mark says with a smile. "The regulars we have are, like I said, are nice kids. They'd jump right in. You get a jerk that walks in, he comes in drunk and stupid, before you know it, I have eight people behind me. This guy is all of a sudden realizing, he's in the wrong place. Then he leaves and never comes back. It's just not the kind of place."
Solids or stripes
The kind of place Scaffidi's is? A Mecca for billiards.
"Our main thing here, to this day, has been pool," says Rick. "Pool is our backbone, it's always been our backbone. When Gary had the place, it was his backbone, too. He always ran pool leagues. He was the guy that ran the whole pool league on the East Side."
"We're the only bar on the East Side that does leagues," Mark adds. "There used to be traveling leagues. The Up and Under was in, BBC, all these bars, Riverwest bars, people would go back and forth, and it was just great. Now we're the only bar that has leagues. Every night we have six teams. We're guaranteed 20 people in the bar. We do a long winter league and then we do a short summer league. It's real nice."
Both Scaffidi brothers participate in the pool leagues. If you want to join, here's some, ahem, solid advice: Wednesday is the night with the guys to beat.
"That's the toughest league," says Mark. "Then, you've got Tuesdays and Thursdays and Mondays, and those are kind of like, if they fill up, great. If they don't fill up, me and Mark try to field the team, just to make the league work."
"A lot of guys that we grew up with," says Rick. "We have some guys that played with us for 20, 25 years."
"Champion players," Mark chips in.
So, who's the better player, Mark or Rick?
"We're about the same, I would say," offers Mark.
Rick points at his little brother. "He's been playing, he practices a little bit more."
"I don't know about that," says Mark. "He's being humble."
If I'm wagering?
"I would bet on him," says Rick.
Born in Brooklyn, N.Y., where he lived until he was 17, Bobby received his BA-Mass Communications from UWM in 1989 and has lived in Walker's Point, Bay View, Enderis Park, South Milwaukee and on the East Side.
He has published three non-fiction books in Italy – including one about an event in Milwaukee history, which was published in the U.S. in autumn 2010. Four more books, all about Milwaukee, have been published by The History Press.
With his most recent band, The Yell Leaders, Bobby released four LPs and had a songs featured in episodes of TV's "Party of Five" and "Dawson's Creek," and films in Japan, South America and the U.S. The Yell Leaders were named the best unsigned band in their region by VH-1 as part of its Rock Across America 1998 Tour. Most recently, the band contributed tracks to a UK vinyl/CD tribute to the Redskins and collaborated on a track with Italian novelist Enrico Remmert.
He's produced three installments of the "OMCD" series of local music compilations for OnMilwaukee.com and in 2007 produced a CD of Italian music and poetry.
In 2005, he was awarded the City of Asti's (Italy) Journalism Prize for his work focusing on that area. He has also won awards from the Milwaukee Press Club.
He can be heard weekly on 88Nine Radio Milwaukee talking about his "Urban Spelunking" series of stories.