What is one of the "Milwaukee-est" of Milwaukee Airbnbs is tucked away in Bay View between Howell Avenue and the Kinnickinnic River.
The highly rated rental – a full five on a five-star scale after nearly 50 reviews – has five bedrooms and four baths at 2549 S. Burrell St.
"Luxury renovated Airbnb that sleeps 12 people via five bedrooms (including two king suites)," reads the description. "Soaring ceilings and 100 percent hardwood floors.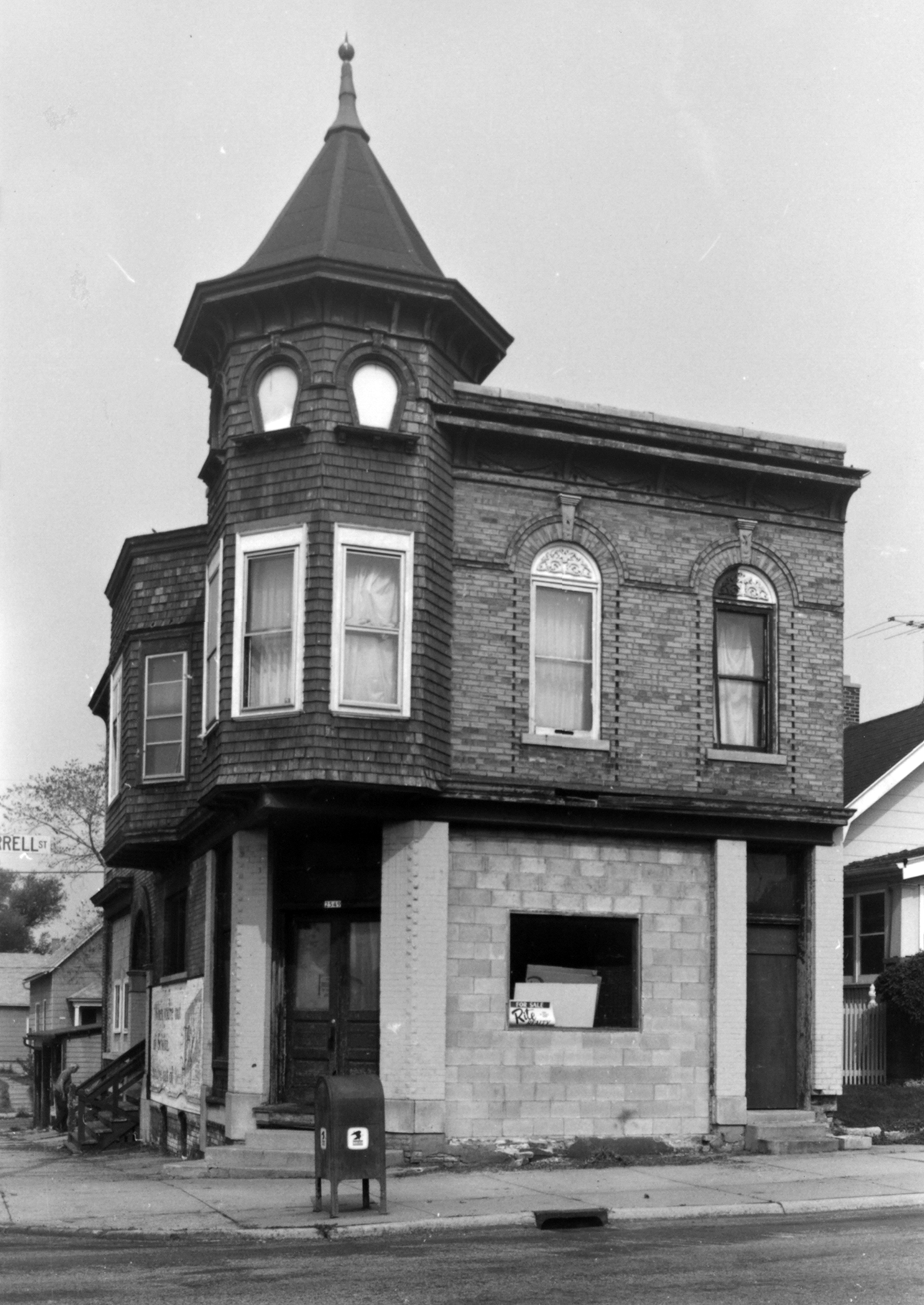 "Take your pick of five luxury bedrooms (three king, two queen) each equipped with a brand new Helix mattress. Four full bathrooms each with their own shower.
"Split the family into upstairs and downstairs, each with their own kitchen, dining room and living room (with 65-inch screen) with deep and comfy West Elm sofas. Includes central air and in unit washer and dryer."
As the listing notes, it's, "perfect for family stays, wedding parties, friend vacations or group travel. Just blocks from Milwaukee's best bars, restaurants and popular wedding venues."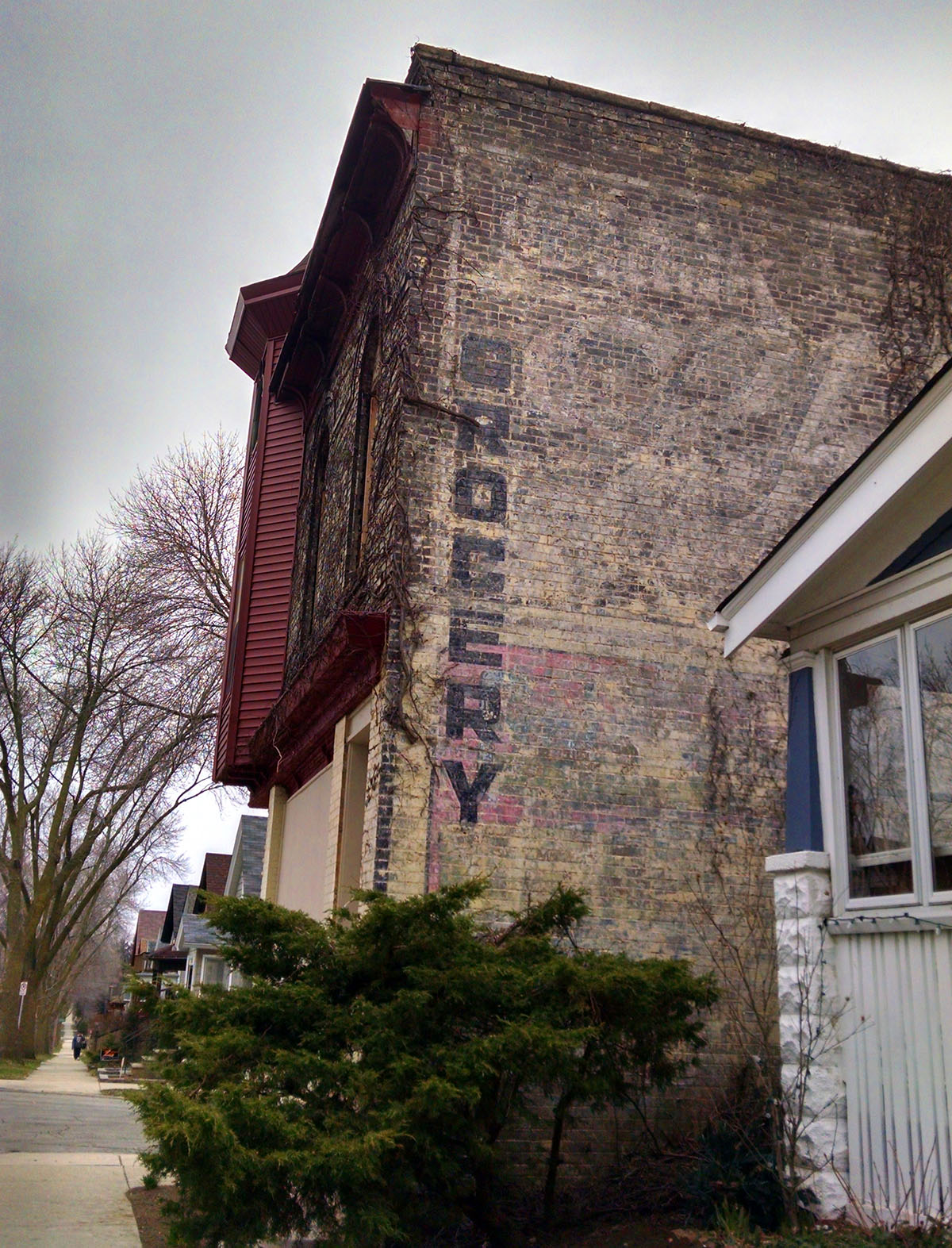 Also, it's located in a Queen Anne-style former tavern and grocery building that was constructed in 1899 by Schlitz Brewing Company as a tied house saloon, selling only that brewery's beer.
"You've never stayed in a building like this," the listing predicts, likely accurately.
Like a number of other Schlitz tied houses – including the current Club Garibaldi and this former tied house that was recently listed for sale by the City of Milwaukee – this turreted one was designed by architect Charles Lesser.
As I wrote recently about the Lisbon Avenue structure, while earlier Schlitz tied houses were designed by Charles Kirchhoff, at times in partnership with Thomas Rose, August Uihlein must've liked Lesser's work, as the beer baron tapped the architect to design other work, too, including, in 1908, the crenellated Schlitz Brewing Company building in Washington, D.C.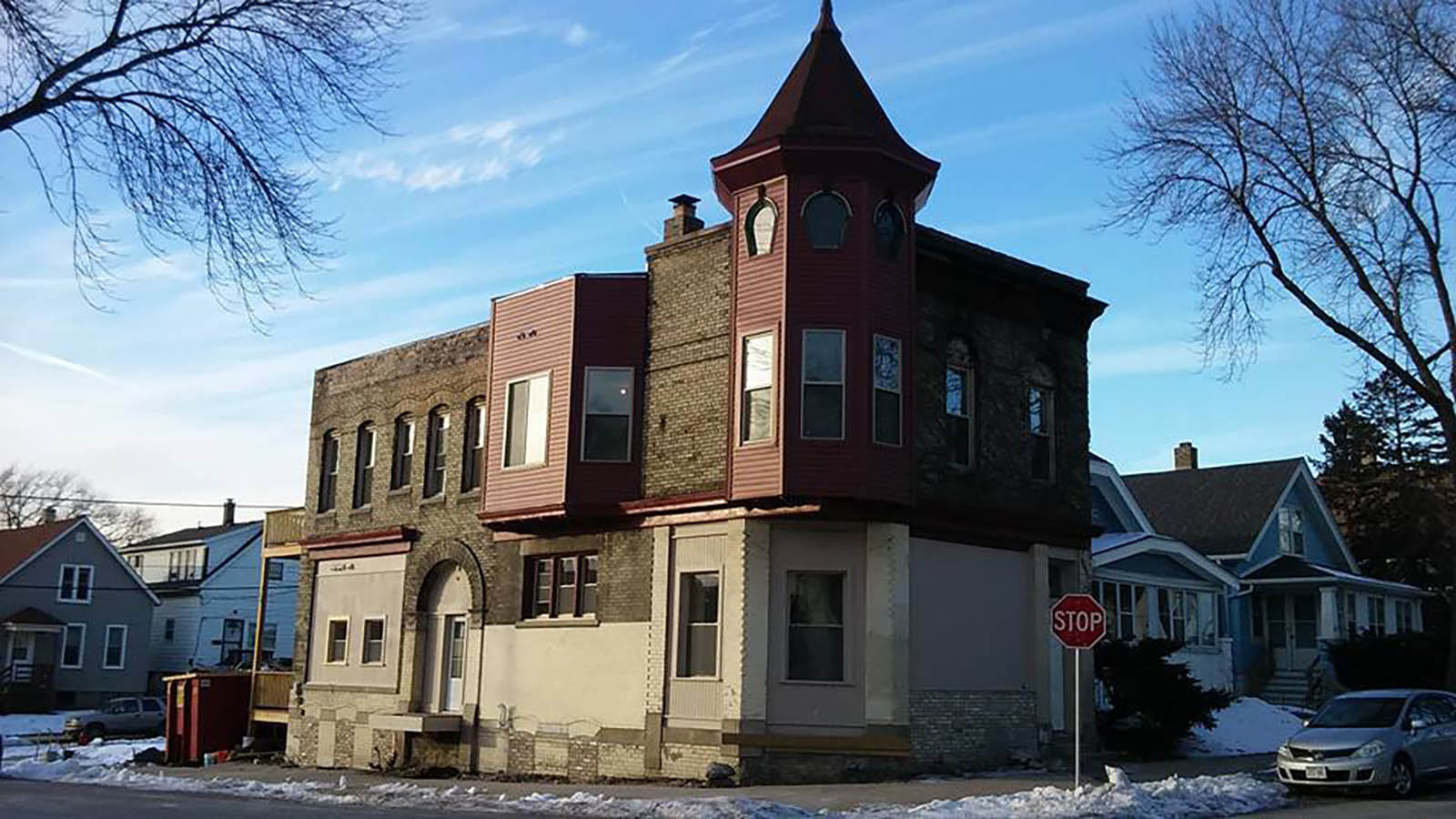 The building's first tenant appears to have been Richard Mattuschek, who operated a grocery business and whose family lived upstairs. August Koenig was running the building's saloon.
According to research by current owner John Pfister, Mattuschek was born in Hultschin, Prussia (now located in the Czech Republic) in 1857 and arrived in New York 30 years later.
By 1890, he was in Sheboygan, where he married Alma Tresce Henke, who had been born in that city in 1869. While they were still in Sheboygan when their son Robert was born in May 1891, their son Grover Cleveland Mattuschek was born in Milwaukee in November of the following year. Son Harry was also born in Milwaukee, in 1894.
Once arrived in Milwaukee, Mattuschek began working as a saloonkeeper on 5th Street Downtown, arriving at the new Burrell building upon its completion in 1899.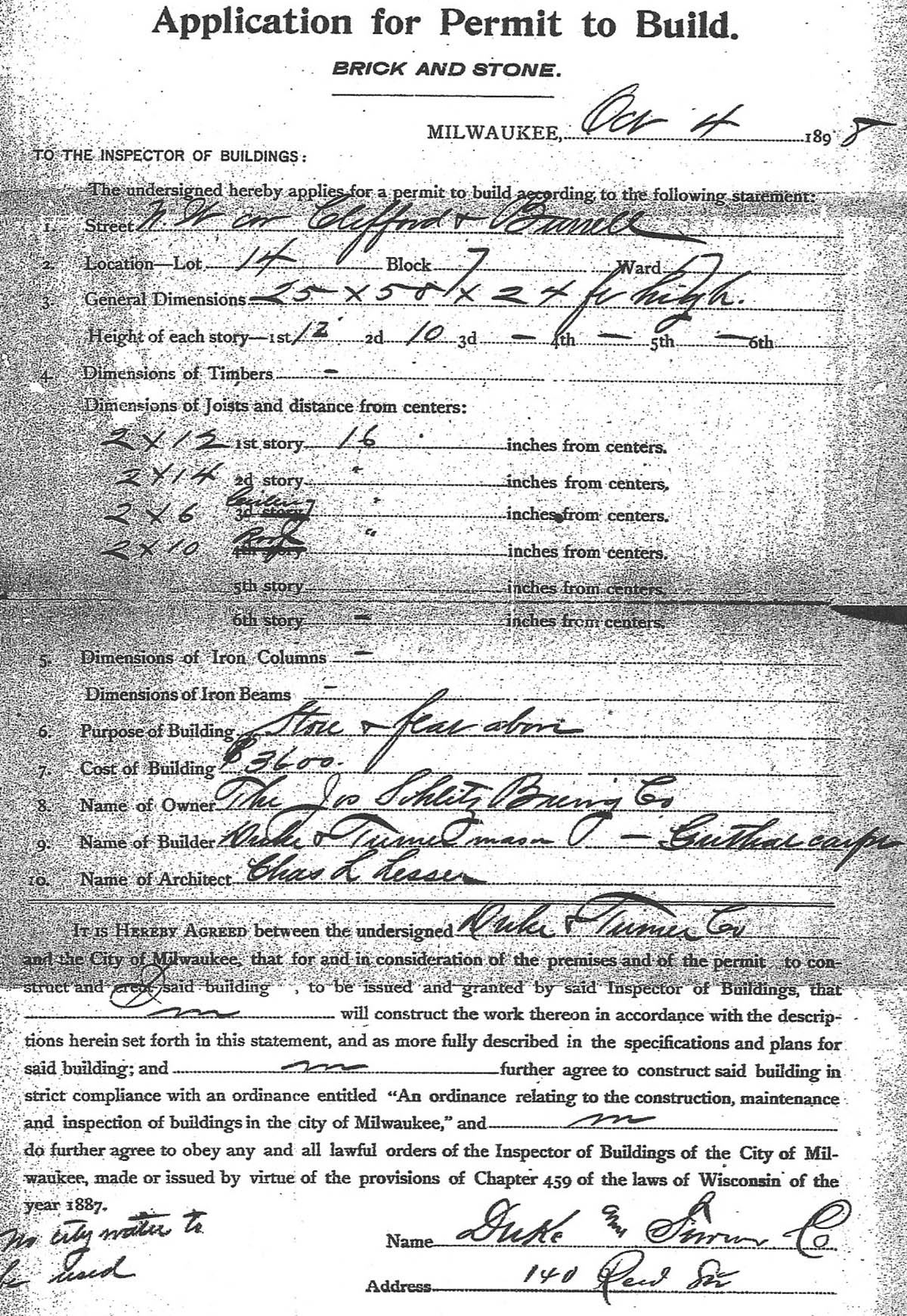 The grocery and tavern business was good to Mattuschek and his family – Koenig quickly disappeared from the picture – who had a live-in servant and a live-in grocery apprentice in 1910.
In 1912, Mattuschek added a garage to the property which would stay in his family for a very long time.
It's unclear when he bought the building from Schlitz but it appears to have been by the time Prohibition arrived in 1920.
By then, the family had already tragically lost their son Grover, a Private First Class in the U.S. Army, who died of pneumonia in Montdore, France, in November 1918 just before the armistice ending World War I was signed. He is memorialized among the war dead on the monument in nearby Humboldt Park, though he is buried in the American cemetery at Clermont.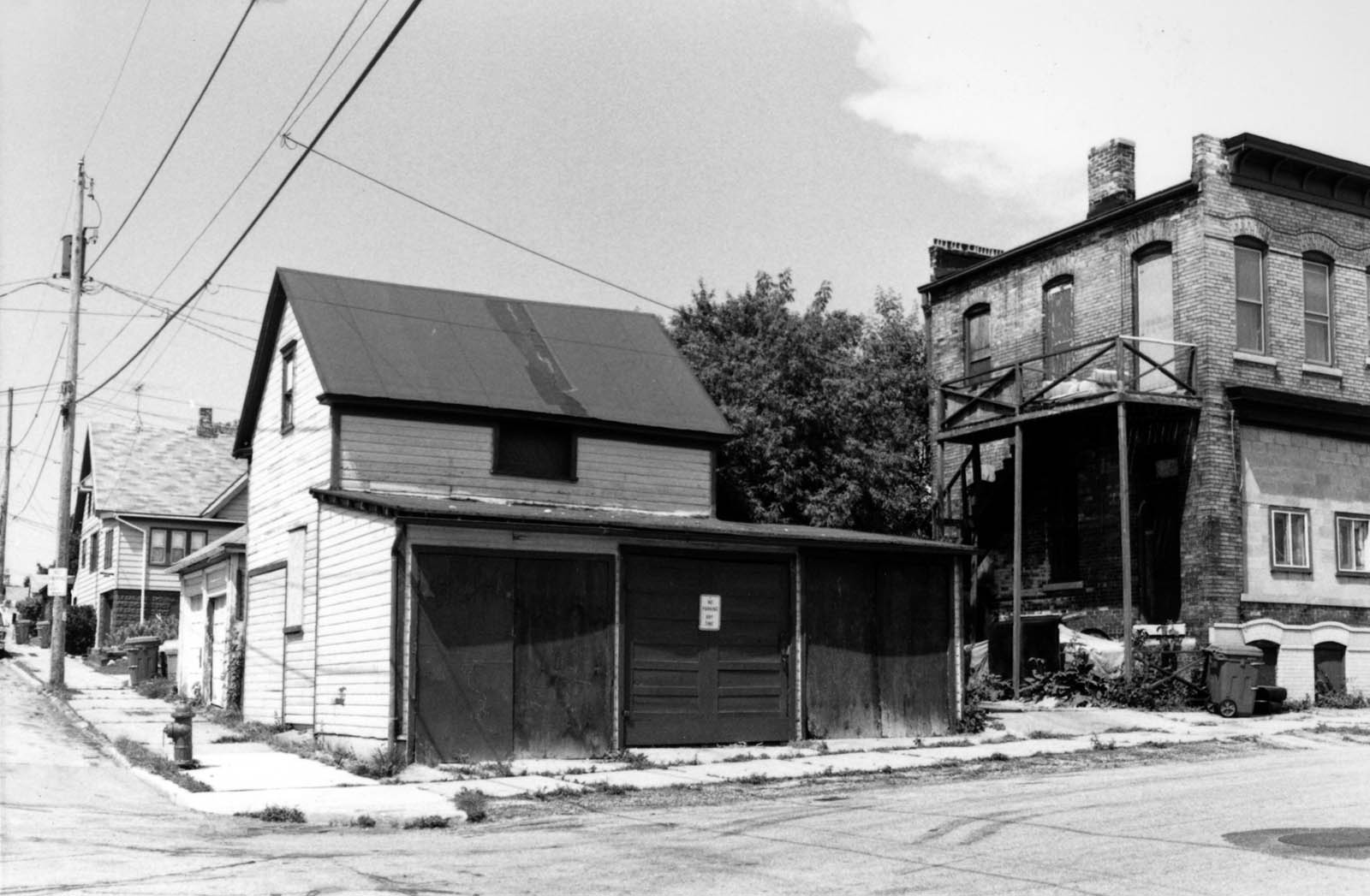 Perhaps because they already had a successful grocery business, it seems possible that the Mattuscheks did not attempt to skirt liquor laws. The absence of the business from near-constant news reports of saloonkeepers busted for violating dry laws during Prohibition is notable.
In 1922, Alma died and was buried at Forest Home Cemetery, leave Richard and his sons to run the business. Robert and Harry both worked in the store and would continue to do so for many years.
That same year, Robert married Norma Heide of Sheboygan Falls – suggesting a connection to that area remained – and continued working at the shop, with Norma joining him as a clerk behind the counter.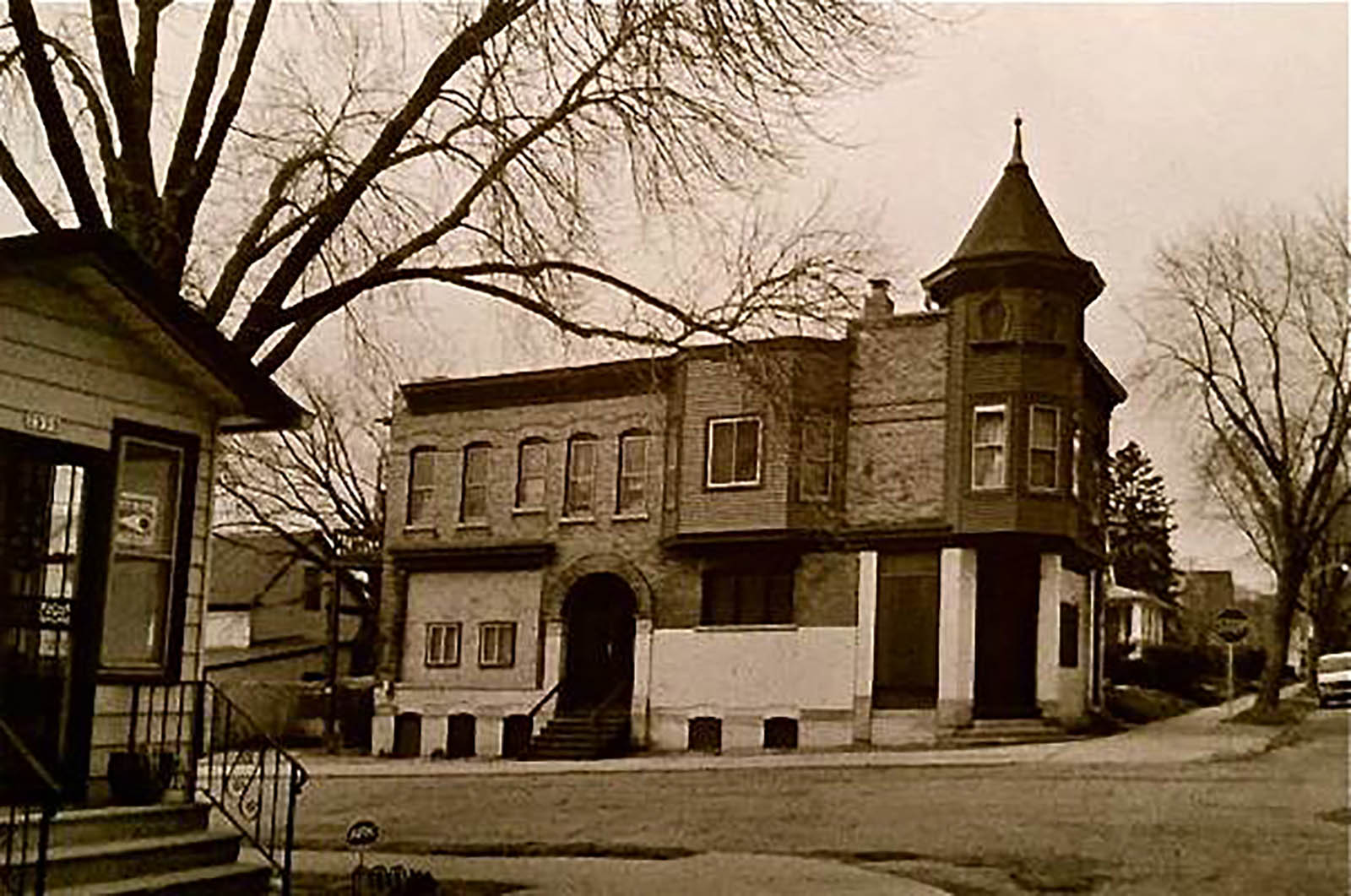 Interestingly, in 1933, the elder Mattuschek penned a letter to the daily newspaper, criticizing the idea of municipal low-cost housing developments.
"I do not see any reason for municipal housing projects at $5 to $7 a room when most workers in factories and otherwise are earning 25 cents to 50 cents an hour for six hours a day and three or four days a week," he wrote. "I know that 100 or more flats similar to mine, besides many small apartments, are vacant at present, yet I am renting my two flats for the last one to two years at $15 and $17 a month, which means $3 a room.
"Besides five rooms and bath the tenant has attic, basement with laundry tubs, furnace, gas and electric light, vegetable cellar, coal bin, also a yard 40 by 25 feet with wash line posts. I would recommend that our captains of industry shelter their employes themselves instead of pushing them on landlords that hardly are able to pay their taxes."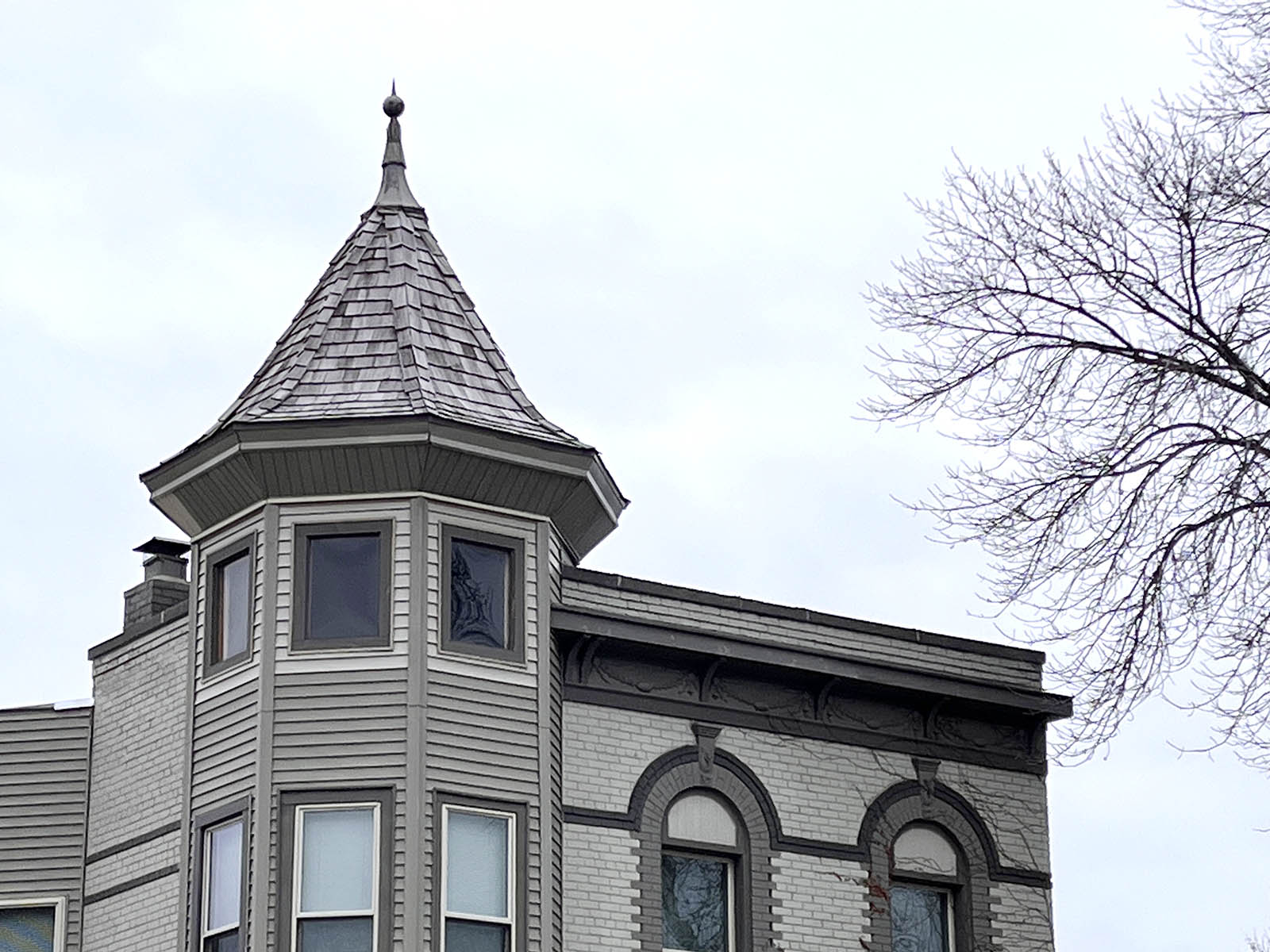 The letter makes clear that Mattuschek had been renting flats, either in the grocery building or another location (or both). In the earliest days on Burrell Street, the family had taken in boarders.
Four years later, Richard passed away at the age of 80, and a local newspaper noted that he had run the grocery business for 40 years. "Surviving are two sons who were with their father in business," wrote the Journal."
And the brothers continued at the store, which, by then, had re-opened its tavern business, too.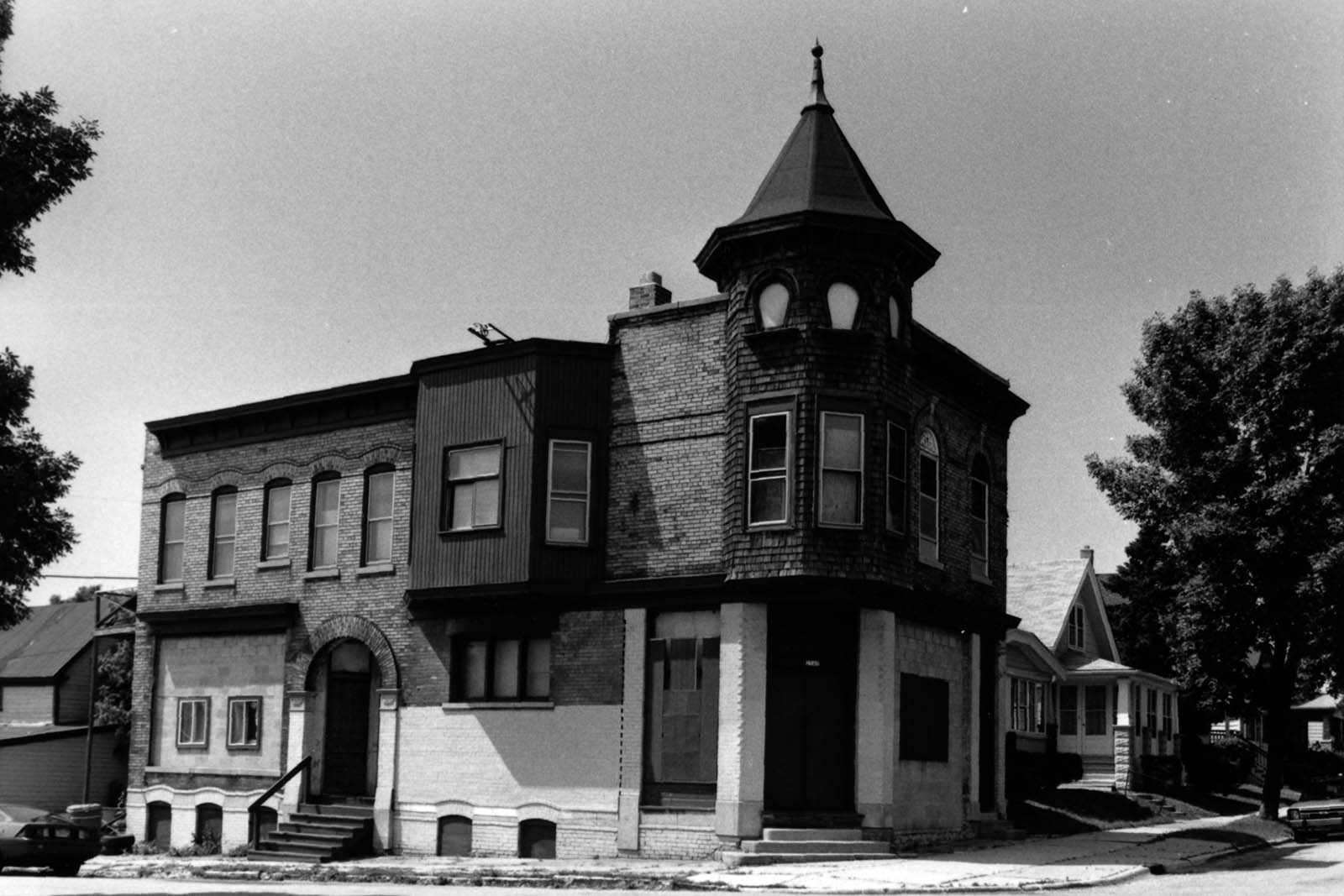 In 1940, the brothers owned and lived in the building – valued at $3,000 – and continued running the family business, though as Pfister notes, they "worked 60 hours per week but both had other income sources."
Harry had long done some work as a watchmaker.
Though Robert was still listed as married in that year's census, his wife appears in the same census as living in Sheboygan Falls with her family. With her was her 2-year-old daughter Nancy.
By 1959, it appears that Harry focused on the grocery side, while Robert ran the tavern.
Eleven years later, when the business was robbed by two men, it appears to have shifted back to being strictly a grocery store, though still run by the brothers.
In 1972, both Robert and Harry, passed away. Robert died in February and his younger brother Harry died in October.
The store closed and the building was sold to Dan Hornak, who closed up the shop windows with glass block, paved the basement floor and turned the building inward.
In 1983, Kirk Jung bought it and, later, local bands Direct Hit! and Galactic Cannibal used the space as a rehearsal room.
When, in 2013, the building was devastated by a fire, the bands lost their equipment.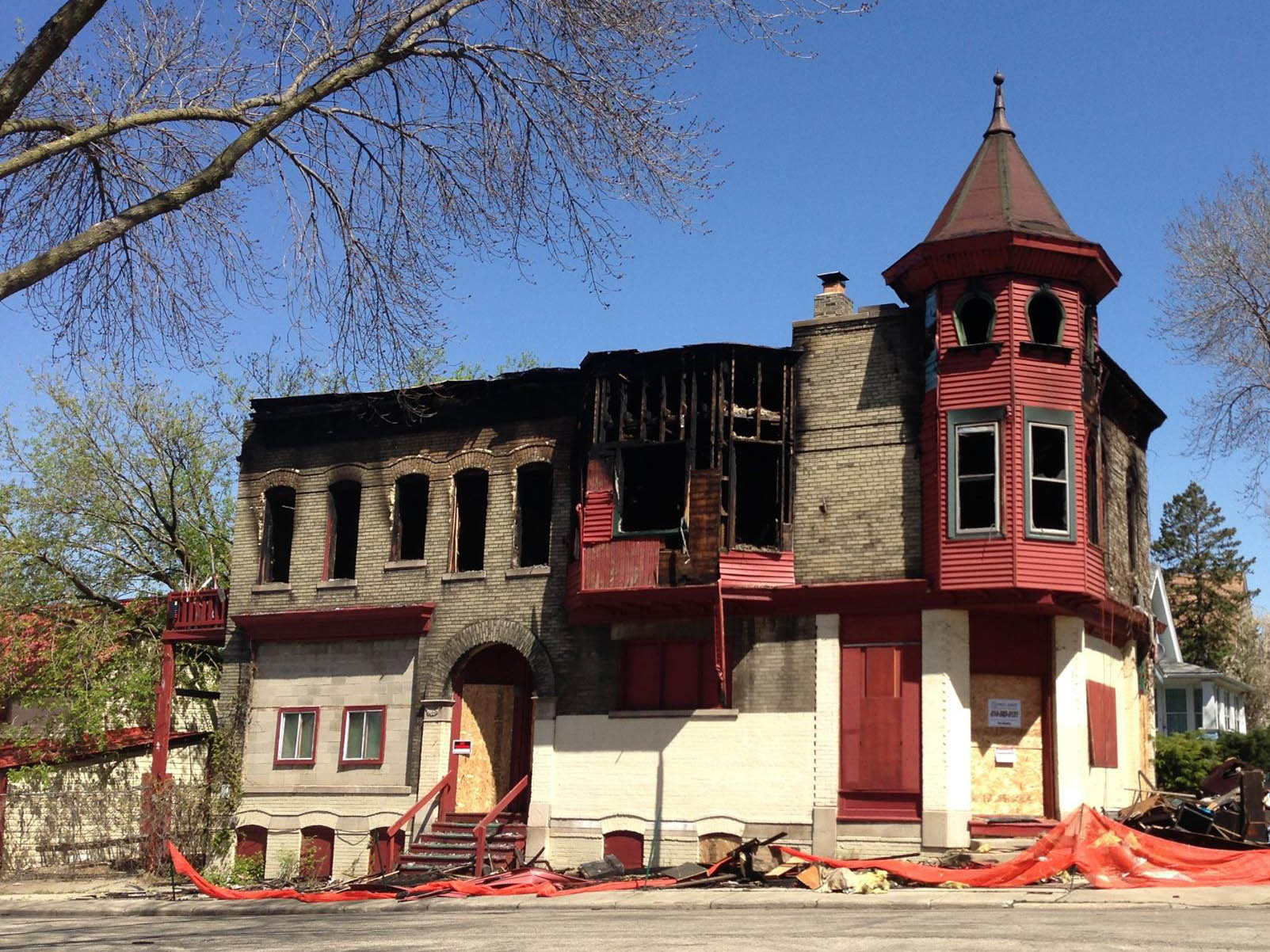 But the building still had some life left in it and was renovated.
Then came the Pfisters.
"My parents' historic barn in Dodge County burned down in 2020," recalls Kyle Pfister. "That's where I was raised and their homestead. So after much tragedy, they sold the farm and were drawn to the Burrell building, and it felt a little meant to be."
They bought the building in August 2021 and set about readying it for guests.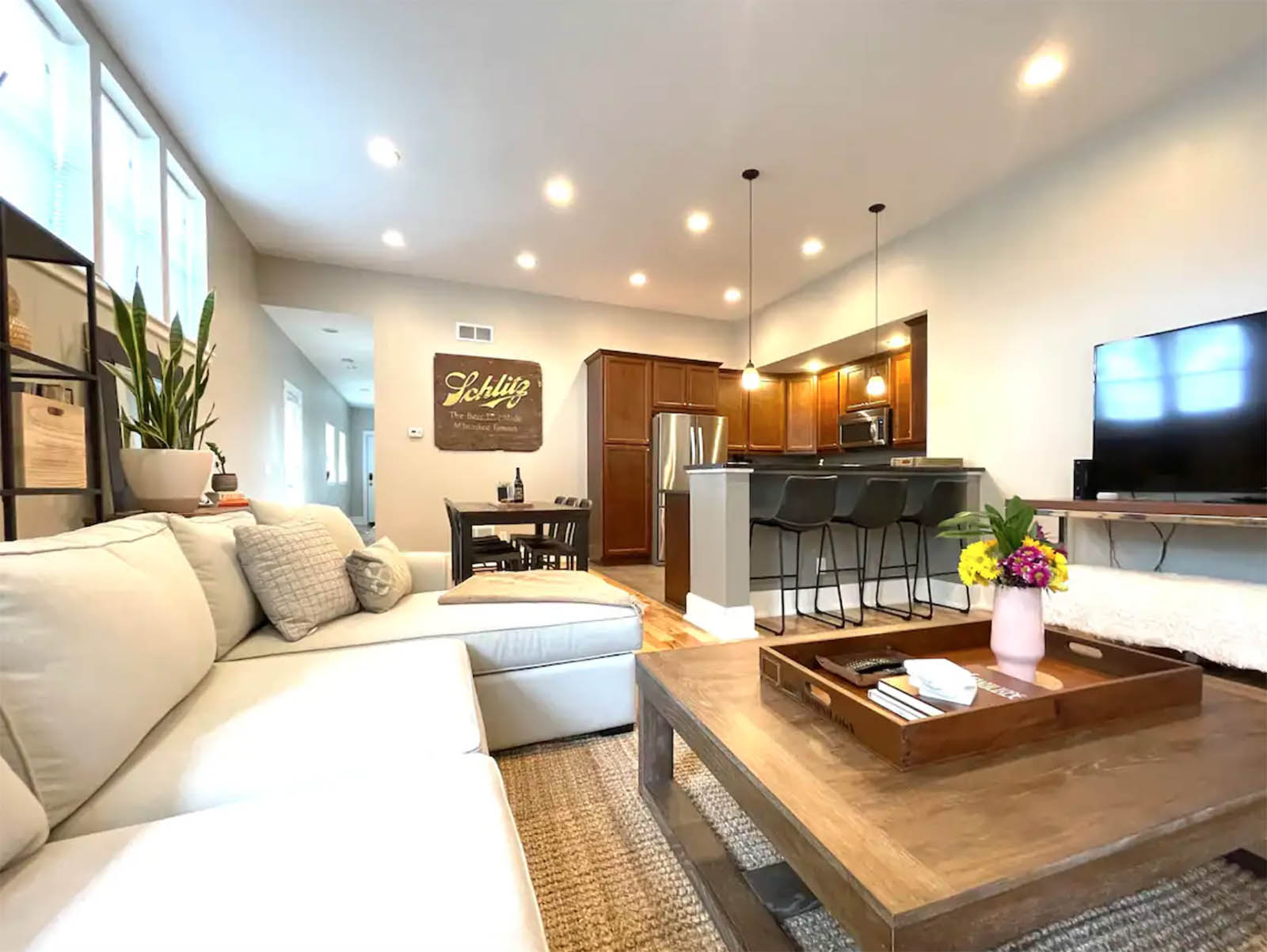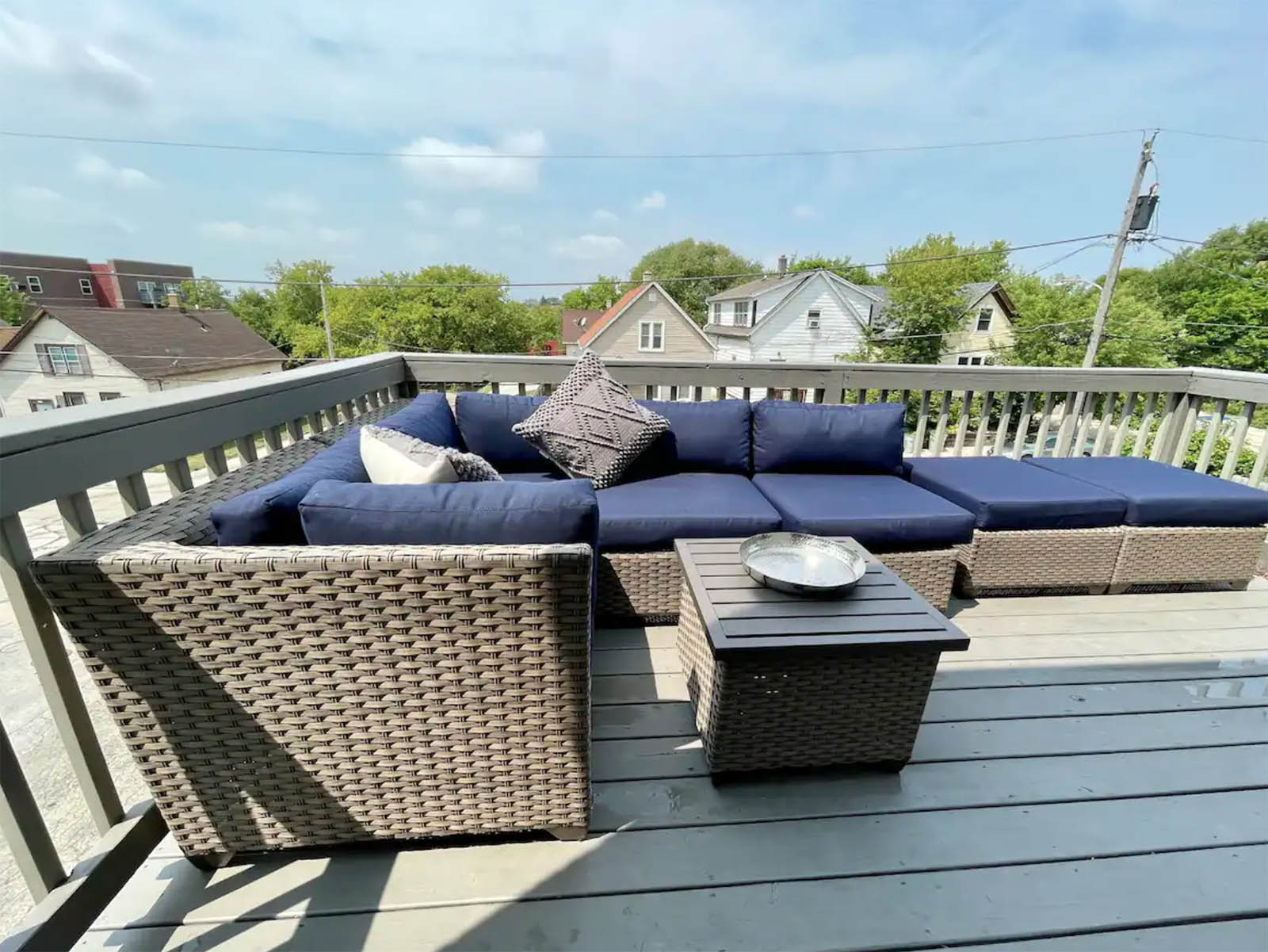 According to Kyle Pfister, those guests have included traveling nurses; a marathon runner; traveling musicians; visitors attending Bucks and Brewers games, the Ryder Cup and Summerfest; and even an entire class visiting from up north to check out the city's museums.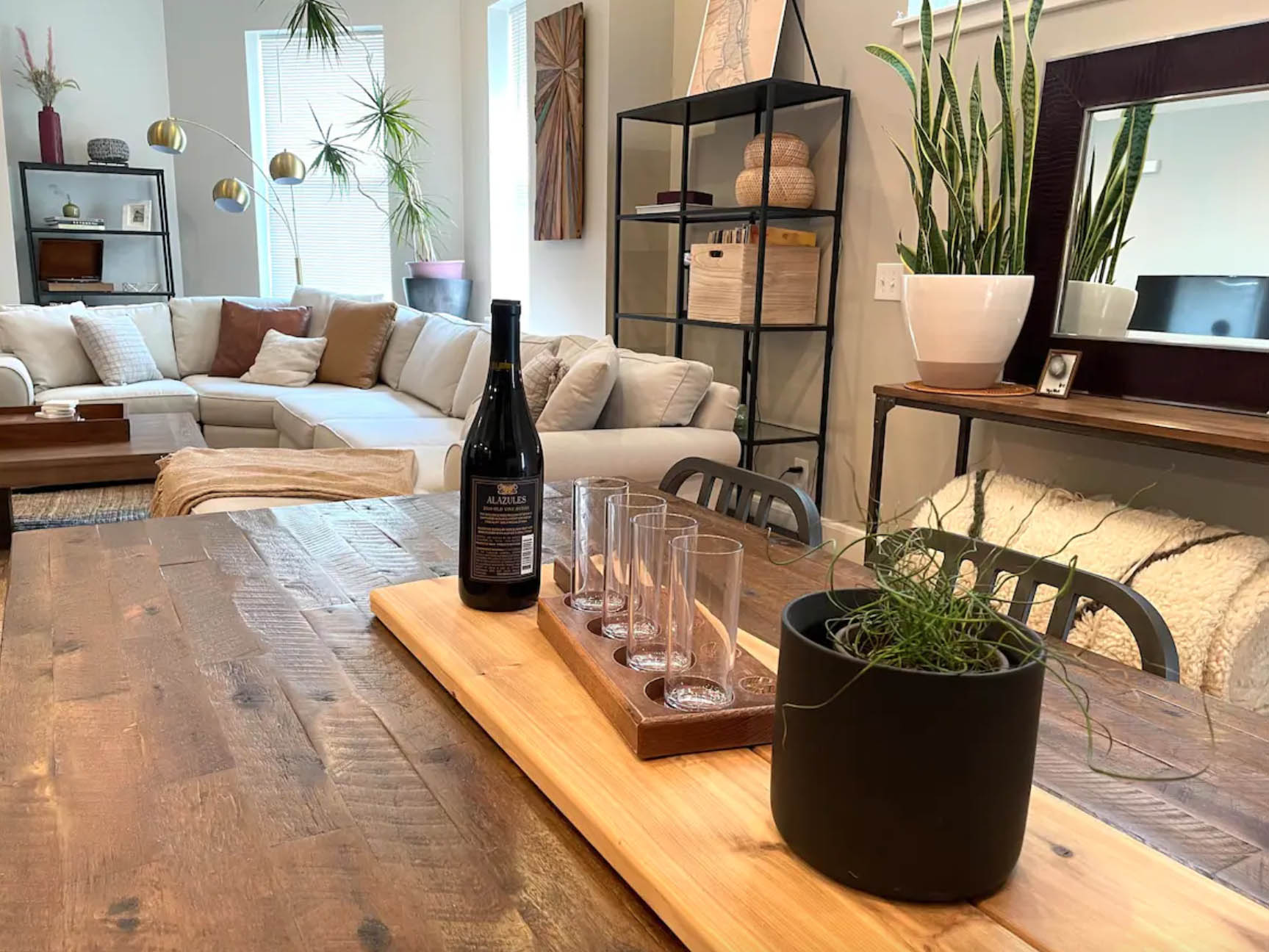 "We've already hosted families and travelers locally and from all over – family travels, staycations, family gatherings, work retreats, groups getting ready for nearby weddings," says Kyle, who notes that his parents live there part-time.
"It's nice to be able to offer it as a unique Airbnb to the community when they're not using it."
Born in Brooklyn, N.Y., where he lived until he was 17, Bobby received his BA-Mass Communications from UWM in 1989 and has lived in Walker's Point, Bay View, Enderis Park, South Milwaukee and on the East Side.
He has published three non-fiction books in Italy – including one about an event in Milwaukee history, which was published in the U.S. in autumn 2010. Four more books, all about Milwaukee, have been published by The History Press.
With his most recent band, The Yell Leaders, Bobby released four LPs and had a songs featured in episodes of TV's "Party of Five" and "Dawson's Creek," and films in Japan, South America and the U.S. The Yell Leaders were named the best unsigned band in their region by VH-1 as part of its Rock Across America 1998 Tour. Most recently, the band contributed tracks to a UK vinyl/CD tribute to the Redskins and collaborated on a track with Italian novelist Enrico Remmert.
He's produced three installments of the "OMCD" series of local music compilations for OnMilwaukee.com and in 2007 produced a CD of Italian music and poetry.
In 2005, he was awarded the City of Asti's (Italy) Journalism Prize for his work focusing on that area. He has also won awards from the Milwaukee Press Club.
He can be heard weekly on 88Nine Radio Milwaukee talking about his "Urban Spelunking" series of stories.