The summer sun is finally shining in Milwaukee, and if that wasn't enough, Downtown will shine even more with the latest infusion of art courtesy of Sculpture Milwaukee, which announced its plans for its 2022 campaign – and revealed several of its newest works.
Now in its sixth year decorating the streets, nooks and crannies of Downtown Milwaukee and beyond, the outdoor art program will try a new approach for its latest exhibit. Instead of installing and unveiling all of the pieces at once, this year's Sculpture Milwaukee exhibit – titled "Nature Doesn't Know About Us," guest curated by renowned artist Ugo Rondinone – will be revealed piece by piece, with new works added to the collection and put on display throughout the season.
According to Sculpture Milwaukee executive director Brian Schupper, speaking at a press conference Thursday afternoon at Museum Center Park, the exhibit "will quite literally grow throughout the summer."
"The new exhibition ... is organic and contemplative. It leans into the unique urban setting Downtown Milwaukee offers for a public art exhibition," Schupper noted. "We invite all who live, work and visit Milwaukee to experience and embrace the feelings and reactions the exhibition provokes."
The "Nature Doesn't Know About Us" exhibit is already beginning to grow, with Sculpture Milwaukee revealing the first six pieces of its latest outdoor installment. Some are already on display Downtown while others are expected to be installed shortly.
Here are the first 2022 Sculpture Milwaukee works and where to find them:
"LET IT COME LET IT GO," "YOU CAN'T HURT ME CAUSE STORMS CAN'T HURT THE SKY" and "DO THE UNDONE" by John Giorno – found at three separate corners of the intersection at Wisconsin Avenue and Jefferson Street
"Spiky Column Green" by Ned Smyth – found in Museum Center Park, 910 E. Michigan St.
"Sky/Stairs #2" by Geoffrey Hendricks – found on the stairway leading to Museum Center Park
"Courtyard Sea" by Maya Lin – found in the courtyard next to the 411 East Wisconsin building
"William Hambling" by Sarah Lucas – found at the Marcus Center for the Performing Arts, adjacent to the riverwalk
"Pyramid" by Maren Hassinger – location to be announced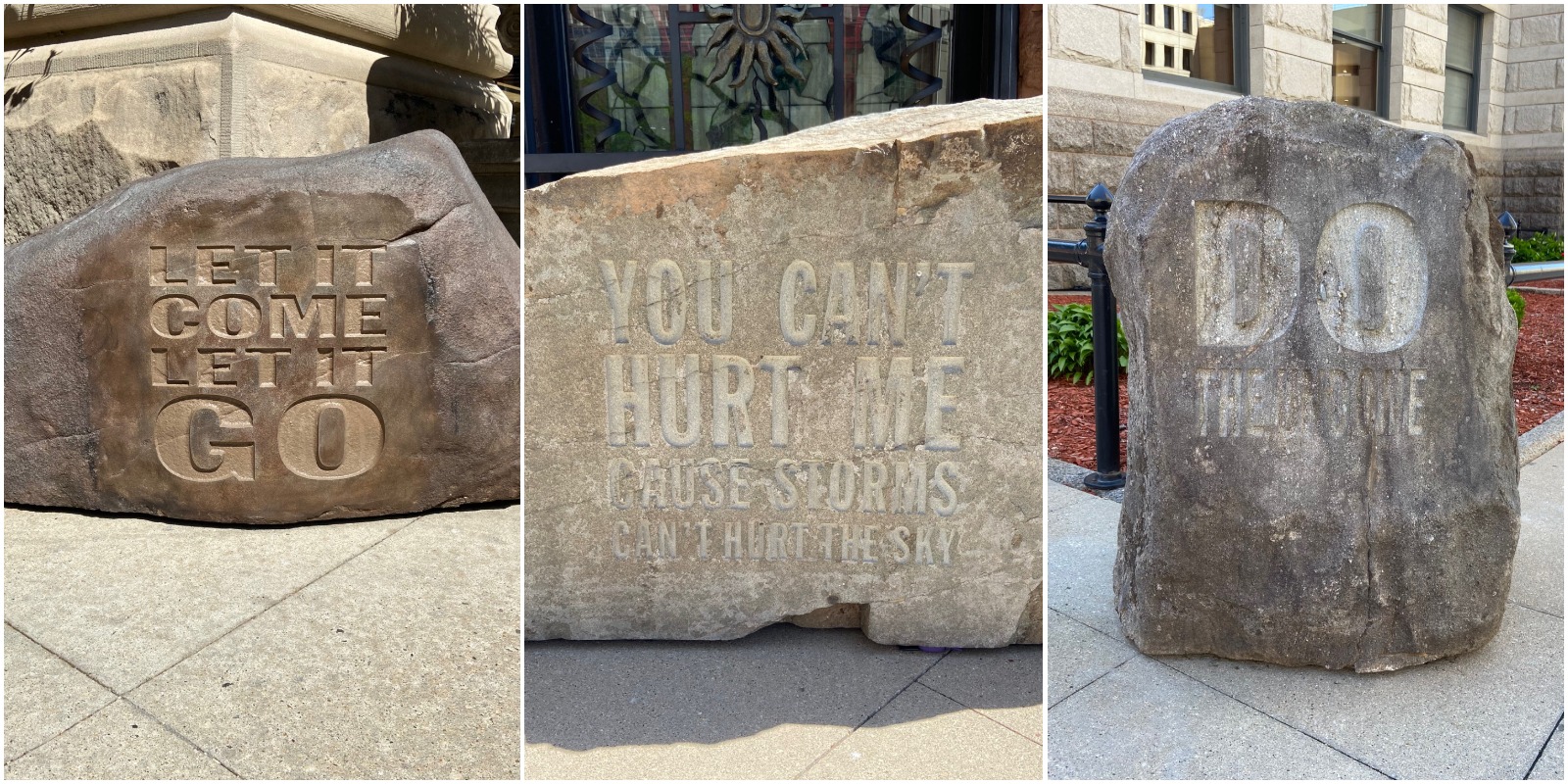 Works from last year's Sculpture Milwaukee exhibit, "There Is This We," will remain on display until October. Several sculptures and works from past Sculpture Milwaukee exhibits can still be found throughout the city as well – such as "Mixed Feelings" by Tony Cragg, in front of City Hall; "LOVE" by Robert Indiana, in the Northwestern Mutual Tower's campus; and "Pensive" by Radcliffe Bailey, in front of the BMO Tower at 790 N. Water St. For a map of all present works, visit Sculpture Milwaukee's website.
And in case that wasn't enough art, to celebrate the start of its 2022 exhibit, Sculpture Milwaukee will host a special arts festival on Saturday, June 18, at 3rd Street Market Hall. Running from 11 a.m. until 3 p.m., the event will feature all sorts of art, from local vendors showcasing their most recent works to interactive art, live music and painting, dance performances and much more – plus food and drink from 3rd Street Market Hall's many delicious tenants.
For more information on Sculpture Milwaukee, click here – and for more updates on new installations and works throughout the summer, stay tuned to OnMilwaukee.
As much as it is a gigantic cliché to say that one has always had a passion for film, Matt Mueller has always had a passion for film. Whether it was bringing in the latest movie reviews for his first grade show-and-tell or writing film reviews for the St. Norbert College Times as a high school student, Matt is way too obsessed with movies for his own good.
When he's not writing about the latest blockbuster or talking much too glowingly about "Piranha 3D," Matt can probably be found watching literally any sport (minus cricket) or working at - get this - a local movie theater. Or watching a movie. Yeah, he's probably watching a movie.