Explore the best Milwaukee has to offer with VISITMilwaukee and OnMilwaukee this summer by "Urban Exploring." We'll be sharing parks to hike, walls to climb, rivers to paddle, trails to bike and so much more. Be a tourist in your own town and experience it with us!
I spent the afternoon wandering around one of Milwaukee's most lush and serene natural settings: Seven Bridges Trail in South Milwaukee's Grant Park.
At the trailhead, there's a covered bridge bearing the inscription "Enter this wild wood and view the haunts of nature" and the witchy words are, in part, why Seven Bridges is often said to be haunted. Allegedly, several people have committed suicide by jumping off a bridge or hanging themselves in the park and some visitors claim to have seen colorful glowing lights, heard unidentifiable voices or screeches and reported sightings of a creature that looks like a cross between a human and a praying mantis.
I'm always up for a good, old-fashioned spooking, but the most supernatural thing I saw today at Seven Bridges were some wickedly twisty tree shadows on the Lannon stone path and a "face" in the bark of a tree that was most likely carved by a teenager.
There are seven bridges at Seven Bridges, as there should be, along with an abundance of beech trees, a wooded ravine, wildflowers, stone steps, brooks, limestone walls and a gorgeous view of Lake Michigan. The hike can be as easy or challenging as you desire – at times we strolled slowly and other times ran up and down steep hills.
Seven Bridges was constructed by a WPA crew during the Great Depression and is considered by many the centerpiece of the County Park System. I couldn't agree more.
If you find yourself feeling lost at Seven Bridges, or not sure which way to walk when presented with a trail split, you are doing it exactly right. Just keep walking and absorbing the sights, sounds and smells around you and all too soon you'll find yourself back at the entrance and in a far-less-magical world.
Here are seven more photos from my visit today:
1. One-seventh
2. The Great Wall of South Milwaukee
3. There she is
4. Walk on down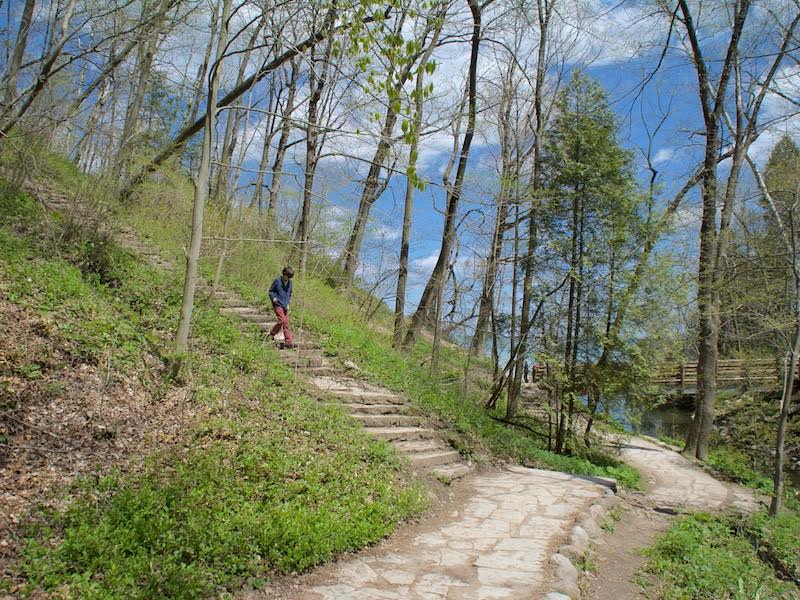 5. The a-bridge-d version
6. Three-petal perfection
7. Watch it, there might be ghosts up there
Seven Bridges is free to access and open during regular park hours.

Molly Snyder started writing and publishing her work at the age 10, when her community newspaper printed her poem, "The Unicorn." Since then, she's expanded beyond the subject of mythical creatures and written in many different mediums but, nearest and dearest to her heart, thousands of articles for OnMilwaukee.

Molly is a regular contributor to FOX6 News and numerous radio stations as well as the co-host of "Dandelions: A Podcast For Women." She's received five Milwaukee Press Club Awards, served as the Pfister Narrator and is the Wisconsin State Fair's Celebrity Cream Puff Eating Champion of 2019.