Like baking or winemaking, roasting coffee is both science and art. At its heart, roasting the pits of coffee plant cherries is a buffet of chemical reactions – molecules transformed by heat, Maillard reactions, sugars undergoing changes. A ham-fisted roaster can easily mess up the science and destroy the coffee.
But learning how to not ruin good beans is not enough to create amazing coffee. The art dances around the edges; that is where a real artist – using time and heat and other factors – can create sublime roasts that result in a stellar cup of java.
This I learned when I recently spent a day with the good folks at Valentine Coffee Roasters, 5918 W. Vliet St. I also understood there's very little skill to be learned about roasting coffee in a day. It takes time, it takes tinkering the variables, it takes practice and it takes a bit of coffee wasted in the process. Much like learning to pull a perfect shot.
I also learned that there might be no better place to learn the art and science than at this small company of about a dozen folks who love coffee and are passionate about what they do. That they eat lunch together around a table, as a family, says a lot about Valentine.
The company began about five years ago when gourmand and oenophile Robb Kashevarof – who also briefly kicked around a career in professional soccer in Poland – bought a roaster and tried to work out the ins and outs of roasting coffee.
Soon he recruited his former Milwaukee Ale House colleague Joe Gilsdorf, who had started and later sold his share of Nessun Dorma in Riverwest, to join him. The two had copious experience in wine, but little in making coffee.
In the back of the Valentine tasting room, where the roasting and packaging is done, Robb stops at a sparking red and chrome Diedrich coffee roaster.
"This is the first roaster," he says. "My wife and I bought it with a tax return and a credit card in 2009. We flew out to Sandpoint, Idaho (where Diedrich is located) and took a three-day course on coffee roasting and just took the plunge. Four years ago it was just me and this. You're looking at the whole operation."
Now, the Diedrich is in constant operation, as is a larger unit that dominates the room, as well as a smaller roaster that Gilsdorf uses to "interview" the many sample beans that arrive on a daily basis at Valentine.
As you might imagine, the process starts with the interview.
"They send these to us, sometimes at our request," says Joe, as we inspect a small bag of green beans from Burundi that have just arrived. "Sometimes it's them knowing what we've worked with and had success with in the past.
"Looking at the coffees you can usually tell processing, like whether it's a wash process coffee or a natural process coffee or somewhere in between. You can tell whether or not it is a pea berry ... the size. You can tell a lot of that by looking at it but you have no idea how it's going to taste. You can also see if it's been poorly processed in that there might be a lot of broken pieces in there. You're looking for consistency of beans, size, color, shape, this kind of stuff."
Gilsdorf also travels to meet coffee farmers around the globe and taste their coffee.
The interview process allows a coffee roaster to narrow down the field of potential inputs. The coffees that make the cut are then further roasted and cupped and, ultimately, the team – which also includes roaster Michael Cothroll and tasting room manager Aaron Cleavland – decides what will become a Valentine Coffee.
Peek at the tasting room menu and you realize a lot of coffee comes through here. That's because Valentine isn't looking for bulk business. The company has grown, but slowly and purposefully.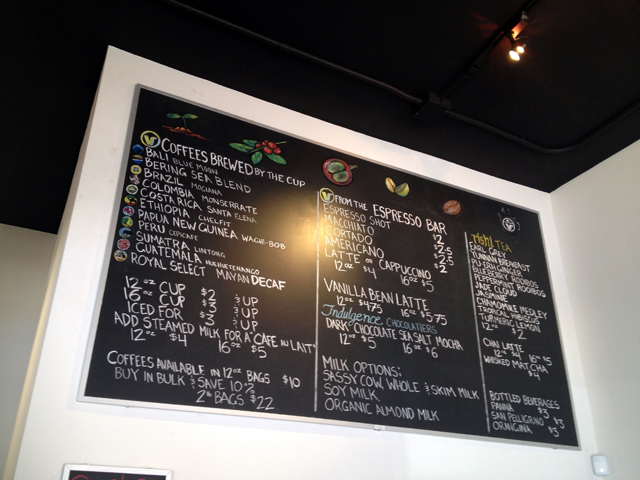 "When was the last time you went and had 13 different coffees to choose from and that was okay," asks Robb, rhetorically. "That's just the way we do it. We do everything one cup at a time. When you buy a bag of coffee we always buy you a cup of coffee. We've got return customers who come back every week and buy a bag of what they tasted the week before and then they try something new by the cup. They just go through all of our coffee that way."
Where the job starts for me is unloading heaping bags of beans from the back of a delivery truck in sub-zero weather. These beans will need some time to return to a less-than-arctic temp, but after we're done loading, Joe sets us up on the small Diedrich – that shiny red one – and we start roasting.

I watch him do a batch, pouring the beans in the hopper above, getting the perfect temperature and air flow in the machine and then letting the beans drop in. He carefully watches his timer and controls and logs the temperature at 30 second intervals to make sure the roast is proceeding as he likes.
Every roast gets logged so that the team will have a specific baseline for each coffee. But it doesn't mean you follow the previous "recipe" and walk away – even on the larger machine, which allows for the recipe to be programmed. That's because coffee is an agricultural product, something designed and created by nature. There are variables in size, in moisture content, in the humidity of the room and on and on.

So, again, there's the science, but woe be unto a roaster who puts all his money on a static idea of science and forgets the variables, forgoes the art.

"We tinker that recipe every few weeks," Joe says. "Coffee, like wine, you get one crop a year (not counting what's called a fly crop)." And every year that crop will change a bit. And even within a vintage, bean sizes and other variables can exist row to row, even plant to plant, in a field.

The beans undergo their reaction and we can watch it through a window. But we can also pull out a stick that captures a few beans and smell them – they start out kinda grassy, move to a more dry straw smell before starting to emit a more familiar coffee aroma – and Joe does it frequently.

Advertisement

Brew it up.

When they're ready, he drops them from the drum into a cooling pan that draws cool air through the beans as they are spread and re-spread by a spinning arm. This helps stop the roasting process more quickly.

For the next batch, Joe lets me get involved, but only sorta, because there's no way I can be expected to handle the subtleties of the process, so I load the beans in the hopper and I follow along as Joe watches and charts the progress. This time around the temp is a degree or two higher at the intervals but he's not worried. More problematic than a few degrees is a dramatic change in temperature. So, using the damper and the heat source, he finesses the beans back to the desired temperature.

And I appreciate the work of the artist-scientist.

Then Cleavland pulls me out to the tasting room so I can join a group from a new cafe that's come to get a lesson in pulling perfect espresso shots.
Here again, variables – time, quantity of coffee, etc. – intersect to create the perfect pull. Finesse, experience and experimentation again helps transform this science into art.

After we're done, I'm going to learn the packaging line – also located in the back room and also operated by the same small crew – but Robb returns from some deliveries with lunch. Rocket Baby bread, charcuterie and cheese and a bottle of Chianti from the tasting room up front.

We pull some stools around a table in the roasting area and sit down to lunch. Everyone together – though the tasting room staff takes turns manning the cafe and noshing on salami, provolone and ciabatta rolls.

The jokes fly fast and furious – there's a bad joke jar for the worst offenders – and even I, someone who is just here for a day, feel right at home, part of the family.

But all I need to do is watch any of them putting their art and science to work and I realize the only place I can match their skills, perhaps, is standing on the other side of the counter and tossing back double shots.
Born in Brooklyn, N.Y., where he lived until he was 17, Bobby received his BA-Mass Communications from UWM in 1989 and has lived in Walker's Point, Bay View, Enderis Park, South Milwaukee and on the East Side.
He has published three non-fiction books in Italy – including one about an event in Milwaukee history, which was published in the U.S. in autumn 2010. Four more books, all about Milwaukee, have been published by The History Press.
With his most recent band, The Yell Leaders, Bobby released four LPs and had a songs featured in episodes of TV's "Party of Five" and "Dawson's Creek," and films in Japan, South America and the U.S. The Yell Leaders were named the best unsigned band in their region by VH-1 as part of its Rock Across America 1998 Tour. Most recently, the band contributed tracks to a UK vinyl/CD tribute to the Redskins and collaborated on a track with Italian novelist Enrico Remmert.
He's produced three installments of the "OMCD" series of local music compilations for OnMilwaukee.com and in 2007 produced a CD of Italian music and poetry.
In 2005, he was awarded the City of Asti's (Italy) Journalism Prize for his work focusing on that area. He has also won awards from the Milwaukee Press Club.
He can be heard weekly on 88Nine Radio Milwaukee talking about his "Urban Spelunking" series of stories.