UPDATE: As reported by FOX 6 News, the Jaume Plensa sculpture "Spillover II," located in Atwater Park in Shorewood, has been temporarily removed due to a recent claim that the piece contains anti-Semitic phrases. According to the report, the removal is temporary, as the sculpture will be put back on display after alterations are made.
The sculpture was already gone from its Atwater Park location by Saturday morning.
A man's visit to Milwaukee took a sour turn recently when he claims he discovered offensive messages hidden in a sculpture in Shorewood.
Matt Sweetwood – an author, speaker and photography expert – posted on Sunday, Nov. 8 about an unfortunate experience he had during a visit to his oldest daughter. During the visit, his son-in-law took him to Atwater Park and "Spillover II," a piece of public art by internationally known Spanish artist Jaume Plensa. The sculpture went up in the park in 2010.
After looking at the statue – an assortment of letters forming the outline of a crouched man – for several moments, Sweetwood noticed several messages spelled out in the man's left leg area.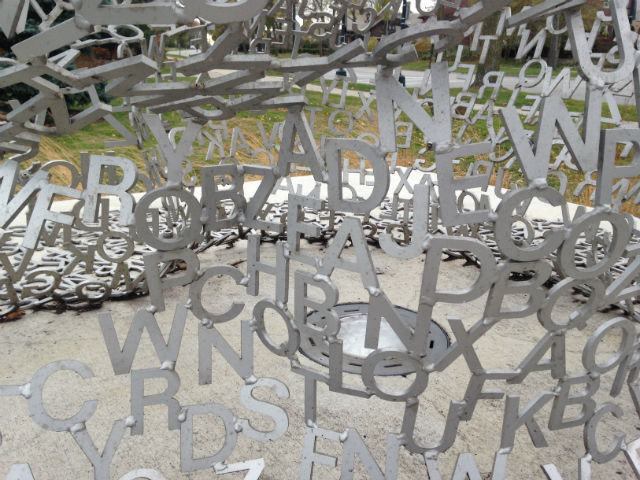 Do you see them?
According to Sweetwood, the three phrases, "CHEAP JEW," "FRY BAD JEW" and "DEAD JEW" are all up there.
The phrases marked (PHOTO: Matt Sweetwood/Ed Dvir)
"I snapped a few photos and walked away disgusted," Sweetwood wrote in his blog post. "My son-in-law was visibly upset as he had shown this sculpture proudly to visitors in the past. As a Jew from New Jersey, I prefer this kind of hate said directly to me. But this artist is a coward, so he sculpts his hate and runs away. I also found it ironic that such anti-Semitic remarks would exist on a sculpture a few miles from the childhood home of Golda Meir."
At the end of the post, Sweetwood calls on Shorewood to immediately remove the sculpture, noting that it "is not art. It's a piece of scrap."
So are his claims valid? After looking at the photos and the statue itself, the words "FRY" and "JEW" can be seen spelled out. The rest of the claims, however, require some liberties. "CHEAP," for instance, is spelled mostly out, but there's no actual P; you have to combine a nearby N and D to loosely form the letter. "DEAD" can be found, but in a roundabout way, and the "BAD" Sweetwood points out on his blog also technically has a Z in the middle of it, actually spelling BZAD. One could argue that is a whole lot of convenience located in one seemingly random jumble of letters, but there are a lot of leaps required to make the claims truly stick.
Paul Gray, owner of the Richard Gray Gallery in Chicago, and Mary Sabbatino, vice president and partner at the Galerie Lelong in New York – both listed as contacts on Plensa's official website – sent the following statement:
"Jaume Plensa has dedicated his career to creating work that brings people from all cultures together through artwork that asserts our similarities are more important and powerful than our differences. Plensa uses alphabets as conceptual metaphors for cultures; the letters from each alphabet are utilized to create a skin of an anonymous figure with each letter's placement entirely at random. Plensa is deeply saddened that his sculpture has been so egregiously misinterpreted. Plensa's works and beliefs are the antithesis of anti-Semitism."
Plensa's previous works include the Crown Fountain in Chicago's Millennium Park and a sculpture of a listening glass, entitled "Breathing," created and dedicated as a memorial to journalists killed in the line of duty currently located in London. Plensa has created several similar letter sculptures that can be found across the globe.
Most pertinent to this case, however, are Plensa's artist statements, which note that the organization of the letters is not meant to spell words and has no significance. There's also a profile with Houston Culture Map in which the artist notes that the groupings serve as a "denouncement of the murmur of useless words that invade our time."
Plensa also previously submitted a design for a Holocaust memorial displayed outside of the Ohio Statehouse. His design wasn't selected, but finished as in the top three as a runner-up.
As much as it is a gigantic cliché to say that one has always had a passion for film, Matt Mueller has always had a passion for film. Whether it was bringing in the latest movie reviews for his first grade show-and-tell or writing film reviews for the St. Norbert College Times as a high school student, Matt is way too obsessed with movies for his own good.
When he's not writing about the latest blockbuster or talking much too glowingly about "Piranha 3D," Matt can probably be found watching literally any sport (minus cricket) or working at - get this - a local movie theater. Or watching a movie. Yeah, he's probably watching a movie.