Join us on Saturday, July 22 for some lakeside munchies at the second annual OnMilwaukee Food Truck Fest. Choose from a menu of 20 trucks and enjoy the live music, games and entertainment. It's the biggest gathering of the best food on four wheels.
Skylar Schneider has been a strong racer most her life, but lately she's been making a lot of noise in the U.S. Criterium scene since joining L39ION of Los Angeles in 2021. Tonight she will make her grand return to the Bay View Criterium, but tomorrow, on Tuesday, June 21, she hopes to bring home a win in her home town at the first-ever West Allis Cheese Wheel Classic during the Kwik Trip Tour of America's Dairyland (ToAD).
Schneider has been winning races since she was 12 years old, but her "major results" sheet on Wikipedia nearly doubled her headcount in 2021 from the combined six years previous, and her total wins include many more. If you were around for ToAD at the same time last year, you should be familiar with her name echoing throughout the city while she collected numerous primes and race wins almost as easily as throwing a leg over a bike.
From West Allis to Europe to L.A. and back
The local Schneider history goes a little ways back. Her parents, Dave and Connie, met in high school – also in West Allis – when dad introduced mom to the sport of bike racing.
"Together my parents traveled the country and raced before starting a family while staying involved in the sport in other ways," Schneider recounted via email.
She grew up watching her older brother Sean and sister Sam race, all of which whom grew up watching their mother compete.
"Most of my earliest memories are from the BMX track with my brother and sister," said Schneider. "I think that set me up to be a bit fearless in other disciplines of the sport, like track and road."
Schneider's succeses began when she was 12, when she won her first National Championship on the road. A decade later, she hasn't let up on the gas. In 2018, at age 19, she packed up and moved to Europe to join the number one-ranked team in the world, Boels-Dolmans (now SD Worx). There, she was surrounded by an incredibly powerful team of storied atheletes.
"For the first two years on the team, I was the youngest rider, and only one of two Americans. My teammates were Olympic and national champions," she recalled.
In road racing, not everyone on the team is invited for the expressed purposes of winning a race; sometimes team members are there almost exclusively to help bring other riders across the finish line first. But as tactics and circumstances change throughout a race, a win can still be achieved. These riders are called "domestiques," and while on Boels-Dolmans, this is essentially the role Schneider was assigned.
The three years on the team took its toll on the young racer.
"During 2020, I realized how homesick and burnt out I was and knew it was time to make some changes," she noted.
So she came back home, and in 2021, Schneider signed a contract with L39ION (pronounced Legion) of Los Angeles, led by a team of brothers, Justin and Cory Williams, who were looking to change the face of crit racing. Instead of acting as a domestique, Schneider was brought in to help cultivate their women's team.
"I have a leadership role with L39ION both on and off the bike, which has been very fulfilling," she noted. "During my three years with Boels-Dolmans I personally won one race, but in the past year and a half with L39ION, I've won 28 races.
"But both teams have been instrumental in my growth – as a person and as an athelete – so I wouldn't change anything about my journey."
Sisters doin' it for the team
The Williams Brothers aren't the only siblings on L39ION. Skylar's sister, Samantha, also signed on to L39ION shortly after Skylar in 2021 (to say nothing of yet another sibling duo on the women's side of the team, Kendall and Alexis Ryan).
The two sisters work together to make the team a success on a holistic level. Skyler points to her sister as a contributor to her wins, and the two often work together, playing domestique toward the success of other teammates.
"My sister and I are two of seven women on L39ION. Sometimes we are both in a support role for our other teammates, and sometimes it's the other way around; it just depends on the type of course and who is riding the best," she said. "Samantha has been my biggest role model, and we were teammates for many years before I went to Europe. In 2021, Samantha had a baby but was determined to make a comeback."
And indeed she did, proving her mettle by jumping into the Giro d'Grafton this past Saturday, handily pulling out a win by a bike-length and then appearing on the podium with ten-month-old Henry.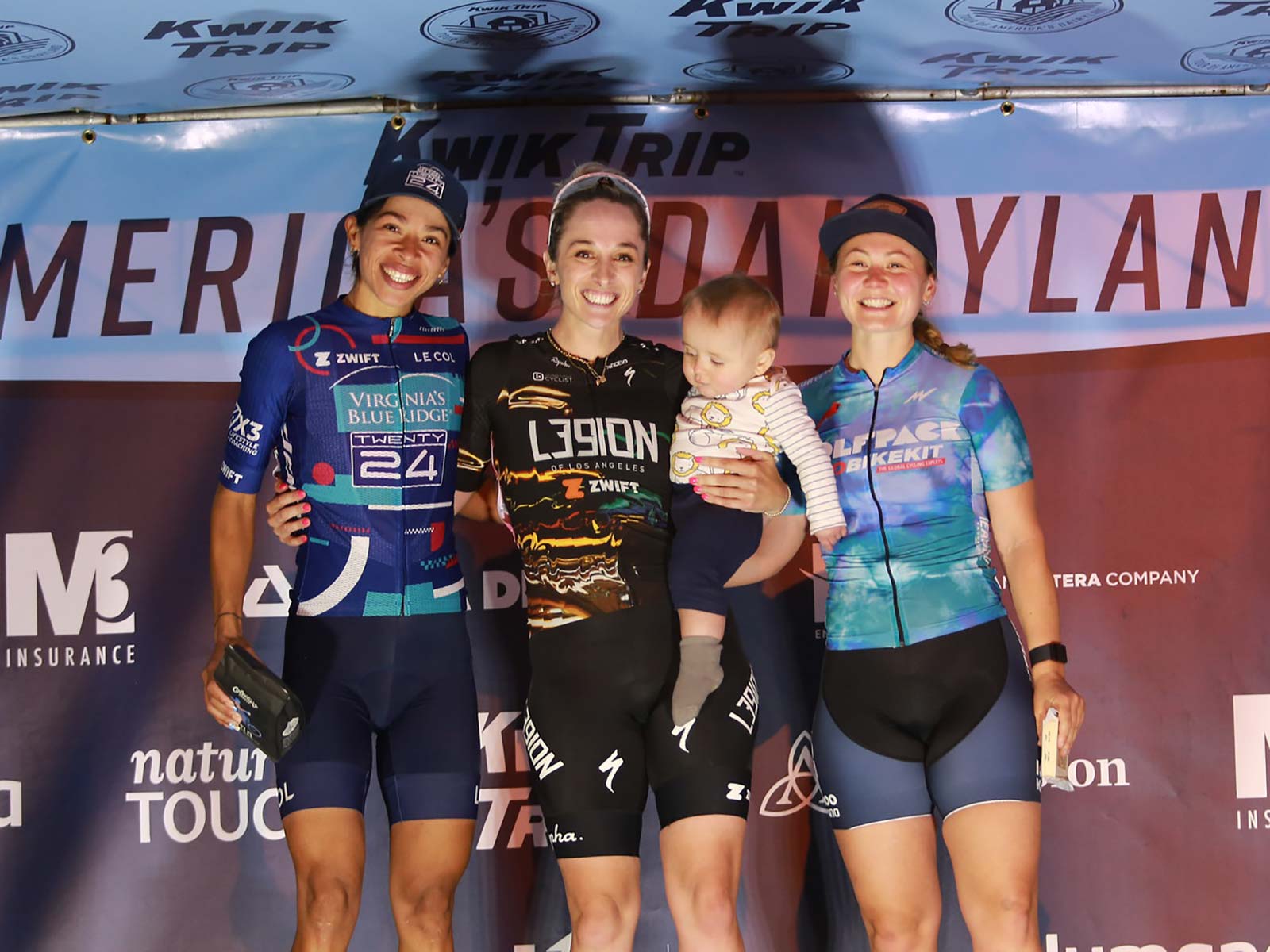 "To be teammates again after four years apart is really cool, and makes travling the country racing even more special, because we get to do it together," Schneider said.
With so much success, it almost starts to sound like it comes easy, but back-of-the-bike camera footage from Tulsa Tough in 2021 shows how much tenacity, bike-handling skills and sheer power she can lay down in the final laps.
I'm in awe every time I watch that video. I mean, let's pull out a video still out of the final corner and, do a few enhancements and break out our trig rulers to calculate that crit lean!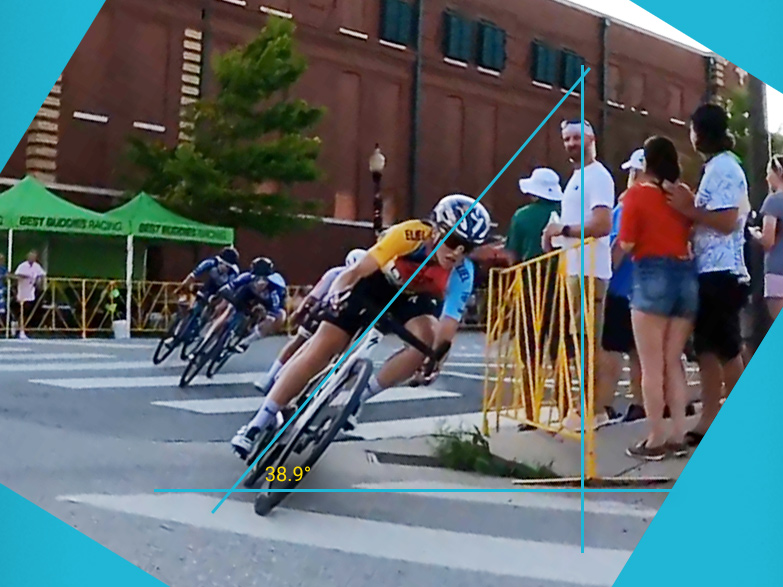 Schneider is excited to return and compete on the streets of her birthplace.
"It's rare that we actually race in Wisconsin and even more special that it's in our hometown. I personally can't wait to see a lot of familiar faces out on the course. I'm also excited for all of the people who will be seeing a bike race for the first time, and giving them a local name to cheer for.
"ToAD is unique because most other crit series are shorter, so the fact that ToAD can put together such a long and successful series year-after-year is incredible. They also have the funnest courses."
Carbs and coffee
While bike racing may currently be the primary focus, it isn't the only thing on her plate, so to speak. Both Samantha and Skylar have invested a lot of effort into a racing-related project involving carbs and coffee: The two are currently in the process of opening a bakery in West Allis called The Bread Pedalers at the intersection of Greenfield Avenue and 92nd Street.
"While living in Europe I fell in love with all the fresh bread you could find at all the bakeries," Schneider said. "Then, during 2020 when I was home with no races, I decided to start making bread and giving it to friends and family. From there I got a little obsessed with baking and how it could bring people together."
Samantha subsequently found a vacant storefront in West Allis and they've been renovating ever since.
"Managing the bakery and training while at home – as well as racing while we're traveling – is going to be a huge challenge! We're going to learn a lot along the way, but we will definitely have enough people to keep things running while we're gone," said Schneider, who already has some practice at managing life on and off the bike.
"The racing season goes from about March through October. I normally try to escape the Wisconsin winter for a bit of pre-season training and I was able to balance school with racing by taking both high school and college classes online."
The Bread Pedalers won't be open in time for the West Allis ToAD races, but should be open before the end of the summer. More information about the Kwik Trip Tour of America's Dairyland is available at tourofamericasdairyland.com.
Jason McDowell grew up in central Iowa and moved to Milwaukee in 2000 to attend the Milwaukee Institute of Art and Design.
In 2006 he began working with OnMilwaukee as an advertising designer, but has since taken on a variety of rolls as the Creative Director, tackling all kinds of design problems, from digital to print, advertising to branding, icons to programming.
In 2016 he picked up the 414 Digital Star of the Year award.
Most other times he can be found racing bicycles, playing board games, or petting dogs.