Although it's always been a New York thing to sell pizza by the slice, Milwaukee has picked up on the trend. You can't buy it on every other block like in some larger cities, but there are quite of few places around Milwaukee that will help satisfy your slice needs.
Most of these restaurants have slices available from late morning to the wee hours of the night, with every possible topping you can think of and at an affordable price. In other words, everything and anything you could hope from a pizza shop.
No matter where you live in the Milwaukee area, we've got a place for you to sate your craving for a slice. Check out all your new favorite pizzas places here:
Brick 3 Pizza
1107 N. Old World Third St.
(414) 224-6040
Looking for authentic New York pizza without having to traveling to New York? Well, Brick 3 Pizza is the place to be. They have such a wide variety of toppings and slices to offer that you'll have a hard time choosing what to eat first.
Depending on toppings and styles, prices range from $3.25 to $5.25.
Classic Slice
2797 S. Kinnickinnic Ave.
(414) 238-2406
Not always a fan of all the standard toppings that come on a slice? Then check out Classic Slice for build-your-own slices. Pick up to four toppings and enjoy the pizza you have always dreamed of.
Cheese slice: $4.70; specialty slice: $7; build-your-own slice: $7
Dick's Pizza & Pleasure
730 N Milwaukee St
(414) 272-3425
dicksmilwuakee.com 

Dick's Pizza & Pleasure has the unique combination of a night club and spot to get classic New York Style slice that is cooked using their traditional coal-fired ovens. In addition to being open late-night, Dick's is open for lunch and dinner.
Ian's Pizza
146 E. Juneau Ave. and 2035 E. North Ave.
(414) 727-9200 ext. 1 or 2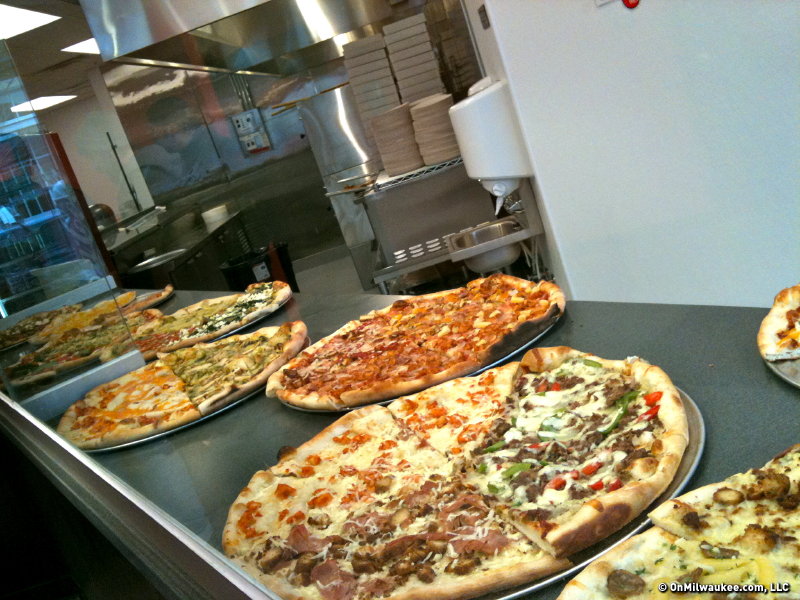 Whether you just finished drinking at the bars or are looking for a good spot to grab lunch, Ian's will have a unique slice to fulfill your pizza craving. You can always try their world-famous mac 'n' cheese pizza. Or, if you want to be more adventurous, they have slices with topping combinations you never thought to put on pizza before. Stop by and check it out.
Traditional slice (cheese and pepperoni): $3; specialty slice: $4
Pizzeria Scotty
9809 W. Oklahoma Ave.
(414) 543-1300
pizzeriascotty.com
Scotty's offers just take out, but their menu ranges from your traditional thin crust pizza to a Chicago pan pizza. In addition, Scotty's guarantee says, "We make the finest pizza you will find anywhere."
Slices: $3
Pizza Shuttle
1827 N. Farwell Ave.
414-289-9993
(PHOTO: Pizza Shuttle Facebook)
Get your pizza slice fix on the lower East side by stopping in at Pizza Shuttle! They are open from 10 a.m. - 3 a.m., giving an easy opportunity to grab a slice at almost any time. While you're there, you might as well enjoy some tunes on the jukebox and take photos with your pals in the photo booth also.
Cheese slice: $0.99; one-topping slice: $1.75; specialty slice: $2.75
Rocky Rococo
2094 Miller Park Way,
See all Milwaukee locations here
(414) 649-9900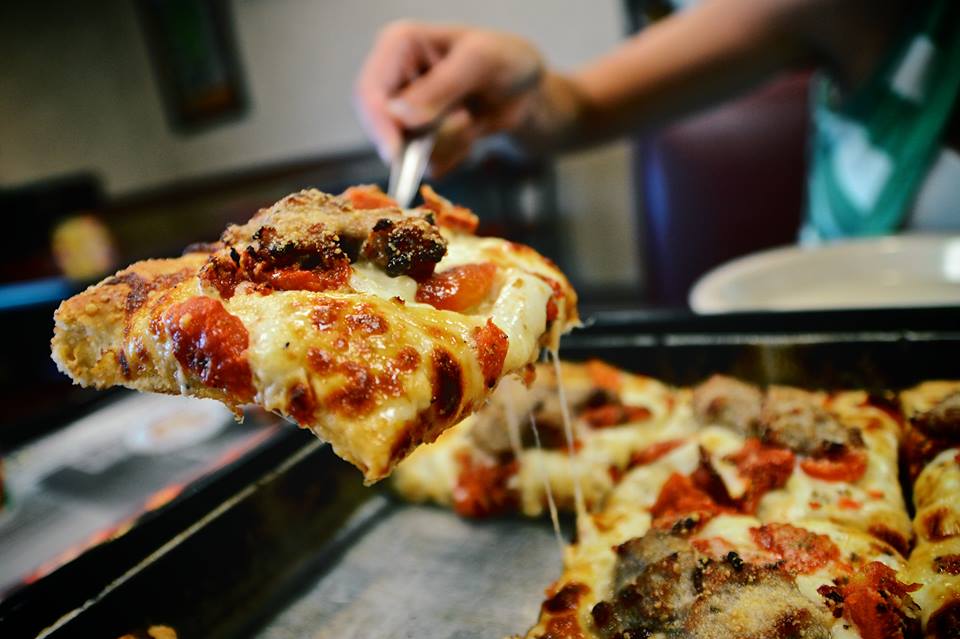 The pizza slices are like no other, since they are served pan-style and use Wisconsin cheese. Rocky's offers regular and Super Slices for you to enjoy, with a variety of the usual toppings. Be sure to check out the weekly schedule of slice of the day specials. Several locations in the Milwaukee area.
Regular slice: $3.49; Super Slice: $4.49
Sal's Pizzeria
2974 N. Oakland Ave.
(414) 967-8040
Sal's on the East Side has typical slices, but also takes it to a whole new level with stuffed slices. What does that look like? What does that taste like? You can answer these questions yourself if you stop on over and, of course, enjoy some cheesy pizza goodness.
Cheese slice: $2; sausage or pepperoni slice: $3; specialty slice: $3.50; stuffed slice: $5
Streetza
Food truck, find its location here
When you're out and about, be sure to keep an eye out for this food truck, which offers special pizza slices fresh out of the oven. Their slices represent all things Milwaukee, with combos named for neighborhoods, the Brew Crew and radio stations.
Slices: $4
Whole Foods
2305 N. Prospect Ave.
(414) 223-1500
They always say don't grocery shop when you're hungry. But if you do make this mistake, why not make it a delicious one by grabbing a slice of pizza? Whether you're there in the morning or later in the day, Whole Foods has a pizza option for you. That's right, there are breakfast slices, as well as more traditional topping combos.
One slice: $3.50; two slices: $6