Local businessman Steven Arenzon has caught the history bug and now he can't shake it.
Lately, Arenzon, who owns Wisconsin Knitwear – a custom winter hat business started by his father Mauricio, an Argentine immigrant – has begun noticing little bits of history in his factory building, a former furniture store at 1111 W. Lincoln Ave., and now he's finding traces of the past all around.
"All these years, I never noticed anything," he says as we walk through the building, erected in 1921 as home to Branta and Rechlicz Co., a furniture store that had been located about four blocks west.
"Now I find myself looking at everything."
In 1921, Branta and Rechlicz tapped architect Leon Gurda (who would later become city building inspector) to design a three-story brick building that would cost $75,000 to build.
The new store, with a balcony around three sides of the main floor, was completed by the end of November and the owners intended to open with a bang. Two days before Christmas, the company advertised a new-year baby promotion.
The mother of the first baby born after midnight on Jan. 1, 1923 would get a $40 baby carriage. The second would earn a $15 credit on a baby carriage of $35 or more; third would win a $10 credit toward carriage of $30 or more; and the fourth would get a $5 credit on carriage over $25. All other mothers of babies born in the first hour of the new year would get a $3 credit toward any carriage.
In addition to furniture and baby strollers, Branta and Rechlicz also had a music department that sold phonograph records.
However, by 1926, the partnership was on the rocks and an ongoing dissolution of partnership sale was set to begin on March 27 of that year. Arenzon was thrilled to find a photograph that appears to show this event.
By 1928, the Lincoln Furniture Co. was open in the building and it's possible that A. J. Rechlicz owned this business, too, because two years later, he hosted a party in the building.
A Spanish War veteran, the former corporal Rechlicz held a surprise party for 72-year-old Thaddeus M. Wilde, his old captain in Company K of the 1st Wisconsin Infantry.
According to a newspaper account of the fete, "The captain took the MKE men at the beginning of the war when they were an awkward group with no training in army tactics and made them an efficient company."
Also attending the party for Wilde, who was by then resident at the National Soldiers' Home, were postmaster Peter F. Piasecki, major Stanley E. Piasecki and sergeants Lemens Borucki, Jacob Inda, Ladislas Cicszynski and Stanley Polski.
In 1937, Matt Warnimont and Walter Moore leased the building for three years and The American Furniture Co. – one of the city's biggest furniture dealers at the time, headquartered at 1862 W. Fond du Lac Ave. – opened a South Side shop there.
"A complete line of furniture, rugs and housewares will be put on display," one newspaper article noted. "The firm has a large number of customers on the south side and ... the new branch will be more convenient for them."
For just a couple years – from 1944 until 1946, Nathan A. Garfield ran his eponymous department store in the building before making way for Pulaski Furniture (until the early '50s) and then Kosciuzsko Furniture, which moved out in '58.
In early 1959, Joseph Wojcik opened opened his music store in the building and for many south siders, Wojcik's Music Center – which endured for 20 years – remains a fresh memory.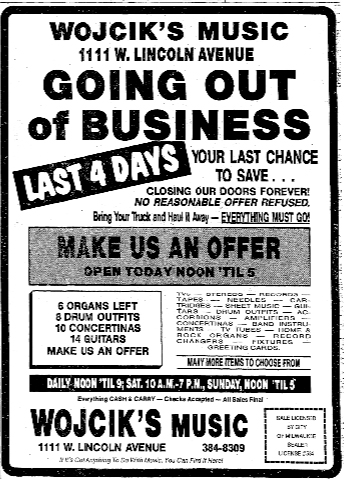 Wojcik sold stereos, transistor radios, TVs, pianos, organs, musical instruments and records at "below discount prices." Many folks remember checking out the last tunes in the listening booths that lined the east portion of the mezzanine.
The walls of the booths have been removed, but their outlines can still be seen on the floor. (See photo below)
After a brief return to furniture, via Stein's Kosciuszko Furniture (which also had a store on 54th and Fond du Lac Avenue), the building became home to the Serenity Club, which used the first floor and balcony as a meeting and social space for Alcoholics Anonymous.
By the late 1980s, there were even concerts there, and one ad I found was for a performance by Milwaukee's legendary Lightning and Thunder.
In 1998, the Arenzon family, whose Wisconsin Knitwear had been at locations in the Third Ward and Silver City, among other neighborhoods, bought the building and moved in.
Now, there are weaving looms upstairs and some small finishing stations on the main floor, along with offices and a loading dock. There's storage on the top floor.
Of course, everywhere there are hats, including in his office, where a closet appears to be positively stuffed with them.
Wisconsin Knitwear does custom hats for teams and schools and even for the merch tables for your favorite touring bands. Arenzon mentions having worked with Wilco and as we walk around we see a few boxes of hats for Dr. Dog, and Arenzon says that Philly band was the company's first rock and roll client.
Milwaukee used to be home to quite a few knitting mills, but I suspect Wisconsin Knitwear is one of the last, if not the very last.
Arenzon – who says, "I'm the only one that doesn't wear hats" – is enamored of his building and its history. He's been digging up old photos, like the one of the 1926 auction, and another showing a car crashed into the entrance (that's happened at least twice more during the Arenzons' era) of a piano in the display window, of the building during the Branta-Rechlicz era.
He'd love to figure out what the two ghost signs outside say, but they're awfully faded by now.
He's found graffiti from 1942 in the elevator, near the remnants of an old elevator inspection certificate. He shows me the old vault and the hand-lettered signs on some of the first floor doors.
When I first stepped inside, I noticed the letters B and R (for Branta-Rechlicz) in the terrazzo flooring of the foyer. Though you can't see them from the outside, when you're inside you can see that the old transom windows, both upstairs and down, survive.
And with his eyes now open and his mind on the alert, Arenzon still discovering.
As we walk down the back steps, he tells me he'd love to find one of the original hanging light fixtures. Then he looks up, stops, checks an old photo on his phone and, eureka!
"I think that's one," he says, and comparing the photo, it sure looks right.
Born in Brooklyn, N.Y., where he lived until he was 17, Bobby received his BA-Mass Communications from UWM in 1989 and has lived in Walker's Point, Bay View, Enderis Park, South Milwaukee and on the East Side.
He has published three non-fiction books in Italy – including one about an event in Milwaukee history, which was published in the U.S. in autumn 2010. Four more books, all about Milwaukee, have been published by The History Press.
With his most recent band, The Yell Leaders, Bobby released four LPs and had a songs featured in episodes of TV's "Party of Five" and "Dawson's Creek," and films in Japan, South America and the U.S. The Yell Leaders were named the best unsigned band in their region by VH-1 as part of its Rock Across America 1998 Tour. Most recently, the band contributed tracks to a UK vinyl/CD tribute to the Redskins and collaborated on a track with Italian novelist Enrico Remmert.
He's produced three installments of the "OMCD" series of local music compilations for OnMilwaukee.com and in 2007 produced a CD of Italian music and poetry.
In 2005, he was awarded the City of Asti's (Italy) Journalism Prize for his work focusing on that area. He has also won awards from the Milwaukee Press Club.
He can be heard weekly on 88Nine Radio Milwaukee talking about his "Urban Spelunking" series of stories.