Season's eatings! The weather may be getting colder, but Dining Month on OnMilwaukee is just cooking up, dishing out your winning picks in this year's Best of Dining poll. Dining Month is brought to you by Fein Brothers, your premier food service equipment and supply dealer in Wisconsin since 1929. Congratulations to all of the winners, and happy eating for all those who voted!
Before 1997, you likely wouldn't have noticed the low-slung building at 2211 N. Prospect Ave.
In fact, despite passing it literally hundreds of times I remember very little about it. If you'd have asked me, I'd have said there were almost no windows at all on the facade, but this Wisconsin Historical Society photograph from 1987 proves me wrong.
A lot of folks never noticed it all, thinking that Prospect Mall was right next to Morry's on Prospect, with no faceless single-story building at all in between.
The building in 1987. (PHOTO: Wisconsin Historical Society)
But the vision of three Milwaukee men changed all that and, with their transformation of the building, arguably transformed the entire neighborhood.
"There was an office supply distributor here," recalls Colectivo co-owner Lincoln Fowler, as we sit in the back room of the bustling cafe in a building that 20 years ago no one would've looked at twice.
No one but Fowler, his brother Ward and their partner Paul Miller.
"Oh, yeah, we did," says Fowler. "This was back in 1997. We were, at the time, roasting coffee down on the South Side on Washington Street, and the company was growing. We wanted to have a location that was close to where we lived. We wanted a location where we could do the coffee roasting, but we also wanted that retail front-end on it.
"So, we needed a pretty decent-sized building, we needed it to be on a street that's retail-friendly and we needed it to be hopefully on the East Side, which is where we all live. So, when we were looking around, we finally stumbled upon this, and it was a completely underutilized office supply distribution. It was very, very sleepy."
The site had originally been home to a two-story wood frame carriage barn built in 1891 on cedar posts by D.H. Armour and Bro., which was headquartered at 109 Mason St. To the north, running from Prospect to Farwell, all the way up to Ivanhoe, was the Milwaukee Electric Railway and Light Co.'s Farwell Avenue barns, which had stables and streetcar storage.
In 1917, the same year his 21-year-old son Charles entered the Army's 334 motor repair unit at Leavenworth, Hungarian-born Joseph Prepelitza hired architects Julius Leiser and Charles Holst – who had offices at the Germania Building, and who built blocks of flats and retail buildings around town – to design him a one-story garage.

The 1910 Sanborn fire insurance map shows the building that used to stand where the Colectivo
is now located (marked Livery & Boarding).
The concrete garage, with a basement, was estimated to cost $15,000 to build. That might've been wishful thinking, however, because during excavation on May 9 – a month and a day after Charles arrived in Kansas to do his patriotic duty – excavation for the north wall caused the adjacent wall of the streetcar barn to collapse. This, just as excavation for the new building was nearly finished.
But work continued unabated, and by July, the first floor concrete was poured, and the walls were done by Aug. 20. In September, the partitions for the office on the northeast corner of the building – basically where the public cafe space is today – were done and an elevator to get cars to the basement and up to the first floor, which was raised about four or five feet above grade, was installed.
City directories from the late 1910s and early 1920s list Prepelitza's trade as a tanner, but it's unclear how he used the building or if he simply built it as an investment and rented it to others.
A number of folks, including Fowler, have heard that the building was used, potentially as an auto repair shop, by a Chevrolet dealer – East Side Chevrolet (later Bud Donohue Chevrolet and then Schlesinger Chevrolet) was located next door in what later became the Prospect Mall – but I haven't been able to confirm this.
The property next appears in the records in 1933, when Prepelitza's wife, Aloise, is named as the owner and Triangle Dye Works, a cleaning and dyeing business, is listed as occupying the building.
The following year, Stein Motor Co. was in there and Prepelitza was still the owner. In '36, a ramp was constructed from grade to the basement floor at the far southeast corner of the building, and by 1944 Shellenberger & Gregg Co. – which sold "fuel oil and oil-burning equipment," according to a 1950 newspaper ad – owned the building and it used as an office and garage, until about the mid-'50s.
By 1959, Abbott chemical company was in the building. You can see the Abbott sign was still on the outside in the 1987 photograph above, though by then the building had become home to that office supplies distributor that Fowler mentioned.
Inside, it appeared that little had changed over the years, according to Fowler, who said that it was basically a blank slate.
"We had pretty granular requirements, so there were not many facilities," he says. "We did look all over the place, but when we found this one, we knew this would work well."
I'm not sure anyone could have predicted just how well it would work out.
Not only was the cafe, which originally included the company's roastery before it moved to the then-new Riverwest location in 2007, a big success, it also changed the neighborhood, creating an all-day gathering place and social hub.
"It was kind of catalytic, definitely," admits Fowler, who credits his partner Paul Miller's foresight and energy for boosting the neighborhood.
"Paul very early on pushed the neighborhood association to create a business improvement district. So, the East Side BID was also born as part of Paul's effort to kind of help push this neighborhood along. As soon as we moved in here, Paul was pushing to get the BID going."
Once the roasting component left, the owners – like the rest of us – could feel the change in the vibe at the Prospect location. The hustle and bustle subsided and the feel was altered. So, in 2010, the cafe closed for a remodeling.
"I was just talking to some of our new staff members that are being on-boarded today, and talking a little bit about the history of the building," says Fowler. "The way they see it today, is so different from what it was when we had the whole company in here. We had the roasting plant in here, we had the café in here, we had all the people that are the administration of the organization in here.
"It was crazy. We had so many people packed in here at the end. It was just an insane amount of people in here. And trucks would pull up, and we'd be unloading coffee out on the sidewalk.
"Again, I credit Paul. He really had the vision for what that was going to look like. And it was, it was fun, because there was this mix of commerce, and manufacturing, and retail, and neighborhood participation, and all that stuff. It was great energy."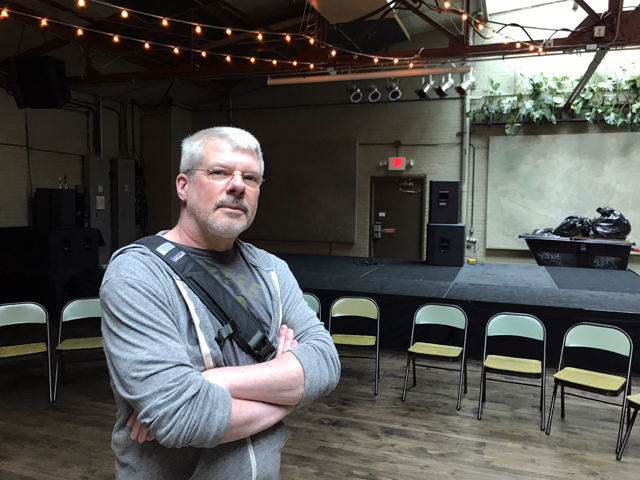 Lincoln Fowler in the Back Room.
Now, the energy is back, thanks to a greater diversity of seating, each space with its own little vibe. There's the people watching out at the sidewalk tables, there's the more bustling main cafe area and there's the former loading dock – converted to seating in that 2010 remodel – that is a little quieter.
And then there's the back room, which is separated from the other spaces with moveable walls, which make the building extremely flexible now.
"We pulled all this energy out of the building, and then we had this little café and a 7,000-square foot building," says Fowler. "We saw it in our numbers. People didn't want to be in here as much, because suddenly, it wasn't the active place of commerce that it was before.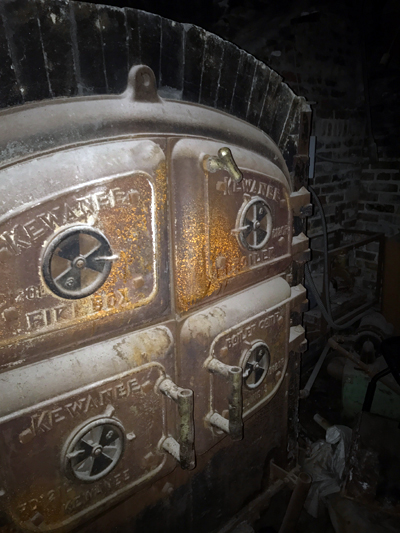 "So we had to conceive of how that was gonna work, and now we have the back room, and it's associated with The Pabst Theater Group. We have performances back here that are programmed by The Pabst. Every other day, practically, there's a show going on."
The day I visited, the place felt as alive as ever, even without the heat, the roar and the activity of the roastery.
Fowler showed me the basement, where we could see that most of the ramp still exists beneath the floor of the old loading area (pictured above).
We peeked into the boiler room (at right), and he showed me the now sealed openings that used to lead out under the Prospect Avenue sidewalk (pictured below).
But for the most part, the Colectivo on Prospect is a what-you-see-is-what-you-get building. If you walk in for coffee and get comfortable, you're seeing pretty much everything there is.
Best of all, you're enjoying what has become a Milwaukee landmark – the cafe that really kicked off Brew City's modern coffee culture.
"It's the first expression with the company, and I spent so many years here," says Fowler. "And a lot of blood, sweat and tears went into this place.
"I love being able to look at it, and think about all the different things that have occurred here: from my professional development through the maturation of the company, and now into what it is today. It's a beautiful building, we love it."
Born in Brooklyn, N.Y., where he lived until he was 17, Bobby received his BA-Mass Communications from UWM in 1989 and has lived in Walker's Point, Bay View, Enderis Park, South Milwaukee and on the East Side.
He has published three non-fiction books in Italy – including one about an event in Milwaukee history, which was published in the U.S. in autumn 2010. Four more books, all about Milwaukee, have been published by The History Press.
With his most recent band, The Yell Leaders, Bobby released four LPs and had a songs featured in episodes of TV's "Party of Five" and "Dawson's Creek," and films in Japan, South America and the U.S. The Yell Leaders were named the best unsigned band in their region by VH-1 as part of its Rock Across America 1998 Tour. Most recently, the band contributed tracks to a UK vinyl/CD tribute to the Redskins and collaborated on a track with Italian novelist Enrico Remmert.
He's produced three installments of the "OMCD" series of local music compilations for OnMilwaukee.com and in 2007 produced a CD of Italian music and poetry.
In 2005, he was awarded the City of Asti's (Italy) Journalism Prize for his work focusing on that area. He has also won awards from the Milwaukee Press Club.
He can be heard weekly on 88Nine Radio Milwaukee talking about his "Urban Spelunking" series of stories.