For years, I've admired the Woman's Club of Wisconsin building – also called The Athenaeum – at 813 E. Kilbourn Ave., on the corner of Cass Street.
Built in 1887 and designed by George Bowman Ferry – four years after he left the employ of Henry C. Koch and three years before he joined forces with Alfred Clas – the high Victorian Gothic structure has it all: stunning lines, gorgeous cream city brick, lovely stained and leaded glass.
But going inside for the first time recently, I realized what I really love about it: it looks like a public school of the era. Inside, there's a space that looks almost like it's pulled right out of a 19th century Milwaukee schoolhouse, too.
(Ferry, in partnership with Clas, did design some Milwaukee schoolhouses, though to my knowledge the only ones built were Vieau School, Jefferson Street School, razed in 1978, and the Victorian Gothic District 16 on 27th and Wisconsin, which was replaced by the current Wisconsin Avenue School building after a fire destroyed the Ferry & Clas building.)
The Woman's Club of Wisconsin was founded in 1876 after Martha Mitchell, the wife of Alexander Mitchell, invited Julia Ward Howe, to Milwaukee.
Howe had been instrumental in the founding of the Woman's Club of New England (she also penned "The Battle Hymn of the Republic") and Mitchell wanted her to help spark a similar group here, which she did.
Despite Mitchell's epistolary entrepreneurship and the fact that she was the club's first president, it is educator Mary Mortimer who is considered the "true founder" of the club, thanks to her role in getting it going and in penning its constitution.
According to the Wisconsin Historical Society's architectural inventory entry for the building, "Thirty women at the first meeting pronounced themselves 'not only weary, but rebellious' against the idea that they should restrict themselves to a quiet, house-bound life of child-rearing and service to the Lord. 'We have as much right to dwell in the sunlight and make a noise as our brother man,' the founders declared.
"Over the next several decades, the Woman's Club promoted educational opportunities for women and children, sponsoring lectures, art exhibits, dances, and other cultural and social activities. In 1886, club members launched the Athenaeum, the nation's first publicly owned stock company formed exclusively by women, to finance the construction of a clubhouse and to set a precedent for 'other forms of co-operation among women.' The Athenaeum proved a success on both counts. It raised money to build this clubhouse in 1887 and it directly inspired women in other cities to launch similar ventures."
Club president Joan Bruce says the Woman's Club of Wisconsin is the oldest continuously running women's club in the country.
"A bunch of them got together and feeling isolated and not knowing very much about the issues of the day – this would be 1875-76 – the ladies here wanted to have some place to talk about things that were going on," Bruce says.
"Somebody seemed to know about this club in Boston and so they had (Howe) come out and talk to them about how things were run there, and they formed. I think there was probably a handful of women and they actually met for 10 years in one another's homes."
But, says Bruce, this arrangement became a little awkward and inconvenient and so they began renting out rooms for meetings, but that wasn't optimal, either, so, as Bruce says, "they built this building by selling stock."
The Athenaeum – which has been enlarged over the years, first with an early addition (1896) to the east that is nearly impossible to discern with the naked eye and, later (in 1936 and 1950), out toward the south, which added a kitchen and some other back-of-house space – isn't huge, but it's homey and stately.
It cost the club's then 135 members $14,000 to build.
Outside, as I said earlier, it really does look like a schoolhouse on a smaller scale (I don't think you'd get more than five classrooms in there, unless you put some in the basement), with its rusticated stone foundation, peaked dormers and tall, slender windows.
There are two entrances outside. The one nearest Cass Street was the original entrance. When in 1896, the building was extended to the east, the current entrance was added and the stairwell expanded.
On the first floor, the Sheldon Room (above) was created as a parlor space with handsome leaded glass windows and a marble fireplace.
Up above is a space that is used as a meeting room and because it has a separate bar area with a service window, as a food service area for events in the adjacent ballroom.
In the original part of the building there is a classic old library room between the entrances, facing Kilbourn Avenue, with exposed beams, pink walls, built-in bookshelves on facing walls, more stained glass, and graceful moldings.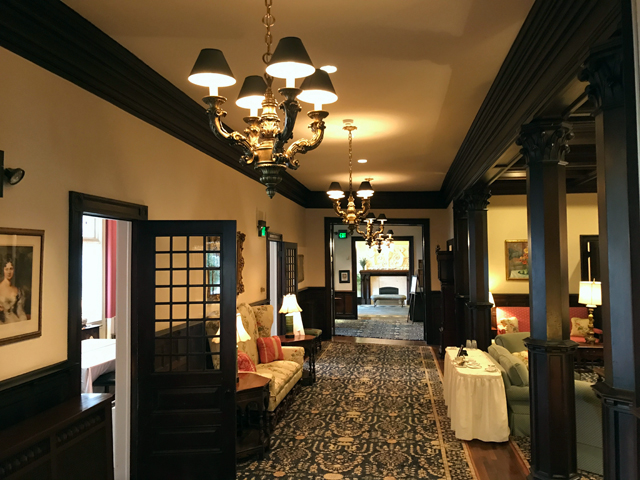 Just outside its doors is a sitting area that opens off the main corridor that runs along the entire building. Here, there's another fireplace (all the hearths in the building had been sealed until a member graciously paid to have them opened up and converted to gas) and comfortable seating for tea and conversation.
There's also a bowl of mints that I decided is the difference between the Women's Club and the various men-focused clubs I've visited. (Yes, I enjoyed a couple.)
Off this space is a meeting room that occupies part of the 20th century additions.
On the Cass Street end of the first floor is the dining room, with a hearth protected by severe-looking lions heads with Corinthian columns and more of that understated but attractive stained and leaded glass.
There is also a variety of portraiture of women, part of a collection of art that adorns the walls of the entire clubhouse, much of it on long-term loan from places like the Milwaukee Art Museum.
Up the stately staircases is that room with the bar that I mentioned earlier, which is just across a landing from the ballroom, which occupies the entire second floor of the original building, much like a top-floor "German gym" in a Milwaukee schoolhouse.
And with its exposed arched supports, and stage on one end (with a sturdy and intricately carved desk upon it; it's pictured lower down in this article) – as well as a couple sets of great little triptych windows – this looks just like the kind of gymnatorium that you'd find at Golda or Eighth Street or Kagel or 5th Street Schools and any number of other 19th century schoolhouses.
Instead of painted sports lines on the hardwood floor, however, this one has dark stained floors, classy window dressings, a pair of chandeliers and a musicians gallery where performs could perch to entertain guests.
Like most of the spaces in the club, the ballroom is available for rent and often hosts meetings and weddings and speeches and other events. Rental income from the ballroom, says Bruce, was an important source of income for the club in its earliest days when it was working to pay off its beautiful home.
In one of these rooms, rather inexplicably, Minneapolis folk trio Koerner, Ray & Glover recorded its landmark "Blues, Rags and Hollers" album in 1963.
Nowadays, the club has roughly 300 members, Bruce says.
"I would say our members are from all over the city. Probably primarily the East Side and up to Mequon," says Bruce, leading Carrie Matteson, president of the club's foundation, to light-heartedly interject, "I really beg to differ, because you want to include Waukesha."
Matteson lives in Waukesha but is moving back to the East Side, she says, and Bruce is in the process of moving to Elm Grove.
"I feel like women join this club for a lot of different reasons," says Matteson. "Some people are more interested in the social service aspect of the club, and in the philanthropy, while other people are more interested in having it be a social club.
"But everybody crosses all those lines. And I think once you get here you end up meeting all these people that you had not had that opportunity to meet before. So there's a lot of synergy going on with what different people are interested in and they kind of draw you this way or that way."
Matteson says that she found the club to be extremely welcoming and Bruce points out, unexpectedly, that spouses are welcome and that, in fact, there are even a few male members.
"I really didn't know a lot of people here when I joined," recalls Matteson. "I knew nobody. I've loved having this Downtown location that if I needed to stop and work a little bit I could. I've found it so rewarding to come in and come to a meeting or come hear someone speak or do something and never feel put off that I was here alone. People just came up and introduced themselves and I found it so welcoming."
The foundation of which Matteson is currently president – and which celebrated its 50th anniversary in May – makes annual grants, that are not huge, but are substantial enough.
"The grants are a maximum $5,000 a year," says Matteson.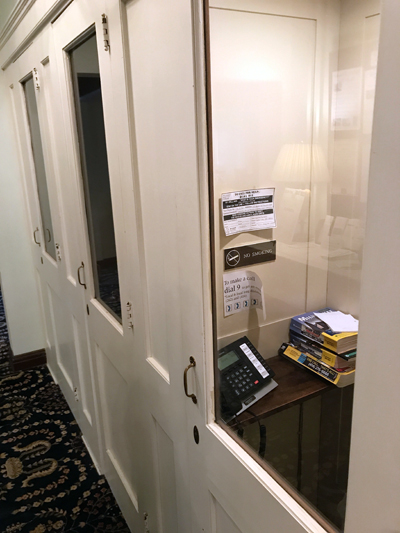 "But we give between 20 and 25 a year," adds Bruce, who notes that in honor of the foundation's anniversary – and the club's 140th birthday – the foundation made a $100,000 donation to MKE Plays as part of its work to replace and upgrade the play area at Enderis Playfield on the city's West Side.
"All the grants are generated through members," Matteson explains. "Some foundations have this or that kind of focus. Ours does not have a single focus because we let our members nominate. They go to whatever group they're really interested in and ask if they would be interested in writing a grant proposal."
Members fill out an application with their grantee of choice and submit it to the club's grant allocation committee, which vets the application and the proposed recipient and then they reconvene in January and decide which groups will receive the grants.
"And then we have a luncheon to give the grants away and everybody comes and gets few minutes to talk," says Matteson.
In addition the club also does regular service work and community outreach.
"We have a committee called community outreach," says Matteson.
"And they sponsor activities. They get the whole club involved and we go, for instance, to the Breast Cancer Show House to staff the house or staff the boutique. Twice a year we go down to the Hunger Task Force location at the airport and we fill boxes for the senior citizens. The garden club does simple things like creating hundreds of little vases filled with posies and taking them to the St Ann's intergenerational sites."
Of course, there's tea, but the Woman's Club of Wisconsin is more than tea, as you can see.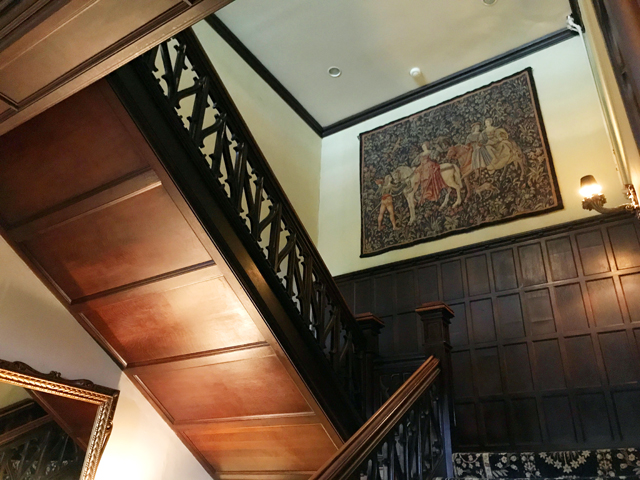 "Our program committee tries to do a lot of interesting programs," says Matteson. "We just had Steven Marcus come in and talk about the (Sculpture Milwaukee) sculptures. We have book clubs and that kind of thing.
"But it's not just a club where you go to to have a dining room and have tea and chat, or entertain business luncheon or something like that. It's very social but it's also very conscious of the community and of doing something positive in the community."
Born in Brooklyn, N.Y., where he lived until he was 17, Bobby received his BA-Mass Communications from UWM in 1989 and has lived in Walker's Point, Bay View, Enderis Park, South Milwaukee and on the East Side.
He has published three non-fiction books in Italy – including one about an event in Milwaukee history, which was published in the U.S. in autumn 2010. Four more books, all about Milwaukee, have been published by The History Press.
With his most recent band, The Yell Leaders, Bobby released four LPs and had a songs featured in an episode of TV's "Party of Five," and films in Japan, South America and the U.S. The Yell Leaders were named the best unsigned band in their region by VH-1 as part of its Rock Across America 1998 Tour. Most recently, the band contributed tracks to a UK vinyl/CD tribute to the Redskins and collaborated on a track with Italian novelist Enrico Remmert.
He's produced three installments of the "OMCD" series of local music compilations for OnMilwaukee.com and in 2007 produced a CD of Italian music and poetry.
In 2005, he was awarded the City of Asti's (Italy) Journalism Prize for his work focusing on that area.
He can be heard weekly on 88Nine Radio Milwaukee talking about his "Urban Spelunking" series of stories.