This is the time of year for all of us who don't bother to think much about it the rest of the year turn our attention to things for which we give thanks.
World peace is out. A Brewers pennant is not in the running. A ban on Mixed Martial Arts seems like an impossible dream. But there are plenty of things that deserve a toast at Thanksgiving.
Here are a few:
Herb Kohl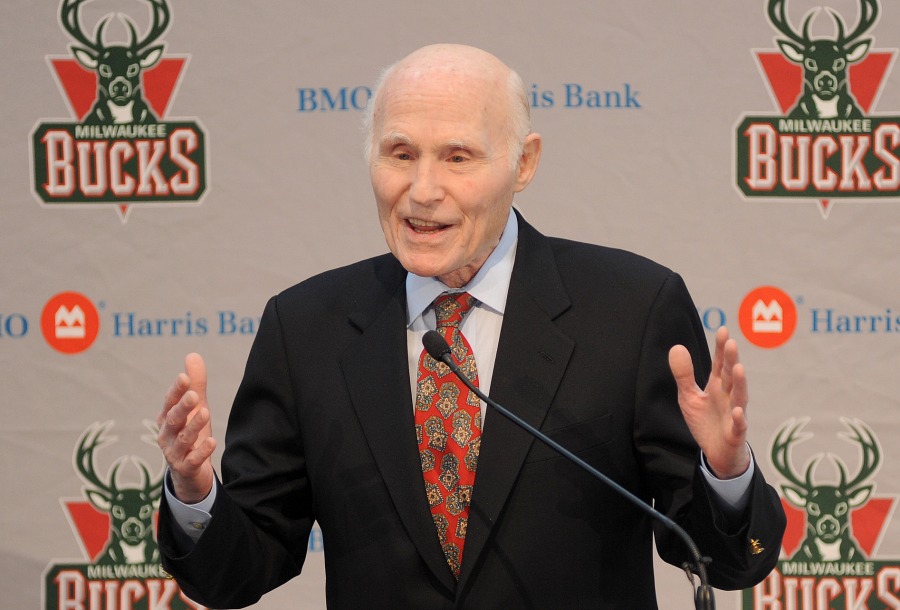 Photo: David Bernacchi

First of all he kept the Milwaukee Bucks here when it looked like a sure thing they were leaving Milwaukee. Then, as he began to retreat from public life, he engineered a smooth sale to a couple of vital and excited billionaires who pledged to pull out all stops to build a winning team in Milwaukee. For good measure Kohl tossed in $100 million of his own money to help build a new arena. Every sports fan in the area should send this guy a card that says "Thanks!"
Pro football gods

Photo: Jim Biever / Packers.com
For some reason the titans of the tundra have smiled on the Green Bay Packers and given us two quarterbacks for almost a quarter of a century. And both of them, Brett Favre and Aaron Rodgers, are going to be in the Hall of Fame. This is kind of like having chef Sandy D'Amato come to your house to cook a dinner for you and then staying to do it every night for a year. Packer fans who suffered through Scott Hunter, Jerry Tagge, Randy Wright, Jim Zorn and John Hadl have truly been blessed to have these two guys.
New Bucks owners

Photo: David Bernacchi

Marc Lasry, Wes Edens and Jamie Dinan (we really need one name for these three, maybe "LasDensDi" have undoubtedly given a shot in the arm to the Bucks, Downtown, city spirit and overall health of Wisconsin. They have plans that, if they come true, will herald a major transformation of Milwaukee. However, these thanks are only tentative. As I've said, this is not my first rodeo and I've heard a lot of ideas over the years that, in the end, remained just ideas. When I see shovels hit the ground I will truly rejoice.
Melvin Gordon
The Wisconsin running back came back to college this season rather than turn pro. I can't remember the last college running back who was so exciting. It might have been Adrian Peterson. Gordon, who also seems like a very nice kid, seems to have all the tools to be an outstanding NFL running back. And now that he can catch the ball he has added a dimension to his game that is glorious to watch.
Doug Melvin
I think the temptation after last year's epic collapse would be to have a fire sale and get rid of coaches, managers, players, clubhouse attendants and ball boys. Melvin knows that one of the elements of a successful franchise in any sport is a sense of stability. It's hard to have a winning team when there's a revolving door. Melvin has the courage to stand fast.
Twin teens

Photo: David Bernacchi

Jabari Parker and Giannis Antetokounmpo are still teenagers but they herald the concept of "A Child Shall Lead Them." You get the feeling watching these two that they need a big burly center who can play down low and wrestle with other big centers in order to be a legitimate threat in the NBA. When you took up "upside" in the dictionary you see pictures of Parker and Antetokounmpo.
Carlos Gomez

Photo: David Bernacchi

I give thanks that the Brewers have a guy who plays the game with such passion. He's not the best hitter in baseball, but he's pretty good. He's not the best centerfielder (I may have to take that back) but he has flair. I like that Gomez spends so much of a game with his hat off and the fact that when there's a chance for a bench to empty, either for a fight or celebration, he's leading the charge.
Good sports journalists
Led by our own Jim Owczarski and joined by Bob McGinn and Tom Silverstein of the Journal Sentinel, I am thankful that there are people in this town who still believe in the written word. I listen to a lot of sports talk radio and am constantly amazed at how absurd most of it is. Bill Michaels is entertaining and sometimes informative. The rest of them all seem like they are slamming sledgehammers into walls that should be left standing.
Sports talkbackers
There are readers of my column who would raise a stink if I wrote a column saying that the Green Bay Packers were the favorite team in Wisconsin. I am thankful that there are people out there, but at the same time, I am hopeful that they would actually try to back up their criticism. I keep getting critics who say I'm stupid because of the color of my eyebrows. Really?
Happy sports Thanksgiving.
With a history in Milwaukee stretching back decades, Dave tries to bring a unique perspective to his writing, whether it's sports, politics, theater or any other issue.
He's seen Milwaukee grow, suffer pangs of growth, strive for success and has been involved in many efforts to both shape and re-shape the city. He's a happy man, now that he's quit playing golf, and enjoys music, his children and grandchildren and the myriad of sports in this state. He loves great food and hates bullies and people who think they are smarter than everyone else.
This whole Internet thing continues to baffle him, but he's willing to play the game as long as OnMilwaukee.com keeps lending him a helping hand. He is constantly amazed that just a few dedicated people can provide so much news and information to a hungry public.
Despite some opinions to the contrary, Dave likes most stuff. But he is a skeptic who constantly wonders about the world around him. So many questions, so few answers.