Located on the banks of the Wisconsin River, Spring Green is small in population (about 1,600 people) but grand in reputation.
"We have so many unique activities in our small village that often times people don't realize what they are stepping into," says Kris Stoddard, executive director of the Spring Green Area Chamber of Commerce. "Visitors often come to Spring Green with a purpose and leave with a feeling of 'wow, all that in such a small place!'"
The town is probably best known as the home of architect and designer Frank Lloyd Wright. Wright built his Wisconsin estate, Taliesin, just beyond the town limits in 1959 and it continues to be a huge tourist draw today.
Spring Green also boasts the nationally-recognized American Players Theatre, the kooky and fascinating House On the Rock, an appealing collection of bars and restaurants, unique music offerings and breathtaking landscape with a plethora of hills, bluffs, wildlife and even a desert.
Best of all, the locals are generally very friendly and welcoming of tourists. As long as you don't dis' the Spring Green-based Furthermore beer.
It's difficult – if not impossible – to describe the House on the Rock. For some it's a fascinating and bizarre dream set to circus music, for others, it's an endless nightmare of creepy dolls and darkness. Either way, The House on the Rock is a one-of-kind Wisconsin attraction – and a complete sensory overload – that everyone should experience to form an opinion.
Alex Jordan, a real estate man with eccentric taste and an ungodly number of collections, including doll houses, coin-operated music machines, automobiles, butterflies, miniature circuses and antique weapons, built the house atop Deer Shelter Rock and opened it to the public in 1959. Jordan died in 1989, but the house lives on.
House on the Rock also features the world's largest carousel, an "infinity room" and a massive whale-of-sorts battling a humongous squid-like, kraken creature.
Way to keep it weird, Wisconsin.
The Shed, owned by Wynn and Mark Dedrick, is a staple Spring Green bar and restaurant that's recognized for its burgers, pizza, Sunday breakfast and fish fry. It's also known as the hang-out spot for American Players Theatre actors after a show.
The menu is classic but with contemporary offerings such as a gluten free pizza. Many of the beers and spirits are from local breweries and distilleries, including Furthermore, Lake Louie and Great Lakes Distillery.
Every Thursday evening in the summer is "local night" on the Shed's patio with live local music.
The Shed is a hub for natives, but tourists will feel comfortable there, mostly due to Wynn's wit and friendly, down-to-earth demeanor. "I really love people," says Wynn.
Built in 1914 as a dairy barn, the circular, two-story lodge today serves as a popular hotel for vacationers.
There are more than 200 "round barns" in Wisconsin and folk wisdom claims that the barns were built that way so the devil couldn't hide in the corners. And there's certainly nothing evil about the Round Barn Lodge. It's extremely clean and well maintained with deluxe suites featuring a fireplace and a starlight projector that morphs the ceiling into a rendition of the night sky. (To have a "Ross and Rachel moment" don't forget to bring Chris Isaak's "Wicked Game.")
The Round Barn has a pool and whirlpool that is currently undergoing remodeling, but will be back in action in April.
"We want people to really feel like they are at home here," says general manager, Pam Sole. "That's very important to us."
Arthur's opened in 1966 and has maintained a swanky, albeit dated, 1960s vibe to this day. The menu is exactly what you'd expect – steaks, seafood and Old Fashioneds – with a few surprise items like deep fried cheese curds, crab cakes, garlic mashed potatoes and a kids' menu.
Prime rib is served every Saturday and Sunday night and, of course, there's a fish fry on Fridays. A word to the wise: try not to fill up on the free dinner rolls.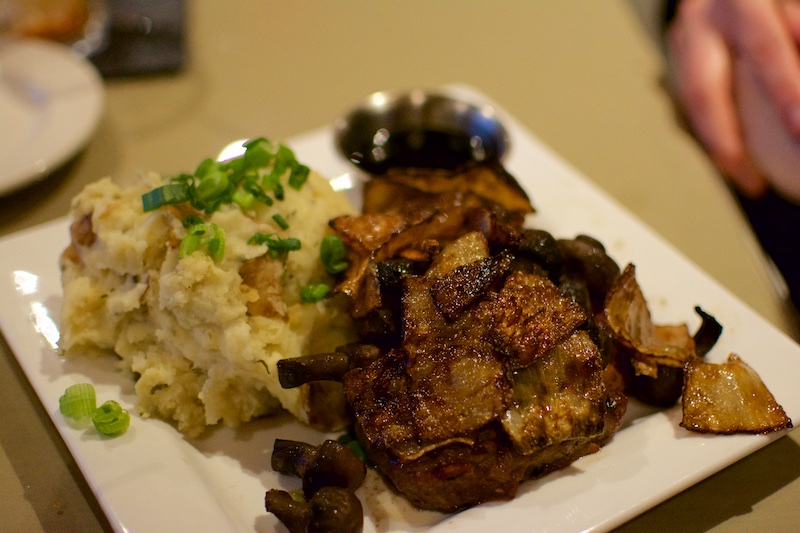 The General Store is a boutique and cafe serving breakfast, lunch and dinner that's located in a converted cheese warehouse built in 1910. The sign in the cafe reminds folks it's a "slow food zone," but luckily the hearty and flavorful breakfast items (like the breakfast burrito!) are worth the wait. The large front porch looks ideal for people and pet lounging on a lazy day off.
The General Store hosts a variety of music events in summer, including a Bob Fest and Beatles Fest. There's also weekly live music and open jams indoors.
American Players Theatre (APT), situated on 110 acres of hills and meadows, is a professional, classic theater located just outside Spring Green.
APT features two theater spaces, an 1148-seat outdoor amphitheater and the 200-seat indoor Touchstone Theatre. It's a great destination for a first date or night out with the entire fam.
From June through October, APT produces eight plays in rotating repertory. In 2015, APT will perform "Pride and Prejudice," "A Streetcar Named Desire," "The Merry Wives of Windsor," "Othello," "Private lives," "An Iliad," "The Island," "Edward Albee's Seascape" and "The Game of Love and Chance."
Don't forget to bring wine.
Taliesin was the breathtaking home of architect Frank Lloyd Wright and continues to be a tourist attraction today. Wright designed the home in 1911 on a beautiful piece of land with a steep drop on one side and a gentle rolling hill on the other. Wright lived there until his death in 1959.
The property includes the house, the surrounding 600 acres and four other Wright-designed structures that were built for his family. Taliesen is privately owned and only accessible through a guided tour. Tours run from May 1 through October 31.
Visit the nearby Taliesen Visitor Center which features a cafe and bookstore and is known as the "gateway to all things Frank Lloyd Wright."
In contrast to the supper club scene, Freddy Valentine's offers a contemporary, seasonal menu with food made from scratch – including a signature lemon-capered salmon, Shepherd's Pie and trout dip – along with 38-50 craft beers.
Opened in the summer of 2012, Freddy Valentine's is located inside a former bank built in 1915. Much of the bank was kept intact or repurposed, including the vault doors and the original marble, wood and iron work from the teller wall.
"We're also in cheese heaven in this part of the state," says co-owner Dave Owen, who named the public house after his late father. "That really works in our favor."
The Sh*tty Barn is a music venue / barn that hosts live bands at the "Sh*tty Barn Sessions" most Wednesday nights from May through October. Guests bring their own grillables and can purchase alcoholic and non-alcoholic beverages.
The Sh*tty Barn is owned and operated by Chris Staples and Aran Madden, who also own Furthermore Beer.
"Audience and performer coexist in an intimate and integrated space with as little separating instruments and ears as possible. No stage. A limited number of tickets sold. Like having the performance in your living room (except, in this case, a sh*tty barn)," reads the website.
Arcadia Books, a cafe and book store in Downtown Spring Green, opened in 2011 and features a great selection of reads from best sellers to independent press selections. It's super kid- and adult-friendly and operated by a longtime director at American Players Theatre.
Mime isn't always a favorite art form for Americans, but numerous locals recommend a performance by this group. "I never thought I was into mime, but I've gone three times to see them perform," says Wynn Dedrick, co-owner of The Shed.
The White Church Theatre Project is the summer home of the Theatre de l'Ange Fou and the International School of Corporeal Mime based in London. It's under the direction of Steven Wasson and Corinne Soum, who purchased the old Wyoming Valley Church in 2010 and completely refurbished the property to use as a performance space dedicated to the world of mime.
"This will often get me an eyebrow raise when I talk about the school, but the project features a wonderful group of young actors and the performances are dark and mysterious and a combination of body expression and dance. Everyone needs to experience this performance," says Kris Stoddard, director of the Spring Green Area Chamber of Commerce.
There's a desert in Wisconsin. Repeat: there is a desert in Wisconsin!
The Spring Green Preserve, known as "The Wisconsin Desert," features dry, sandy soil able to nourish a multitude of desert plants, including tons of prickly pears.
The three-mile trail does not cost anything to access and is an easy-to-moderate hike. Don't let a few snakes or black widows get in the way of adventure in nature.

Molly Snyder started writing and publishing her work at the age 10, when her community newspaper printed her poem, "The Unicorn." Since then, she's expanded beyond the subject of mythical creatures and written in many different mediums but, nearest and dearest to her heart, thousands of articles for OnMilwaukee.

Molly is a regular contributor to FOX6 News and numerous radio stations as well as the co-host of "Dandelions: A Podcast For Women." She's received five Milwaukee Press Club Awards, served as the Pfister Narrator and is the Wisconsin State Fair's Celebrity Cream Puff Eating Champion of 2019.