Change can be difficult, and sometimes bitter sweet.
Consider the changes ongoing at the Sisters of St. Francis Assisi complex along the lakeshore in St. Francis, settled by the religious order in 1849.
Two years ago, the Marian Center and former St. Mary's Academy (which had also been home to Cardinal Stritch College), 3195 S. Superior St., was deconstructed, causing dismay to alumni but replacing a decaying and expensive to maintain complex of buildings with much upgraded facilities for residents.
"In the new building," says Sr. Charlotte Roost, OSF, "the (north) end has 48 assisted living apartments, and the (south) end has 32 rooms for 24-hour nursing care, whether it's for palliative or physical hardships. And the middle has all our offices for running our international community."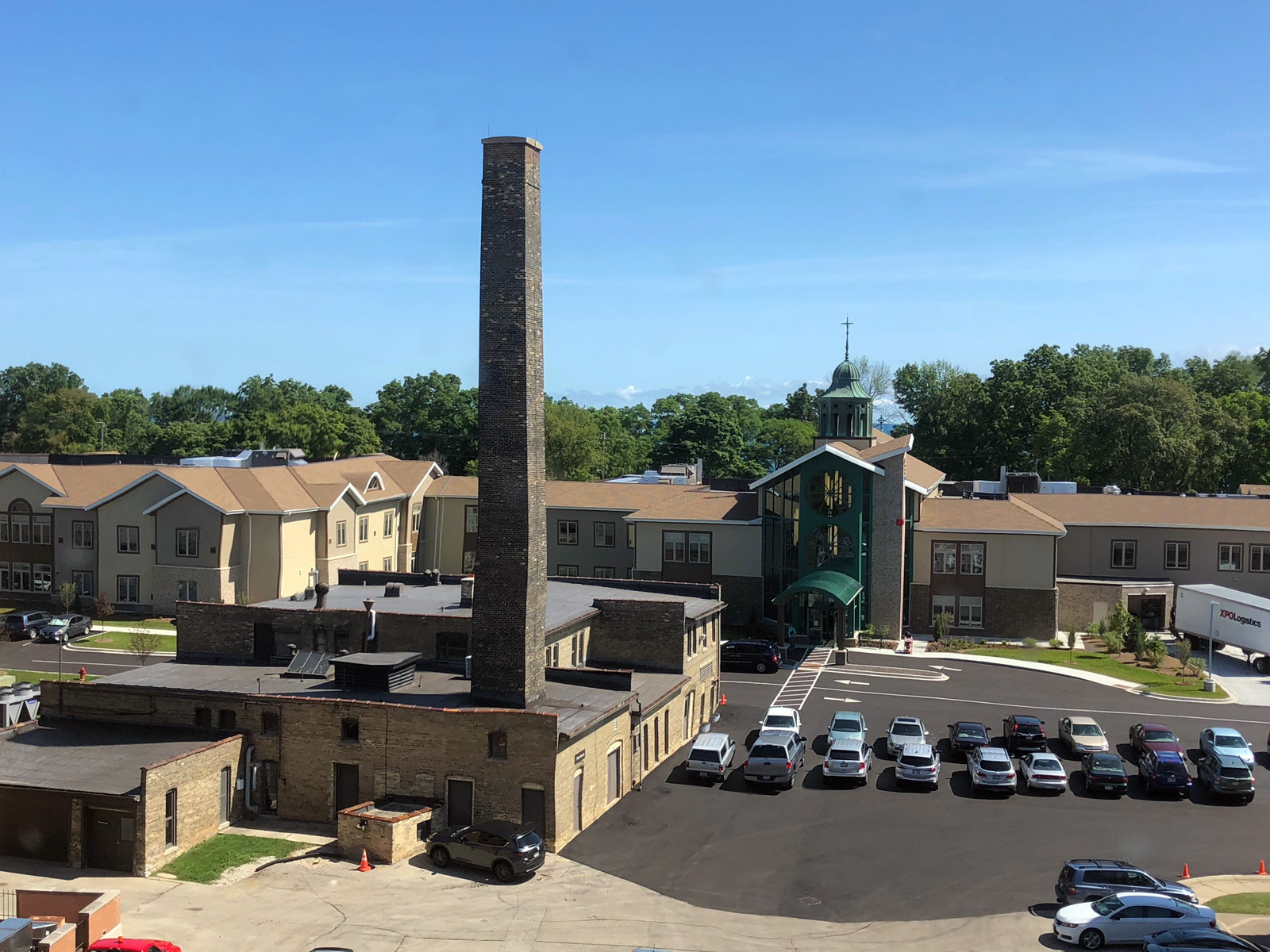 That new facility, I'm sorry to tell folks who love old buildings, spells the end for the complex of structures that were home to the original convent.
"Throughout our history, our sisters have faced overwhelming challenges in order to serve those in need," reads a statement from the order, which sponsors 10 ministries, including ones that support affordable senior housing, services to adults and children with developmental disabilities, multifaceted service centers for the economically disadvantaged, intergenerational care and more.
"We are now faced with numerous challenges as we attempt to meet the spiritual, medical and physical needs of our elder sisters, who have given their entire lives in the service of othres. Our new convent has addressed these needs.
Thus, demolition will begin soon on the 1861 convent, the 1888 and 1915 additions, as well as the structure that connects them, and the powerhouse, with its soaring brick chimney, as well as a smaller building in the parking lot in between.
(PHOTOS: Courtesy of Sisters of St. Francis of Assisi)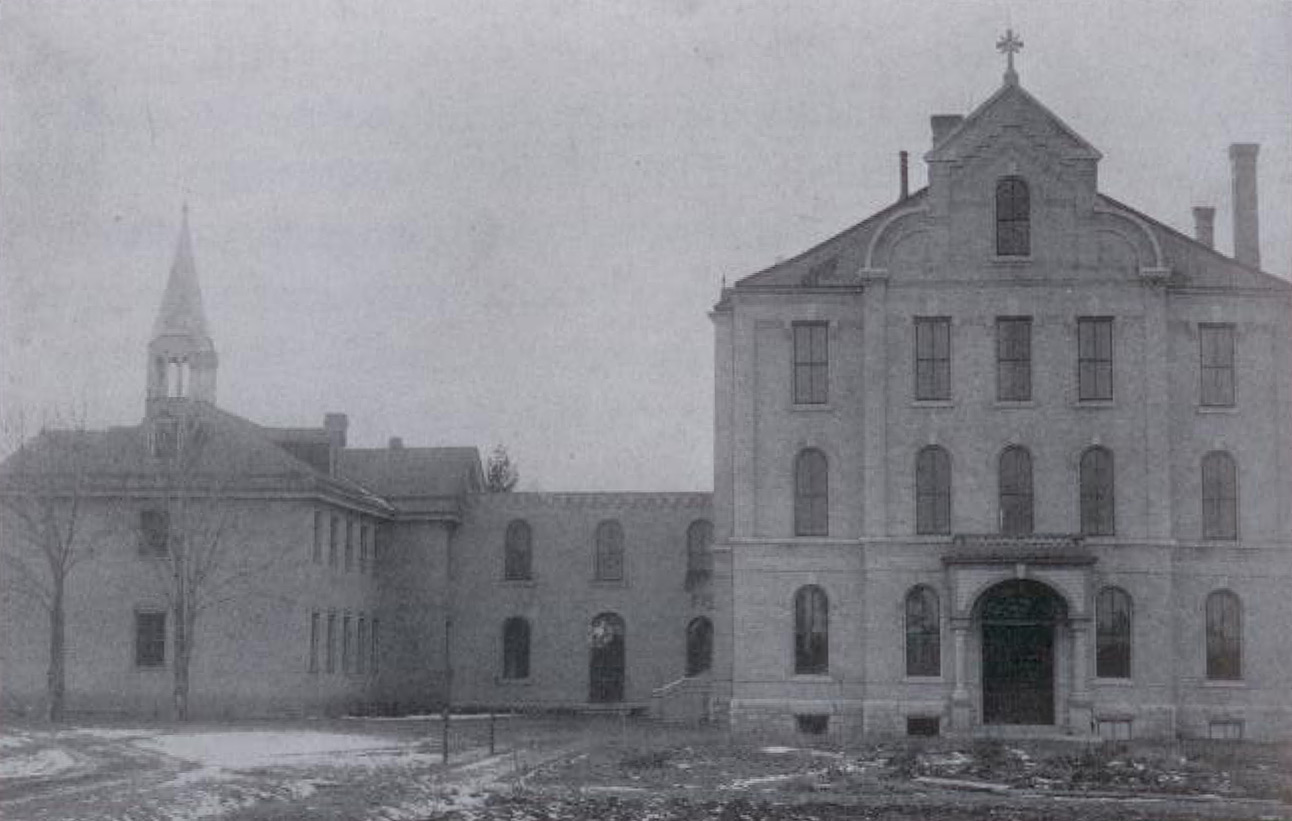 "This was never built for care of frail, elderly people," says Roost, pointing to the 1888 building. "It's for younger people ... when we had 15 people coming in a year in their 20s, 18-20s. So, we remodeled it many times but it just is not working, and it's no longer cost effective.
"Over at the seminary, at Clare Hall – we leased that – we had 40 sisters there that were aging in place. So they started out just being active independent living elderly, and they needed more and more care."
At the moment, Habitat for Humanity's ReStore is salvaging what it can from the buildings over the course of about four or five full days.
According to Habitat Director of Marketing & Communications Jake Brandt, they expect to fill about eight 26-foot box trucks with items that will be sold in the ReStore locations to help fund home construction projects in Milwaukee's inner city.
"We're getting everything from furniture to doors, windows, old speaker systems, we even pulled out some beautiful transom windows and stained glass," says Bradt, as we watch volunteers carry out lamps, bookcases and more.
"Really, anything that we can pull out. In the powerhouse, you'll see that there's these beautiful, maybe 100-year-old shelves (pictured above) and bookcases. We'll be here over the course of three weeks or so."
Some other items, like carved wood railings, newel posts and other decorative details will be salvaged by others.
Roost says abatement will begin in mid-August and then the buildings will be ready to be pulled down. When I ask if the tons of vintage cream city brick will be salvaged, Roost assures me it will be.
"Sometime after we have this fundraiser called Wine and Vine, over at Clare Hall, they'll start the deconstruction," says Roost, who says no new buildings are currently planned for the site.
"We need somewhere for parking, because we have 82 beds in the convent, and we need 82 parking places," she says. "And then the rest will be green space."
Although I once toured the complex for an Urban Spelunking story, Sr. Roost shows me around for one last look. We start in the powerhouse, which is one building I had not visited last time.
"This has not only the boilers and the maintenance stuff, but we also used to run a bakery here," she says as we enter the former kitchen, with its moribund vintage machinery and array of mixing bowls, baking trays and the like.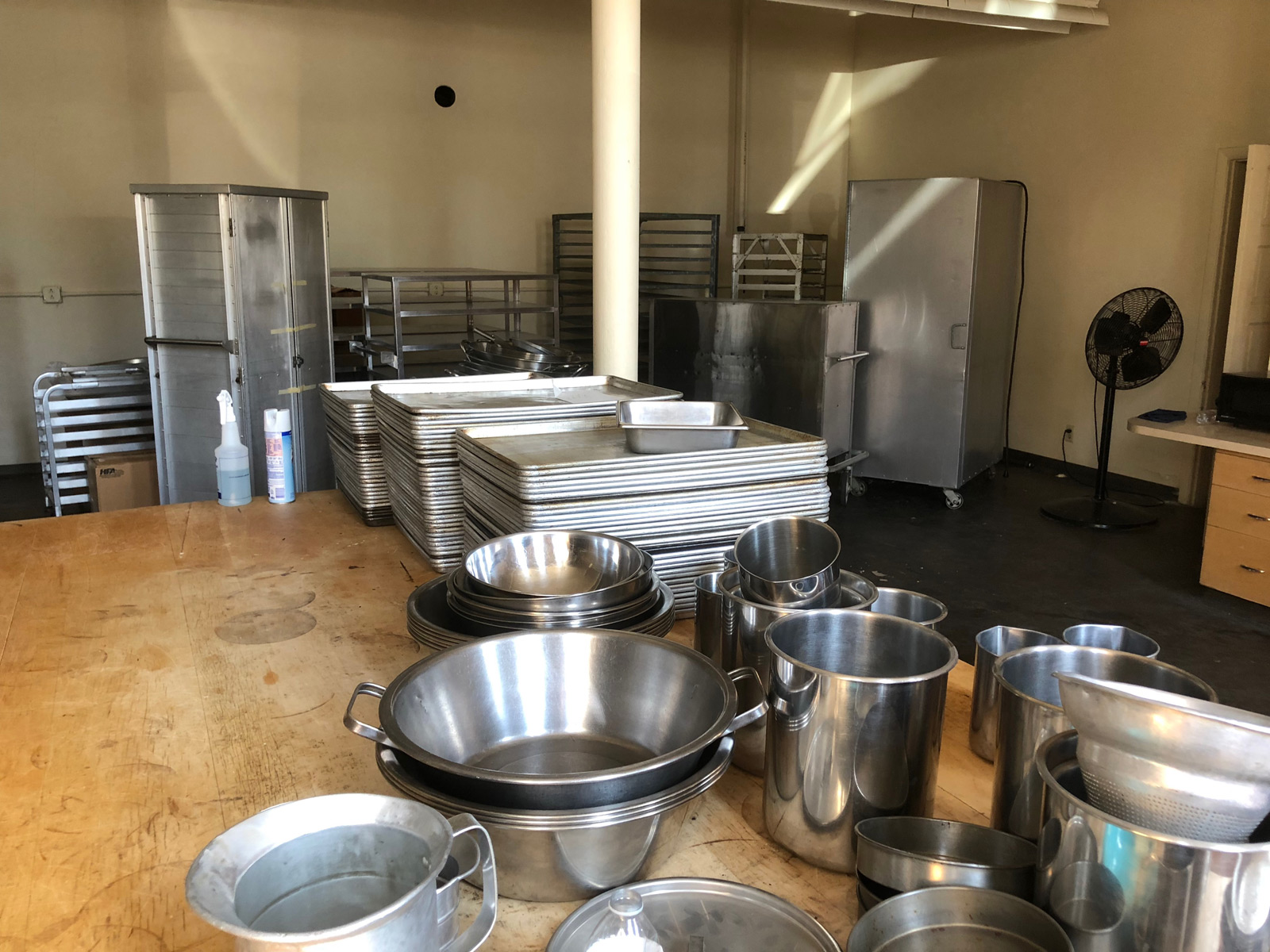 In here, the sisters made hundreds of pounds of fruitcake each autumn, which were sold to raise funds for the convent and its work. In more recent years, the sisters baked cookies and other items in the ovens here for the annual Christmas Boutique.
That work will now take place in the kitchen in the nearby Juniper Court building.
"And our laundry that ran, when a building here was our health center, it did all the sheets and everything in here," she adds, showing us giant presses for sheets and other laundry items upstairs.
(PHOTO: Courtesy of Sisters of St. Francis of Assisi)
Nearby we see those shelves Brandt was talking about. They were, according to Roost, for sorting laundry. In a few rooms there are stacks of blueprints for the complex dating from across their lifespan. These will be retained.
In the basement, we see the huge old boilers, now off-line, which replaced the boiler that exploded decades ago, forcing part of the building to be reconstructed.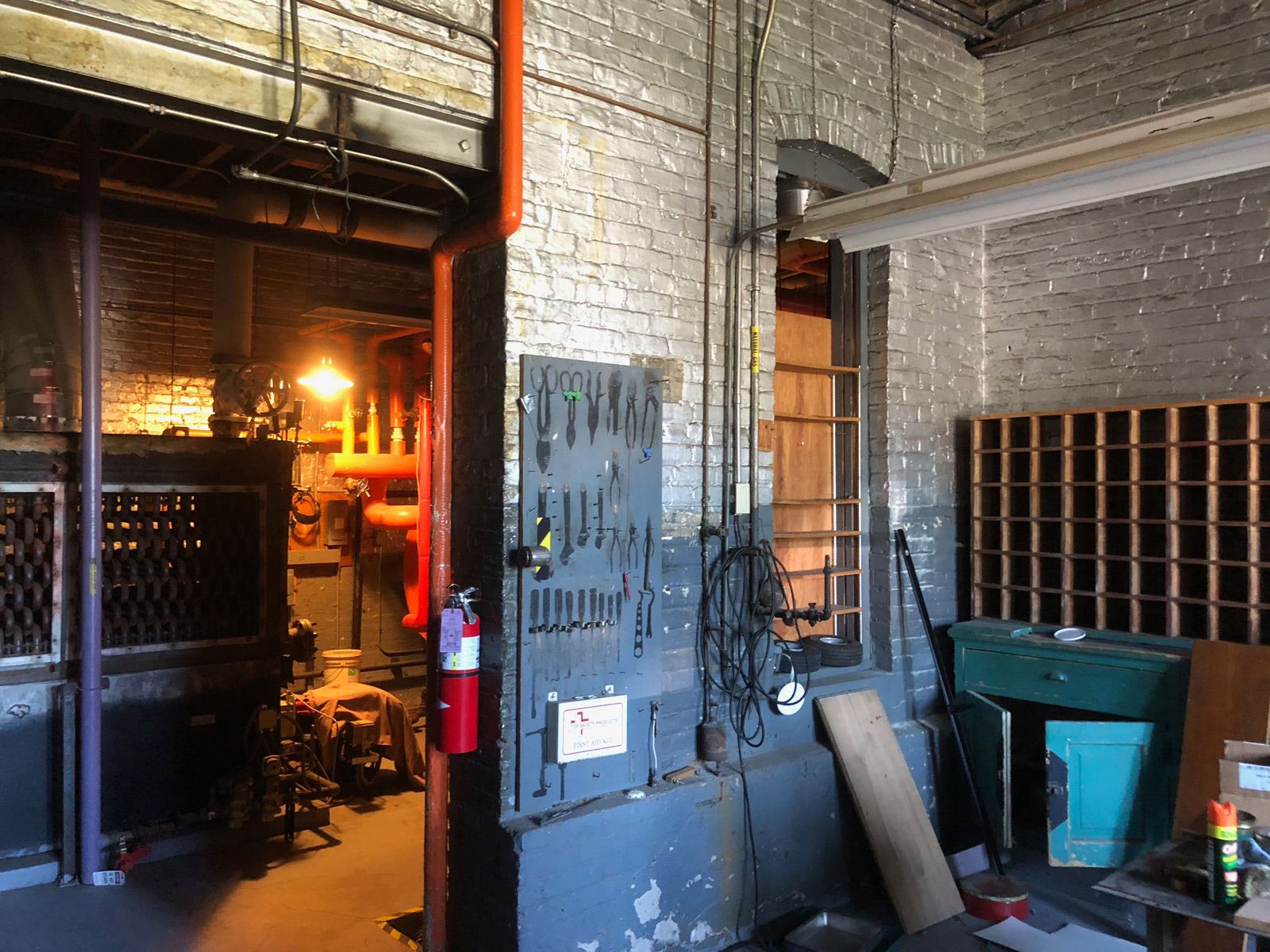 These boilers once provided heat to the entire complex, including the Marian Center and St. Mary's Academy. In more recent days they ran only to provide steam to the kitchen at Juniper Court.
Then we make our way into the tunnels that connect all the buildings, though a couple entrances have been closed up. These will soon be filled in as part of the demolition work.
These tunnels are about to be filled in, so I took a walk through so everyone can see. Story coming soon @onmilwaukee #urbanspelunking pic.twitter.com/lxTrXVhgC2 — Bobby Tanzilo (@BobbyOnMKEcom) July 31, 2019
Next we go back inside and after a detour into the catwalk and attic of the beautiful Erhard Brielmaier-designed chapel – which will NOT be demolished – we check out the 1861, 1888 and 1915 buildings, which are described in the 2012 Urban Spelunking story.
But, this time, Sr. Roost takes me to a couple places I didn't get to see last time. Along the way we stop to peek in a porch space that was once an area meant for recuperating tuberculosis sufferers.
Two spaces I hadn't seen are in the basement of the 1888 building. One is a room with a cream city brick floor and across the hall is a gorgeous barrel-vaulted cream city brick room that looks a bit like a beer lagering cellar or wine cellar. Roost did not know its original purpose.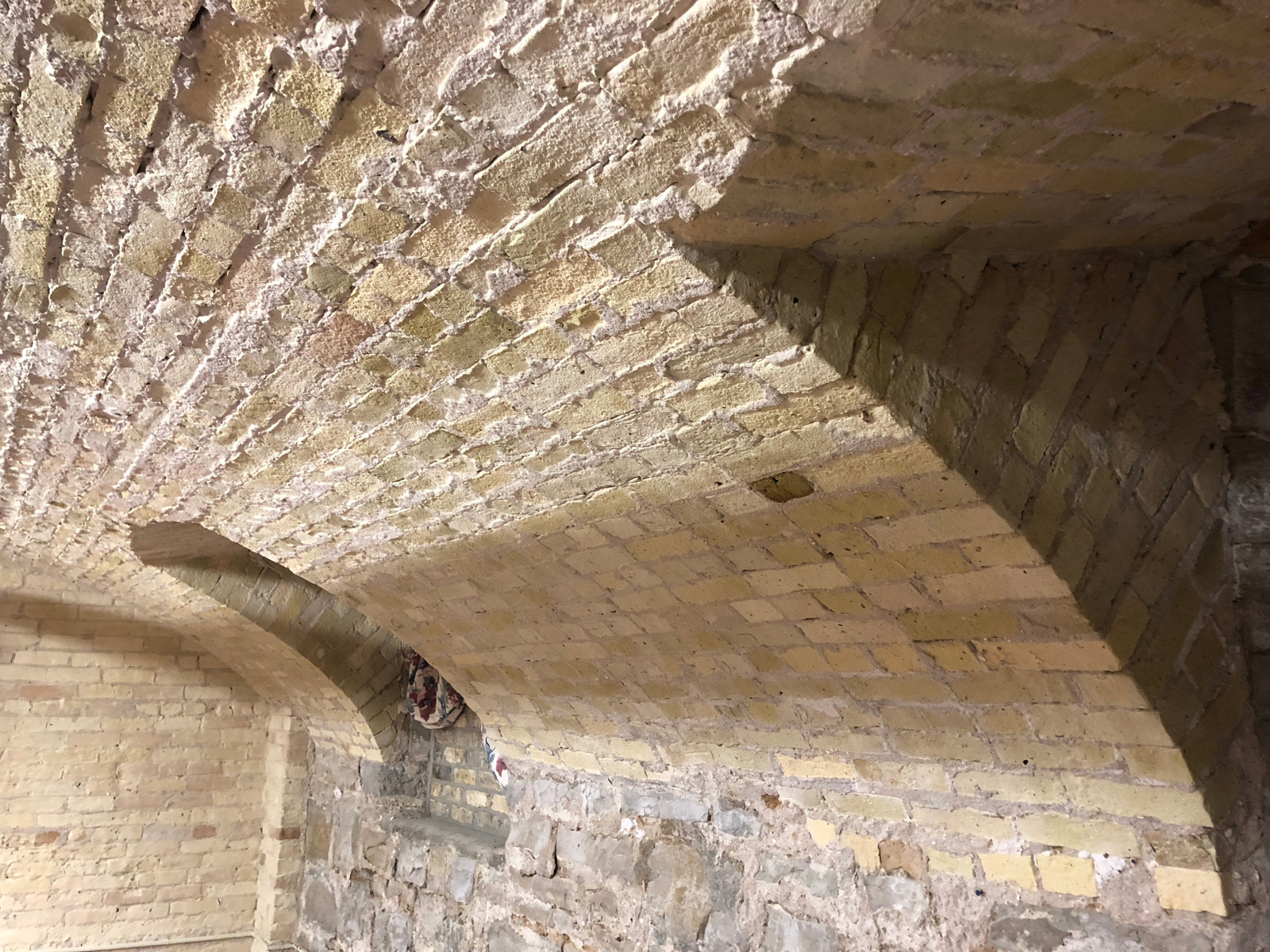 She did, however, know that there is a wine cellar in the basement of the 1861 building and we headed over there to find a two-room, barrel vaulted wine cellar that has the same lagering-cave look as in the other building.
It's such an amazing space that I don't even mind having walked through cobwebs – twice – to make a little video record of it before it's gone.
Back upstairs, we take a narrow staircase with a bend in it and Sr. Roost points out that it was built by Brother Anton Zahler, one of the order's founding fathers, who was also a skilled carpenter.
A small plaque on the door suggests noting, "the creative way in which the banister was bent and the intricacy of the banister carving."
Before the 158-year-old building falls, workers will extract this staircase and the Sisters of St. Francis of Assisi will preserve it as a reminder of this building and its service to the order for all those many years.
Born in Brooklyn, N.Y., where he lived until he was 17, Bobby received his BA-Mass Communications from UWM in 1989 and has lived in Walker's Point, Bay View, Enderis Park, South Milwaukee and on the East Side.
He has published three non-fiction books in Italy – including one about an event in Milwaukee history, which was published in the U.S. in autumn 2010. Four more books, all about Milwaukee, have been published by The History Press.
With his most recent band, The Yell Leaders, Bobby released four LPs and had a songs featured in episodes of TV's "Party of Five" and "Dawson's Creek," and films in Japan, South America and the U.S. The Yell Leaders were named the best unsigned band in their region by VH-1 as part of its Rock Across America 1998 Tour. Most recently, the band contributed tracks to a UK vinyl/CD tribute to the Redskins and collaborated on a track with Italian novelist Enrico Remmert.
He's produced three installments of the "OMCD" series of local music compilations for OnMilwaukee.com and in 2007 produced a CD of Italian music and poetry.
In 2005, he was awarded the City of Asti's (Italy) Journalism Prize for his work focusing on that area. He has also won awards from the Milwaukee Press Club.
He can be heard weekly on 88Nine Radio Milwaukee talking about his "Urban Spelunking" series of stories.