St. James Episcopal Church, 833 W. Wisconsin Ave., has been a fixture on West Wisconsin Avenue for more than 150 years now, and thanks to a new project that's due for completion soon, the 1868 building will move into the future with a new purpose.
St. James 1868, a wedding and events venue with two rentable spaces, is expected to be completed by March 1, with the first weddings already slated to take place there Memorial Day weekend.
The project is the work of entrepreneur Kate Crowle, who, although she was initially working with others, has been moving the work forward herself now for a while.
Crowle says she found the church, which had been listed for sale for a while, in February 2017. The purchase closed later that year and work began in 2018.
"I had the idea, but I thought I'd find a church out in the countryside," says Crowle, who grew up in a small Michigan farming community. "I ended up seeing that this had been listed for a couple of years. So I had a tour, and I met Father John (Allen).
"Once I walked through, I thought this is fantastic because you have the opportunity to do two venues in one location. We can seat 250 in The Abbey and have the reception, while we have a reception for 150 going on upstairs in The Hyde."
When I visited the church to do an Urban Spelunking story in 2013, there were barely a few dozen parishioners left and the small congregation was struggling to meet the basic financial needs of the church building, which was, therefore, suffering from deferred maintenance.
"It's a building that outlived its time," Allen said at the time of the sale, "and a congregation whose neighborhood disappeared. On a good Sunday there could be 40 (worshippers). Forty people can't pay $27,000-$28,000 every year just for the insurance on the church. The congregation did a lot of good work but that didn't bring revenue in to fund the building. In the end, the building won."
Now, the building will have two event spaces, each with support areas like brides' rooms and grooms' rooms (pictured in renderings above) and an adjacent outdoor area, and each with original, refinished hardwood floors.
The former church sanctuary, which is an absolutely stunning room (seen above in its current state and in an architectural rendering), has Tiffany stained glass, and can accommodate up to 250 guests. The courtyard will be landscaped and can be tented (seen below now and in a rendering).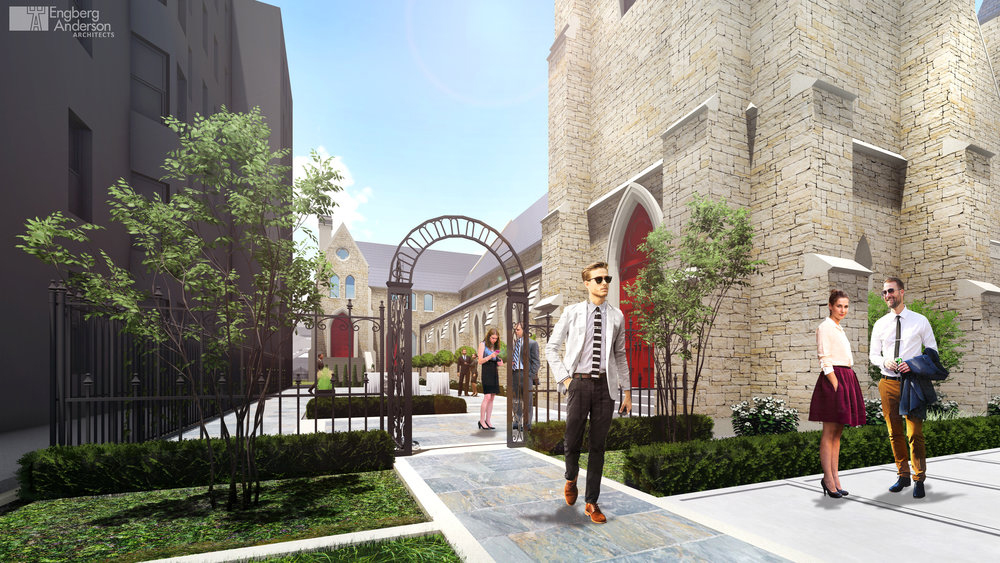 The smaller former parish house gym (below), which, like the sanctuary, has a striking, can accommodate up to 160 guests. An elevated terrace is currently under construction and will be located just outside the door of this room.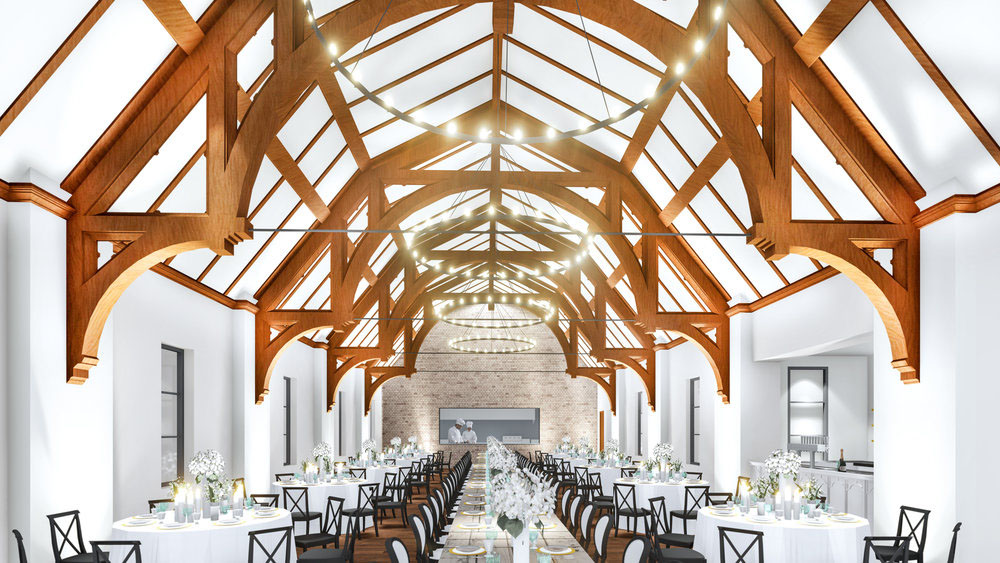 "The congregation has been very supportive," says Crowle. "Father John came a couple of months ago, there's a handful from the church that followed me on Facebook to see the updates. When I bought it I said, 'I'm so sorry I'm buying your church from you.' And they said, 'Look, you're bringing new life to it and there's still a purpose that we were able to have as a church, since it's going to have weddings.'"
Under Crowle's supervision, EngbergAnderson architect Mark Taylor (pictured above with Crowle) drew plans to renovate the space, saving as many historical elements as possible and reusing others – like the hardwood floor in the lobby, which will be replaced with tile. That wood (pictured below) is being installed in other areas of the building.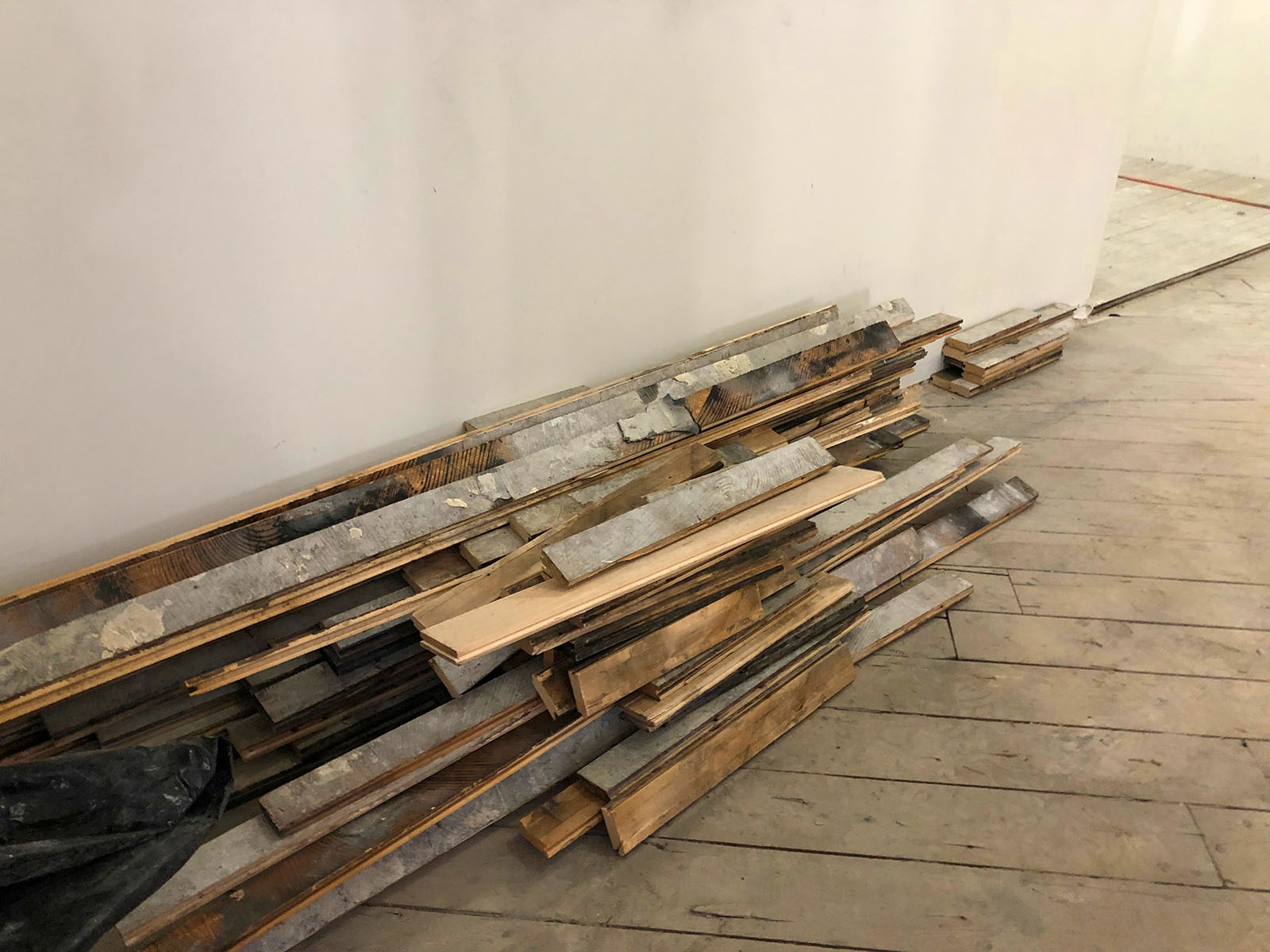 Some of the solid, heavy pews, which Crowle struggled to even give away for free, have been turned into tables.
Because the basement is now home to updated HVAC equipment, the headstones that had been left in the basement (trust me, read the Urban Spelunking story) are now in Crowle's office.
Greenfire Management Services is doing the construction work, including building new bathrooms, installing a new kitchen in the basement where a previous facility served both the church and a meal program for the homeless, restoring the hardwood floors, putting in an elevator for accessibility and more.
"Everything that I can save that's historic, I'm keeping," says Crowle, and when I stop to take a photograph of an old exterior sign from the church she says she's going to reuse that, too, as signage for St. James 1868.
Despite everything that's staying – the choir loft, the 16th century wood panels from Belgium, the Tiffany (and other) stained glass and the gorgeous wooden roof trusses that are structural but also stunning decorative elements in both the sanctuary and in the 1899 parish house gym upstairs – the scope of the work has been tremendous. But Crowle seems unfazed.
"I've done renovations, like small house flips, but not something this size," she says. "But I could see it all. It's funny because I showed my mom a picture of the rendering of the terrace in the back and she's said, 'Did you know it was going to look like that?' And I was like, 'Mom, I knew every single room exactly.
"I've been doing all this on my own. People don't believe me when I say I'm the owner. I tell them, and they're like, 'Well ,who's your partner?' I know what they mean: 'Who's your man partner?'"
Spend a few minutes with Crowle and you can tell she doesn't need a partner of any gender (though she does have investors). She has a vision and she's eager to learn.
"Greenfire has never once made me feel inferior or whatever. It's been a true partnership and learning on both sides. Because when they say, 'OK, tuckpointing.' I'll ask, 'Can you show me? I don't know exactly what I want for tuckpointing,' then they'll say, 'walk me through.' Then I'll say, 'OK, then I want this, this and this.'
"There are some things I just have not had to deal with in my tiny renovation projects."
The site of the terrace (above), and the terrace as seen in a rendering (below).
The project – which no longer includes a multi-story residential addition that had been approved by the city in late 2017 – has taken a year longer than Crowle initially expected and there were some other roadblocks, but she appears to take them in stride.
"There's been some big ticket items like the sewer system to go through to Wisconsin Avenue. That was a couple hundred thousand dollars. There were surprises. But other than that, everything's been (moving along). It was gutted last year and then they've just been putting it back together this year."
Crowle has put everything she has into the building. She quit her corporate job three years ago and is working on St. James 1868 without a paycheck, finding ways to cover unexpected things like the $5,000 cost to clean up after a broken water pipe during the polar vortex.
"Everything I saved since I was literally 12 years old is now in this building," she says. "I feel like I can do it because I'm single and don't have a family. If I go down I'm not taking anyone with me."
But Crowle doesn't look like someone primed for failure. Her attitude is positive, her vision clear, her project running on time.
Once the work is completed at the beginning of March, all that remains will be to complete landscape work on the patio and in front of the building come spring. Then, the doors will swing open.
"I'm ready to go," she says. "We have two weddings booked for Memorial Day weekend, and then as long as we're on time, we're planning on doing our grand opening on Cinco de Mayo, and we're going to do a derby party, a Churchill Downs, Kentucky Derby-themed party.
"I want to do a lot of signature events. Milwaukee's growing so much. I really want us to be a destination."
Crowle recently announced that she is partnering with Gracious Events as the exclusive caterer for St. James 1868.
"They're a female-run team, too, and have been around for 25 years," she says.
"I'm really proud of how St. James is coming to life, and the brides and grooms that have taken a leap of faith and booked their wedding date before seeing the final product. This has been a rollercoaster ride and I have had an incredible team supporting me every step of the way."
Born in Brooklyn, N.Y., where he lived until he was 17, Bobby received his BA-Mass Communications from UWM in 1989 and has lived in Walker's Point, Bay View, Enderis Park, South Milwaukee and on the East Side.
He has published three non-fiction books in Italy – including one about an event in Milwaukee history, which was published in the U.S. in autumn 2010. Four more books, all about Milwaukee, have been published by The History Press.
With his most recent band, The Yell Leaders, Bobby released four LPs and had a songs featured in episodes of TV's "Party of Five" and "Dawson's Creek," and films in Japan, South America and the U.S. The Yell Leaders were named the best unsigned band in their region by VH-1 as part of its Rock Across America 1998 Tour. Most recently, the band contributed tracks to a UK vinyl/CD tribute to the Redskins and collaborated on a track with Italian novelist Enrico Remmert.
He's produced three installments of the "OMCD" series of local music compilations for OnMilwaukee.com and in 2007 produced a CD of Italian music and poetry.
In 2005, he was awarded the City of Asti's (Italy) Journalism Prize for his work focusing on that area. He has also won awards from the Milwaukee Press Club.
He can be heard weekly on 88Nine Radio Milwaukee talking about his "Urban Spelunking" series of stories.