"Bar Month" at OnMilwaukee is back! For the entire month of March, we're serving up fun articles on bars, clubs and beverages – including guides, the latest trends, bar reviews, the results of our Best of Bars poll and more. Follow along with the #DrinkOnMke hashtag too. Grab a designated driver and dive in!
In a small room just off the stillhouse, John Mleziva takes a bottle off the shelf and pours a dram into a Glencairn glass.
The whiskey is a pale caramel color, and has a pleasing nuttiness and some fruity sweetness on the palate.
This is the first whiskey from Madison's State Line Distillery, 1413 Northern Ct. – which Mleziva founded two and a half years ago – and no, you can't taste it.
It's two years old and State Line could release it, but Mleziva isn't ready because, he says, the whiskey isn't ready.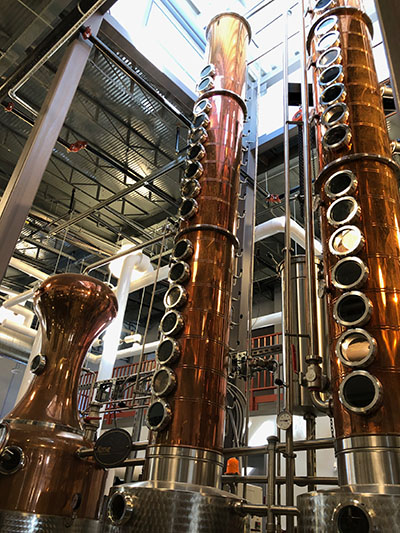 "It's a work in progress," Mleziva says. "This has got a couple of years left. I think the extraction is probably getting close to done, and now we're going to move into esterfication. So we're really going to start seeing the depth coming in behind it. This whiskey to me is at a good place for two years. It's not done, but it's, it's moving in a really nice direction.
"With the grain bill ... the fermentation profile and everything that we did, we kind of knew the arc was going to take four years, or right around there. So we've, luckily we've positioned ourselves so that we're, we don't feel pressure to think. We're really pleased with how it's going."
The 100 percent malted barley whiskey is something of a tribute to Mleziva's distilling education, which came during a year spent in Scotland (as well as brewing experience at Lake Louie and some distilling experience at Death's Door), including some time on Islay, where he found that while he really liked the smoky, peaty whiskies made by the island distilleries, it was the more balanced Oban examples, with a hint of peat balanced by sweetness, that caught his fancy.
And that's what he's ultimately hoping to do at State Line.
"Ours will won't be the Laphroaig style, you know, it'll be much more approachable," he says, after I reference the famous description of Laphroaig as tasting like "a burning hospital."
"Yeah, that's not what we're going for. There's a time and place for that."
And Wisconsin, says Mleziva – a Minneapolis native who moved to Madison in 2008 to work at Edgewood College – isn't the place.
"We didn't do anything peated the first round," he says. "I would say it's closer to a traditional Highland malt. They have some really nice fruity notes ... sweetness. But we actually have developed our peated recipe, and we're really excited about that because the base malt is going to be from here – a Wisconsin, locally grown grain – and then we're bringing in peated malt from Scotland."
Up 'til now, however, State Line's whiskeys have all been distilled from 100 percent Wisconsin grain.
"That first round was all Briess (from Chilton)," says Mleziva. "But we've been sourcing all of our grain from the Driftless region here, which has always been our goal ... to source our grain directly from farmers.
"We're now placing orders for next season to have 100 percent of our grain coming from around a small area near here. I love the idea of supporting the agricultural kind of current that runs through the state, which is why the name State Line even came about. There's so many great things that we can do within our process that exist right here at home."
While Mleziva has been laying down whiskey to age and says he's doing more this season, the financial realities have meant that he's spent a lot of time on other projects, as well.
Because you can't cheat Father Time, whiskey is not a short-term project. A lot of money goes in up front and it takes a long time before any money starts to come in.
This is why most start-ups either buy stocks of whiskey to sell and/or get into the business of vodka, gin and other distillates that don't require aging.
The vodka is distilled from 90 percent wheat and 10 percent barley, which proves some sweetness and a nice body. It is also the base for State Line's gin.
"That was what we opened this space with," says Mleziva as we move into the tasting room, where he shows me the seven spirits that State Line now makes, including barrel-aged gin, aquavit, an almost Campari-style bitters, a coffee liqueur made with cold brew from nearby Kin-Kin and a rum (State Line even has its own dunder pit out back).
"There comes a point where if you talk to somebody who says they want to open up with just whiskey production, they'd better have $10 to 15 million in the bank, if they're going to let it lay down," Mleziva says.
He opened the tasting room in September 2017 and tapped Milwaukee's Mike McDonald – who worked at Bittercube – to run it and create the cocktail list.
"Mike really made some magic happen," says Mleziva. "There's so much that goes on behind (the scenes) here in terms of how you produce the cocktails and how that program highlights or compliments our spirits. It's a great piece of our business."
As in Milwaukee, craft distilling is beginning to ramp up, but the same thread of camaraderie that runs through the whiskey game everywhere is also present in the Madison scene, say Mleziva and McDonald.
"We don't look at it as competition," says Mleziva. "There are enough of us here to help raise awareness for everybody. Our closest neighbor is Old Sugar, and their focus is so different than ours and they're not making clear spirits. They've got a really interesting grain bill, they're using sorghum for the whiskey and they've got some dark rum and then they do a honey liqueur and ouzo...
"We're in good spot because there are several distilleries here, but we're not flooded."
Although you can find State Line products Milwaukee retail stores – including Ray's and Total Wine, among others – and in some bars and restaurants, the distillery is hoping that McDonald's broad range of connections here in his hometown can help grow that.
"I'm on task this year to kind of help blow that up," says McDonald, "and I've already started talking to some friends back home. So I've working with Bittercube to do pop-up dinner at Dan Dan in April.
"I'm just hitting up friends and getting the stuff in their faces, because I think there hasn't really been a push for all the other products since vodka and gin came out. Everyone's kind of telling me, 'I didn't even know you have these things.' So we're getting out there and showing people what they might be missing."
McDonald is a not-so-secret weapon from breaking into Milwaukee that maybe the other Madison distilleries don't have in their arsenals.
"Yeah, absolutely," says Mleziva. "Because we live here and this is our market, we've spent a lot of time building relationships here, and it's nice to have somebody who already has really good relationships in Milwaukee to help bridge that gap."
Born in Brooklyn, N.Y., where he lived until he was 17, Bobby received his BA-Mass Communications from UWM in 1989 and has lived in Walker's Point, Bay View, Enderis Park, South Milwaukee and on the East Side.
He has published three non-fiction books in Italy – including one about an event in Milwaukee history, which was published in the U.S. in autumn 2010. Four more books, all about Milwaukee, have been published by The History Press.
With his most recent band, The Yell Leaders, Bobby released four LPs and had a songs featured in episodes of TV's "Party of Five" and "Dawson's Creek," and films in Japan, South America and the U.S. The Yell Leaders were named the best unsigned band in their region by VH-1 as part of its Rock Across America 1998 Tour. Most recently, the band contributed tracks to a UK vinyl/CD tribute to the Redskins and collaborated on a track with Italian novelist Enrico Remmert.
He's produced three installments of the "OMCD" series of local music compilations for OnMilwaukee.com and in 2007 produced a CD of Italian music and poetry.
In 2005, he was awarded the City of Asti's (Italy) Journalism Prize for his work focusing on that area. He has also won awards from the Milwaukee Press Club.
He can be heard weekly on 88Nine Radio Milwaukee talking about his "Urban Spelunking" series of stories.