A few years back, our kids were young and mostly road-untested. So, in the interest of beginning a series of childhood road trips they can treasure, or push deep deep down into the recesses of their psyches later on, we plopped them into the car and headed south to St. Louis.
Now that this fine city is right in the path for optimal viewing of the Aug. 21 solar eclipse, we're going back. (And, anecdotally, it sounds like a whole lot of you are headed there, too.)
Here are six great reasons (in addition to the rare astronomical event) you, too, should take a family jaunt to St. Louis – which is taking the eclipse very seriously, as it should. The bonus is that, perhaps with the exception of The Magic House, these things are all fun for adults, as well. So, no children required.
Located across Big Muddy from St. Louis in Collinsville, Illinois, the mound city of Cahokia was once North America's largest metropolis, populated by a native Mississippian people who also built Aztalan closer to home. There are dozens of mounds of all shapes and sizes on the grounds, and the folks at Cahokia are continually trying to raise funds to buy more property in the area to preserve mounds threatened by development and farming. Only 80 of 120 mounds in the six-square-mile city remain.
A free walking tour puts the entire eerie place into perspective, but there's no match for climbing the stairs to the top of the largest – the 100-foot high, 14-acre Monk's Mound – and getting a 360-degree panorama that includes the arch in St. Louis. There is a good introductory film and impressive displays of artifacts in the large visitor's center built at the dawn of the 1990s. Admission is free, though a recommended donation of $15 per family is the least we can do to help preserve this cultural and historical treasure.
Best of all, Cahokia will provide a great view of the eclipse. Details here.
I wasn't entirely sure what to expect from The City Museum, which isn't really a city museum. I sort of thought it was a children's museum and half-expected a riff on the Betty Brinn, but I know that what I saw was not only not what I expected, but was unlike anything I have ever seen in my life.
The outside of the old converted building looks a bit like a Six Flags theme park designed by Sam Rodia, who created Watts Towers in L.A. In the MonstroPark, reused vehicles and what appear to be recycled steel bars and other pieces are assembled into a crazy maze of climbers on tunnels. Inside, on the first floor, are more such creations for spelunking and climbing, but these look more like caves and trees. There's a huge tank with fish, which serves as a reminder that the city aquarium is located upstairs, too (for an additional admission fee).
On another floor there are ramps of all kinds for sliding in the Skateless Park, a toddler play area, arts and crafts rooms, a magician performing in a small theater. Then take a turn and you're in a hallway that appears to have been decorated by Fred Sanford. At the end you're suddenly in what might be America's greatest museum of architectural details salvaged from lost St. Louis buildings. On the rooftop (another additional admission) there's a ferris wheel, a bus appearing to careen off the roof and other fun stuff. There's so much here I can't possibly do it all justice. Check out the videos on the web site and then go see it in person.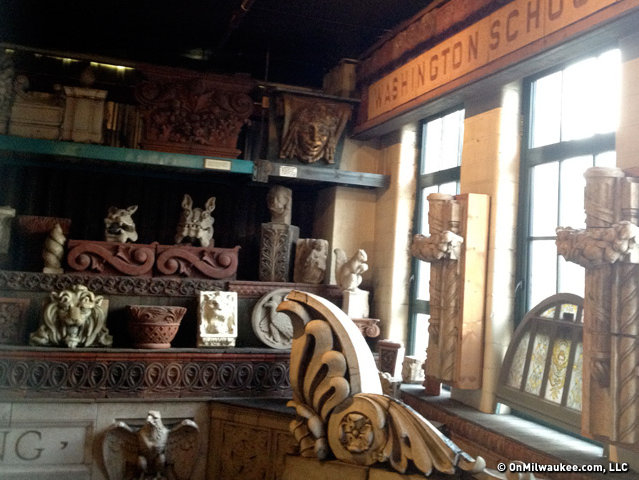 The place stays open until midnight, sometimes later, and during our visit was packed with kids of all ages and adults. All of them googley eyed and having a blast. There are a number of ticketing options, so I'm just going to suggest you check out the site for details on admission.

The arch, seen from City Park.
Need we say more? Look at what Eero Saarinen's simple but bold and sleek architectural statement has done for this city of 316,000. Think St. Louis and you visualize the Gateway Arch, and vice-versa. What do you see when you think of other cities of a similar size: Lexington, Ky., Pittsburgh, Pa., Riverside, Calif., Corpus Christie, Texas? Despite its size, St. Louis has a seriously big-city vibe and I think a lot of that swagger slid straight down the side of the arch.
Though it seems unlikely from the outside, you can take an elevator to the top and gaze out, and down, through windows tilted downward. The elevator ride itself – in a cramped car that looks like a 1960s vision of the interior of a spacecraft – is a trip (literally and figuratively). Beneath the arch is a museum of westward expansion that is worth a visit, too. Book your tickets online and avoid waiting in line (though there's no circumventing the airport-style security at this National Park).

(PHOTO: Ted Drewes Frozen Custard)
Sure, Milwaukee is the undisputed frozen custard capital of the world – just ask CBS' Mo Rocca – but St. Louis is surely a close second and gets extra points for having debuted custard earlier than Joe Clark opened Milwaukee's first stand (1935).
Ted Drewes, still open at two locations, began serving custard in St. Louis is 1930 (a year after he opened one in Florida). Interestingly, Drewes also sells Christmas trees, something that many Milwaukee stands did back in the day, too, when unheated stands were closed for winter, and he used the trees to earn money during the off-season.
But Drewes is not the St. Louis area's only custard purveyor. There's also the Custard Factory, Mr. Wizard's, Rich's, Silky's, Fritz's, Skeeters, The Island, Lyons, Doozle's, Deters and chains like Culver's, Andy's and Freddy's.
(Photo: Missouri Botanical Garden/Flickr)
Located right in the heart of The Shaw neighborhood, the Missouri Botanical Garden is worth a full day's visit, though with little ones you might try and focus on a few things, especially the super-fun children's garden with its tree houses, mini splash pad, rope bridges, tree trunk slides and other fun. There is also a geodesic dome – The Climatron! – that predates Milwaukee's domes but is more squat. However, inside the plantings are a pretty awesome look at tropical species.
The garden was born as a rich man's hobby, so the home and other buildings built by Henry Shaw – who opened the garden in 1859, making it among the country's oldest – still stand, giving the place a nice 19th-century feel. When we visited there was a Chinese lantern festival that was insanely popular and brought colorful dragons, Buddhas and other displays to the garden. Admission is $8 for adults. Kids 12 and under are free, and parking is free, too, though the lot can fill up on busy days, leaving you to look for street parking. So, arrive early if possible.
(PHOTO: The Magic House St. Louis Children's Museum Facebook)
Now this sprawling place, opened in the former home of George Lane Edwards of A.G. Edwards & Sons and a much larger, and more recent addition, on the west side of the city, is what one expects from a children's museum. Like Betty Brinn, albeit on a larger scale. A slew of interactive exhibits help children see the fundamentals of science and history and more.
Our kids especially loved the pneumatic tube (just like at the bank) and the two-story curvy slide erected in one of the old home's corner turrets. There's also an outside area with a babbling brook and giant blocks. Admission is $9.50 for everyone but babies under a year old. Free parking.
Finally, if there's anything we learned on our first family visit to St. Louis, it's that there's plenty more on tap for a second visit, including the zoo, art museum and other fun at Forest Park (site of the 1904 World's Fair and Summer Olympics) and the downtown City Garden, with its splash pads, live music and Tom Claassen's climb-on bunny sculptures (just one of many public art installations in the park, which may or may not be meant for climbing, but I saw lots of kids doing just that).
Born in Brooklyn, N.Y., where he lived until he was 17, Bobby received his BA-Mass Communications from UWM in 1989 and has lived in Walker's Point, Bay View, Enderis Park, South Milwaukee and on the East Side.
He has published three non-fiction books in Italy – including one about an event in Milwaukee history, which was published in the U.S. in autumn 2010. Four more books, all about Milwaukee, have been published by The History Press.
With his most recent band, The Yell Leaders, Bobby released four LPs and had a songs featured in an episode of TV's "Party of Five," and films in Japan, South America and the U.S. The Yell Leaders were named the best unsigned band in their region by VH-1 as part of its Rock Across America 1998 Tour. Most recently, the band contributed tracks to a UK vinyl/CD tribute to the Redskins and collaborated on a track with Italian novelist Enrico Remmert.
He's produced three installments of the "OMCD" series of local music compilations for OnMilwaukee.com and in 2007 produced a CD of Italian music and poetry.
In 2005, he was awarded the City of Asti's (Italy) Journalism Prize for his work focusing on that area.
He can be heard weekly on 88Nine Radio Milwaukee talking about his "Urban Spelunking" series of stories.