Beginning on Tuesday, June 6, you can get a taste of the rooftop patio at The Atrium, 2107 E. Capitol Dr., in Shorewood.
Last summer, Camp Bar owners Natalia and Paul Hackbarth acquired the former Garden Room, a venue they transformed into an event space fit for weddings and other celebrations. The patio, garden and bar will be open to the public Tuesday through Thursday from 4 to 10 p.m. for Summer Camp, a special summer rooftop bar experience.
We got a first look at the space last week. And here's what you can expect.
The bar
Located inside the former horticultural atrium, the bar will offer a nice selection of bottled beer and wine, along with a menu of craft cocktails, including a variation on the Camp Bar old fashioned.
Gardens
Just outside the bar lies a 1,000-square foot patio, complete with lush summer gardens.
Patio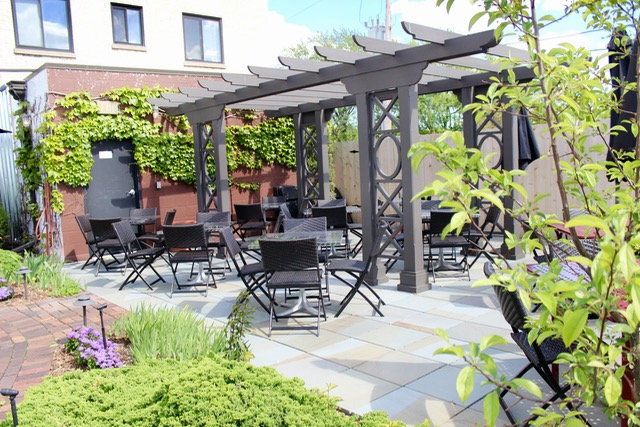 A patio, complete with umbrellas and a pergola, provides social seating for small groups with a view of the gardens.
Alcoves
Two intimate shaded alcoves accommodate larger groups at the front of The Atrium.
Street views
You can also enjoy a cocktail and a view of Capitol Drive from the front patio adjacent to the bar.
Popcorn
If you're lucky, there might even be popcorn waiting. This mobile popcorn cart was built by Hackbarth's grandfather when he was a boy.
Watch The Atrium Facebook page for updates on hours, including closures over the course of the summer for special events.
Lori Fredrich (Lo) is an eater, writer, wonderer, bon vivante, traveler, cook, gardener and girlwonder. Born and raised in the Milwaukee area, she has tried to leave many times, but seems to be drawn to this quirky city that smells of beer and alewives.
Some might say that she is a little obsessed with food. Lo would say she is A LOT obsessed with food. After all, she has been cooking, eating and enjoying food for decades and has no plans to retire anytime soon.
Lo's recipes and writing have been featured in a variety of publications including GO: Airtran Inflight Magazine, Cheese Connoisseur, Cooking Light, Edible Milwaukee, Milwaukee Magazine and the Milwaukee Journal Sentinel, as well as on the blog Go Bold with Butter, the web site Wisconsin Cheese Talk, and in the quarterly online magazine Grate. Pair. Share.