Three years ago, three guys working at a Plymouth cheese company decided to open their own business. This being Wisconsin, they, of course, opened a brewery.
That's how SwitchGear Brewing Company, 44D Gottfried St., got started in the historic feed mill that is the centerpiece of downtown Elkhart Lake.
Owners Mark Grasse, Ryan Feldmann and Nick Kullmann, who is the brewer, were all tinkering at home, Grasse making wine and the others brewing beer.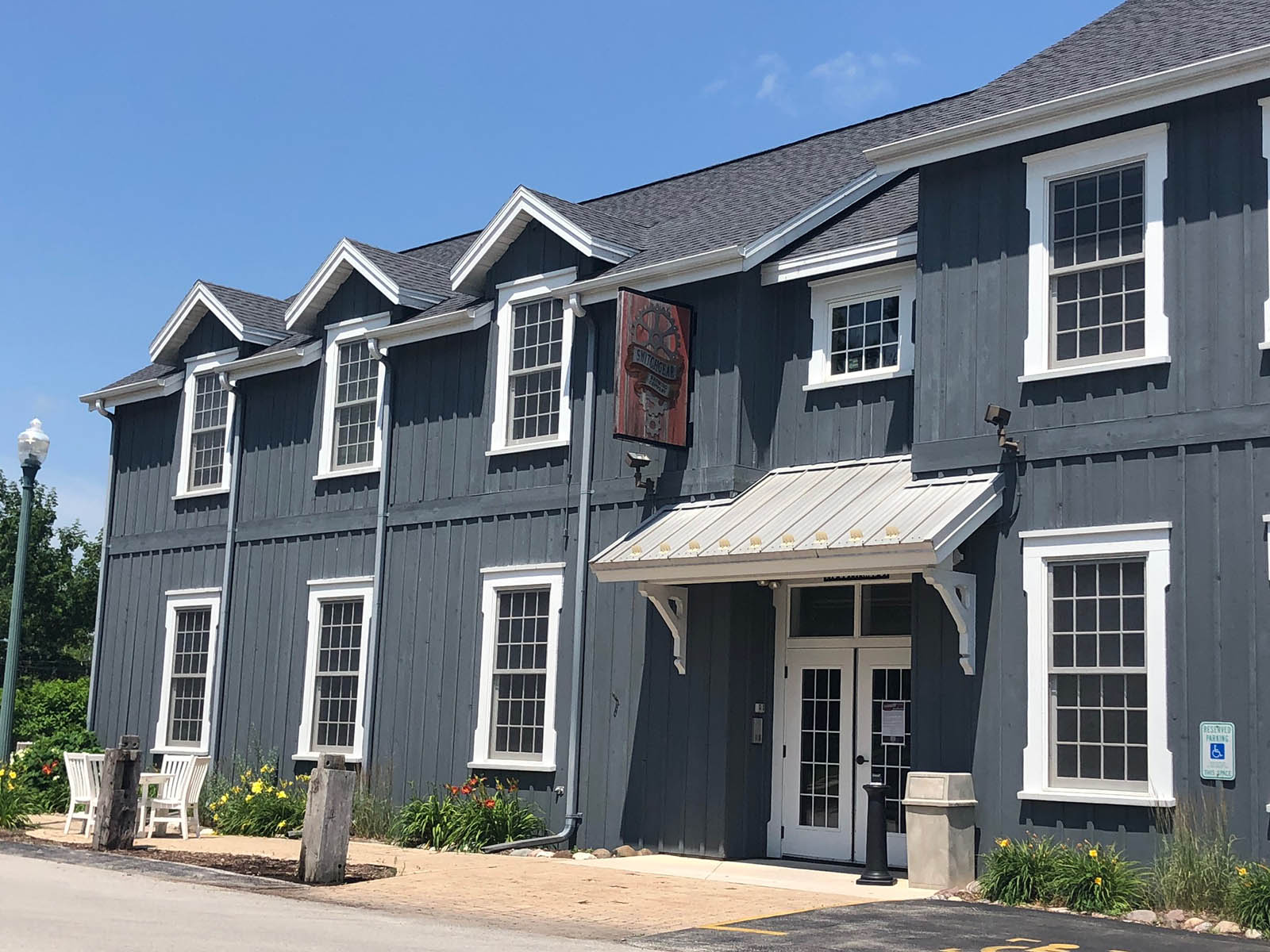 "We all work together at Masters Gallery during the day," says Grasse. "I'm since retired but they're in their 40s so they're still working. We used to have an annual apps and taps event and at work, home brewers and winemakers, and we'd hire judges and the whole ball of wax.
"We got to talking stupid one day after the competition about, 'Why are we hiring judges? We should do this for a living.' That was probably four years ago now."
So, they pooled their resources and opened in a former grocery store space in the mill, with the brewhouse in the basement and the taproom and patio upstairs. An overflow space/event room was added later.
"This is a great little tourist town," says Grasse (pictured below) of Elkhart Lake, which has some resorts and a cute "Main Street" area with some great restaurants, wine shop and the like. It's the perfect place for a brewery.
"Some of the resorts try to keep their people on the campus, but we've actually gotten into a lot of them. We have beer at the Osthoff Resort. We're self-distributing through probably 15 to 20 bars and restaurants in the county."
SwitchGear isn't canning yet, so it isn't in retail grocery or liquor stores at the moment, but the selection at the taproom is diverse and interesting and they do have a crowler seamer.
"We have 20 on tap and then we backfill with craft beers from throughout Wisconsin," says Grasse. "In summer, we probably carry more craft beer from this state than our own just because the customers in the tourist areas are pulling a lot of beer."
When I visit there are stalwarts like the BoxCrusher Imperial IPA, TJ's Milk Stout, the sessionable Pontoon Pounder wheat, Fat Cheeks Nut Brown and Lead Foot Scotch Ale, alongside a handful of others, including the light, fruity and refreshing The Lime One, with just 3.5 percent ABV, and the really interesting Sugar Shack, a brown ale brewed with maple sap.
"Nick prefers IPAs, so there's always a bunch of IPAs on tap," says Grasse. "But our number one seller actually has been Pontoon Pounder, that easy drinking American wheat, and then the (Resorter) red ale has been number two for three years.
"It kind of drives him crazy that he's brewing this four and a half percent, easy drinking, American wheat every week, when he loves IPAs, but that's the way it goes."
Most of the creative names come with stories attached, Grasse says.
""Box Crusher has been a fun one. He's been brewing that beer for a long, long time. Nick lives out in the country and you have to back out of his driveway. There's just no place to turn around. Twice the same guy has backed out of the driveway and hit his mailbox."
Grasse tells me one bartender keeps bees and brings in honey for a SwitchGear blonde ale. Another employee anted up the recipe for the milk stout. A customer brings in the maple sap for the Sugar Shack and another customer donates the hops he grows on his grandmother's farm for an annual fresh hop brew.
"We're really in a small town," notes Grasse. "There's only 900 people here. So, we have become part of the community. If you notice that the red T-shirt up there, it's got the Elkhart fire department logo on it, and ours underneath. Because of the coronavirus, they had their Fireman's picnic and fireworks canceled this year. All the profits from the T-shirts are going to the fire department. We're just trying to support them.
"Then we do a fun thing called Taps for Charity. So, if you're a nonprofit, you can take over the bar. Then a portion of the sales and anything else you do, 50-50 raffles, anything else you want to do that night go toward that nonprofit. So, that's been fun. We've done Alzheimer's, we've done a local food bank, we've done a number of those things."
At the moment, Kullmann is brewing on a three-barrel system three times a week. But a new brewer was recently hired and that will help boost production.
"He'll move towards full-time that we can seriously think about canning," says Grasse. "We're just trying to keep up right now with the existing demand."
For now, SwitchGear is focused on stocking local accounts and keeping the taproom full of beer.
"We're first and foremost a taproom," say Grasse. "We're not a bar. We only serve beer, cold ciders and stuff like that. Summers are fantastic, Saturdays during the day are awesome, Friday afternoons are big. We don't serve food, so no matter what night of the week we get this little lull about six o'clock when people go looking for food.
"We don't do a lot of live bands or anything like that. Special occasions, our anniversary, we do a big Oktoberfest, stuff like that, that will bring a late night crowd in."
As you'd expect in a resort town, in winter business does slow down a bit at SwitchGear, as in the rest of the town.
"We have really, really strong local support," says Grasse. "We do have shorter hours in winter. We're just open Wednesday through Saturday.
On the day I visit, the brewhouse is busy mashing distiller's beer for whiskey over at Plank Road Distillery in nearby Plymouth, and Grasse says winter is a good time for that kind of job.
"Jarin and Michele (Gelhar, who own Plank Road) were customers before they had a business of their own," says Grasse. "Besides beer all of us love bourbon. One day he called and he said, 'Hey, I'm thinking about opening a distillery. I need somebody to do my bourbon and whiskey mash.'
"I think it was winter, so that worked out really well for us. We had the capacity, and (in summer), we can't seem to get them enough, but we're trying. So, it just kind of fell into place, just local guys working together. In summer, he's got to be a little bit flexible, and us, in winter, we can get him on a regular, better schedule."
After having closed during the pandemic shutdown, SwitchGear has been following the rules for reopening, first at 25 percent capacity and then at 50, says Grasse.
"It's coming back," he says. "The wholesale business is coming back. The bars and restaurants are open again. We're surviving."
Before I hit the road, I have to ask about the name...
"It actually started because the very first building we looked at was the original power plant here in the village," says Grasse with a smile. "Nick is, by trade, an electrician. So, switching gears kind of worked. We're (located here) on the railroad track, that kind of worked. We're Road America, the whole racing and everything else, it worked for that. Then the three of us working together during the day and starting a new business, so switching gears from that perspective, too.
"It's taken on a life of its own."
Born in Brooklyn, N.Y., where he lived until he was 17, Bobby received his BA-Mass Communications from UWM in 1989 and has lived in Walker's Point, Bay View, Enderis Park, South Milwaukee and on the East Side.
He has published three non-fiction books in Italy – including one about an event in Milwaukee history, which was published in the U.S. in autumn 2010. Four more books, all about Milwaukee, have been published by The History Press.
With his most recent band, The Yell Leaders, Bobby released four LPs and had a songs featured in episodes of TV's "Party of Five" and "Dawson's Creek," and films in Japan, South America and the U.S. The Yell Leaders were named the best unsigned band in their region by VH-1 as part of its Rock Across America 1998 Tour. Most recently, the band contributed tracks to a UK vinyl/CD tribute to the Redskins and collaborated on a track with Italian novelist Enrico Remmert.
He's produced three installments of the "OMCD" series of local music compilations for OnMilwaukee.com and in 2007 produced a CD of Italian music and poetry.
In 2005, he was awarded the City of Asti's (Italy) Journalism Prize for his work focusing on that area. He has also won awards from the Milwaukee Press Club.
He can be heard weekly on 88Nine Radio Milwaukee talking about his "Urban Spelunking" series of stories.