Fred Gillich, owner of Too Much Metal For One Hand, acquired the Sydney HIH letters that once adorned the iconic Milwaukee building. The letters are on display at Tavern at Turner Hall, 1040 N. Vel Phillips Ave., which opens to the public for the first time at a soft opening at 4 p.m. Saturday.
"People are invited any time after 4 p.m. to stop by and check it out," says Gillich.
The Sydney HIH name appeared on two sides of the building and Gillich is optimistic he will acquire the rest of the letters as well.
"I have one complete set and am missing four letters of the other set, but I have a lead on them as of right now," he says.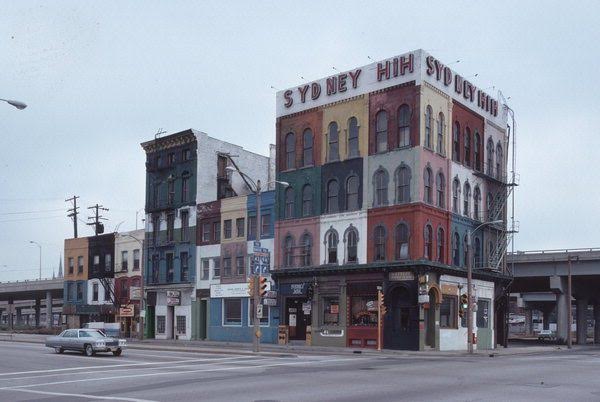 The Sydney HIH (pronounced "high") complex stood on the corner of 3rd and Juneau from the mid-1800s to 2012 and served as a sanctuary of counter-culture that was inhabited by bands, artists and businesses including the Unicorn nightclub, Betty's Bead Bank, Gus' Mexican Cantina and more.
Read more about Sydney HIH and those who loved it in this article.
The Sydney HIH letters will be on display at Tavern at Turner Hall until Dec. 31. Mike Eitel, owner of Nomad World Pub, Panga, SportClub and other venues, is the operator.
Gillich says he is unable to disclose whom he purchased the letters from, but he's thrilled to have them.
"Looking forward to it. Proud to preserve some real Milwaukee history," says Gillich.
Molly Snyder grew up on Milwaukee's East Side and today, she lives in the Walker's Point neighborhood with her partner and two sons.
As a full time senior writer, editorial manager and self-described experience junkie, Molly has written thousands of articles about Milwaukee (and a few about New Orleans, Detroit, Indianapolis, Boston and various vacation spots in Wisconsin) that range in subject from where to get the best cup of coffee to an in-depth profile on the survivors of the iconic Norman apartment building that burned down in the '90s.
She also once got a colonic just to report on it, but that's enough on that.
Always told she had a "radio voice," Molly found herself as a regular contributor on FM102, 97WMYX and 1130WISN with her childhood radio favorite, Gene Mueller.
Molly's poetry, essays and articles appeared in many publications including USA Today, The Writer, The Sun Magazine and more. She has a collection of poetry, "Topless," and is slowly writing a memoir.
In 2009, Molly won a Milwaukee Press Club Award. She served as the Narrator / writer-in-residence at the Pfister Hotel from 2013-2014. She is also a story slam-winning storyteller who has performed with The Moth, Ex Fabula and Risk!
When she's not writing, interviewing or mom-ing, Molly teaches tarot card classes, gardens, sits in bars drinking Miller products and dreams of being in a punk band again.