Often, in researching the history of an old tavern, the list of occupants and owners is an extremely long one, as many tenants, especially, seemed to come and go.
But that wasn't quite the case at the former Miller tied house at 2499 N. Bartlett Ave. on Milwaukee's East Side. Sure, there were a few, of course, over 112 years, but the red brick place on the corner of Bradford Avenue – on an intersection that once must've been lively, with commercial buildings on all four corners – has had a number of long-serving occupants.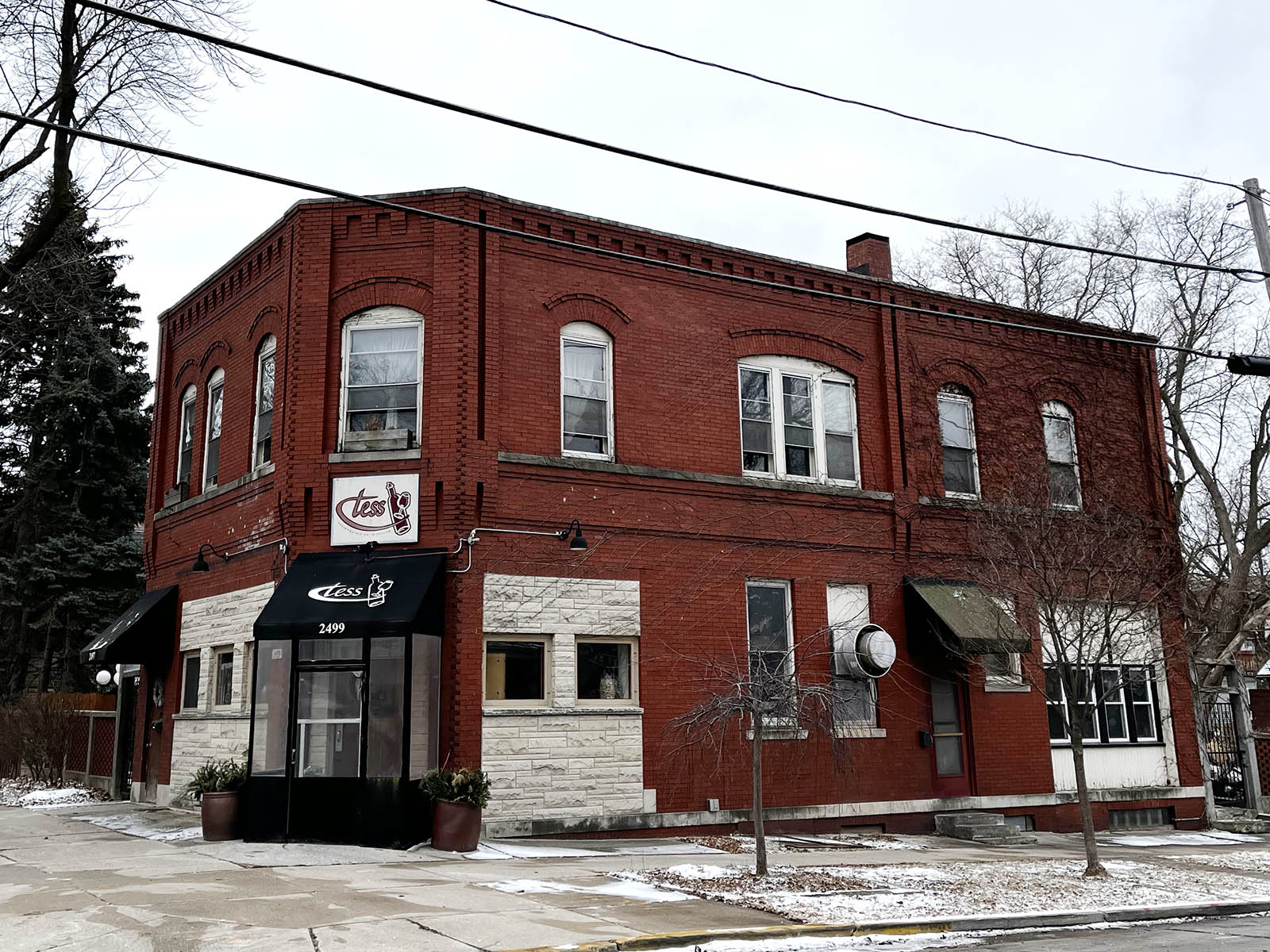 Not least of them is Mitchell Wakefield's Tess Restaurant, which celebrates its 20th anniversary this year.
That makes the intimate restaurant, nestled into a now-quiet neighborhood a key part of the history of the place, right?
"Yeah, for sure," says Wakefield, as we stand in the bar area. "We're we're proud of that. We're definitely here longer than the Corner Grill and the Iguana Cafe. When we moved in, I remember a lot of the articles that came out, or people would say that this location was kind of jinxed, or it was harder to make a go of it here.
"But when I was going over the history with you the other day, it was like there's actually been like five tenants here in the last 60 years. That's not that bad ... I read some of your other articles, and it's so many people. I was just reading the one the other day and I had no idea so many people had been in that location."
The building that Tess has called home since 2002 dates to 1910 when the Fred Miller Brewing Co. hired its preferred architects Wolff & Ewens – who even had their offices in a Miller tied house of their own design – to design a building for the site.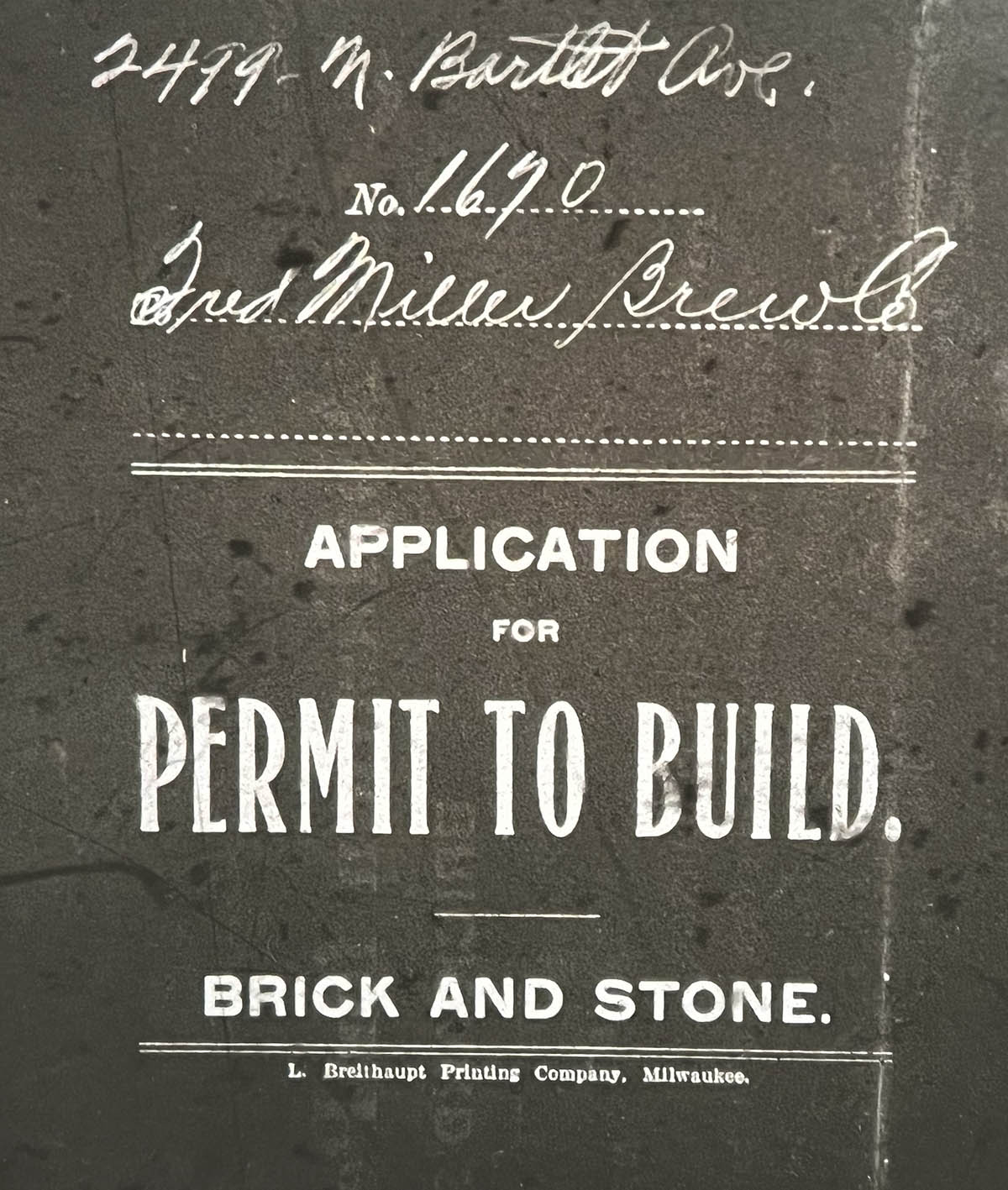 The design is not unlike numerous other Miller tied houses, like this one, for example, albeit often with some differences. This example, which cost $5,000, was built by contractor John Schramka, who – among much other work – also built tied houses for Schlitz.
Miller purchased the lot on Sept. 7, 1904 but it didn't build there for a number of years. It was common practice for breweries to snatch up desirable lots – especially on corners and heavily traveled, high-profile streets and intersections – both as sites for future taverns and as a preventative measure, keeping competitors for buying the sites.
Miller's especially savvy real estate skills helped it survive Prohibition. It sold this one in 1921 for $12,730 a nice improvement on of its declared 1910 value of $6,931.04 for the building and $2,986.23 for the land.
Likely the first tenant was Joseph Ziemann, who was 44 in 1910, and had been born in Germany.
Ziemann was doing good business at the site as evidenced by its 1917 book value to Miller of $8,982. Its sales that year was listed as $824, which might not sound like much, but if one compares it to the seven other tied houses listed next to it on the Miller tied house spreadsheet of that year – whose sales were 606, 439, 495, 450, 1038, 650, 382 – it would appear Ziemann was running a profitable place.
But it had been a struggle for him to get there.
In 1913, dozens of Milwaukee saloons faced forced closure due to political and legal machinations in Madison, where limits on the number of saloons allowed to operate in the city combined with rules of the transfer of saloon licenses from one property to another.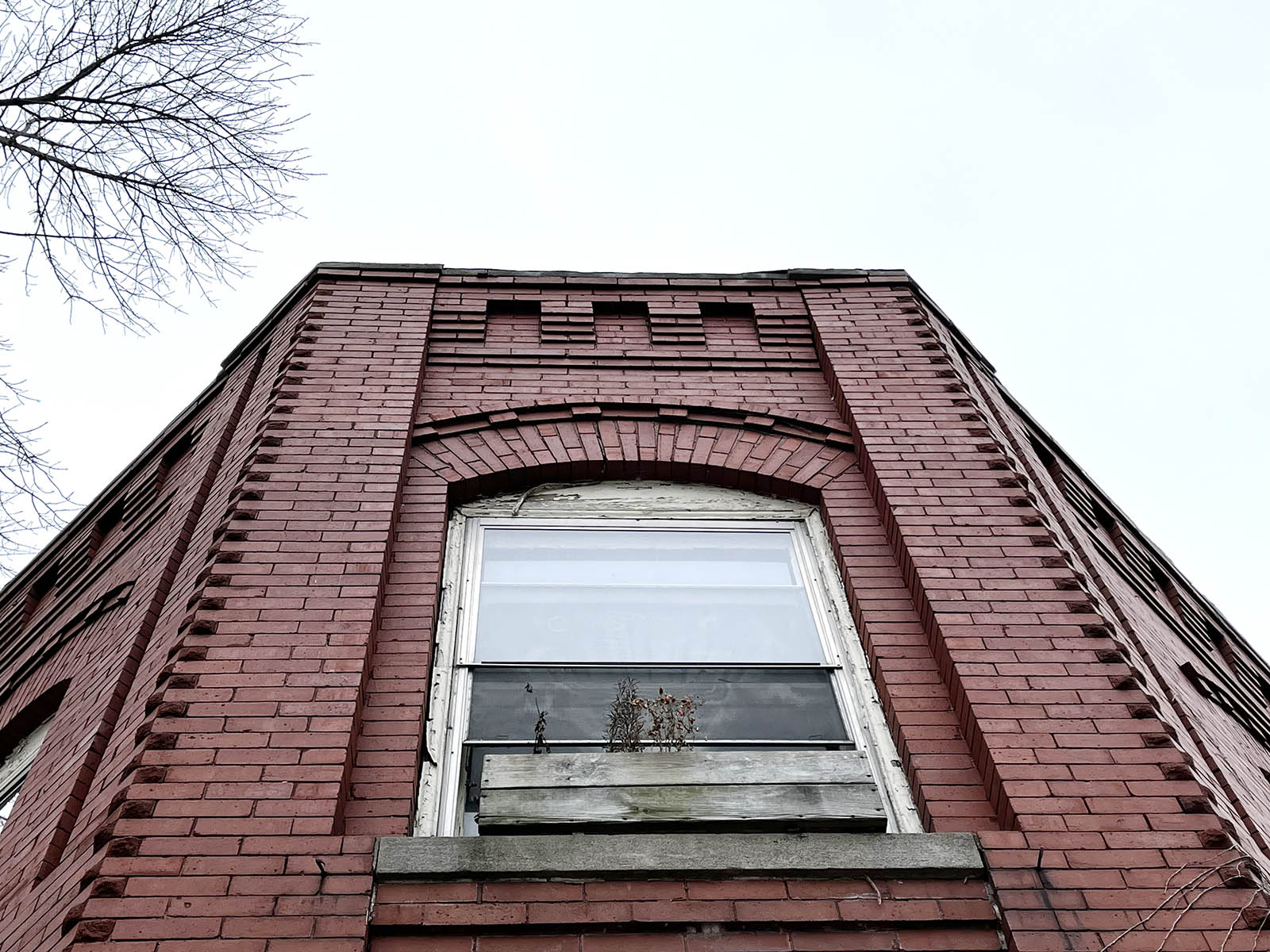 "The legality of these places was questioned at the license granting time in 1913 and some of the more flagrant violations were corrected, about 60 applicants being denied licenses," wrote the Sentinel in 1915.
"The legality of a number of other places remained in controversy throughout the year and notice was served on the council in early 1914 that legal steps would be taken to prevent the granting of any saloon license in violation of the ... law that year."
Legislation was introduced in July 1913 to "save saloons," but by the following summer, the issue had not been resolved and more than 200 saloons were about to be shut down, including a number of hotel bars, like the ones at the Hotel Maryland, Hotel Charlotte and the Juneau Hotel.
"Some who were put out of business has been in business 10, 15 and 20 years continuously but had voluntarily moved from locations that were saloons in 1907 into new buildings," wrote the Sentinel.
Despite the fact that 35,000 Milwaukeeans signed petitions supporting the saloons, "Matters came to a crisis on July 1," the Sentinel explained, "with a faction of the Common Council fighting against the granting of any illegal licenses and a minority contending that common justice should be given the men who had made investments in new buildings and fixtures with the understanding from city authorities that their places were legal."
On July 18, 1914, Milwaukee Police Chief John Janssen was compelled to issue an order shuttering 212 saloons, "because of the failure of the Common Council to find a way to license them under (state law)."
Ziemann and 211 fellow saloonkeepers were forced to somehow make do for a full year.
In June 1915, the Sentinel reported that some of the taverns would be reopened.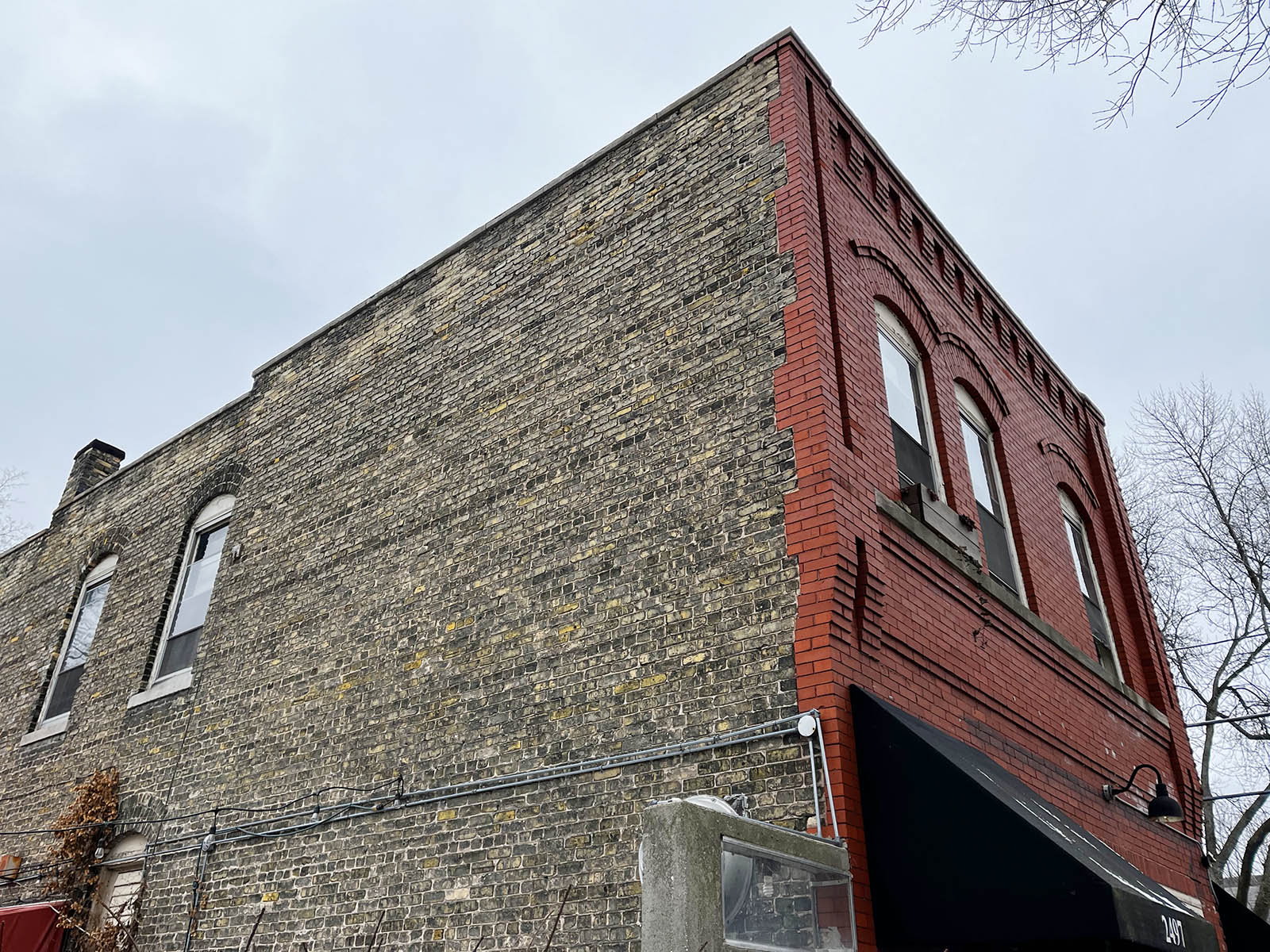 A reported 167 of the tavernkeepers continued to seek licenses to operate. The problem was that the number of available licenses remained capped and therefore, if 167 wronged "saloon men" were to get licenses, 167 current licensees would have to lose theirs.
"The license committee has been steadily at work every day during the last two weeks investigating various saloons to classify them and make recommendations as to which should be closed," wrote the newspaper. "In determining which saloons shall be reopened after July 1, the license committee will take into consideration a number of elements."
Those included "sanitary conditions" and the number of saloons in each ward in relation to population,
"To some extent the brewers will be consulted so that they may reopen places for the stands they lose," the Sentinel added, and, "above all things, the police department will be taken more fully into the plans of the license committee than it has been for years. It is probable that the department will taken an active part in preparing the list of 150 to 250 saloons now in existence which must be closed to allow the reopening of that many stands closed a year ago."
In August 1915, the paper ran a list of the newly re-licensed saloons, as well as a list of newly de-licensed ones. Ziemann's Bartlett Avenue tavern had made the cut and reopened.
Quite how Ziemann's family, with two sons and four daughters, all living above the bar – survived is unclear, but Ziemann carried on in the space until the arrival of Prohibition in 1920.
The census that year still lists him as a saloonkeeper and his 25-year-old son Edward as a bartender, both working in their rented building. It seems that year Miller sold the building to Ziemann, who invested in a garage.
By 1921, however, Ziemann had sold the place and Bob Oberdas – whose family also operated a grocery store a little further up Bartlett, next to the firehouse at Park – was in the space running one of those so-called "soft drink parlors" so popular during the dry years.
He build a new, bigger brick garage that August.
In September Oberdas was busted when feds found, "not only whiskey but cases of home-brewed beer in the basement ready for sale."
Oberdas pleaded not guilty but less than a year later, in July 1922, "coffee pot filled with alleged moonshine was found in the kitchen in the rear of the saloon."
Afterward, in 1925 and '26 the building – with two stores, a six-room flat and a two-car garage – was listed for sale, and the 1927 city directory lists the stores as vacant and a Mrs. Ethel Lincoln living in the apartment.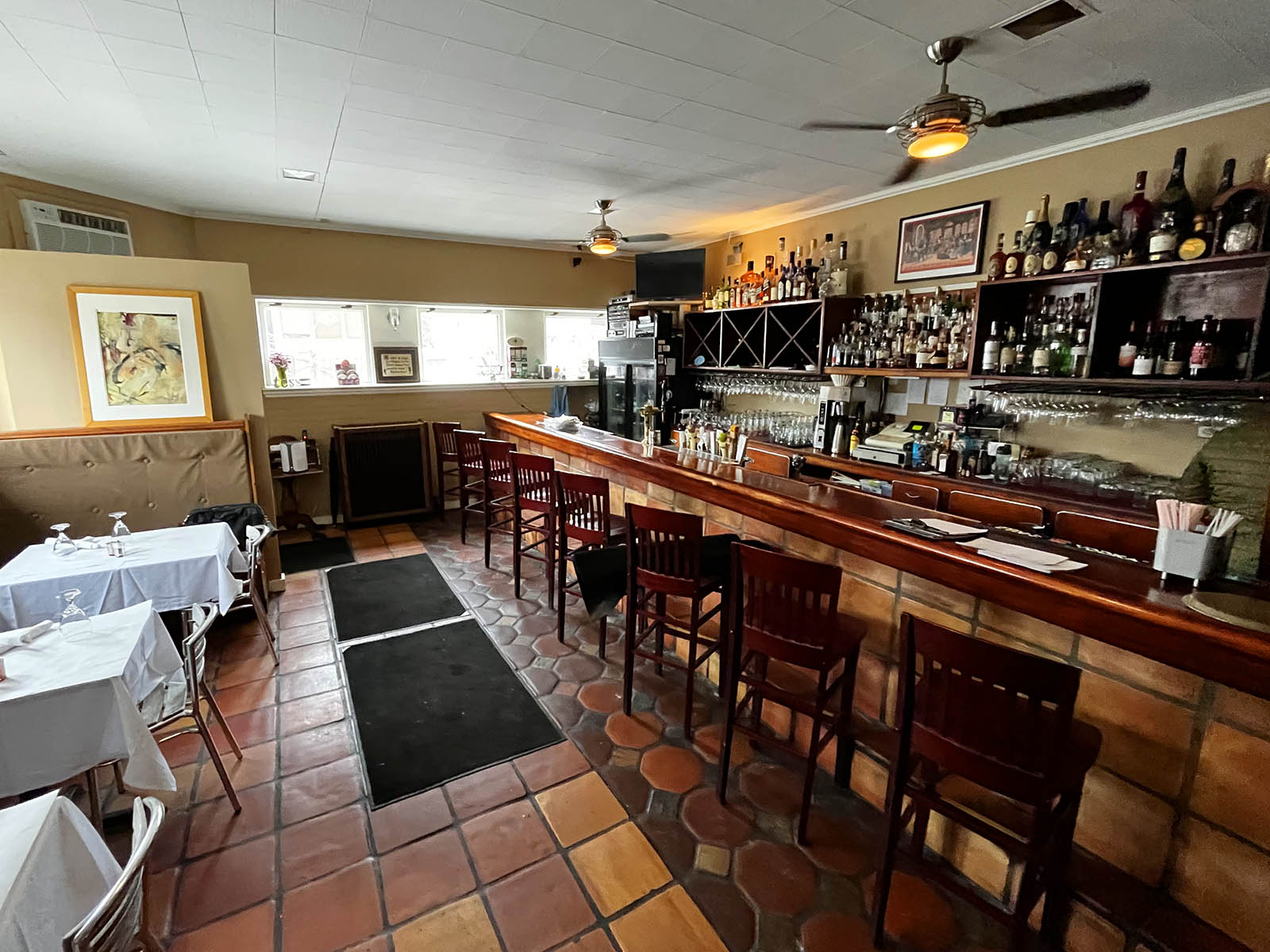 Real estate man Karl Elbinger bought the place in 1926 and two years later converted the old store at the back on the first floor into an apartment with four rooms, and added a bathroom upstairs.
During this era, the place did a brief stint as W.W. Radcliff's grocery store (in 1928) and in 1930 the space again hosted a soft drinks parlor, run by August Knitter, who remained there at least into 1935, slinging drinks after Repeal, by which time his landlord was Integrity Building & Loan.
Henry Brezinski ran it to close out the 1930s and George Zwick (aka Zywicke aka Zywicki) operated it through most of the 1940s, offering 15-cent fish fry and chicken and 35-cent steaks.
Vacant for at least part of 1948, August and Leona Zblicki (aka Tylicki) reopened it by that September as Gus & Lee Tap until 1955, when the next long-lasting tenant arrived. (At some point the second store, which had, at times, hosted a barber shop, was converted into an apartment.)
That's when William Norman opened Norman's Tap, which ran as a corner tap until 1970, when his son Kenny took over and made a name for the place as a restaurant.
In 1965, Norman reduced the size of the big front windows. In '71, his son reconfigured the first floor to convert the apartment where he grew up (his bedroom was in what is now the kitchen) into a dining room.
In 1976, Sentinel dining critic Alex Thien visited.
"A big sign on the exterior proclaims the best barbecued ribs in Milwaukee are served there," he wrote of the bar, which he said had about a dozen stools and eight or nine tables reserved for diners. "Once inside the door you notice a sign that bids you welcome, but also advises there are no provisions inside for children or other small mammals."
Diners were served a supper club-style relish tray with olives, celery, onions, radishes, peppers and other noshes.
"Without reservation (the ribs, $5.95 for large, $4.95 small) were the finest we've had in this part of the state, by that I mean the southeastern portion, not just Milwaukee," Thien glowed. "With hash browns topped with a dollop of butter, a couple slices of french bread heated in the over and spread with butter."
Norman's was also known for its French onion soup, shrimp dinners and hot sandwiches. It was, Thien said, extremely busy on Friday and Saturday nights.
By 1977, when the Journal's Jim Auer stopped in, Kenny Norman had added a relish bar, later called a salad bar, in the area next to the entrance, across from the bar. It was, says Tess' Wakefield, believed to be the first salad bar in the area.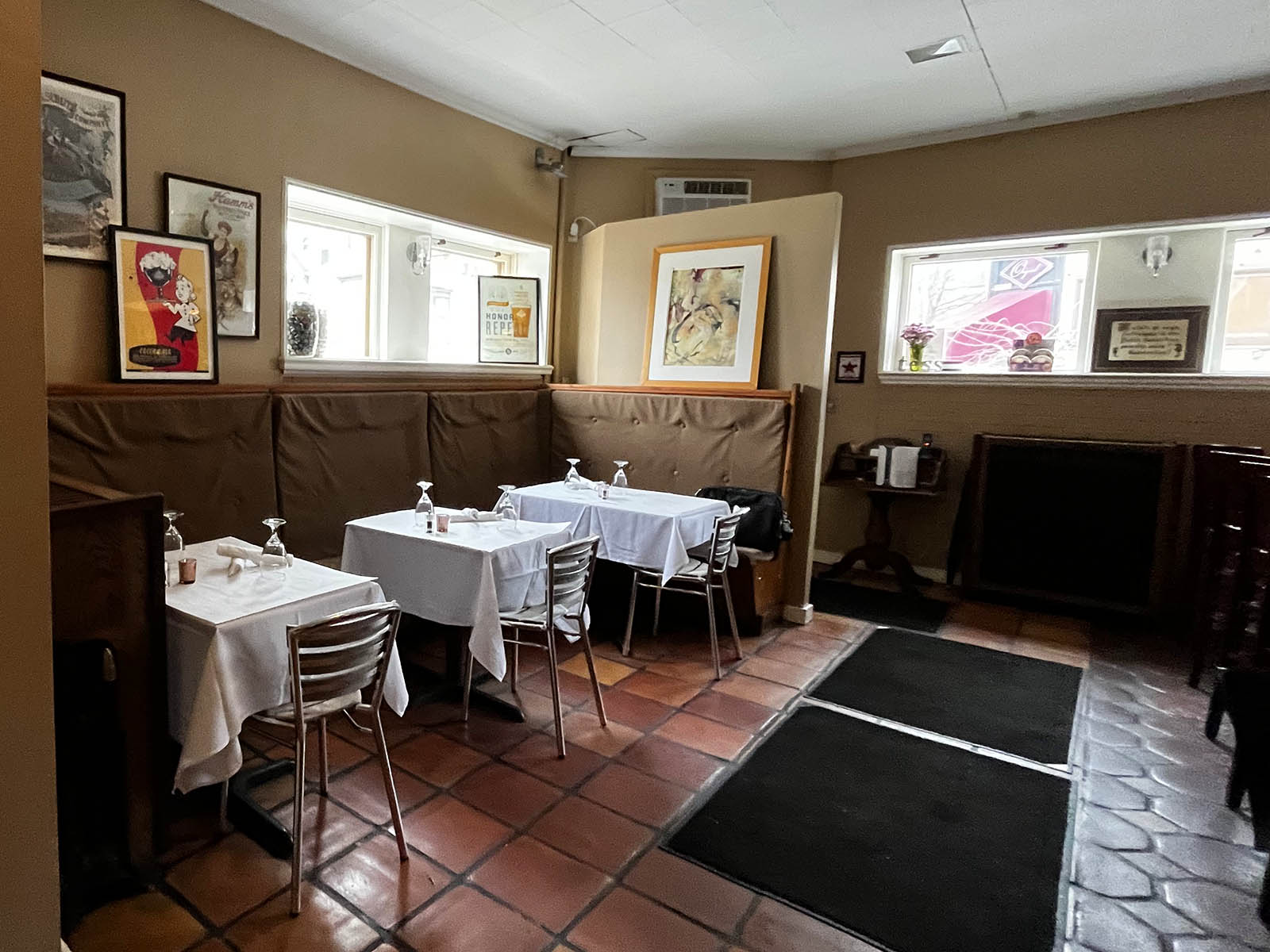 The restaurant, wrote Auer, was, "Located in an ancient corner building that was remodeled in 1971, at which time the family living quarters were transformed into a rear dining room. Once inside the dusky confines of the tavern, one suspects, a Boston terrier or babe in arms could probably escape detection indefinitely."
Another mention, in 1979, noted that the each table had a vinyl tablecloth, a fresh rose and an oil lamp. The music was piped-in popular, jazz and classical. The walls were adorned with artwork including a portrait of Norman. Food? "Cheap and plentiful."
Kenny Norman, who ran the place until 1984, had started out delivering pizzas and working at Continental Can and Harley-Davidson before he joined his father in the family restaurant. Once he took over, his wife Kathy and son Kent would help out, as would his semi-retired dad, William and his mother Irene.
By 1980 the restaurant's ribs were so popular that you could buy them frozen at Sendik's on Silver Spring Drive.
Norman was a character, it seems, and one gets the sense that he might've been as much a draw as the food.
"What kind of guy would have prayer cards at his funeral that say, 'I had a great time. I hope you did too'," posited Jesse Garza in an obituary in the Journal Sentinel after Kenny died in 2016 at the age of 74.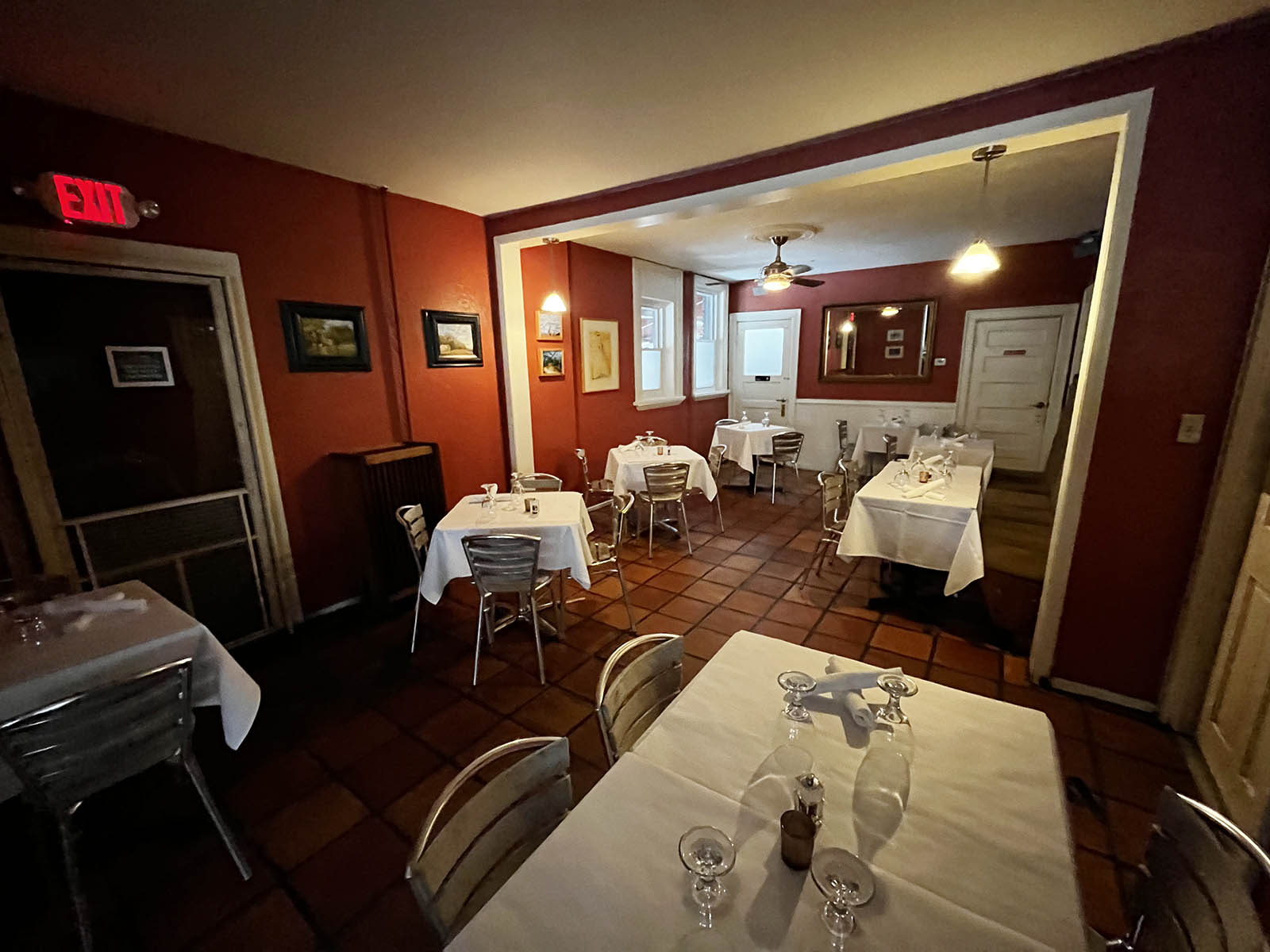 "Well, the same kind of guy who'd walk into a bar on Christmas Eve with a giant stuffed Santa Claus that he'd talk to and suck beers with. The kind who'd have a sign saying 'no children or other small mammals allowed' at the door of his east side restaurant; or who had the nerve to charge cops for the hot dogs he'd sell from an illegal food truck. And probably the kind of guy whose favorite beer was, 'my next one.' A guy like Kenny Norman."
Garza shared this story from John Sidoff, who has owned Hooligan's and Von Trier: "Once I said, 'Kenny, how long do you think you'll stay in business if you keep insulting people.' He said, 'In metropolitan Milwaukee there's over a million people. This place only seats about 60. So that means I can insult 60 people a night and still fill the place every night.'"
And, added Garza, "His zaniness approached legendary status: planting a pool table in the beer garden and playing in the middle of winter; outfitting his softball team in light blue tuxedos for 'tuxedo games;' pulling up to games in a dark-colored Lincoln Continental, pulling out a grill and cooking for both teams and the umpire."
After Norman's closed, Kenny Norman operated a food truck for 12 years at Prospect and North, selling hamburgers, hot dogs and those ribs.
Meanwhile, back on Bartlett, Predrag Rokvic bought the building and his son Miro and daughter Mira Scojsavlejevic ran Miro's Serbian Cafe there for about a dozen years. The place didn't get any bigger, though, wrote the Journal, "the new owners have lightened the dungeonlike interior by paring the wall paneling down to wainscoting. Above it, white walls are adorned with scattered pieces of Serbian wall art."

Miro also created the large patio area that is still in use today.
After Miro's closed in early 1997, its namesake maintained ownership of the building, but rented first to Cafe Iguana – run by Guillermo Salas, who also had Don Quijote on Downer Avenue – and then The Corner Grill, run by James Joyce and Barry Lewis, who brought in live music to satisfy their taste for jazz.
Neither lasted more than a couple years and in 2002, Wakefield opened Tess.
"I just acquired this building from Miro recently," says Wakefield. "He kept going back and forth with wanting to sell, not wanting to sell. But his health has declined in recent years, so he's been shutting off a lot of his properties. He's looking to retire, and I think full-time to Florida eventually.
"It's something I wish we could have done a lot earlier in our tenure here. But he was never really that amenable to selling it before."
Owning the building means that Wakefield can finally accomplish some fairly big-ticket updates that just didn't make sense when he was renting.
"One of the things we're looking to redo is this floor," he says. "The floor is beautiful. It's a nice (terra cotta) floor, but it seen its life. It's probably been in here since the '50s, I would say. It's scuffed up, it's hard to clean. The grout is very thick and absorbs water. And it just reeks havoc on our tables and chairs as far as a rocking standpoint. We're constantly shimmying tables and chairs, mostly tables, so that they're not rocking on people.
"So we're going to replace it, probably with some hardwood flooring. But we'll still keep the aesthetics of the building, but just smooth things out literally."
He'll also likely remove the same tiles that were added to the front of the old bar, which if it isn't the Miller-era bar is, at least, very old. The vintage part will stay, as will the 1950s back bar with its coolers.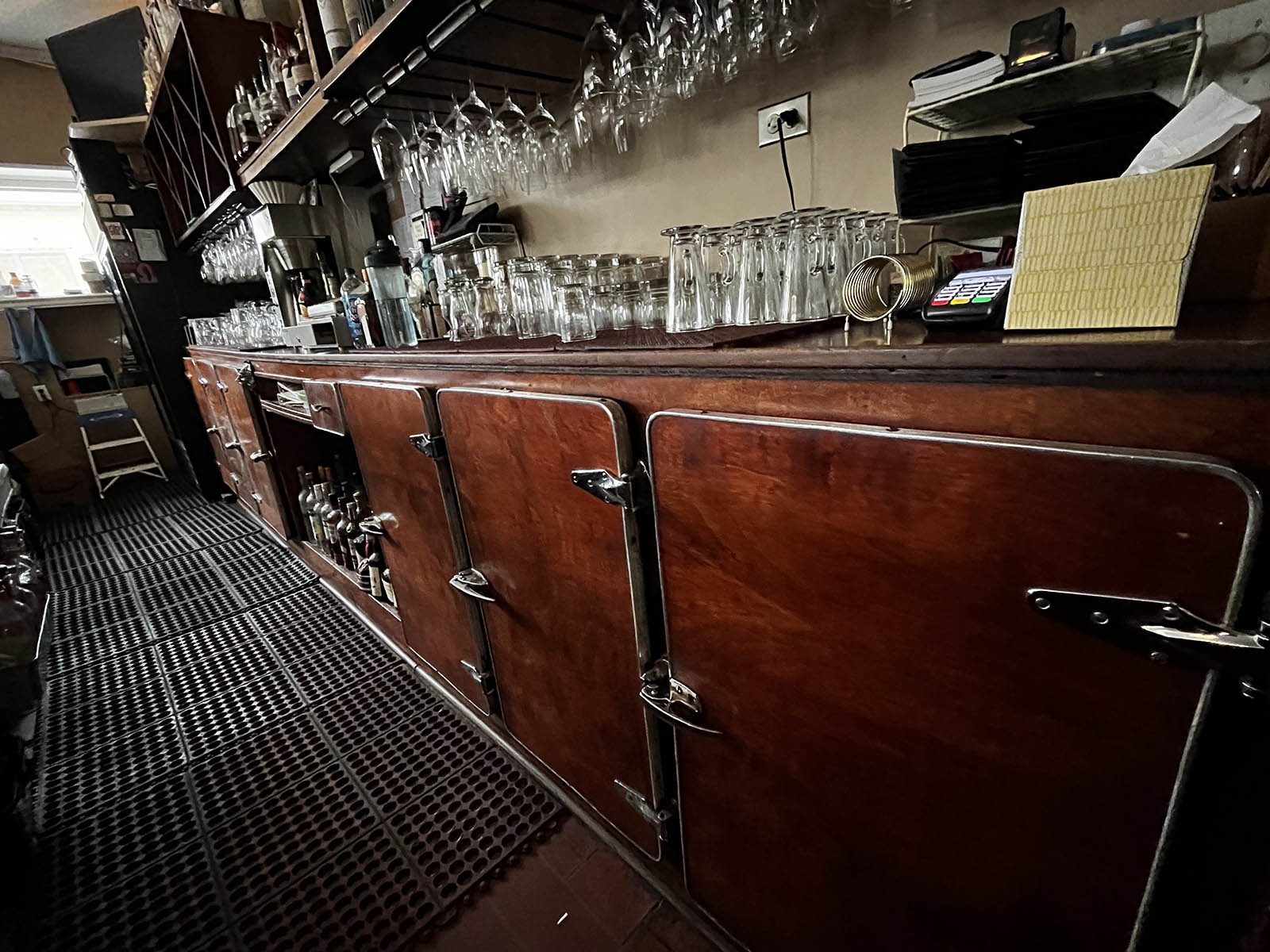 "The refrigeration guys have said, miraculously, there's still parts for not only the hardware on the doors, the hinges and the handles, but also for the compressor and other mechanisms that make the refrigerators work."
That work will likely come first. Wakefield doesn't think he'll need to close to accomplish the work, but he'll likely temporarily scale back the bar offerings during that time and he'll wait until warmer weather so that the patio will be open.
Then, next autumn, he'd also like to weather-proof part of the patio, too, to make it more than a six-month space.
"We're hoping to enclose the canopy area," he says. Right now, it's a tarp and clear walls which come up and down, vinyl walls. But we're hoping to make that all-season room, which will give us a little more capacity. That will give us the ability to host larger groups here, like people that want to rent this out for a Christmas party, our holiday event, or bigger celebration. We will be able to handle that."
Some longstanding things, however, won't change. Folks will still live in the rooms upstairs, for example, and the bar will remain where it has stood, serving customers – with a few brief exceptions – since 1910.
Born in Brooklyn, N.Y., where he lived until he was 17, Bobby received his BA-Mass Communications from UWM in 1989 and has lived in Walker's Point, Bay View, Enderis Park, South Milwaukee and on the East Side.
He has published three non-fiction books in Italy – including one about an event in Milwaukee history, which was published in the U.S. in autumn 2010. Four more books, all about Milwaukee, have been published by The History Press.
With his most recent band, The Yell Leaders, Bobby released four LPs and had a songs featured in episodes of TV's "Party of Five" and "Dawson's Creek," and films in Japan, South America and the U.S. The Yell Leaders were named the best unsigned band in their region by VH-1 as part of its Rock Across America 1998 Tour. Most recently, the band contributed tracks to a UK vinyl/CD tribute to the Redskins and collaborated on a track with Italian novelist Enrico Remmert.
He's produced three installments of the "OMCD" series of local music compilations for OnMilwaukee.com and in 2007 produced a CD of Italian music and poetry.
In 2005, he was awarded the City of Asti's (Italy) Journalism Prize for his work focusing on that area. He has also won awards from the Milwaukee Press Club.
He can be heard weekly on 88Nine Radio Milwaukee talking about his "Urban Spelunking" series of stories.