Summer is in full swing and so is our need to hit up the hottest patios in the city. There's no time like patio time in summertime – especially when it's Miller Time!
On June 13, 1965, Milwaukee bar owner Josephine Dolan, joined by bagpipers and 200 customers, paraded through Downtown as a part of an Irish wake in honor of her pub, The Harp, and its demise from its original location at 933 N. Broadway.
But nothing truly passed away that day. Not even close.
While its first home, founded in 1945, may have met its demise that day (in order to make room for the MGIC Plaza), The Harp name would still have a long life ahead of it, moving into a location at Juneau Avenue formerly occupied by the likes of The Blue Room Tap, the Merry Gardens and other fellow watering holes by the water.
More than a half-century later, The Harp still calls that spot home to this day. And while Dolan's march down to the location was a special one-day celebration, Milwaukeeans and Brew City visitors alike still parade their way to the fresh yet retro, energy-filled yet cozily homey Irish pub – thanks in no small part to its sun-soaked riverside patio that the ahead-of-her-time Dolan helped mold all those years ago.
"It feels like Key West," said Mike Foy, general manager of The Harp, overlooking the spacious patio during a recent sunny afternoon. And he's not wrong. Tucked away on Juneau on its own corner, wedged next to the bridge and the calmly lapping Milwaukee River, the wooden patio, when the weather is right (or even just close enough to nice), feels like an escape to more tropical, warmer climes – complete with boats, kayaks and Paddle Taverns floating their way past the tavern and even pulling into the bar's dock, with four to five slips to park.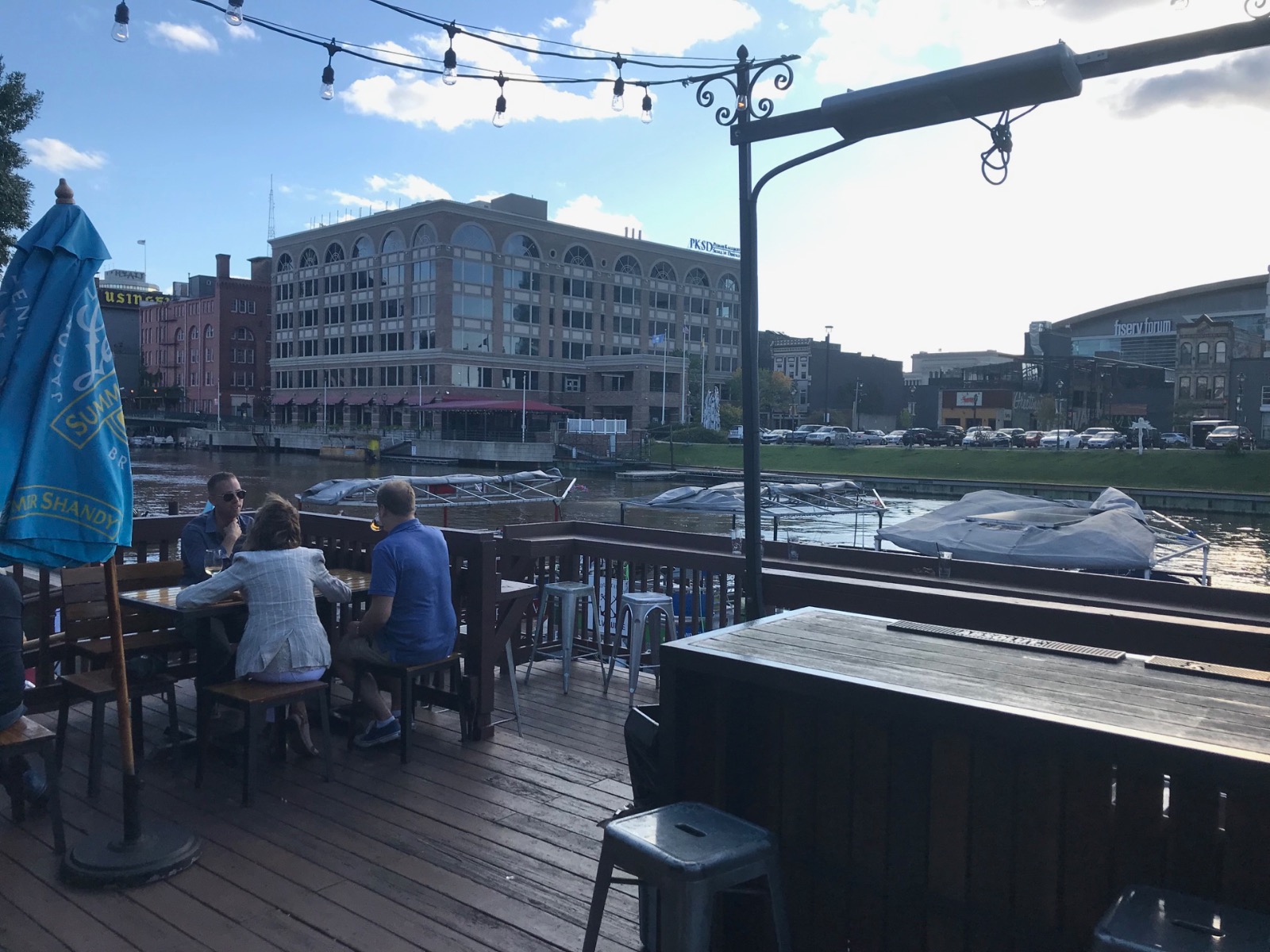 "It's just like a little vacation spot," added Tina Lawler, director of marketing for The Harp. "If you walk down here from an office building and sit on that deck for a while, you forget about life. It's a great little place."
While the patio was always a respite from Downtown, it didn't always look as it did now. After moving to the new location in 1965, Josephine Dolan spent a significant amount of time, energy and money into turning the space behind the bar into a gorgeous beer garden complete with a dock, umbrella-covered tables and, most notably, a water fountain that glowed at night.
(PHOTO: Courtesy of Patricia Doherty)
She did such a marvelous job revitalizing the lot that she earned the city's first certificate of appreciation from the Mayor's Beautification Committee on Nov. 17, 1965 – a moment captured on film in the video below, complete with a shot of the original Harp sign, with the name Dolan's Cocktail Lounge. Decades before Milwaukee would officially concoct the Riverwalk, Dolan and The Harp were thinking of the river as a feature to utilize, not just a backdrop.
"In a state where nine months are winter, Milwaukee people really like to spend time outside – and that's evident on any day here," Lawler said.
"We get the western sunshine, and now we have the beautiful view of the (Fiserv) Forum. People watching, boat action, the skyline to look at: There's action. It's not just sitting there, looking at nothing," Foy added.
As with the rest of the city around it, the patio would change over the years. The grassy park-esque space would eventually be replaced by a wooden deck, and when Foy and the Water Street Brewery team acquired The Harp in 2008, the deck was fairly run down, according to Foy, so they replaced it in essentially the same footprint. Over the decade, they would continue to add new features and small changes – from retractable roofs and heaters to a second pop-up seasonal bar space and a mural celebrating the new Milwaukee flag – to keep the space looking nice, fresh and warm even during Wisconsin's interminable winter seasons.
The Harp hosts a collection of events out on the patio, from live radio broadcasts to summer Sunday Funday concerts – to say nothing excellent views the prime location offers of river-based events, such as rowing regattas or this spring's green-ification of the Milwaukee River in the name of the Bucks playoff run. But the patio's most special feature is still its location, even beyond the beautiful river views. Sitting next to a literal bridge, The Harp serves nicely as a metaphorical bridge uniting Milwaukee communities and cultures – whether its linking the new Deer District and Old World Third Street to Water Street and Downtown, or linking a piece of Milwaukee's iconic drinking past to a new bar-hopping generation.
"It's got that old pub feel, but if you come at certain times throughout the day, you can see how the crowd changes: business guys in here for lunch, groups here for happy hour, there's a family out on the patio from one of the boats, to younger crowds in the nighttime coming to hear a DJ," Lawler said. "It's really neat how we run the gamut from open to close here; it appeals to everybody to this day."
"People are maybe going from one spot to the next, and they can't miss The Harp – and if you've never been here, once you have, it's your new favorite place," Foy said. "It's contagious like that."
So much for that wake all those decades ago.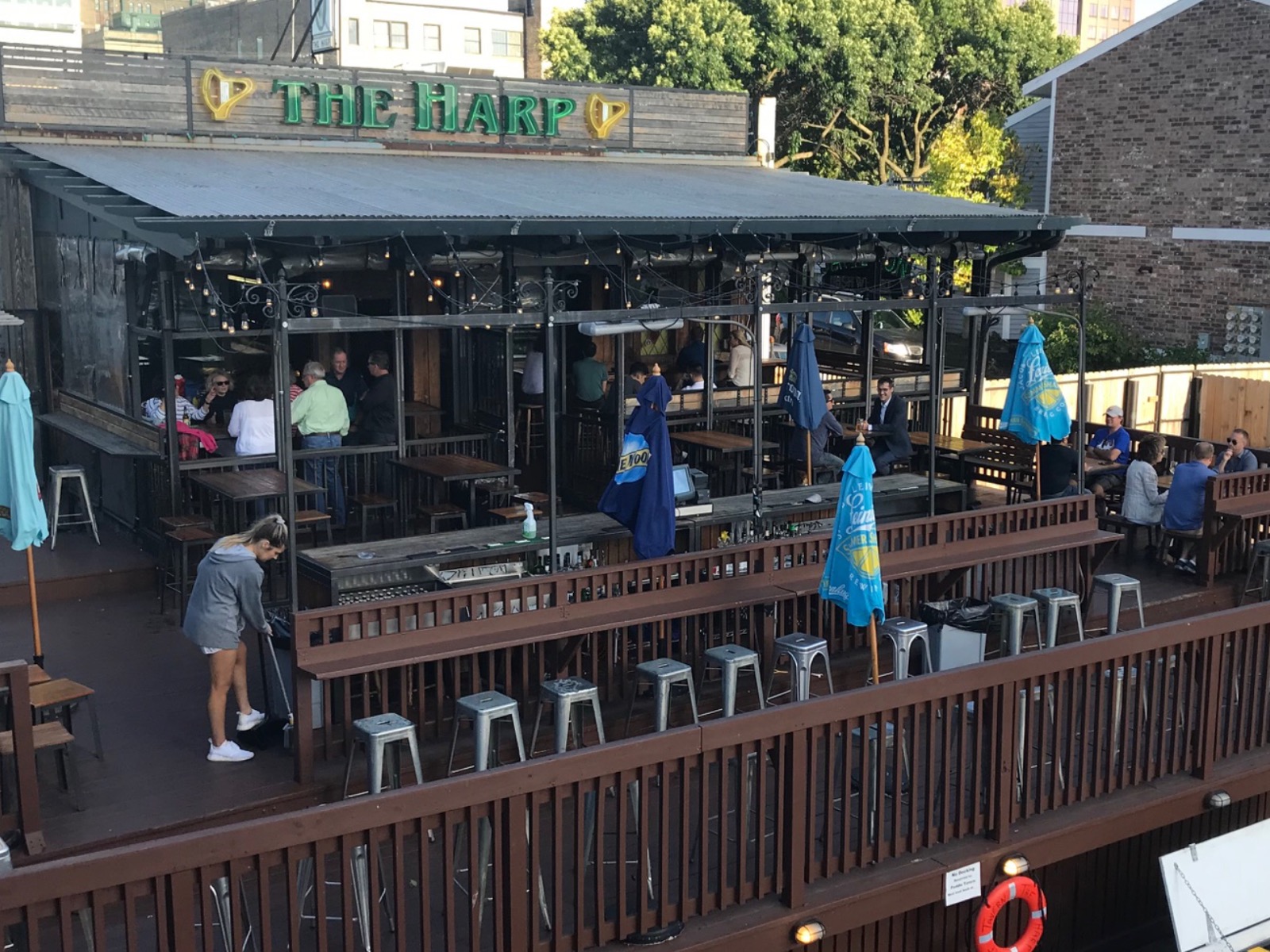 As much as it is a gigantic cliché to say that one has always had a passion for film, Matt Mueller has always had a passion for film. Whether it was bringing in the latest movie reviews for his first grade show-and-tell or writing film reviews for the St. Norbert College Times as a high school student, Matt is way too obsessed with movies for his own good.
When he's not writing about the latest blockbuster or talking much too glowingly about "Piranha 3D," Matt can probably be found watching literally any sport (minus cricket) or working at - get this - a local movie theater. Or watching a movie. Yeah, he's probably watching a movie.