Baby, it's cold outside. But there's warm holiday cheer brewing in Bay View thanks to John Dye, owner of Bryant's Cocktail Lounge, The Jazz Estate and At Random.
Even before the COVID-19 pandemic hit, Dye says he had grand plans to activate the yard behind At Random, 2501 S. Delaware Ave. But the March shutdown, which threatened the longevity of the mid-century modern bar, with its low-lit, cozy quarters. So he pivoted, and this summer, the beautiful, cheer-inducing Ice Cream Social was born.
But now, even as I write this article, Ice Cream Social, the mid-century modern ice cream garden is shedding its summer skin and trading it in for something a bit more cozy and festive, a destination called the Magic Forest.
"The Magic Forest is really modeled after the roadside attractions that would pop up here and there in the late 1940s and 1950s," says Dye. "We want it to be festive, and we want to give people a chance to celebrate the holidays in a safer way."
The transformation of the grounds has already begun, and will be evolving daily, with the Magic Forest debuting in its full glory on Nov. 25, just in time for the official launch of the holiday season.
What you can expect
Ultimately, the winter wonderland will feature seven vented heated greenhouse-style "Cocktail Huts", equipped with warm mood lighting, which can be reserved for small groups. Five of the greenhouses will seat four and two will accommodate parties of up to six. Greenhouses will be thoroughly disinfected with hospital grade sanitizer between each reservation.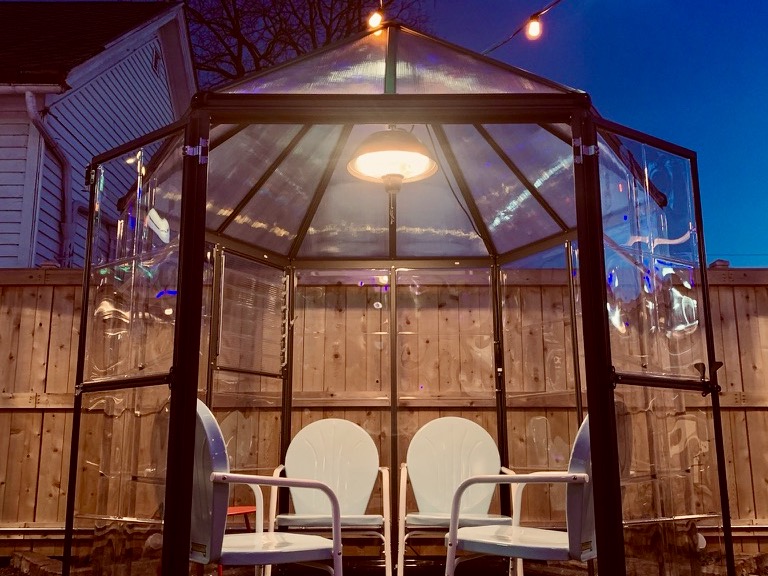 To add to the ambiance, the Cocktail Huts will be surrounded by live, decorated Christmas trees, string lights and a variety of festive features (including vintage holiday tunes) that will make it the perfect spot to celebrate the holidays safely.
Festive cocktails, including hot toddies, Irish coffee, spiked cider, hot buttered rum and Under the Volcano (hot chocolate with a shot of mezcal), will be available for order at the Magic Forest's service window; guests are asked to wear masks and maintain social distance of at least six feet while standing in line to order and while waiting for their cocktails.
Reservations for the greenhouses are currently available online with rental fees of $10-20 depending on the day and time of the reservation. Each reservation is 75 minutes long, allowing time for thorough cleaning between parties.
Remember: Be kind. Be safe. Wear your mask. Tip well. And dress for the weather (even a Cocktail Hut can't stop the wintery winds from blowing).
Beginning Nov. 25, the Magic Forest will be open Tuesday through Thursday from 5 to 10 p.m., Friday from 5 to 11 p.m.and Saturday from 3 to 11 p.m. and Sunday from 3 to 10 p.m. Cocktails will also be available for carry-out.
Lori Fredrich (Lo) is an eater, writer, wonderer, bon vivante, traveler, cook, gardener and girlwonder. Born and raised in the Milwaukee area, she has tried to leave many times, but seems to be drawn to this quirky city that smells of beer and alewives.
Some might say that she is a little obsessed with food. Lo would say she is A LOT obsessed with food. After all, she has been cooking, eating and enjoying food for decades and has no plans to retire anytime soon.
Lo's recipes and writing have been featured in a variety of publications including GO: Airtran Inflight Magazine, Cheese Connoisseur, Cooking Light, Edible Milwaukee, Milwaukee Magazine and the Milwaukee Journal Sentinel, as well as on the blog Go Bold with Butter, the web site Wisconsin Cheese Talk, and in the quarterly online magazine Grate. Pair. Share.