Explore the best Milwaukee has to offer with VISITMilwaukee and OnMilwaukee this summer by "Urban Exploring." We'll be sharing parks to hike, walls to climb, rivers to paddle, trails to bike and so much more. Be a tourist in your own town and experience it with us!
Mike Zimmerman opened The Rock Sports Complex in 2013 – a couple years after his Zimmerman Ventures had taken over the Crystal Ridge land formerly owned by Milwaukee County – because he wanted to give people a reason to come to Franklin, where he's proudly from and still happily lives.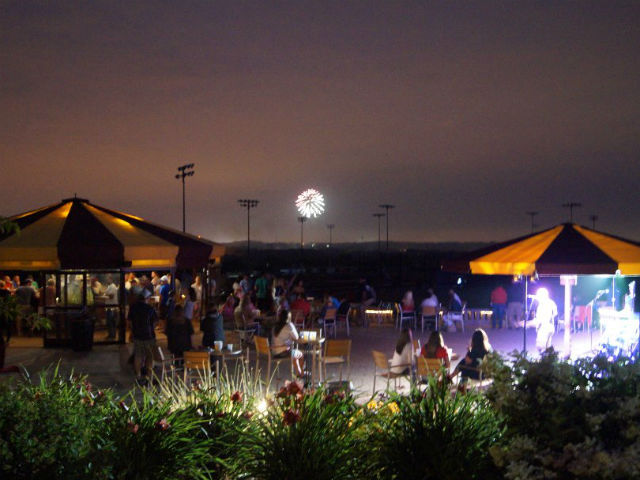 And despite some off-and-on issues with city officials since then, he's done exactly that, drawing local residents and visitors to the $10 million site with its Major League-replica baseball fields, ski hill, bike trail, regular concerts, annual events, October haunted maze and a bar. Specifically, an Umbrella Bar. Especially the Umbrella Bar.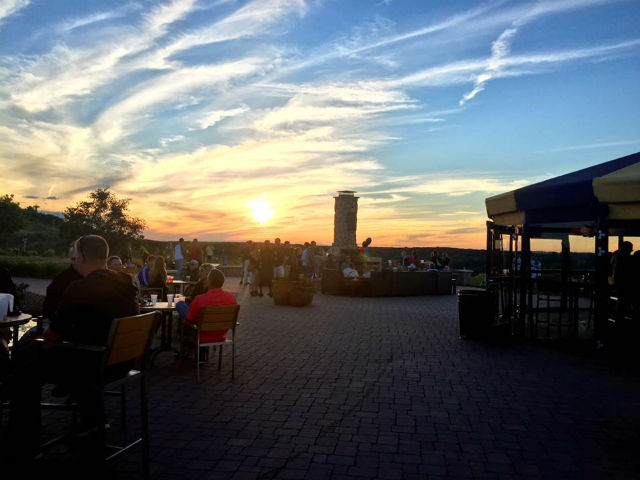 The first venue of its kind in the Midwest, the Umbrella Bar is an outdoor, quasi-sports bar – almost distant outfield bleachers in a ballpark, really – that features an open-air, tent-like structure with a 360-degree view of The Rock and plenty of activities and attractions for normal kids and "cool" (as in 21-plus) kids. It's open every day, all year long.
Besides the pinnacle Umbrella Bar's incredible views and abundant outdoor tables and seating, there's a double-sided stone fireplace with couches, serenity pond and waterfall, bag toss games and, on four Wednesdays this summer, a "Rock'n Food Truck Rally" with a variety of Milwaukee's best mobile eateries, plus live music, local artists and other entertainment. Two of the monthly Food Truck Rallies have already taken place – in June and July – but there are still a couple more to come, on Aug. 24 and Sept. 28.
Additionally, there's the Warrior Dash Obstacle Course this Saturday, a food event called "On Tapas The Rock" from Sept. 8-11, Sausage Fest from Sept. 23-24 and weekly live music.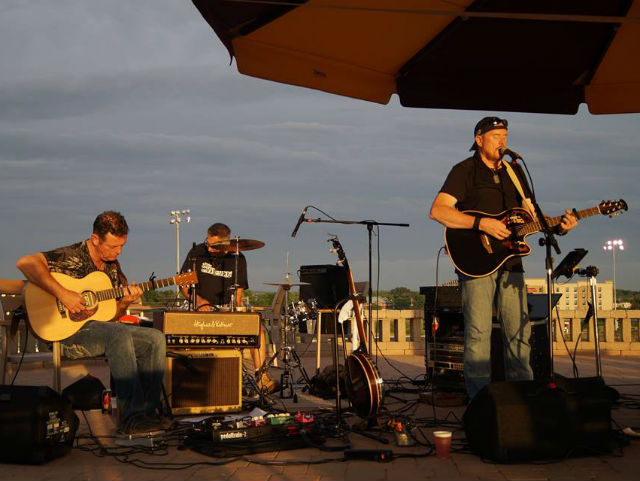 The centerpiece of The Rock's outdoor space is the Umbrella Bar – a transportable oasis essentially sitting in a landfill – with a full selection of booze, friendly and attractive bartenders and its large satellite ceiling offering a choice of shade or sunshine – and shelter from the elements.
That protection was much-needed for the summer's first Food Truck Rally, on June 22, when it was dreary, then drizzly and finally rainy. As I spoke with Zimmerman on the Umbrella Bar's edge, overlooking the six well-manicured baseball fields below, he talked about wanting to create something that didn't exist and giving it to his hometown.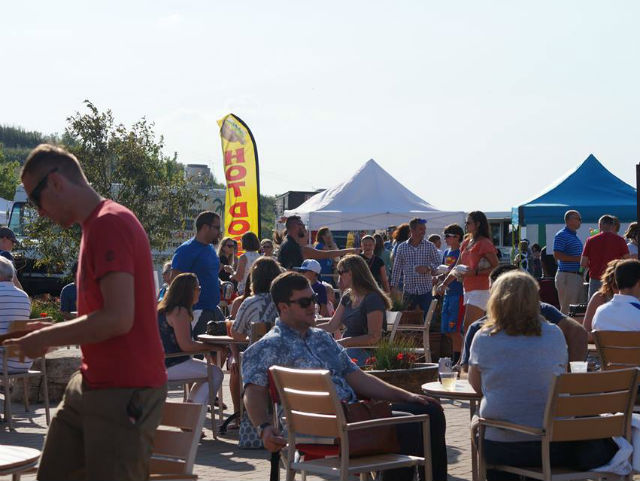 "Franklin doesn't have anything like this," said Zimmerman, wearing a zip-up pullover and sipping a beer, and he really could be talking about anywhere in the region.
Zimmerman, who traveled around and "made a lot of money" in health care industry consulting, has a complicated, interesting history with the city that he's tried – through successes and failures – to develop, both commercially and culturally, or at least recreationally. He talked earnestly, almost eagerly, about the importance of a lesser-known performance metric, "return on community," a newer investment concept on which Zappos and many healthcare companies are starting to focus. ROC emphasizes bringing in (or back, in Zimmerman's case) talent, scaling up and thinking big and new – making an investment in community to realize a return on investment.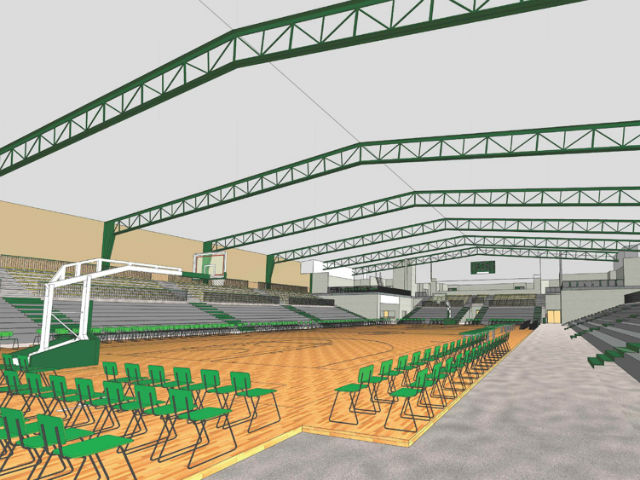 Looking around at the 200 or so people enjoying the Umbrella Bar on a rainy evening, Zimmerman suggested The Rock was accomplishing that – even if he still hopes to do, build and be municipally approved for more. "It's fulfilling," Zimmerman said. "That sounds a little Pollyanna, but it really does feel good."
As kids got their faces painted, people ate food-truck grub and the live band played to a damp crowd of a few dozen, I talked to one visitor who felt the return on community.
"It's great, it's awesome, it's up-and-coming," said Mike Steinke, a New Berlin resident who works at BMO Harris Bank in Franklin and was at the Umbrella Bar for a company event. A youth football coach whose friend was on the guitar in the band that was playing, Steinke liked the vibe of The Rock, the staff and the customers, and said, "It's a good thing for the area to have."
I went back again a month later to watch some baseball and have a drink, this time a refreshing Moscow Mule made excellently by a bartender named Megan. The Umbrella Bar also offers what it calls "the best Bloody Marys in Milwaukee," Long Island Iced Teas and margaritas as its signature cocktails, as well as an extensive beer list. And when the food trucks aren't there, DiMaggio's, the nearby pizza place, delivers stone-fired pies anywhere on the grounds of The Rock, 7900 Crystal Ridge Rd in Franklin.
The Umbrella Bar is open Monday through Friday, from 4 p.m. to close, and Saturday-Sunday, from 11 a.m. to close.
Born in Milwaukee but a product of Shorewood High School (go 'Hounds!) and Northwestern University (go 'Cats!), Jimmy never knew the schoolboy bliss of cheering for a winning football, basketball or baseball team. So he ditched being a fan in order to cover sports professionally - occasionally objectively, always passionately. He's lived in Chicago, New York and Dallas, but now resides again in his beloved Brew City and is an ardent attacker of the notorious Milwaukee Inferiority Complex.
After interning at print publications like Birds and Blooms (official motto: "America's #1 backyard birding and gardening magazine!"), Sports Illustrated (unofficial motto: "Subscribe and save up to 90% off the cover price!") and The Dallas Morning News (a newspaper!), Jimmy worked for web outlets like CBSSports.com, where he was a Packers beat reporter, and FOX Sports Wisconsin, where he managed digital content. He's a proponent and frequent user of em dashes, parenthetical asides, descriptive appositives and, really, anything that makes his sentences longer and more needlessly complex.
Jimmy appreciates references to late '90s Brewers and Bucks players and is the curator of the unofficial John Jaha Hall of Fame. He also enjoys running, biking and soccer, but isn't too annoying about them. He writes about sports - both mainstream and unconventional - and non-sports, including history, music, food, art and even golf (just kidding!), and welcomes reader suggestions for off-the-beaten-path story ideas.