For the past 18 months, journalist Mary Louise Schumacher and artist Kevin Miyazaki sat down with more than 100 Milwaukeeans to converse openly about the state of our democracy and the role of citizenship. These deeply-personal conversations were the building blocks for a new project, "This Is Milwaukee," that launched earlier this month.
"This Is Milwaukee" is a website as well as a free, 12-page print publication – much like a daily newspaper – featuring portraits of the 100 participants and excerpts from their interviews. 20,000 copies of the publication were printed and are available in many public locations, including three newspaper boxes featuring artwork by local artists David Najob Kasir, Zachary Ochoa and Aisha Valentin. For a full list of where to pick up a copy, click here.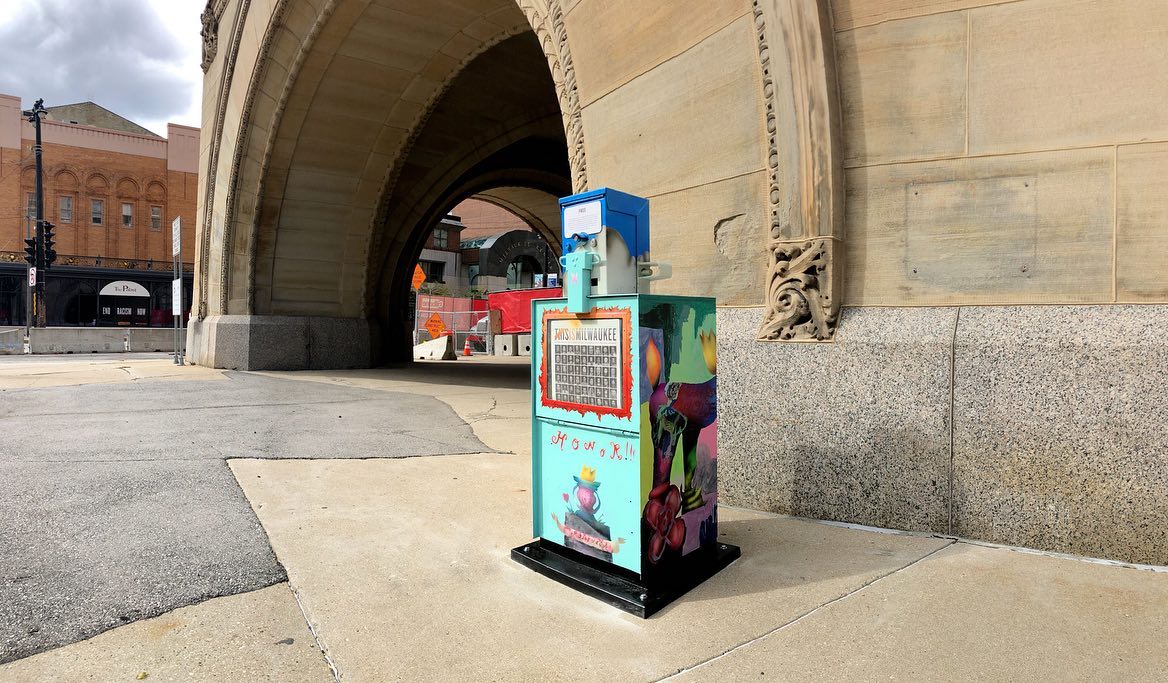 The online version of "This is Milwaukee" features audio interviews along with photos and written excerpts. The project is also on Facebook and Instagram.
The purpose of the project, which began in April of 2019, is to inspire people to reflect on what citizenship means to them, particularly in light of the pandemic and the upcoming presidential election.
To further explore "This Is Milwaukee," Adam Carr – along with several other subjects from the project – will facilitate two online gatherings called "This is Milwaukee Talking' on Oct. 19 and 26.
All of the subjects in the project contribute to the public life of the Milwaukee community and provide articulate responses that personally define democracy, citizenship and community.
"By being part of a community, our essence comes into reality, our essence comes into being," homeless advocate Sister McCannon Brown said during her interview.
Molly Snyder grew up on Milwaukee's East Side and today, she lives in the Walker's Point neighborhood with her partner and two sons.
As a full time senior writer, editorial manager and self-described experience junkie, Molly has written thousands of articles about Milwaukee (and a few about New Orleans, Detroit, Indianapolis, Boston and various vacation spots in Wisconsin) that range in subject from where to get the best cup of coffee to an in-depth profile on the survivors of the iconic Norman apartment building that burned down in the '90s.
She also once got a colonic just to report on it, but that's enough on that.
Always told she had a "radio voice," Molly found herself as a regular contributor on FM102, 97WMYX and 1130WISN with her childhood radio favorite, Gene Mueller.
Molly's poetry, essays and articles appeared in many publications including USA Today, The Writer, The Sun Magazine and more. She has a collection of poetry, "Topless," and is slowly writing a memoir.
In 2009, Molly won a Milwaukee Press Club Award. She served as the Narrator / writer-in-residence at the Pfister Hotel from 2013-2014. She is also a story slam-winning storyteller who has performed with The Moth, Ex Fabula and Risk!
When she's not writing, interviewing or mom-ing, Molly teaches tarot card classes, gardens, sits in bars drinking Miller products and dreams of being in a punk band again.