With a career spanning three decades, three-time Grammy-winning country music superstar Tim McGraw will bring his "Standing Room Only" tour to Milwaukee and take the stage at Fiserv Forum on Friday, April 19, 2024.
The "Standing Room Only" tour will visit over 30 cities beginning next March 14. Special guest Carly Pearce will open for McGraw.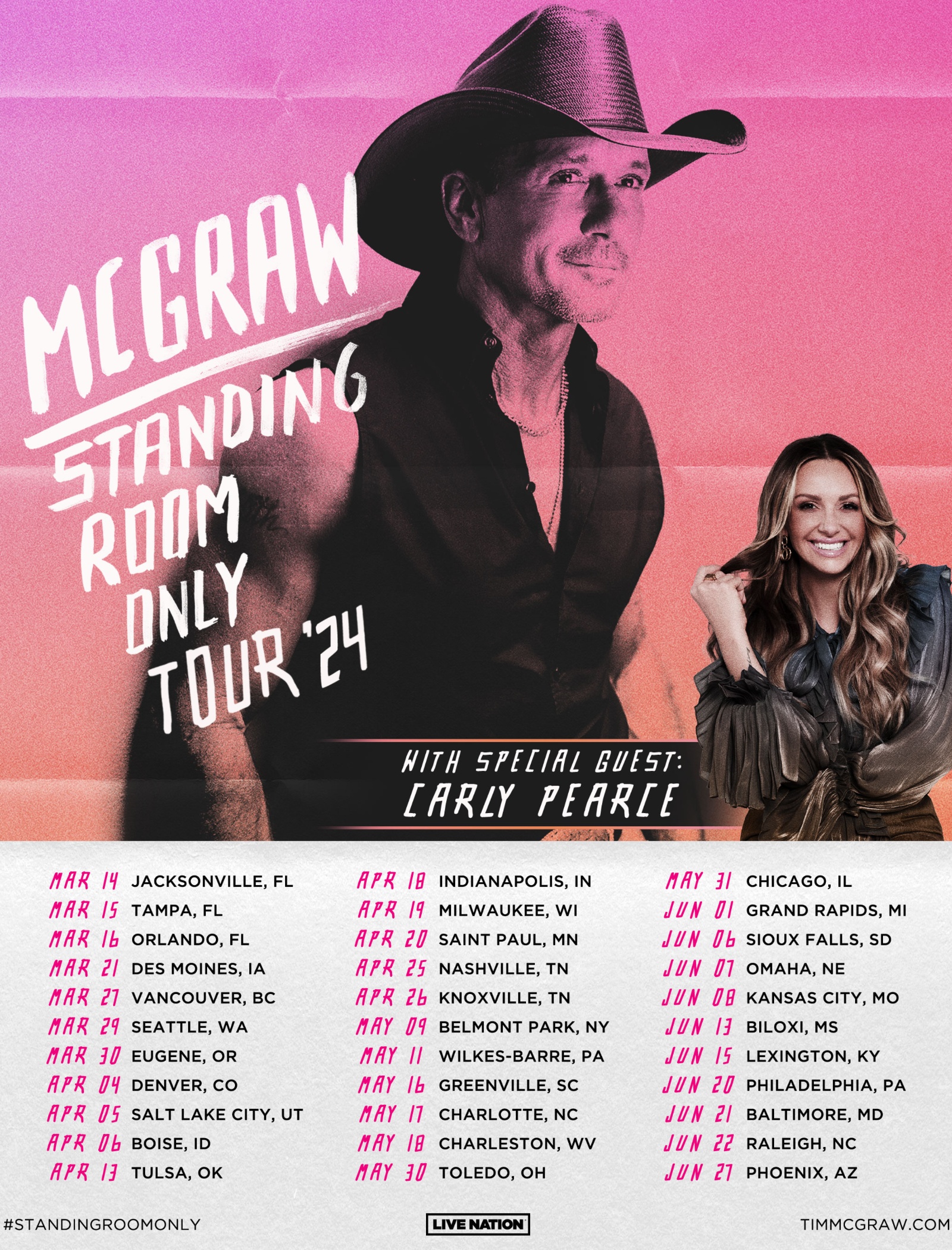 "I always want to deliver the best possible concert I can for fans," McGraw said, in a release. "We've got some really special plans to make this the biggest and the best tour we've ever done."
McGraw's Fiserv Forum visit expects to include the country star's biggest hits as well as songs from his 17th studio album, "Standing Room Only," coming out on Aug. 25.
McGraw is a country music powerhouse who has sold more than 90 million records worldwide and topped the charts with 46 worldwide No. 1 singles, 19 worldwide No. 1 albums, 68 top 10s and holds the Mediabase record for most weeks at No.1 with all titles, totaling 73 weeks. He also holds the record for second-most No. 1 albums in the U.S., behind George Strait.
Tickets and VIP packages for the Standing Room Only Tour go on sale Friday, Aug. 4 at 10 a.m. on Fiserv Forum's website. VIP packages will feature an exclusive gift item, a meet and greet with McGraw, and more.
For more concert updates and information, check out OnMilwaukee's monthly concert guide.
Courtney Bondar is an adventurous Multimedia Journalist at OnMilwaukee, covering all things Milwaukee. Born and raised in Greendale, WI, Courtney has a deep-rooted connection to her hometown and a strong desire to explore and showcase the vibrant city of Milwaukee.
You can often find Courtney all over Milwaukee, attending exciting events - documenting her experiences on her Instagram stories. Her genuine enthusiasm for her work shines through in her posts - as she strives to capture the beauty of the city and shares it with her followers.
Courtney's passion for writing is evident in her engaging and heartfelt articles. While she covers a wide range of topics, she particularly enjoys delving into the intricacies of dating culture and the art of mixology. Her insightful and thought-provoking pieces offer a unique perspective on these subjects, captivating readers with her authenticity and wit.
After dedicating herself as an intern at OnMilwaukee, Courtney's hard work and dedication paid off when she earned her well-deserved diploma. Now, as OnMilwaukee's first full-time multimedia journalist, she is fully committed to continuing her journey - bringing her distinctive voice and storytelling skills to the forefront.