Though the weather may not entirely feel like it, spring and summer are fast approaching – and so is one of the best parts of the sunny seasons, the return of the Traveling Beer Garden, which starts rolling through its 2021 schedule of destinations today.
The official full schedule announcement previously took place last month at Sprecher Brewing Company, complete with Milwaukee County Executive David Crowley and Parks Department executive director Guy Smith helping to announce the this year's landing spots for the rolling beer-mobiles.
Here's where you'll be able to find the rolling suds-slingers this summer as the Traveling Beer Garden hits the road:
Pass Me a Pint Tour
West Milwaukee Park: May 19-June 6
Doctors Park: June 9-27
Greenfield Park: June 30-July 18
Froemming Park: July 21-Aug. 8
Juneau Park: Aug. 11-Sept. 6
Roll Out the Barrel Tour
Juneau Park: May 12-31
Cooper Park: June 2-20
Grant Park: June 23-July 5
Lake Park: July 7-25
McCarty Park: July 28-Aug. 22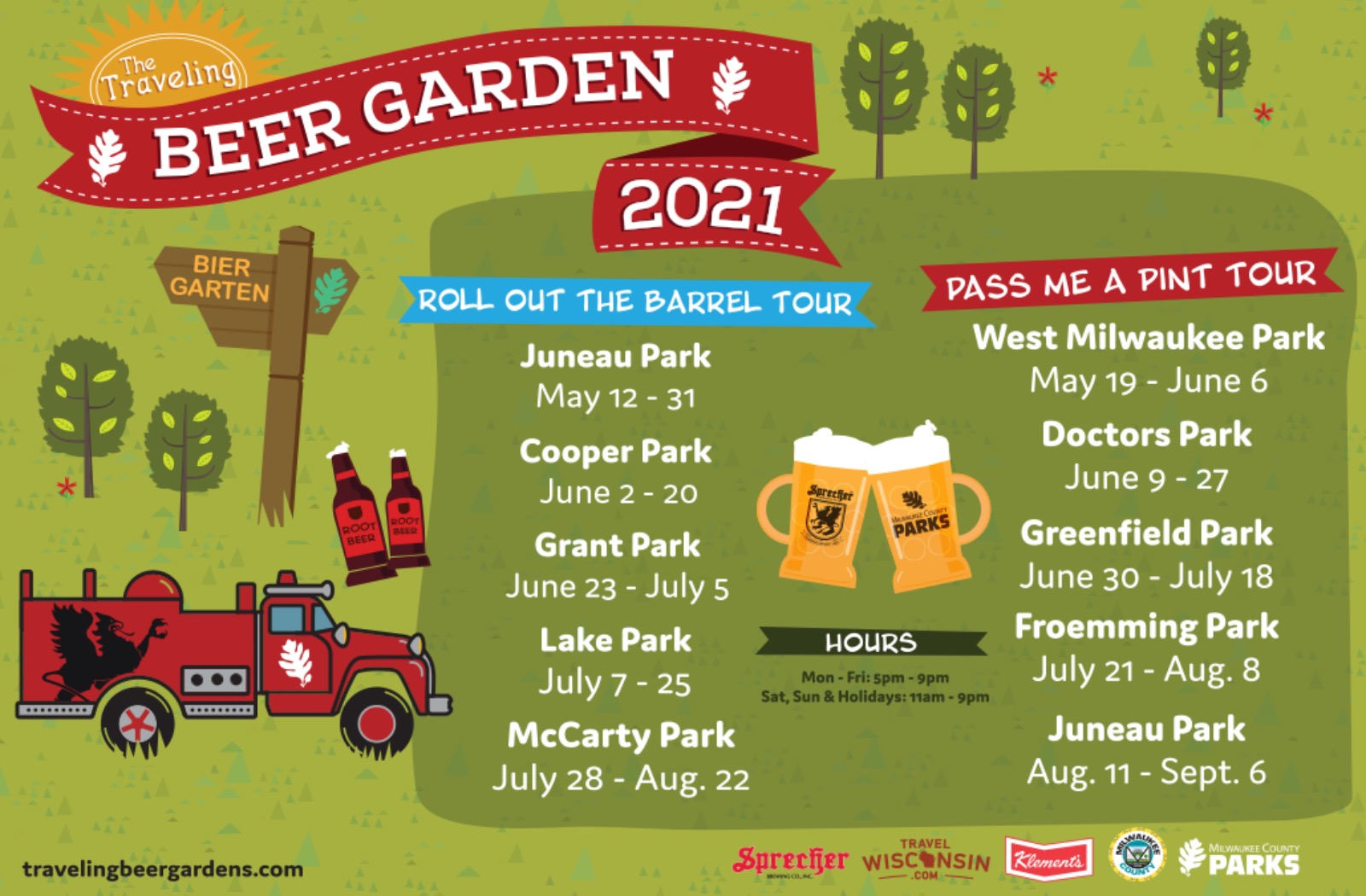 As with last year, the beer gardens will operate with several COVID precautions in place – including single-use cups (no refills with your glasses and steins from home for now), masks encouraged when not eating or drinking, and maintaining six feet apart from those outside your household.
The Traveling Beer Gardens will be open Mondays through Fridays from 5-9 p.m., as well as Saturdays, Sundays and holidays from 11 a.m. until 9 p.m. And for more delicious beer garden guidance, check out our guide to when the rest of the area's hops havens are opening for the season right here.
As much as it is a gigantic cliché to say that one has always had a passion for film, Matt Mueller has always had a passion for film. Whether it was bringing in the latest movie reviews for his first grade show-and-tell or writing film reviews for the St. Norbert College Times as a high school student, Matt is way too obsessed with movies for his own good.
When he's not writing about the latest blockbuster or talking much too glowingly about "Piranha 3D," Matt can probably be found watching literally any sport (minus cricket) or working at - get this - a local movie theater. Or watching a movie. Yeah, he's probably watching a movie.