When Mary Pellettieri moved her business, Top Note Tonics, into the Lincoln Warehouse, 2018 S. 1st St., last summer, she was pleased to learn there was a spirits business – Twisted Path Distillery – already in the building.
"It was a coincidence and one we were excited to hear," says Pellettieri.
Brian Sammons started Twisted Path at the end of 2014. The one-man operation makes certified organic spirits from scratch. Top Note Tonics are concocted with primarily organic herbs and spices and void of artificial colors or preservatives. Hence, the two similar-minded business owners saw the potential to collaborate.
"This has been a great opportunity to do some co-branding," says Pellettieri. "And it turns out we have things in common beyond the business – we both live in Bay View, about two blocks from each other."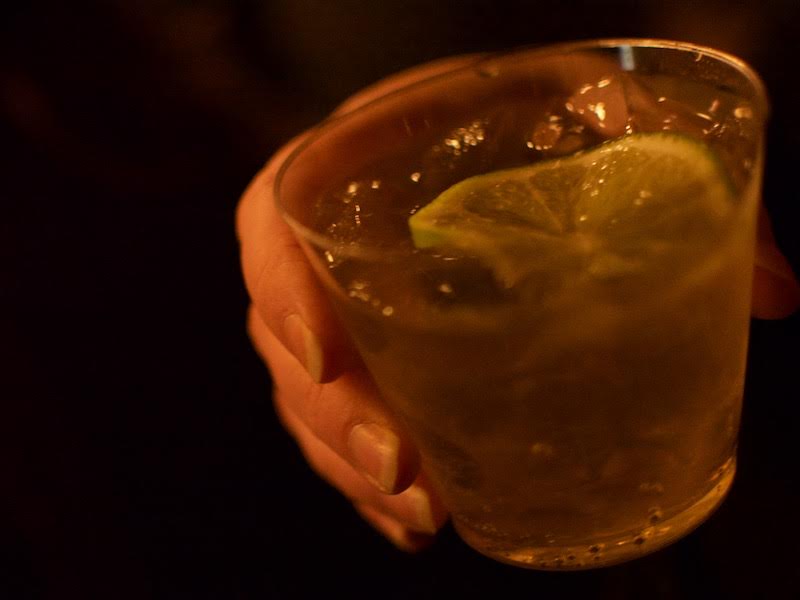 Bittercube, makers of high-end bitters used in craft cocktails, is also located in the massive warehouse.
On a recent Tuesday night, OnMilwaukee stopped by the Lincoln Warehouse for Twisted Path Distillery and Top Note's holiday party. Not surprisingly, the event included plenty of seasonal snacking and spirit sampling.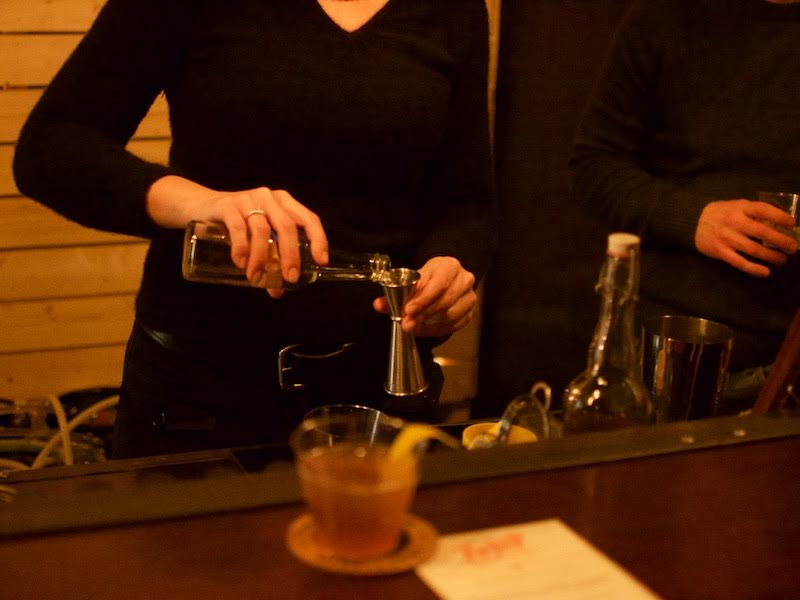 Edible Milwaukee columnist and mixologist Dy Godsey was behind the bar, serving her cocktail creations.
"This time of year, people like warm, red, spicy drinks," says Godsey. "Some people like sugar in their drinks and seasonal fruits like citrus and cranberries."
We sampled two of Godsey's creations and found them both to be flavorful and delightfully not too sweet. The Bay View Stormy was particularly tasty, with a complementary, non-competing taste of orange and ginger.
To make these drinks at home, pick up Twisted Path Distillery's spirits at Downer Liquor, Kensington Liquor, G. Groppi, Bert's, Discount Liquor, Ray's, Otto's, Sendik's in Brookfield and more. Top Note Tonics are available at Groppi's, the Balistreri-owned Sendik's, Beans & Barley, Outpost and Glorioso's.
Cheers, Milwaukee!
Bay View Stormy
1 ounce Twisted Path Aged Rum
.5 ounces Top Note Bitter Orange tonic syrup
2 drops Bittercube Trinity Bitters
Top with Top Note Ginger Beer
Orange twist
Cranberry Orange Brigade Punch
1 bottle Twisted Path gin or vodka
64 ounces organic cranberry juice (no sugar added)
.5 cup Top Note Ginger Beer Concentrate
.25 cup Top Note Bitter Lemon tonic syrup
1 cup Spiced Honey syrup
To make the spiced honey syrup, combine .5 cup each organic honey and water. Add three cinnamon sticks and the entire jar of Penzey's Mulling Spices. Heat until almost boiling, then turn heat to low and hold it there for 20 mins. Strain out the solids.

Molly Snyder started writing and publishing her work at the age 10, when her community newspaper printed her poem, "The Unicorn." Since then, she's expanded beyond the subject of mythical creatures and written in many different mediums but, nearest and dearest to her heart, thousands of articles for OnMilwaukee.

Molly is a regular contributor to FOX6 News and numerous radio stations as well as the co-host of "Dandelions: A Podcast For Women." She's received five Milwaukee Press Club Awards, served as the Pfister Narrator and is the Wisconsin State Fair's Celebrity Cream Puff Eating Champion of 2019.