Significant upgrades are in the works for the Italian Community Center at 631 E. Chicago St., an entity which has only seen minor renovations since opening in 1990.
The improvements are taking place beginning this month, thanks to capital investments from both the ICC itself and the Bartolotta Restaurant Group, which assumed responsibility for the management of all catering and restaurant operations at the Center in 2016.
Currently, remodeling plans are set to be completed in three phases. This year will see upgrades to the ICC's meeting rooms, ballroom and Festa Hall, with future improvements planned for Cafe La Scala and the adjoining courtyard.
"This is something that's long overdue," notes Joe Vella, former ICC president and current president of the conference center. "The relationship with the Bartolotta Restaurants is one I feel we should have entered into long ago. They bring quality and value to the organization on the whole, and this is a real step forward for us. The building has really been underutilized for so many years, but the facelift will really make us more competitive in the catering and event market. Our membership is really excited about the changes."
Joe Bartolotta, co-owner of the Bartolotta Restaurants, says that – like so many in the Italian community – his family has a long history at the ICC. His father, T.J., was a member and past president of Festa Italiana (the organization's major annual event). In fact, he says it takes little more than a walk down the ICC's photograph-studded hallways (some of which depict his father's family) to bring forth a lifetime of memories along with a glimpse into the history of the Italian community in the Third Ward.
"This is one of the last standing remnants of the Italian community here in the Third Ward," notes Joe Bartolotta. "The ICC could cash in, sell the property or any number of other things. Or we could reclaim our heritage. For me, I'd love to see the ICC flourish. There are still so many five and six-year-olds in this city who need to walk down these halls and see where they came from."
A glimpse at the improvements
Renovations, which are slated to begin today, will be done with the assistance of Amber MacCracken, designer at Kahler Slater. MacCracken also assisted the Bartolotta Restaurant Group with the design for Cafe Grace, ABV Social and Taqueria El Jefe at the Mayfair Collection.
Improvements have already been made to the conference center's catering kitchen, which is abuzz with activity during events.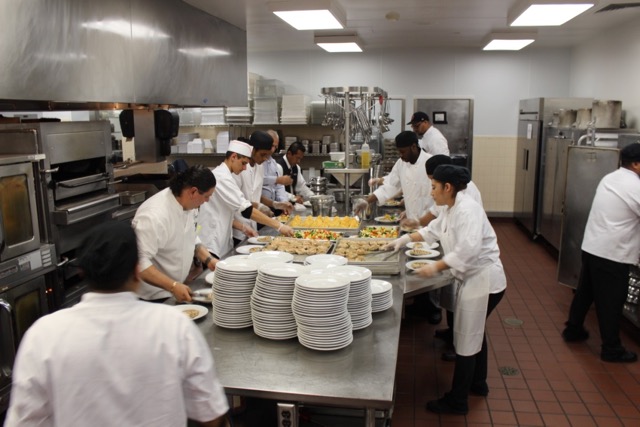 Up next will be public spaces, including the grand ballroom, Festa Hall, meeting rooms and restrooms. Improvements will include new paint (including removal of the current mauve color in the lobby), carpeting, furniture and lighting. Completion on phases one and two are expected by the end of 2017. A third phase will incorporate changes to the restaurant space and courtyard.
You can see some of the differences that will be implemented in the photographs and renderings below.
Current reception area outside grand ballroom: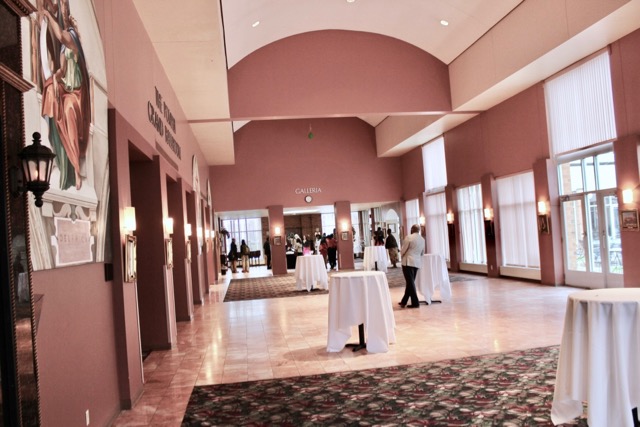 Rendering of redesigned reception space:
The goal, notes Bartolotta, is to create event spaces that are timeless and classic. But, it also has to be one that complements the sense of service they seek to provide for diners.
"In an era when margins are tight for the restaurant industry overall, a guest's experience is everything," he says. "So we want to create a space in which we can take care of our guests as well as we do in our restaurants."
Current view of Festa Hall: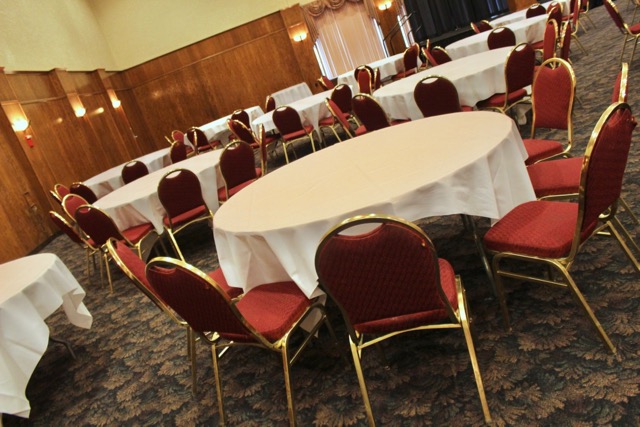 Rendering of renovated Festa Hall:
"The ICC is already a popular place for events. And we're fortunate to be able to offer a variety of amenities, including offering breakfasts and lunches, along with charity events and non-profit galas. And we have access to large capacity spaces and free onsite parking. So, the idea is to upgrade the space to really meet the needs of modern business and social events," he says.
Part of a bigger picture
Bartolotta says the upgrades are sure to enhance what Bartolotta's can offer in terms of hospitality. But, he notes that it's just a piece of what the ICC offers. On a day to day basis, the building hosts organizations and cultural programming, and the organization plans events, including their largest effort, Festa Italiana. All of these, he says, are vital for maintaining a sense of Milwaukee's Italian history.
Vella agrees.
"We want to be here for the long haul," he says. "Over the years, we've had opportunities to cash out or move, but you can't put a value on emotion; our roots are here, and this is where we belong. A lot of our older members lived here or grew up here. And through these renovations, we're really investing in our future."
In kind, Bartolotta points to the history of the Third Ward, which was once a mainstay for the Italian Community before urban redevelopment forced the area's Sicilian immigrants to relocate to other parts of the city, including the East Side.
"You have to wonder," Bartolotta muses, "had it not happened that way, maybe Milwaukee would have a Little Italy district today."


A brief history
Milwaukee's Italian community first settled in the Third Ward during the years following the fire of 1892, a disaster that would be remembered as the most destructive fire in the city's history.
Sicilian immigrants were attracted to the area for numerous reasons. Housing was affordable and there were a variety of jobs in area factories, tanneries and coal yards. There were also plenty of locations for entrepreneurs to set up shop, and many Italians established themselves in the fruit and vegetable trade, using hand-drawn pushcarts for deliveries. The area soon became known as "Little Italy."
The Ward was largely residential at the time, and the Italian community needed a church. So, Blessed Virgin of Pompeii, a 5,000 square foot church boasting frescoes, ornamental plaster work and life-sized statues of Christ and the saints, was established. Dedicated in 1905, the little pink church became the center of the Italian community. It also became the mother church for St. Rita's on Milwaukee's East Side, another stronghold for Sicilian immigrants.
However, in the 1950s, the Third Ward became a focus for the city's urban renewal plans. Despite resistance from residents, hundreds of homes were demolished. By the 1960s, plans for I-794 took the last of what remained. The little pink church was also razed, just a short time after being declared one of the city's first historic landmarks. Today, a small park called Pompeii Square marks the place where the church once stood. For many, it's one of the last reminders of the Italian legacy in the Ward. The other is the Italian Community Center.
The ICC was formed in 1978 by the Milwaukee Chapter of UNICO National, the Milwaukee Ladies of UNICO, and the Pompeii Men's Club, who met to discuss ways to reunite the local Italian community. During that year, they established Festa Italiana, which was held for the first time in August of 1978. They also established a small office on Brady Street.
By 1986, after moving operations to the former Kenwood Masonic Lodge at 2648 N. Hackett Ave., the ICC made a strategic move. They purchased the former "Coachyards property, an unwanted parcel of land comprising nearly 16 acres on edge of the Third Ward, a location just steps away from where so many ICC members' families had once lived and worked. And there on Chicago Street, they built a new 60,000 square foot facility which would become not only a center for Italian cultural edification, but also a catalyst in the rebirth of Milwaukee's Historic Third Ward.
References and additional reading include:
Italians in Milwaukee Oral History Project, UWM Library
"The Making of Milwaukee" by John Gurda
"Italian Milwaukee" by Martin Hintz
Lori Fredrich (Lo) is an eater, writer, wonderer, bon vivante, traveler, cook, gardener and girlwonder. Born and raised in the Milwaukee area, she has tried to leave many times, but seems to be drawn to this quirky city that smells of beer and alewives.
Some might say that she is a little obsessed with food. Lo would say she is A LOT obsessed with food. After all, she has been cooking, eating and enjoying food for decades and has no plans to retire anytime soon.
Lo's recipes and writing have been featured in a variety of publications including GO: Airtran Inflight Magazine, Cheese Connoisseur, Cooking Light, Edible Milwaukee, Milwaukee Magazine and the Milwaukee Journal Sentinel, as well as on the blog Go Bold with Butter, the web site Wisconsin Cheese Talk, and in the quarterly online magazine Grate. Pair. Share.