Beginning Saturday, Jan. 4, Urban Beets Cafe & Juicery will introduce a brand new plant-based brunch menu, which will be available on both Saturdays and Sundays from 9 a.m. to 4 p.m. at both the Downtown cafe, 1401 N. Dr. Martin Luther King Jr. Dr., and the Wauwatosa cafe, 3077 N. Mayfair Rd.
The new menu features something for everyone, from Urban Beets favorites to a variety of new dishes, each of which offers a healthful take on familiar, comforting staples.
"Everybody loves brunch, especially in Milwaukee," says Urban Beets co-owner Dawn Balistreri. "So we're excited to offer a new option for people looking for a healthful take."
On the menu
Guests who visit for brunch will find classic favorites like superseed oatmeal, avocado toast, carrot lox and a full menu of lunch fare from burgers to sandwiches and macaroni and cheese. But there is also a handful of brand new options.
Among them is a list of low-ABV, yet still brunch-worthy, cocktails including a bloody mary with all the trimmings (a pickle, celery, lemon and a mini veggie burger), mimosas, beermosas and cocktails like the hibiscus kiss with prosecco, hibiscus tea and grenadine (all priced $6-10).
New dishes include the UB Benedict featuring an English muffin topped with spinach, carrot lox, chickpea frittatas and hollandaise; served with breakfast potatoes ($9.95).
Diners looking for comfort food will find it in the biscuits and gravy which showcases housemade biscuits smothered in creamy Urban Beets sausage gravy; served with breakfast potatoes ($9.95). Pictured with the hibiscus kiss cocktail.
Equally as comforting is the vegetable pot pie chock full of broccoli, carrots, potatoes, onions and celery in gravy with a puff pastry crust ($7.95). It's pictured below with the Sake-tini.
"In France, they're getting really into sake these days, and they're calling it the nouveau sake movement," says Rebecca Dietmeyer, who also created many of the dishes on the Urban Beets menu, highlighting the new cocktail which is made with cucumber, lemon and simple syrup. "It's very fresh and light."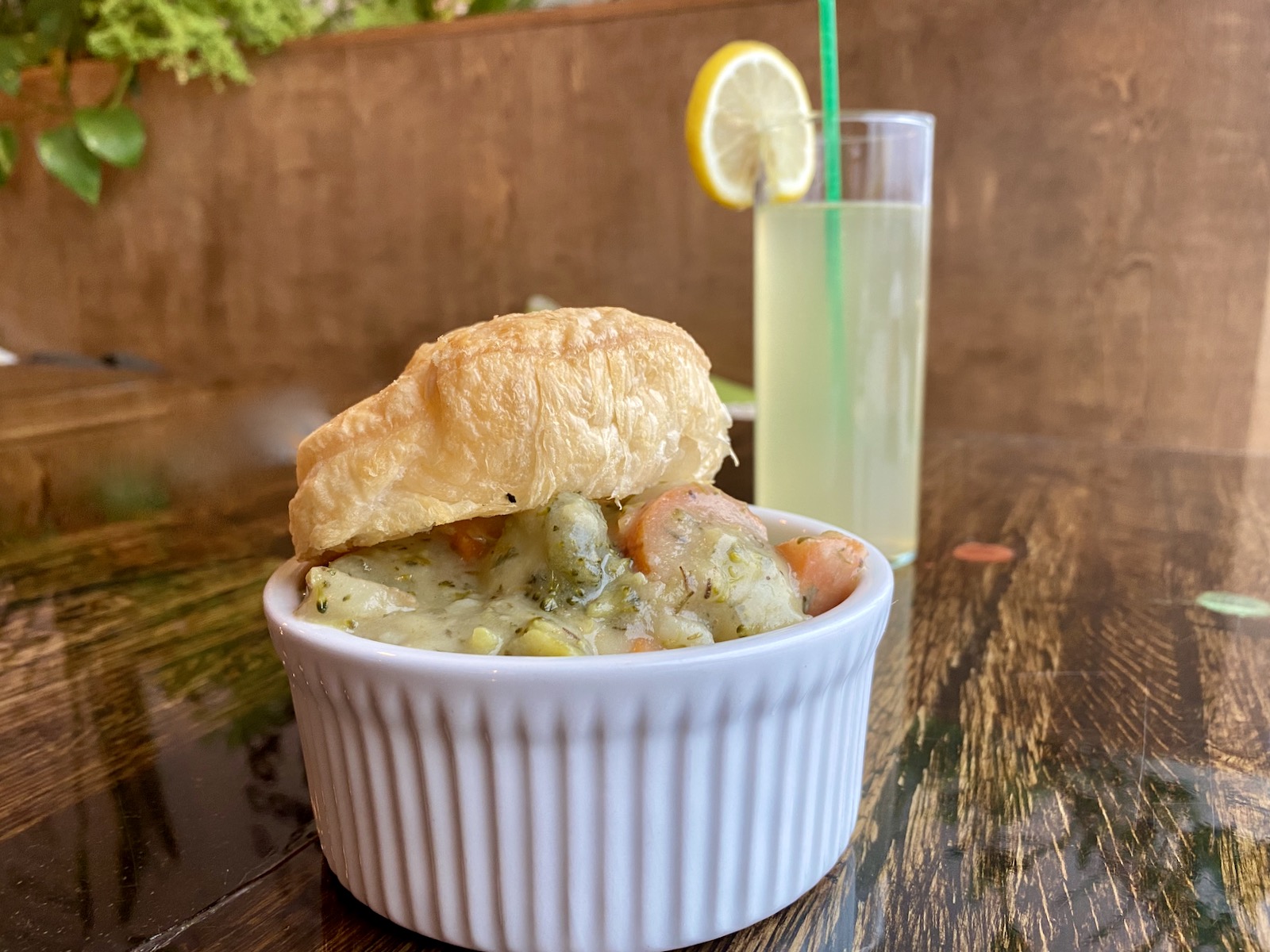 On the sweeter side, there's French toast casserole, which will feature a rotating selection of toppings. Pictured is an antioxidant-filled combination of aronia berries, acai and blueberries. Diners can also enjoy the dish with a side of maple syrup ($8.95).
Guests can also acquaint themselves with a brand new burger. The Hangover Burger features a chickpea frittata with lettuce, tomato, red onion, coconut bacon and pickles with ranch and nacho sauce; served with potatoes ($13.95).
Urban Beets is open Monday from 7 a.m. to 3 p.m., Tuesday through Friday from 7 a.m. to 9 p.m., Saturday from 9 a.m. to 9 p.m. and Sunday from 9 a.m. to 4 p.m.
Lori Fredrich (Lo) is an eater, writer, wonderer, bon vivante, traveler, cook, gardener and girlwonder. Born and raised in the Milwaukee area, she has tried to leave many times, but seems to be drawn to this quirky city that smells of beer and alewives.
Some might say that she is a little obsessed with food. Lo would say she is A LOT obsessed with food. After all, she has been cooking, eating and enjoying food for decades and has no plans to retire anytime soon.
Lo's recipes and writing have been featured in a variety of publications including GO: Airtran Inflight Magazine, Cheese Connoisseur, Cooking Light, Edible Milwaukee, Milwaukee Magazine and the Milwaukee Journal Sentinel, as well as on the blog Go Bold with Butter, the web site Wisconsin Cheese Talk, and in the quarterly online magazine Grate. Pair. Share.