Of course, because it closed in November, you can't go inside the former Vitucci's, 1832 E. North Ave., but if you peek through the glass door near the back on Cramer Street, you can see a display of posters advertising performances by local bands there in the second half of the 1980s.
This was my Vitucci's era.
The dark back room would be packed as bands played in the corner. Out front in the main bar, there'd be the spillover crowd, giving their ears a break, getting another beer, sliding the metal puck on the shuffleboard game.
It felt like we were there every weekend, though that might be an exaggeration of memory.
This period seemed to come from nowhere – none of us had spent time there before – and in a few years, a new crowd would make Vitucci's its own.
"Yeah, it seemed to change every few years," says Mike Vitucci, who might best be described as "Illinois Mike" Vitucci as a means of distinguishing him from his eponymous cousin, who has run many venues in town, including Uncle Buck, Izzy Hops, The Belmont Tavern, the now-closed Whiskey Bar and others.
"But, 85 years is a long time. Everything has to come to an end at some point. I'm really proud of the fact it made it 85 years in business. If you were to open a bar today, you would probably put together a seven-year business plan. And if you went seven years, you'd have had a pretty good run."
Rather than mourn the loss, Vitucci prefers to celebrate the fact that his family survived – and often thrived – in this building and in this business not for seven years, but for more than 12 times that long!
The building is currently up for sale and Vitucci says there has been some interest. It is also possible that the family will consider leasing it on a temporary basis to an operator – who would likely reopen it, for a bit, as Vitucci's – until the building is sold.
It would then be up to the next owner whether or not that lessee would stay on.
A bit of history
The story of Vitucci's has to start with Michele (Michael) Vitucci, born in Modugno, Italy, a town just outside the southern city of Bari, in 1870, who arrived in the United States from Santos, Brazil, in 1903 and became a citizen six years later.
The family had gone to Brazil in 1894, and during their time there, Vitucci managed a coffee plantation.
With Vitucci when he got here were his wife Rose (also born in Modugno), daughter Anna, born in 1893, his son Francesco (Frank), born in 1896, and daughter Filomena, born in 1898, and Giuseppe, born in 1901.
(PHOTO: Courtesy of the Vitucci family)
Settling on Jackson Street, and working first on the railroad and then as a street laborer and taking odd jobs, Vitucci soon became an important figure in the Italian Third Ward, where, according to one newspaper report, "he was dubbed the King of Little Italy by a Milwaukee judge (George Shaughnessy) for helping to bring peace to warring societies of the Black Hand in the early 1900s."
He also became active in Italian societies like San Rocco and Vespri Siciliani.
In 1908, Vitucci opened a tavern on Jackson Street, near Buffalo and it is there that young Frank started work young, serving customers in the restaurant.
When, in 1913, Michael Cesaro closed his currency exchange and real estate office on the northeast corner of Jefferson and Chicago Streets to return to Italy due to his wife's poor health, Vitucci moved his family and business there.
Two views of the Jefferson Street tavern, in 1913 (above) and 1930 (bel0w).
The name on the awning, Michael Cesaro, is that of the previous occupant.
(PHOTOS: Courtesy of Vitucci family, above, and Milwaukee Public Library, below)
By the late 1920s, Frank (pictured below right in 1920 in a family photo) was running the business, while his father had moved into real estate and operating a steamship agency and foreign currency exchange.
Michael had become such a revered figure in the Third Ward that when he and his daughters left on a return trip to Italy to see his mother in 1930 (which he'd also visited nine years earlier), the daily newspaper ran a large photo of Vitucci getting ready for departure.
When he returned two months later, the Sentinel wrote an article about it, with the headline, "Third Ward Goes Wild As Mike Vitucci Returns: Friends and Acquaintances Turn Out to Welcome 'King' of the Italian Colony, Back From Trip to Homeland."
"The Third Ward," wrote the paper, "rejoiced far into the night."
By the time Mike died at home – still on Jefferson Street – in 1938 at the age of 68 from complications of a lung infection, Frank had moved on to a place of his own ... the place that we know as Vitucci's.
Mike Vitucci and sons, 1913. (PHOTO: Courtesy of the Vitucci family)
The building we see today was designed by noted Milwaukee architects Ferry & Clas (they designed the Central Library and the Pabst Mansion, among many other works) and erected in 1893 as a saloon with an apartment above, for the Shevers family – brothers Richard and Matthew, who lived upstairs with their widowed mother and two sisters Charlotte and Sarah.
In 1908, perhaps because Matthew died that May, the tavern was taken over by Michael Lyons, who moved into the apartment and stayed through 1913. Richard Shevers took a job with the city water department inspecting hydrants and his sisters moved into a house next to their former tavern, a site now occupied by a building that was built as a funeral home and is now a church.
A couple other barkeepers came and went in the few years leading up to the arrival of Prohibition, including William Morrissey, then Herman Seefeldt and, finally, Polish immigrant Joseph Kotecki, who moved across the street in 1920 to run the Red Feather on what is now the Beans & Barley parking lot, making way for John Nelson's soft drinks parlor.
Nelson and his successor Ernest Soshinski, as well as bartender and would-be saloonkeeper Arthur Maci, would find themselves in more hot water than bubbly cola, however, since their "soft drinks parlor" was, like a great many during the dry years, a front for a moonshine business.
Frank (left) and Anna (front left) at Vitucci's. (PHOTO: Courtesy of the Vitucci family)
In July 1925, the Journal reported that the business faced padlocking by a judge, after "a series of a convictions for dry violations. ... The saloon has four convictions."
Assistant District Attorney George Skogmo and Sgt. Theodore Kolster ordered and were served whiskey one day and found that the saloon was operating without a license. The judge did indeed padlock the place for a year and also sent Nelson to the House of Correction and fined him $200.
It's unclear who operated the place when it finally reopened, although a George Johnson is listed as living in the apartment so perhaps it was him and his wife Frieda.
By 1930, local physician Dr. James Hackett owned then-vacant building, while Frank Vitucci had left a job as VP of Big Four wholesale produce on Commission Row in the Third Ward to run the tavern on Oakland and North that is now home to Baccanera.
In 1931, a small front corner space was leased for a barber shop and Thomas Fisher ran his Eat Shoppe in the main space. But Fisher's tenure was short and by the following year, his restaurant had given way to George Mueller's M&M Upholstering shop.
Three years later as Repeal arrived, Hackett converted the former upholstery shop back into a tavern and leased it to Joseph Schupinski briefly before taking on Frank Vitucci – who had been replaced on Oakland Avenue by Fred Bernhardt – as a tenant, alongside barber Theo Zaborski.
Vitucci opened his tavern downstairs – his wife Anna cooked Italian specialties in the kitchen – and installed his family upstairs. The Vituccis would ultimately raise 12 children in that apartment.
After calling it Frank's Tap for a few years, Vitucci renamed the place My Office – which appears to have no connection to the current My Office on Milwaukee Street – around 1940.
Eight years later, Anna apparently took a break (she had 12 kids for pete's sake) as the once-famed "Mrs. Bon" began serving her "delicious homemade spaghetti, chicken, etc. A real treat" at My Office, which she'd do for about a year.
Bon was born Concetta Saulig in 1899 in far northeastern Italy and came to America from Trieste in 1911. After she arrived in Milwaukee, likely in the early 1920s, Bon went to work for her sister, Anna Romano, for eight years, before opening her own place, The Italia, on Old World 3rd Street, between the Steinmeyer Building and Usinger's, where in addition to the expected spaghetti, Bon served risotto, veal Milanese, polenta and other less-common dishes in Milwaukee.
By the 1940s she was running the Latin Quarter on 7th and St. Paul, where she was among the earliest in town to serve pizza. Bon died in 1969 and it's unclear what became of her skills as a restaurateur after she departed My Office.
But Vitucci was determined to keep up with the times and in the 1940s he remodeled the entrance (seen above left in 1943) and some of the exterior and then, in 1955, he planned an addition that would take two years to complete. In the meantime, he sought a pizza maker for the restaurant.
When the back room was complete, Vitucci also updated the exterior, adding the mid-century modern details you see today.
That new facade wiped away evidence of the barber shop from the street, but inside, you can see where it was even today by looking at the terrazzo floor (pictured above right).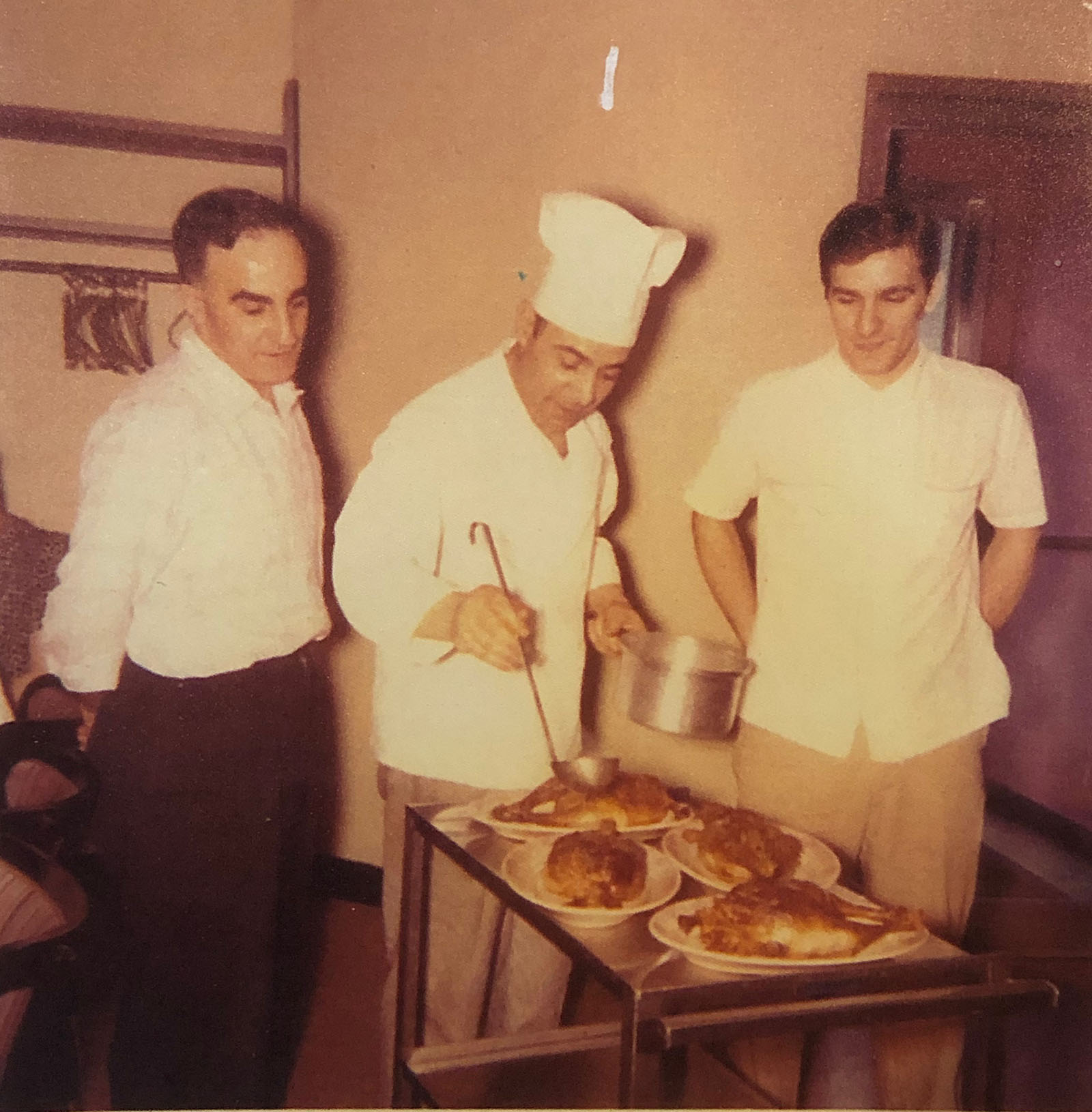 Two images of Chef Arturo (PHOTOS: Courtesy of the Vitucci family)
The addition finished – complete with a stone barbecue grill (pictured below) for cooking steaks (it was converted to a fireplace and survives) – the business was renamed Vitucci's Supper Club and soon the kitchen was helmed by Chef Arturo (sadly, no one remembers his surname).
In 1966, Frank suffered a heart attack while watching television at home and died at Columbia Hospital, where his wife Anna died eight months later.
"Illinois Mike" Vitucci says, "being an old Italian family, they didn't really have the correct will, so it went to probate and the restaurant closed for a while, like eight months until the four brothers kind of figured it all out."
And that they did, because by 1971, newspapers reported that Angelo, Frank, Myron and Michael were running the business together and, that year, introduced music in the back room.
"They hope Tony Curro's Entertainers sextet can pull some of the spillover from Frenchy's busy-busy Bulldog Pub," noted one newspaper report.
In the following decades, various configurations of family members – many of them, confusingly, bearing the same names, so I won't attempt to document that all here – ran the place, which, over time, morphed more into a bar with a bit of food than a full-on restaurant.
By 1987, lucky Milwaukeeans could allow me to assault their ears with my snare drum in the back room, as the New Community collective of local bands staged gigs there for a couple years.
In the years after, the Vitucci family would update various facets of the place and when the last family members vacated the apartment, they found outside tenants for it.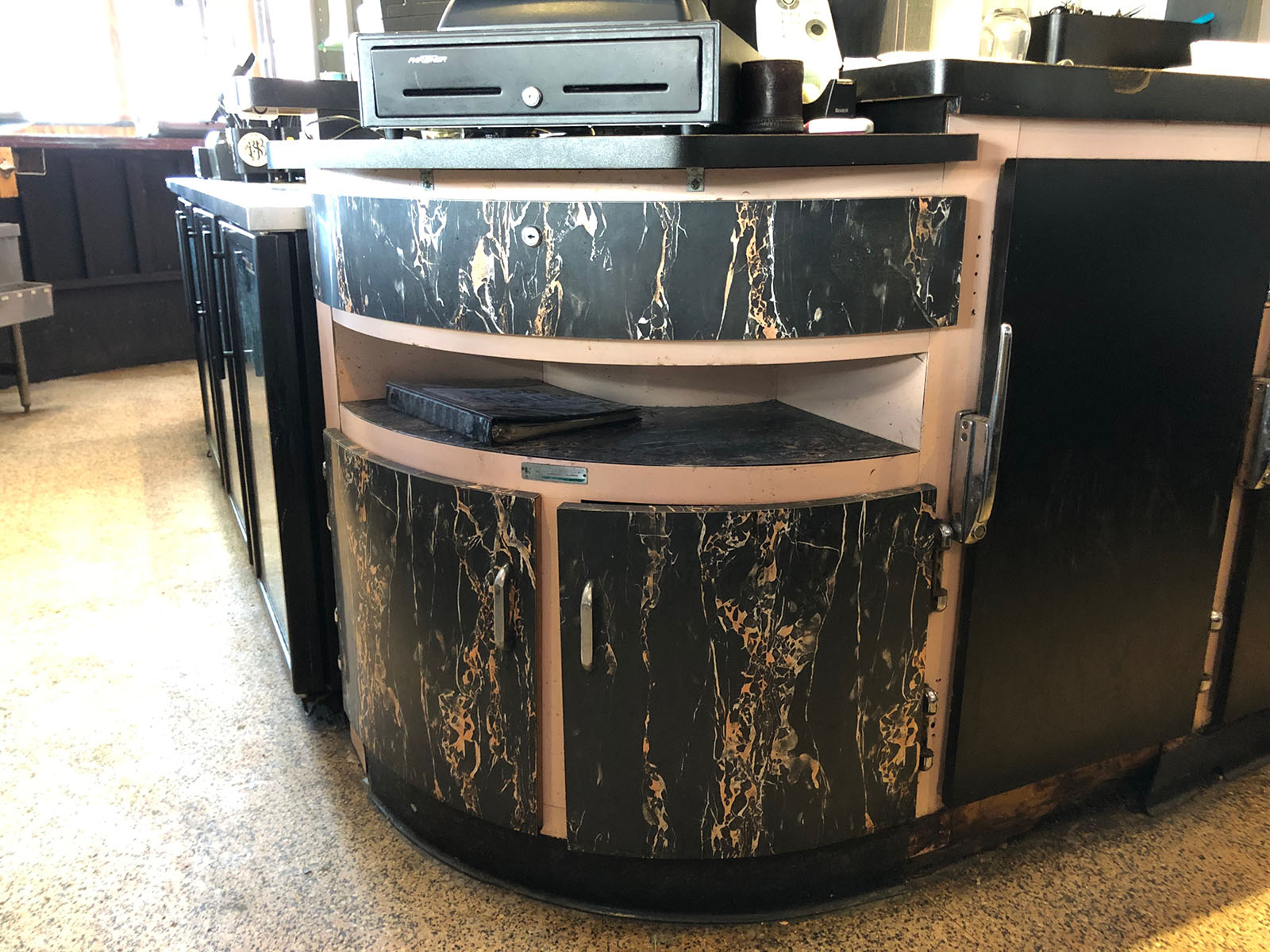 This bit of vintage back bar survived a 2012 remodel.
"In 2012 we did some remodeling," says Vitucci, "and we wanted to keep it looking the same, but also fix it. So we pushed the ceiling up 22 inches, we replaced all the HVAC and the building was going to collapse. Long story short, we spent a bunch of money, put in the patio."
Then, Mike, who had been helping to oversee the place from Illinois, where he was working for Rust-Oleum paint, cried uncle, and talked to his co-owners: his brother, Myron, his cousins Tony Vitucci and Angela Vitucci Bonfiglio.
"A little over two years ago, I went to them, and I just said, 'You know, it's just a struggle. We're doing all this. We're involved. We're all getting older, and why don't we just sell it?'"
One of the owners wanted to give his son a chance to see if the family could make a go of it one last time and everyone agreed. When, last November, after two years, even the son said he was done, the owners all agreed the time had come.
"The bar's like a terminally ill patient," Mike told his cousin's son. "You love it. You want it to get better. But it's inevitable."
He tells me, "We all do that. It's like when you buy a stock and it keeps on going down, and you keep on thinking it's going to come back up and you ride it all the way to the ground. But we kind of needed to get there, because when he walked away, we put it up for sale."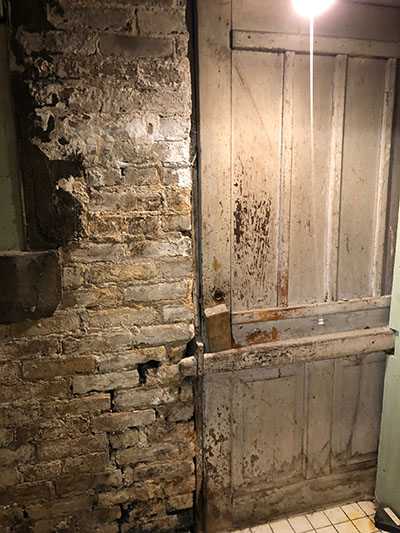 As we walk around, Illinois Mike shows me the old kitchen and some cool old basement details, including the 1893 door that was once used for deliveries but now leads nowhere. He shows me the concert posters and the old steak-grill-turned-fireplace, points out where the barber shop was and shares his memories of it from when he was a kid.
He asks me about my memories of the place and shows me some amazing old photographs of his parents, his aunts and uncles, his grandparents, his great-grandparents, most of them taken inside or in front of the building in which we're standing and I ask him if it's hard to sell. Doesn't he see his grandfather behind the bar every time he walks in?
"No business is going to stay, especially this kind of business, is going to stay that long," he says.
While some family members might worry that a new owner would come in and find success after they struggled in recent years, Illinois Mike Vitucci says he's not one of them.
"That actually would make me happy," he says. "I'm like more like, God bless 'em. If they can do it, I'd be happy. Good for them.
"We had a chance for 85 years to run it, and we did. There are very few (in this business) where it's the same family all the way through. It just doesn't happen, and it would never happen again.
I (think) the family would be proud."
Born in Brooklyn, N.Y., where he lived until he was 17, Bobby received his BA-Mass Communications from UWM in 1989 and has lived in Walker's Point, Bay View, Enderis Park, South Milwaukee and on the East Side.
He has published three non-fiction books in Italy – including one about an event in Milwaukee history, which was published in the U.S. in autumn 2010. Four more books, all about Milwaukee, have been published by The History Press.
With his most recent band, The Yell Leaders, Bobby released four LPs and had a songs featured in episodes of TV's "Party of Five" and "Dawson's Creek," and films in Japan, South America and the U.S. The Yell Leaders were named the best unsigned band in their region by VH-1 as part of its Rock Across America 1998 Tour. Most recently, the band contributed tracks to a UK vinyl/CD tribute to the Redskins and collaborated on a track with Italian novelist Enrico Remmert.
He's produced three installments of the "OMCD" series of local music compilations for OnMilwaukee.com and in 2007 produced a CD of Italian music and poetry.
In 2005, he was awarded the City of Asti's (Italy) Journalism Prize for his work focusing on that area. He has also won awards from the Milwaukee Press Club.
He can be heard weekly on 88Nine Radio Milwaukee talking about his "Urban Spelunking" series of stories.