Explore the best Milwaukee has to offer with VISITMilwaukee and OnMilwaukee this summer by "Urban Exploring." We'll be sharing parks to hike, walls to climb, rivers to paddle, trails to bike and so much more. Be a tourist in your own town and experience it with us!
Doctor's Park may not exactly be in my backyard (more like a few blocks away), but it's close enough that you would think I would be over there quite often. Sadly, as anyone who knows me is quite aware, I'm not the most outdoorsy person.
However, in the name of enjoying summer and taking advantage of the expansive county park a mere half-mile from my home, I decided to conduct an in-depth exploration of Doctor's Park so that all those who visit may enjoy it as much as I did. Or so that they can avoid the mistakes I made (wear bug spray!).
Here are 19 thoughts that went through my head while on my urban exploration:
1. Pulling into the parking lot. So far so good. Wait, where do I park? I don't want to have to walk far when I'm getting back to my car. That's the worst. Hold on, Laura; the point of this is to get outside and walk. Don't be lazy.
2. After multiple circles around the lot, the car is parked. That should not have been hard …
3. Oooh there's a cute little patio! What a great picnic spot. It's called the Doctor Joseph Schneider Memorial. Fancy. Maybe one day I'll be famous enough to have a picnic area named after me. One can only hope.
4. There's definitely way too many kids on the playground for it to be OK for me to join them. So exploring the trails it is!
5. Gonna be honest, this trail entrance looks kind of ominous. Too late to go back now. Onwards!
6. Dang, this is pretty. Am I even in suburban Milwaukee anymore? Or is this Maine? Maybe that creepy trail entrance was a teleportation machine.
7. I've made my first discovery! A large field at the bottom of the trail!
8. Gonna make the trek across the field and take a seat on the bench. I think all this walking deserves a quick break.
9. Found another path! I'm sure other people have discovered this before, but I'm pretty proud of myself. I feel like Lewis & Clark – though I'd rather be Clark because Lewis got shot in the leg by one of his own men. It's true; look it up.
10. Back to the path. Looks like it goes down to the beach! And these little steps look like they're straight out of a fairy tale.
11. And we're on the beach! I wanted to take more walks on the beach this summer, as cliched as that sounds, so glad I'm checking it off the bucket list. And, uh, wow, someone really worked hard on this tepee situation.
12. Wisconsin, you are beautiful. I mean seriously. Look at this! It would be so amazing to have a picnic here. Or a beach day. Or anything, honestly. I mean, this place is mere minutes from my house. Why am I not here every day? Why is everyone not here every day?
13. Maybe it's because there are bugs EVERYWHERE. I just got bitten by three mosquitoes in three different places, all at the same time. I'm swinging my arms around in a desperate attempt to get them off. I must look insane. The group of children on a beach playdate to my right are staring at me and laughing. Yup, I definitely look insane.
14. All right, might have to cut this beach walk short. The bugs are now photobombing my photos. Back to the path! Wait a minute, there's a little lookout area just above the beach. Maybe there are fewer bugs there!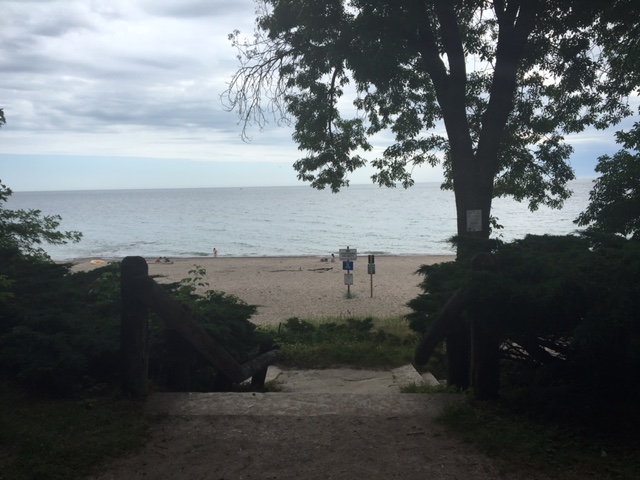 15. Nope, still a ton of bugs.
16. Oh no, I just stepped on a bumblebee. I'm contributing to their extinction! I think this is a sign to go back up the trail. RIP Mr. Bumble.
17. Oooh, a divergent path! And a little mini path. Wonder where that goes. In the words of Robert Frost, "Two roads diverged in a wood, and I – I took the one less traveled by." Hah, just kidding. Took the one that looked safer and had more people on it. Total wuss, what can I say?
18. My third discovery has been made: a mini garden to the right of this road. This park really is full of fun surprises.
19. Back at the parking lot – and somehow ended up as far away from my car as humanly possible. Of course. Three mosquito bites and one dead bee later, however, that was pretty awesome. I'm back home now, using a fork to scratch my mosquito bites seeing as I just painted my nails before my adventure and don't want to ruin them by scratching (told you I wasn't an outdoorsy type). But you know what; that was totally worth it.