Years ago, Nancy Rhodes – owner of the Viroqua Heritage Inn – hosted a psychic at her bed and breakfast. After spending time in the town and interacting with numerous residents, she declared Viroqua to be the psychic center of the Midwest.
The psychic's statement may or may not be true, but there is a magnetism to the town of 4,400 that has drawn hundreds of new residents in recent years – many from Milwaukee – as well as thousands of visitors every year.
"Guests visit Viroqua to experience the beauty of the lush hills and landscape, the silent sports, the abundant organic food, the vibrant downtown and the amazing people who choose to make Viroqua home," says Nora Roughen-Schmidt, executive director of the Viroqua Chamber Main Street.
Because Viroqua is only three hours west of Milwaukee, Viroqua – the county seat of Vernon County – is a possible destination for an affordable weekend getaway. We recently went for a visit and developed this list of local places and spaces to check out.
Also, don't forget to tune into local radio station WDRT 91.9 to really catch the Viroqua vibe.
Blackhawk Grille – From May through October, this small food cart serves up an impressive variety of unique, locally-sourced food items including hot dogs, bratwursts, hamburgers, tacos, breakfast items and more. There's a Mason jar salad, gluten-free buns and hot dogs topped with everything from bacon to mac 'n' cheese. Best of all, nothing's more than $4.
Bluedog Cycles – This lively bicycle shop is also a cafe featuring locally roasted coffee. Surprisingly, there is not another coffee shop in town – other than in the co-op – so Bluedog is ideal for a cup to go. (There's a small lounging area, too.)
Dave's Pizza – Three years ago, Dave and Carrie Goss opened Dave's Pizza, which offers a daily lunch and dinner pizza-and-wing buffet / salad bar. Pizzas and appetizers are also available for dining in or carrying out. Plus, there's a variety of candy, snacks and ice cream available. Recently, the couple opened a pub that's connected to the pizzeria.
"This town needed pizza, and we were happy to be the ones to provide it," says Goss.
Driftless Books and Music – Eddy Nix has owned this business for 10 years and five years ago he moved into a former tobacco warehouse which today serves as a mixed-use space for the book shop as well as other local start-ups.
"You can still smell the tobacco," he says. "And it smells really good."
Driftless Books has a massive stock of about half a million books as well as hoards of post cards, playbills, records, sheet music and more. The shop is packed but orderly and artistically arranged.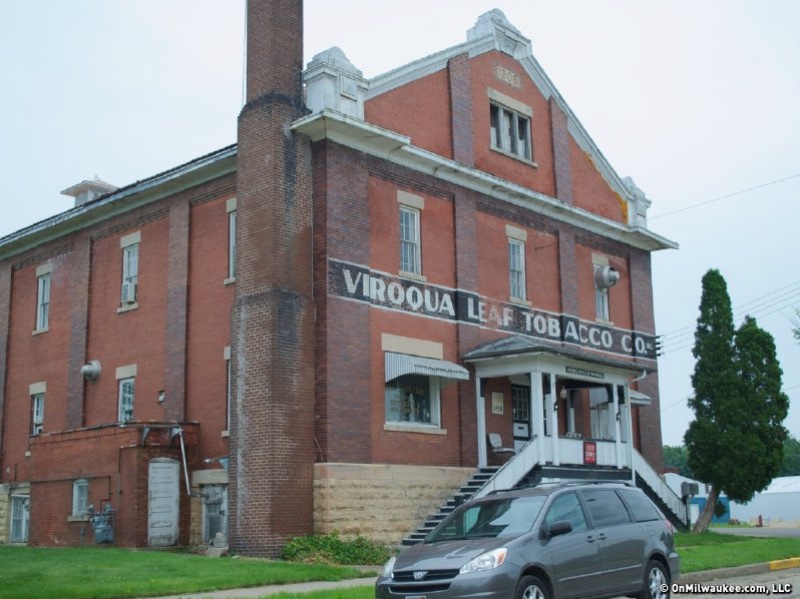 Driftless Cafe – This cozy, sunny cafe serves breakfasts, lunches and dinners made from mostly local and seasonal ingredients. The menu is small but solid – primarily soups, sandwiches, paninis, salads, entrees and a variety of predominately local beers and wines. Daily specials are chalked on a blackboard and the prices are very reasonable.
The 219 Drinkery – Every Friday night, The Rooted Spoon restaurant / catering service transforms into "The 219 Drinkery" and offers handcrafted cocktails and ping-pong. If you're lucky, a ping pong ball will land in your seasonal, attractive drink.
The great outdoors – During our visit, someone mentioned that no matter what direction you drive away from the town of Viroqua, you're surrounded by natural beauty. It's true. Just driving around the terrain is a treat because Viroqua – like much of western Wisconsin – wasn't rolled over by the glaciers so it has an abundance of ridges, hills, valleys and sandstone bluffs.
There's also green space galore – Vernon County has the highest percentage of organic farms anywhere in the country.
The Kickapoo Valley Reserve features 25 miles of paved roads that offer more than 100 miles of bike touring and 19 miles of mountain bike trails.
Because of it's a great spot for trout fishing, Viroqua has been dubbed the "Montana of the Midwest." It is also a popular place for walleye, bass, fly and ice fishing. Canoeing, cross country skiing and horseback riding are also popular Driftless area pastimes.
Viroqua Farmer's Market – Every Saturday morning from 8 a.m. until noon – through Oct. 25, 2014 – more than 50 farmers and vendors from across the countryside sell their fruits, vegetables, cheeses and nuts. Also, several local Amish families hawk their handmade items. This season, it is located behind the Temple Theatre on the corner of Rock Avenue and Jefferson Street.
Viroqua Food Co-op – The co-op is quite possibly the heart of the town. Since 2009, it has been in its present space which incorporates many green building techniques and has the look and feel of Madison's Willy Street Co-op. The co-op is also extremely supportive of local food, products and crafts. Stop in for a bag of Kickapoo coffee beans – a delicious and practical souvenir for visitors. Local products Del Sol chocolates and LuSa Organics are also available.
Viroqua Heritage Inn – This aforementioned bed and breakfast is an English Tudor named The Eckhart House. Built in the 1890s, it's located a block from Downtown Viroqua.
The property is clean, artistic and decorated with many furnishings from the 1890s along with lots of thriving plants. Best of all, breakfast is served at any time.
"I want people to feel like they are at home. People get up and eat at their hour, not mine. I am taking their happiness in my hands for a time and I take that very seriously," says owner Nancy Rhodes, who has hosted more than 12,000 guests from all over the world, including India, England, Norway, Germany and Switzerland.
Ask for the room with the vintage box collection.

Molly Snyder started writing and publishing her work at the age 10, when her community newspaper printed her poem, "The Unicorn." Since then, she's expanded beyond the subject of mythical creatures and written in many different mediums but, nearest and dearest to her heart, thousands of articles for OnMilwaukee.

Molly is a regular contributor to FOX6 News and numerous radio stations as well as the co-host of "Dandelions: A Podcast For Women." She's received five Milwaukee Press Club Awards, served as the Pfister Narrator and is the Wisconsin State Fair's Celebrity Cream Puff Eating Champion of 2019.