Like most minor-league professional sports teams, the Milwaukee Wave work exhaustively to promote their team and draw fans, offering everything from postgame player autograph sessions to creative game themes like '90s Night, Soccer Mom/Dad Takeover and Balls to the Walls NYE Bash.
But nothing brings the good publicity and national attention of an on-field highlight appearing on the "SportsCenter" Top 10.
That's exactly what happened Sunday night, when ESPN featured Wave defender Tenzin Rampa's bicycle-kick clearance off the goal line in Milwaukee's 5-3 victory over the St. Louis Ambush at the UW-Milwaukee Panther Arena.
Rampa, a 30-year-old midfielder from Madison who's been with the team for seven seasons, earned the No. 1 spot on the popular countdown with his acrobatic defensive play, which came late in the fourth quarter with the Wave leading by just one goal.
"I watch 'SportsCenter' every day," Rampa said in a press release. "Having the No. 1 play on Top 10 is a dream come true. I am grateful to the Milwaukee Wave team and all of our awesome fans."
Rampa took to Twitter on Sunday night to express his unfiltered elation.
Just had the #1 play on sportscenter's top 10!!! What!!??!! This is awesome lol @SportsCenter @SportsNation @NBCSportsSoccer @MKESportsEnt1 — Tenzin Rampa (@Tenzin_Rampa) January 11, 2016
Added head coach Giuliano Oliviero, "I think it was a great play at a very crucial point in the game and a well-deserved honor for Tenzin."
The Wave, who are 9-5 this season in the Major Area Soccer League, billed the Saturday game against the Ambush as Star Wars night. The team also donated 5 percent of ticket sales to the Make-A-Wish Foundation of Wisconsin, with its owners matching at 100 percent.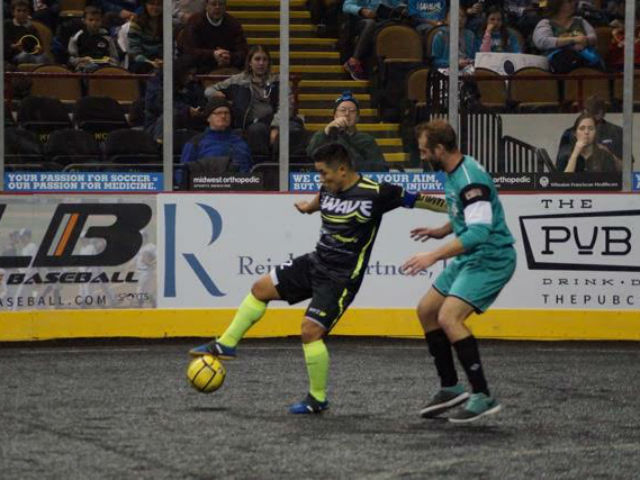 To celebrate Rampa's big play and capitalize on the excitement, the Wave announced that MOSH zone tickets (regularly priced at $21.50) to their next home game, on Jan. 30 against the Cedar Rapids Rampage, would be sold for just $10. The discount, courtesy of Midwest Orthopedic Specialty Hospital, is only available through Jan. 12 for the Mardi Gras-themed game. Visit milwaukeewave.com and enter SCTOP10 for the deal.
Born in Milwaukee but a product of Shorewood High School (go 'Hounds!) and Northwestern University (go 'Cats!), Jimmy never knew the schoolboy bliss of cheering for a winning football, basketball or baseball team. So he ditched being a fan in order to cover sports professionally - occasionally objectively, always passionately. He's lived in Chicago, New York and Dallas, but now resides again in his beloved Brew City and is an ardent attacker of the notorious Milwaukee Inferiority Complex.
After interning at print publications like Birds and Blooms (official motto: "America's #1 backyard birding and gardening magazine!"), Sports Illustrated (unofficial motto: "Subscribe and save up to 90% off the cover price!") and The Dallas Morning News (a newspaper!), Jimmy worked for web outlets like CBSSports.com, where he was a Packers beat reporter, and FOX Sports Wisconsin, where he managed digital content. He's a proponent and frequent user of em dashes, parenthetical asides, descriptive appositives and, really, anything that makes his sentences longer and more needlessly complex.
Jimmy appreciates references to late '90s Brewers and Bucks players and is the curator of the unofficial John Jaha Hall of Fame. He also enjoys running, biking and soccer, but isn't too annoying about them. He writes about sports - both mainstream and unconventional - and non-sports, including history, music, food, art and even golf (just kidding!), and welcomes reader suggestions for off-the-beaten-path story ideas.