For the first 19 years of my life, I lived in Hales Corners, a small village about 20 minutes southwest of downtown Milwaukee. And yet after almost two decades spent in that town, I never visited one of its most famous landmarks: The W. Ben Hunt Cabin, located right next to the Hales Corners Library at 5885 S. 116th St.
I certainly remembered driving past it and hearing about it. The old log cabin was a very popular locale for the Boy Scouts in the area, but unfortunately, we never dropped by during my one year in Cub Scouts (actually, we may have; I was just an exceptionally unmotivated young scout, like the polar opposite of the kid from "Up").
So after years of merely passing it by, I figured it was finally time to check out this historical local landmark. As it turns out, the Ben Hunt Cabin is much more than simply an old rustic locale. It's a lived-in museum to an era long gone, as well as a tribute to an incredible man who predicted the future, turned his hobby into history and did his best to keep some of our nation's earliest traditions from disappearing and merely collecting dust in the past.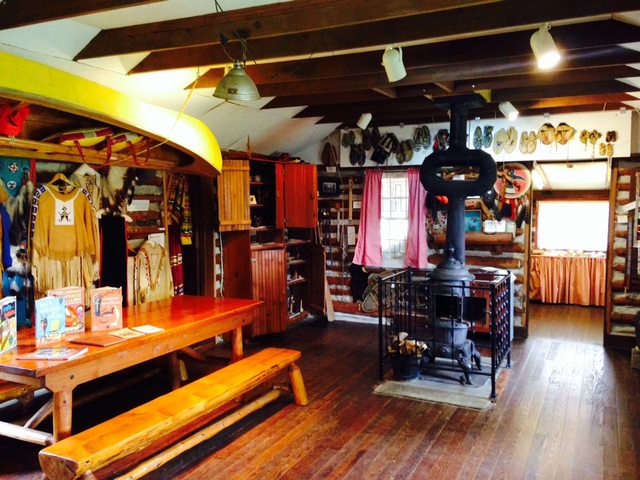 Though his cabin now rests in Hales Corners, Walter Bernard Hunt was actually born in neighboring Greenfield on March 13, 1888. According to Celine Kashishian, a member of the Hales Corners Historical Society recently placed in charge of guides for the cabin, Ben Hunt's fascination with old pioneer and Native American traditions started at a young age.
"When he was a young boy, the Wild West show came to this Franklin area, and he got permission to see the show and to be home by supper time," Kashishian said. "He saw the Indians getting ready for their part in the show and overheard them saying that they were hungry, so he showed them where there were rabbits in the area. He was in awe of how they caught the rabbits with their bare hands, but they were so grateful to him that he showed them where to get food that they invited him to the show free of charge. He didn't get home in time for supper that night."
Ben Hunt would eventually grow up to become a lithographer professionally, but he never lost his interest for the old pioneer and Indian ways of life. Fueled by merely his own personal fascination, in 1924 – past the days when pioneer traditions were in vogue – he began to build his own log cabin all by hand next to his home on Janesville Road. According to Kashishian, he got some from his father-in-law and brother, as well as the milkman, who dropped off tamarack logs for construction.
"He really didn't know how to begin," Kashishian said. "He had a mason do the (stone) fireplace. In fact, he thought that the fireplace should be built first, and he decided after he was done that that was not a very good plan. He did leave the bar on the tamarack logs as well, which he also realized was not a very good plan for insects."
Even with those early faux pas, however, Ben Hunt eventually completed the main room of the cabin, using it as a "rustic retreat in his background" according to Kashishian. Over the years, he would add two additions – a waterless kitchen and an office – with utility poles.
In his new completed cabin, Ben Hunt would go to work in his free time, gathering up and making old pioneer and Native American tools, trinkets and art pieces – whether that meant whittling, forging, carving or some other handiwork – as well as educating the locals about the natural traditions of yore. If one was in his group of friends, Kashishian noted, he would hold gatherings at the cabin to teach these old skills. Beyond that, he made whittling kits to sell in addition to writing on the topics, scribing over 1,000 articles for Boys' Life Magazine and publishing over 20 books – often with pen names like Lone Eagle and Whittlin' Jim.
"He really felt that young people should be using their leisure time productively, and he felt that the pioneer crafts shouldn't really be lost," Kashishian said. "We didn't need them for survival anymore, but young people could still benefit."
Sadly, Ben Hunt passed away in Hales Corners on March 30, 1970 at the age of 82. After his death, the owners of the Hunt property – including the cabin, which still stood in the backyard – used the log structure for selling arts, crafts, pottery and quilts. According to Kashishian, however, having a public space tucked away on private property wasn't the best idea. As a result, the new homeowners sold the house and donated the W. Ben Hunt Cabin to the Historical Society, who proceeded to move the cabin ever so carefully to its current location in 1986.
"It was moved over on a flatbed truck – very slowly – down Janesville Road," Kashishian noted. "We detached the two extra rooms, moved it on the flatbed and then reattached them, and everything transported in perfect condition."
Ever since then, the W. Ben Hunt Cabin has served as a sort of museum, not only to the man in the name but to the traditional arts and crafts that he spent much of his life promoting and celebrating. Walking through the cabin now, the space is almost bursting with little trinkets and handmade works – all either made by him or acquired by him, and all seemingly with a story to tell. For instance: the big buffalo head resting over the fireplace.
"His friend was a taxidermist at the Milwaukee Public Museum and said, 'Hey Ben, we're just about finished with the new exhibit – the buffalo hunt display – and I've got about three-fourths of a buffalo here. Do you want it for your cabin?'" Kashishian recalled. "Ben said, 'I don't know if I want a whole buffalo in my cabin, but could I have the head?' So the two guys sawed the head off and Ben put it up in his cabin.
"Now Ben had three granddaughters and one grandson, and when the one grandson went off to UW-Madison, he asked, 'Grandpa, could I take the buffalo head for my dorm room?' And Grandpa said yes, so if you wonder why it doesn't have any teeth and it's a little worn for its age, you can only imagine what happened in that boy's dorm room at Madison."
And that's just one of the many items scattered about the cabin. There are two canoes – both handmade, one carved out of a tree by Ben Hunt himself and another made from orange crates using one of Ben Hunt's designs. There's a wood carving portrait of one of Ben's many Native American friends and a pair of hand-carved old snow goggles. Various carved dolls and items lined much of the walls.
In the office hangs a brain-tanned vest, which is exactly what it sounds like: a deerskin vest tanned with the animal's own brain ("We tried to have it dry cleaned, but they said, 'No way; we're not touching that,'" Kashishian joked). There's a hand-carved desk and several certificates and patches awarded to Ben from Boy Scout and Native American groups. Meanwhile, in the waterless kitchen sits a lamp stand that Ben made while recuperating from dental work – in case the whole "built a log cabin and wrote over 1,000 articles and 20 books in his free time" thing didn't make you feel lazy enough already. And that's really just scratching the surface of the many, many traditional pioneer and Native American pieces on display, still in good condition.
Also still in surprisingly good condition: the cabin itself – which Ben built with electricity flowing inside – though it has seen some renovations over the years. One of the homeowners after Ben Hunt added a new roof to the cabin, while one young scout looking for an Eagle Scout project in the '90s helped redo the chinking – filling and insolating the spaces in between the logs – throughout much of the main room of the cabin. According to Kashishian, two other boys for a different Eagle Scout project helped put together a path to the cabin. Otherwise, the cabin is much the same from when it was originally built over 90 years ago.
To check it out for yourself, the Ben Hunt Cabin is open to the public on the first Saturday of every month, starting in May and ending in November. It also opens briefly in December for a Christmas celebration. The cabin is also a participant in this fall's upcoming Doors Open Milwaukee event, cracking open on Sept. 19 and 20 from 10 a.m. until 5 p.m.
All of these events combine together to help keep Ben's mission – and the traditions he loved – alive and thriving, even in a world now dominated by technology.
"It's amazing when I have children's groups here, how excited children get when I show them how they would wood-carve," Kashishian noted. "Children I think are pulling away from the hands-on, and they're going more into technology, but their eyes just light up. I don't know why Ben was thinking of that all the way back in the 1920s, but he was already sensing that these skills shouldn't be lost."
As much as it is a gigantic cliché to say that one has always had a passion for film, Matt Mueller has always had a passion for film. Whether it was bringing in the latest movie reviews for his first grade show-and-tell or writing film reviews for the St. Norbert College Times as a high school student, Matt is way too obsessed with movies for his own good.
When he's not writing about the latest blockbuster or talking much too glowingly about "Piranha 3D," Matt can probably be found watching literally any sport (minus cricket) or working at - get this - a local movie theater. Or watching a movie. Yeah, he's probably watching a movie.