"Bar Month" at OnMilwaukee is brought to you by Miller Brewing Company, calling Milwaukee home since 1855. For the entire month of March, we're serving up fun articles on bars, clubs and beverages – including guides, the latest trends, bar reviews, the results of our Best of Bars poll and more. Grab a designated driver and dive in!
Drew Kent describes himself as "weird" which in his family and circle of friends is considered a positive attribute. So when he opened his very first lounge last summer, he chose the name Werd Bar (pronounced "weird"), and not surprisingly, he chose a "weird" spelling: Werd (with an umlaut over the "e").
Although customers often mispronounce the name of his bar, located at 111 E. Howard Ave., as "word" instead of "weird," Kent is adamant about the spelling because it's his first name, Drew, spelled backwards.
"I'm definitely weird. I mean, my mom was a professional mime," says Kent, referring to the late Ann Pakalski who he says taught mime classes at the University of Wisconsin-Milwaukee in the '70s. "In my family, 'weird' has always been positive."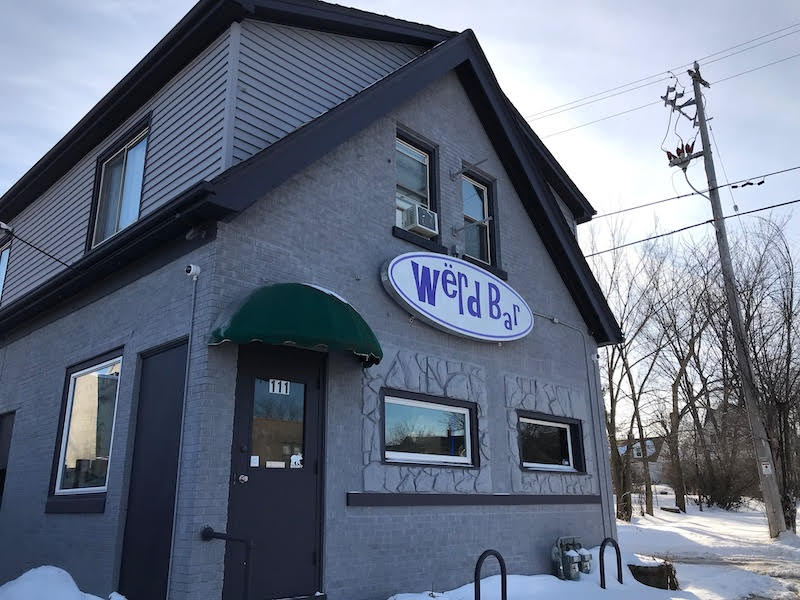 Werd Bar is painted purple – actually three different shades of purple with paint names like "Purple Rain," "Black Amethyst" and what Kent called "Some purple flower name." Purple lights illuminate the space and purple art pieces adorn the walls - many of which are created by Kent.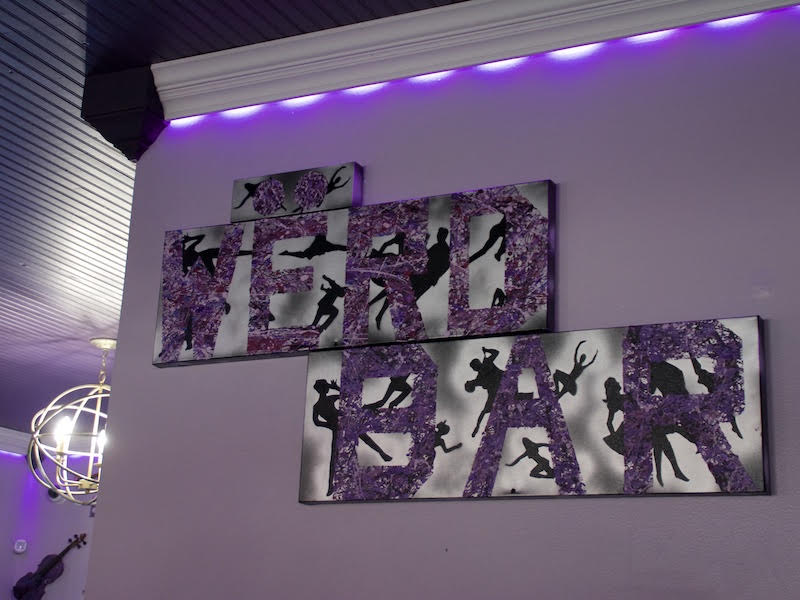 But Kent didn't paint the bar purple just to be "weird." Instead he did it as a tribute to his late wife, Jennifer, who passed away from cancer a few years ago. "Purple was her color," says Kent.
Kent, a former theater teacher, had never owned nor worked in a bar when he bought the Howard Avenue building last summer. He just knew he wanted to start a new chapter in his life and that he enjoyed spending time in bars.
"I thought I'd save some money on bar bills this way, too," says Kent.
Kent looked at numerous locations before making an offer on the building. He wanted to open a bar in or near Bay View because he always had a good time when he went out in the area and it was the location of the first home he purchased.
"I love Bay View and the alderman here. (Tony Zielinski) is a car guy, I'm a car guy," says Kent.
After buying the building, Kent brought friend and longtime service-industry manager Andy Ahles on board to help with many different aspects of the business.
"Basically I just pick up beer, write checks and wear purple," says Kent.
Amber Matthews is also instrumental in the running of Werd Bar. Matthews worked at Cloud Bar, which was the previous bar that occupied the space. Apparently Cloud Bar was in need of some major TLC, so when Matthews saw the heavily-remodeled Werd Bar, she burst into tears.
"I walked in here after the remodel and I started to cry with happiness. I love this community and this bar and to see it like this made me so happy I cried," says Matthews.
Werd Bar offers 120 different beers on tap, bottles or flights along with cocktails and Pep's Brewhouse pizzas. Currently, the bar is in the midst of a 14-day Mardi Gras celebration that runs through March 14. Check out all of the New Orleans-inspired festivities on Werd's Facebook page.
Other fun aspects of Milwaukee's purplest bar include what Kent calls a "duck machine" which is a claw-machine game filled with rubber ducks and narwhals. For $1, customers try to "grab" one of the toys, some of which have prize tickets attached and can be redeemed for free shots, drinks and T-shirts.
Werd Bar offers karaoke nights every Wednesday at 9 p.m. and Friday at 9:30 p.m. There's also live music on some Saturdays. On Monday nights, Matthews hosts a "Service Meets Service" night with drink specials for service industry workers and anyone else providing a community service, including police officers, paramedics and firefighters.
"We don't cater to any particular crowd here. We're here to be different and to make an impression – to be weird – but we cater to everyone," says co-manager Andy Ahles.

Molly Snyder started writing and publishing her work at the age 10, when her community newspaper printed her poem, "The Unicorn." Since then, she's expanded beyond the subject of mythical creatures and written in many different mediums but, nearest and dearest to her heart, thousands of articles for OnMilwaukee.

Molly is a regular contributor to FOX6 News and numerous radio stations as well as the co-host of "Dandelions: A Podcast For Women." She's received five Milwaukee Press Club Awards, served as the Pfister Narrator and is the Wisconsin State Fair's Celebrity Cream Puff Eating Champion of 2019.