"Bar Month" at OnMilwaukee is back for another round, brought to you by Great Northern Distilling: grain to glass spirits, handmade in Wisconsin. The whole month of March, we're serving up intoxicatingly fun articles on bars and clubs – including guides, the latest trends, bar reviews, the results of our Best of Bars readers poll and more. Grab a designated driver and dive in!
Brewski's, 304 N. 76th St., is the second profile in a series of Milwaukee's West Side bars.
When Marty Schwader opened Brewski's, 304 N. 76th St., the goal was to provide a fun sports bar with good food that would appeal to families as well as heartier partiers.
Schwader and his partners, Kevin Nugent and Brian Young, made some cosmetic changes to the space, including a new floor in the main dining room and more tap lines behind the bar. Brewski's beer list is kept updated on the Taphunter app.
The business partners are now ready to take a few more remodeling steps, including upgrading the patio and adding garage doors to the front of the building.
As the name and the logo suggest, Brewski's is a Milwaukee Brewers' bar and restaurant, but it's also very much a place for fans to watch Packers games and other sporting events. The walls are adorned with photos of great local athletes from the past, with a few photos of sports figures from opposing teams mixed in.
"Those photos are upside down, though," says Schwader. "People only occasionally notice that."
Diners and drinkers are invited to play games as well, and Brewski's offers pool, beer pong, skeeball, darts and more. The abundance of games further contributes to the family friendly aspect of Brewski's.
"It's very comfortable for families here," says Schwader. "Parents can have a beer or a cocktail, and there's stuff for kids to do, too. Kids don't want to just sit at the table with their parents."
Brewski's is also home of the original Skittles shot, which is vodka infused with the colorful candy. Schwader says other bars may claim to have invented the Skittles shot, but his version is one-of-a-kind and features a secret infusing process that he's taking to his grave.
"You'll definitely taste the rainbow," says Schwader.
Schwader, who is originally from South Dakota, was in the Marine Corps and lived in Kenosha before moving to Milwaukee to open the bar. He also serves as the general manager of the Milwaukee Steakhouse, which is owned by his Brewski's business partners.
"I spent a lot of time in bars in my life, so when it was my turn to open one, I knew what I wanted," he says.
Brewski's food menu is solid bar fare such as burgers, pizzas, wings, salads and wraps with some tasty homemade flourishes including the marinara sauce in the deep fried cheese curds – some of the best we've sampled in the city. The $5 build-your-own-burger on Monday nights is a particularly good deal.
"Our food is standard bar food, but I think we do a really good job with it," says Schwader.
Here are 10 more photos from our recent visit to Brewski's.
1. Dining time


2. Free peanuts (freenuts?)
3. Serious apps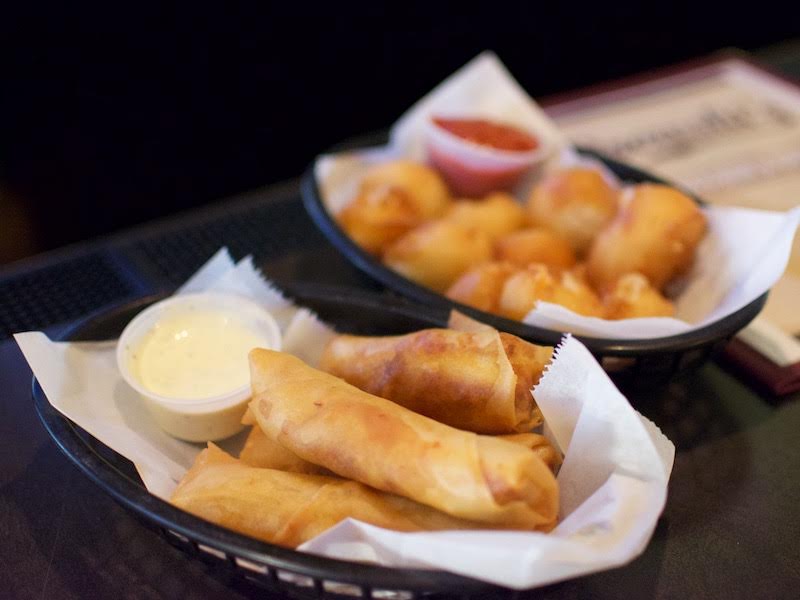 4. The Powers that be
5. Build it
6. Well hung
7. Bacon is extra, but get it anyway
8. Pool side
9. Pizza perfection

10. Swing on by

Molly Snyder started writing and publishing her work at the age 10, when her community newspaper printed her poem, "The Unicorn." Since then, she's expanded beyond the subject of mythical creatures and written in many different mediums but, nearest and dearest to her heart, thousands of articles for OnMilwaukee.

Molly is a regular contributor to FOX6 News and numerous radio stations as well as the co-host of "Dandelions: A Podcast For Women." She's received five Milwaukee Press Club Awards, served as the Pfister Narrator and is the Wisconsin State Fair's Celebrity Cream Puff Eating Champion of 2019.