Earlier this week CBS News featured 65-year-old Detroit-born artist Robert Wyland – who goes simply by Wyland – and his 100 "whaling wall" murals, which got us thinking about the one he painted in Milwaukee in 1997.
The 76-foot by 37-foot wall, called "Commuter Whales," was Wyland's 72nd and it was painted in a flurry of muraling in eight cities, from Sept. 1 to Oct. 21, 1997.
Milwaukee's went up on Sept, 15 (a week after one was completed in Apple Valley, Minnesota, and a week before "The Windy Whales" (now mostly covered by the construction of an adjacent building) was completed in Chicago.
Respected Journal Sentinel art critic, the late Jim Auer, described the work: "Great, tranquil sea beasts, painted life-size with brush and spray, cruise effortlessly in a kind of tabernacle of translucent water, lighted from above by rays of sunlight that pierce the waves and penetrate the depths like fingers of God's love, bright and benevolent. ... The bowed-out back of the parking ramp gives the mural the look of a billowing sail, or of an undersea vista distorted by diffraction through a diving mask."
Wyland painted his first such mural, "Gray Whale and Calf," in Laguna Beach, California, in 1981 and his 100th in Beijing in 2008. (When he was in Milwaukee in 1997, Wyland had said his goal was to get to 100 by 2011, so he beat that goal!)
You can see a list of all the "whaling walls" – a reference to Jerusalem's holy Wailing Wall – here.
"I believe if people see the beauty of nature," he said a press conference announcing the Milwaukee mural in May 1997, "they will work to preserve it before its too late."
His works, he added, "capture the great spirit of the whales."
Though he begins without sketches or preparatory drawings, Wyland told CBS News he knew exactly how each completed mural would look.
"While I'm physically painting the whale, okay, my mind's eye is across the street at the same time," he told Tracy Smith, who asked, "You can see the whole thing?"
"As I'm painting it," replied Wyland. "So, don't tell anybody, it's kind of an inside secret!"
These days, in addition to selling his original works, he also sells objects like tote bags and books that feature his work. He also does touch-up work on the murals.
Wyland set up the Wyland Foundation, which works to promote, protect and preserve the world's oceans and waterways.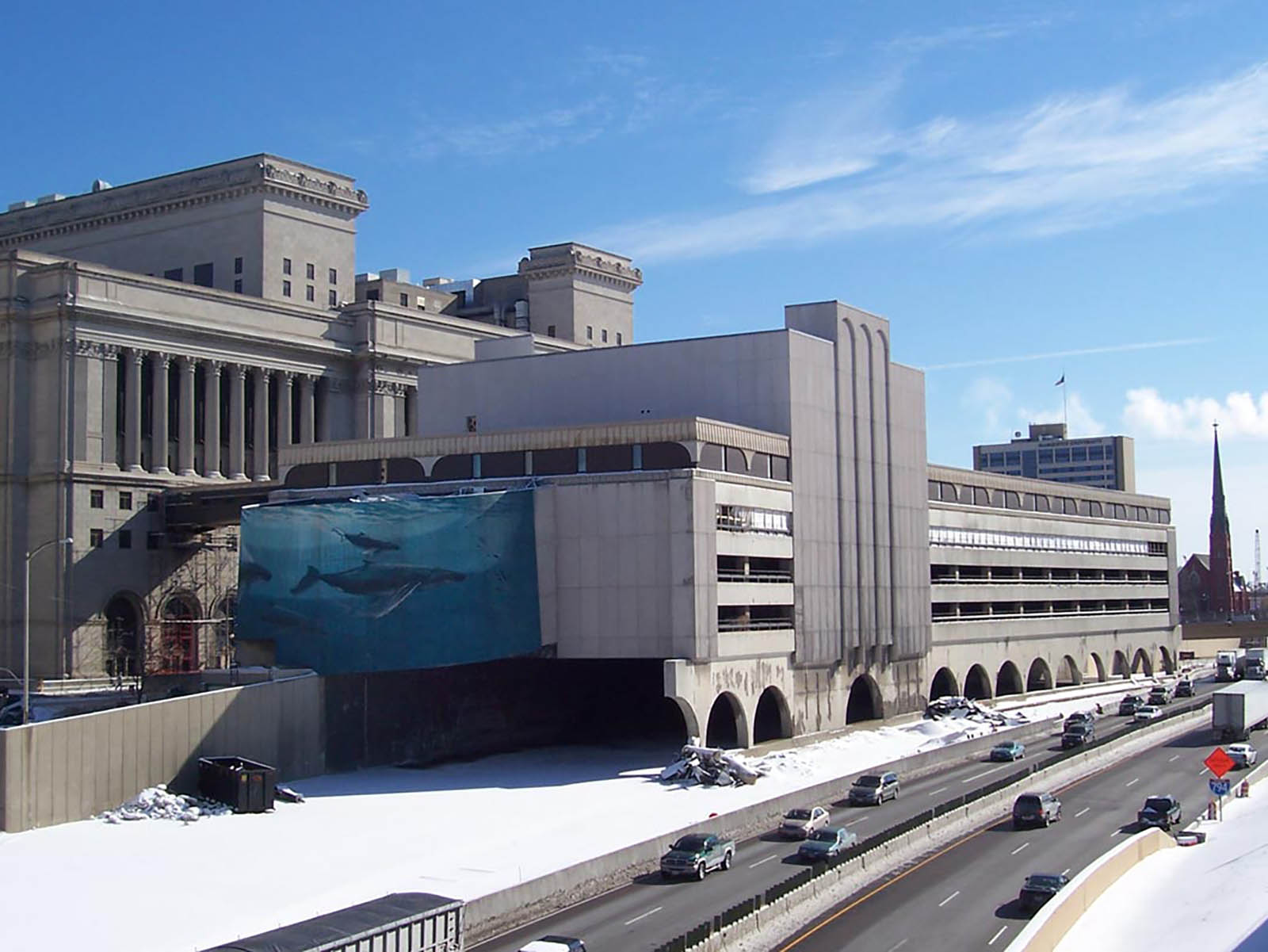 Interestingly, when it was initially announced, the Milwaukee mural's location was not announced and the Bradley Center and the Milwaukee Public Museum were named as potential sites, with the museum's west and north walls appearing to be the front-runner.
But in the end, the whales swam onto the northern facade of the parking garage, making it visible really only to southbound drivers on I-43.
What I remember most about it is that, at least among people I knew, opinion was divided. Some adored it for bringing its deep blue ocean scene to architect Donald Grieb's brutalist Milwaukee County Courthouse annex suspended above I-43, while others wondered what the mural's content had to do with Milwaukee.
Months before it was even painted, Journal Sentinel architecture critic Whitney Gould asked if it was "tacky or tasteful."
"County Executive Tom Ament calls it 'art on a large scale.' Detractors call it a giant billboard and potential eyesore," she wrote. "By any name, a California artist's plan to paint whales on the side of the Milwaukee Public Museum is making waves. And the momentum appears to be with the leviathan lovers."
While County Supervisor Sheila Aldrich said, "Most people around here never get a chance to see an ocean. This is a real opportunity to educate, to make people think a little deeper," her colleague Jim McGuigan demurred.
"The last thing the city needs is a big blue whale to match the Milk of Magnesia building (ouch!). "It doesn't fit with the (museum) architecture and it doesn't fit with the downtown."
McGuigan suggested it might be more appropriate out at the Zoo or perhaps in the Marquette Interchange, which may have led to the mural's ultimate siting, as soon after County Executive Tom Ament proposed the courthouse annex location.
"Architect and Milwaukee Arts Board member Joanne Johnson fears the mural would be more of a billboard than a work of art," Gould continued.
"That's one reason the Milwaukee Art Museum didn't want it on a retaining wall along Lincoln Memorial Drive, one of the other sites considered for the mural, according to Art Museum Director Russell Bowman. (Additional candidates, also deep-sixed, were the Firstar building and the south wall of the Bradley Center parking lot.)"
Supervisor Richard Bussler said it would distract drivers – who "should be watching the road and not the whales" – as well as "demeaning to the dignity that should be afforded to a courthouse."
It was not the first time public art stirred controvery in Milwaukee, nor would it be the last. In fact, inside the courthouse, murals by Francis Scott Bradford, drew fire even back in the 1930s.
It should be noted that art critic Auer liked the mural.
Writing in the Journal Sentinel a few weeks after Wyland's work was complete, he said, "I'd rather stand on the sliver of sidewalk at the corner of 10th and State Streets, looking southwest at the 'Whaling Wall' as it bares itself to passing autos. Calm and inscrutable, poised and vulnerable, the whales remind passers-by of their own mortality.
"So, friends, let's not look these gift whales in the, uh, satin-smooth brushwork. They have much to teach us, even in the midst of a soul-destroying, schedule-fracturing, temper-unleashing, atmosphere-polluting freeway snarl."
But back in spring, the back and forth continued, with some wondering how the airbrushed mural would endure the harsh winters, Gould noted. How much would the county be on the hook for in terms of maintenance?
Arts Board member Jill Pelisek asked, "What's it going to look like after 10 or 20 Wisconsin winters?"
Wyland assured everyone that his mural – which he and his team of about 20 would paint for free, as a donation to the city – would be executed with top-notch paint and coated with a sealant that would give it a 15-20-year lifespan.
And anyway, he added, it can be removed with a water-blaster.
In the end, the winters and the durability were not an issue.
The mural came down on May 3, 2006. And no water-blaster was required, as the entire building was torn down when the Marquette Interchange was rebuilt.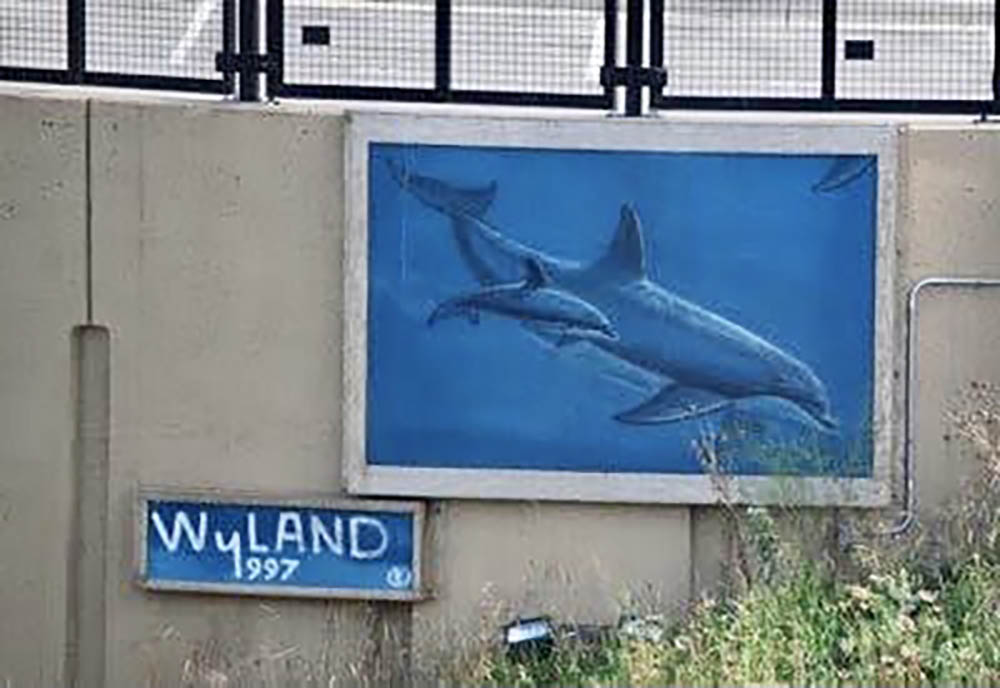 A small part of it, as well as the artist's signature, was saved and displayed at the entrance to the Kilbourn tunnel in early 2007. It's now displayed on a wall facing the freeway, near State Street.
Wyland offered to paint a new mural, but then-County Executive Scott Walker wanted the artist to pay the county for the pleasure.
"That's probably the dumbest thing I've ever heard," Wyland the Journal Sentinel. "They want to charge me to come there and give a free mural to the county? This guy's really out of touch. This is a first."
In the end, Wyland may have been too early for Milwaukee, which seems much more amenable to public art now.
Although other murals pre-date the whales – including this iconic one Downtown – the city's public art boom – especially in terms of murals – has only really taken off since the creation of Black Cat Alley in 2016.
Born in Brooklyn, N.Y., where he lived until he was 17, Bobby received his BA-Mass Communications from UWM in 1989 and has lived in Walker's Point, Bay View, Enderis Park, South Milwaukee and on the East Side.
He has published three non-fiction books in Italy – including one about an event in Milwaukee history, which was published in the U.S. in autumn 2010. Four more books, all about Milwaukee, have been published by The History Press.
With his most recent band, The Yell Leaders, Bobby released four LPs and had a songs featured in episodes of TV's "Party of Five" and "Dawson's Creek," and films in Japan, South America and the U.S. The Yell Leaders were named the best unsigned band in their region by VH-1 as part of its Rock Across America 1998 Tour. Most recently, the band contributed tracks to a UK vinyl/CD tribute to the Redskins and collaborated on a track with Italian novelist Enrico Remmert.
He's produced three installments of the "OMCD" series of local music compilations for OnMilwaukee.com and in 2007 produced a CD of Italian music and poetry.
In 2005, he was awarded the City of Asti's (Italy) Journalism Prize for his work focusing on that area. He has also won awards from the Milwaukee Press Club.
He can be heard weekly on 88Nine Radio Milwaukee talking about his "Urban Spelunking" series of stories.