We love our Santiago Calatrava-designed building so much that for its 20-plus years of existence, we've just called it "The Calatrava."
But never were we madder for the Spanish-born architect than in the lead-up to the completion of his Quadracci Pavilion for the Milwaukee Art Museum.
In fact, there was a time – during the planning and construction of "The Calatrava" – when no fewer than four potential other Calatrava-designed structures were being discussed for Milwaukee.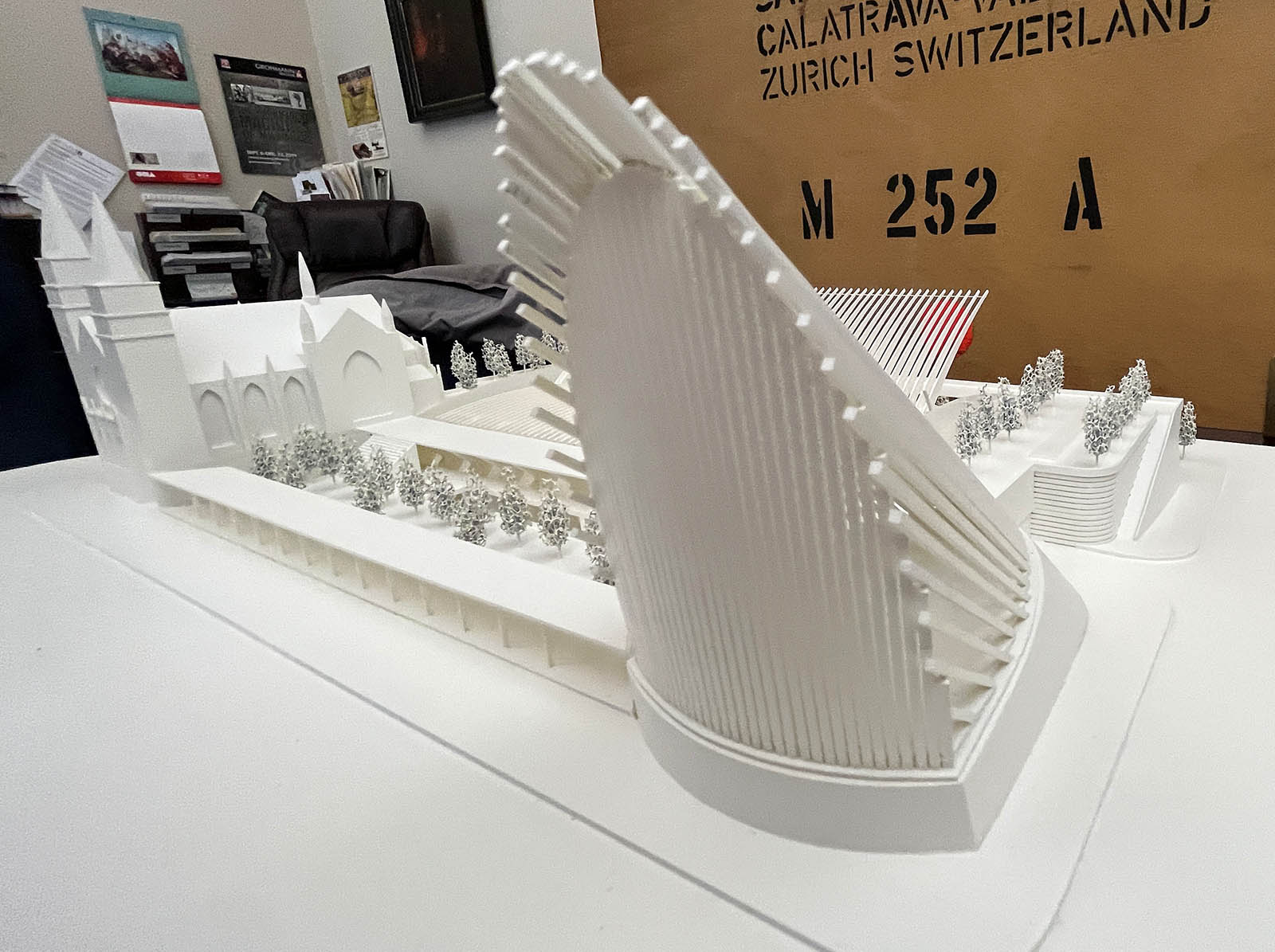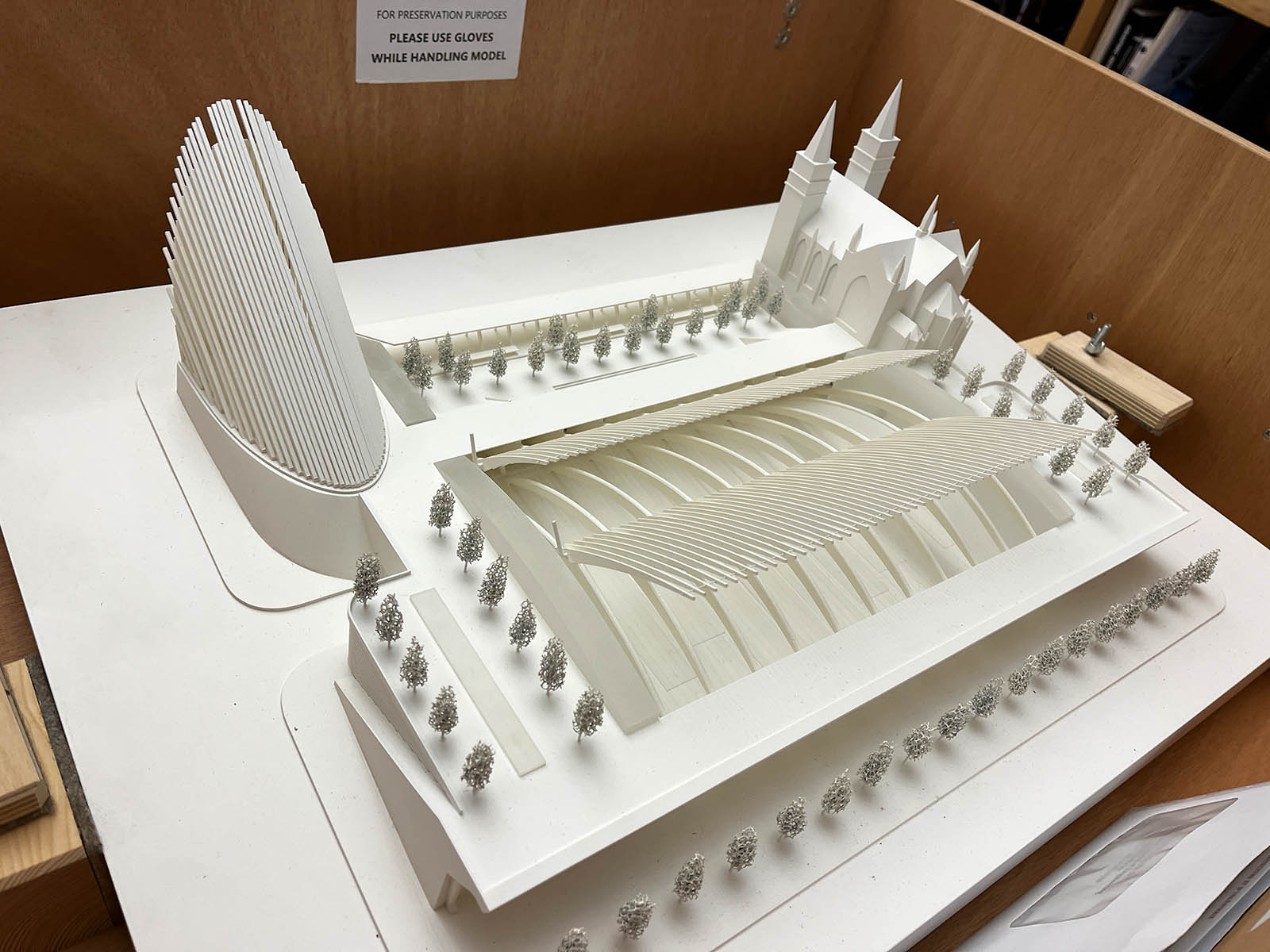 Many of us first "met" the Swiss-based architect – who now also has a residence in New York City – in December 1994, when the Milwaukee Art Museum board selected him to design the museum's expansion, then expected to cost $20 million.
Although art critic Jim Auer described Calatrava in the Journal as a well-known architect, few here outside the architecture community would've been expected to know his name. At the time, Calatrava had seen just one of his designs built in North America: BCE Place in Toronto.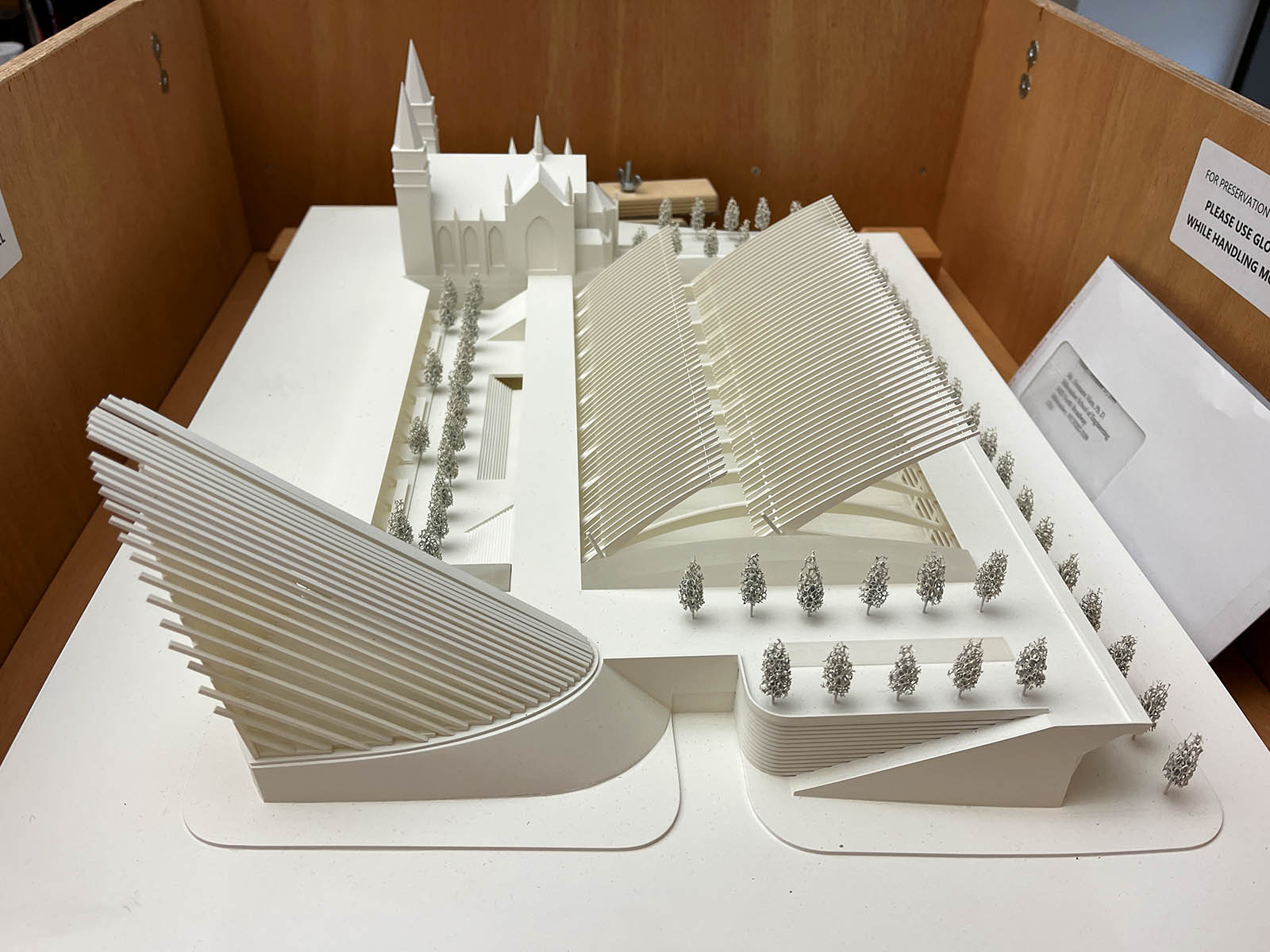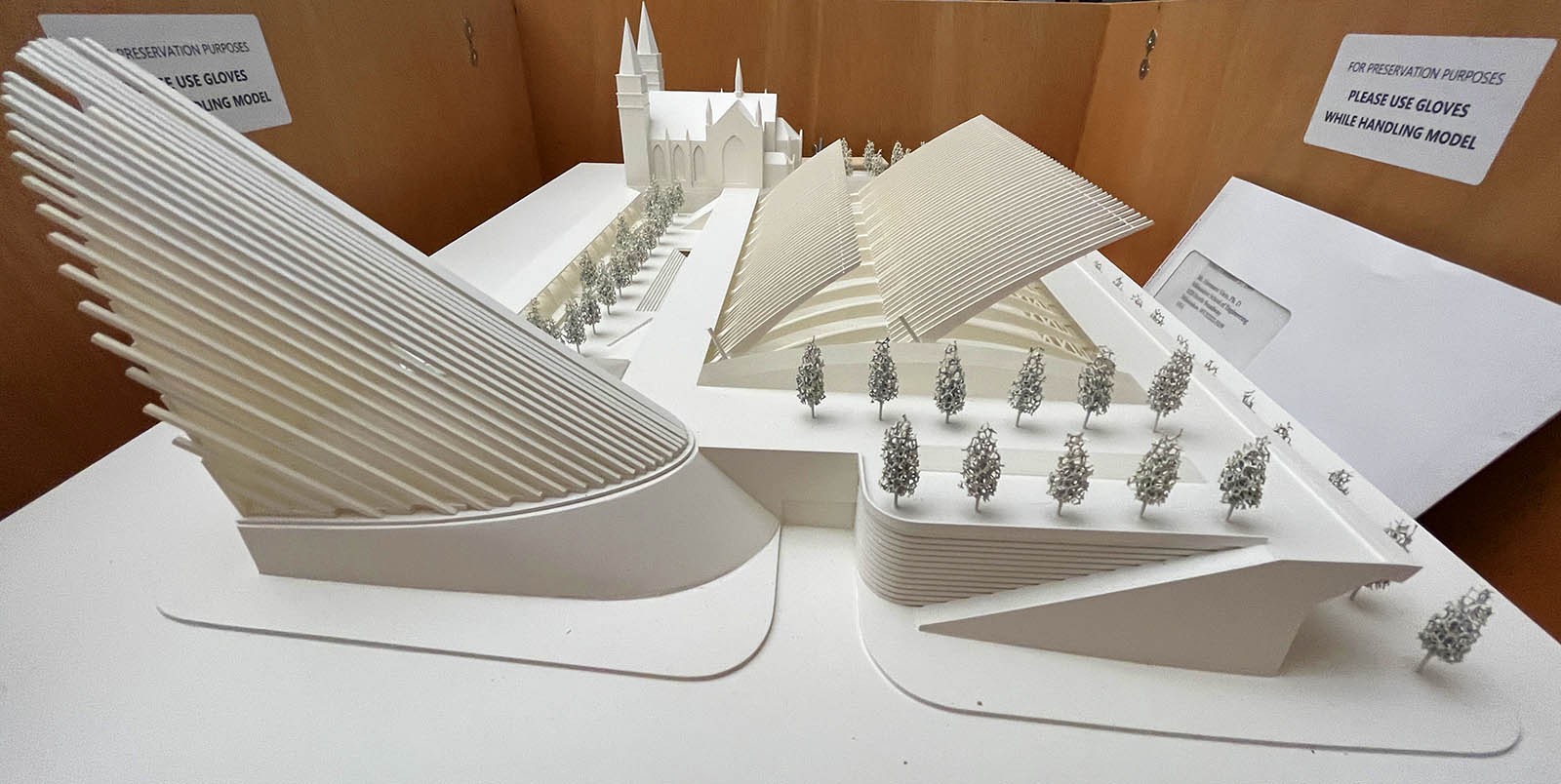 Skip ahead a couple years and you'd have been hard-pressed to find a Milwaukeean unfamiliar with Calatrava, and this with the completion of the Quadracci Pavilion still four years in the future.
In perhaps a moment of foreshadowing, or a subtle hint to those paying close attention, Milwaukee School of Engineering in 1997 bestowed an honorary doctor of engineering degree upon the architect.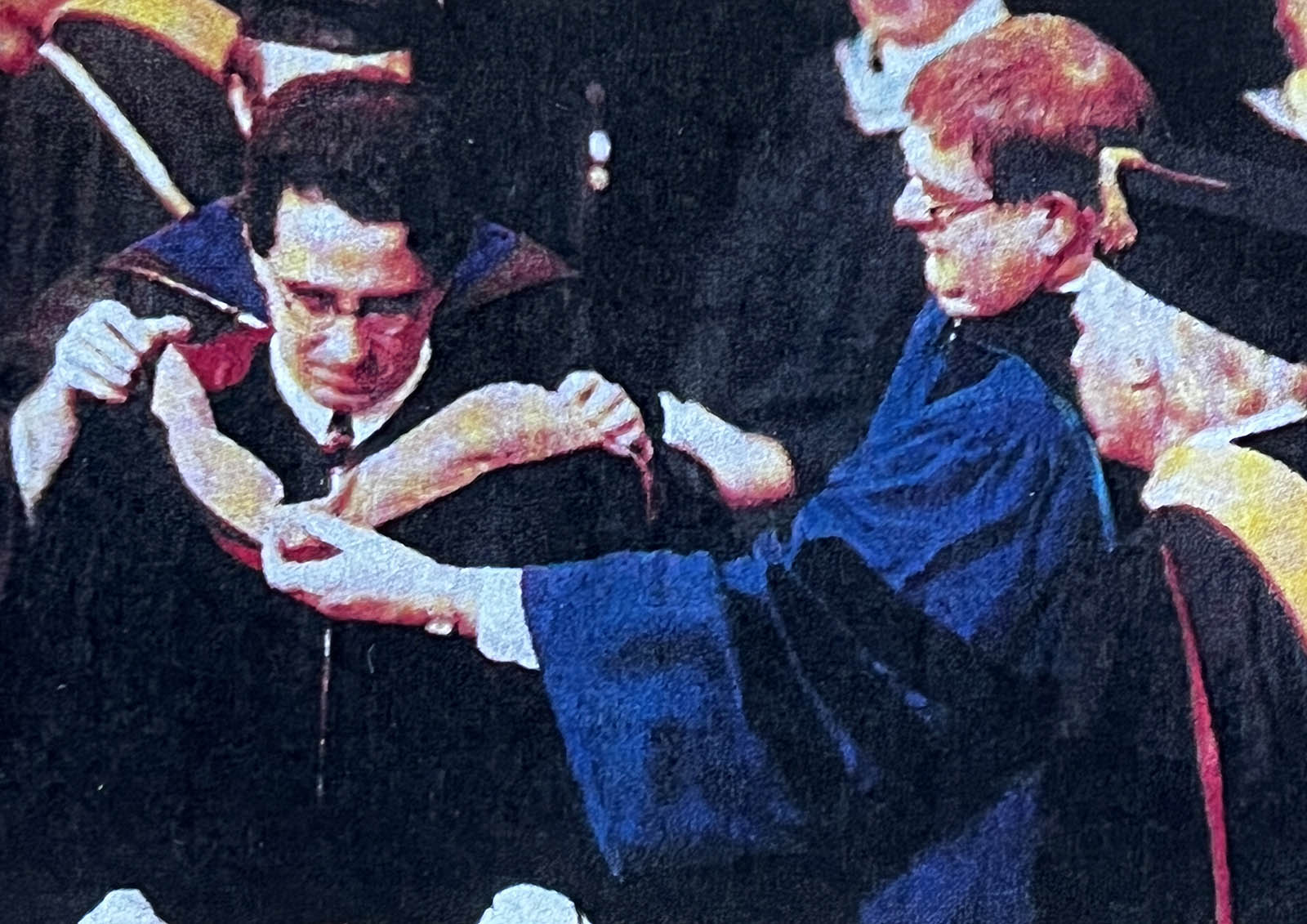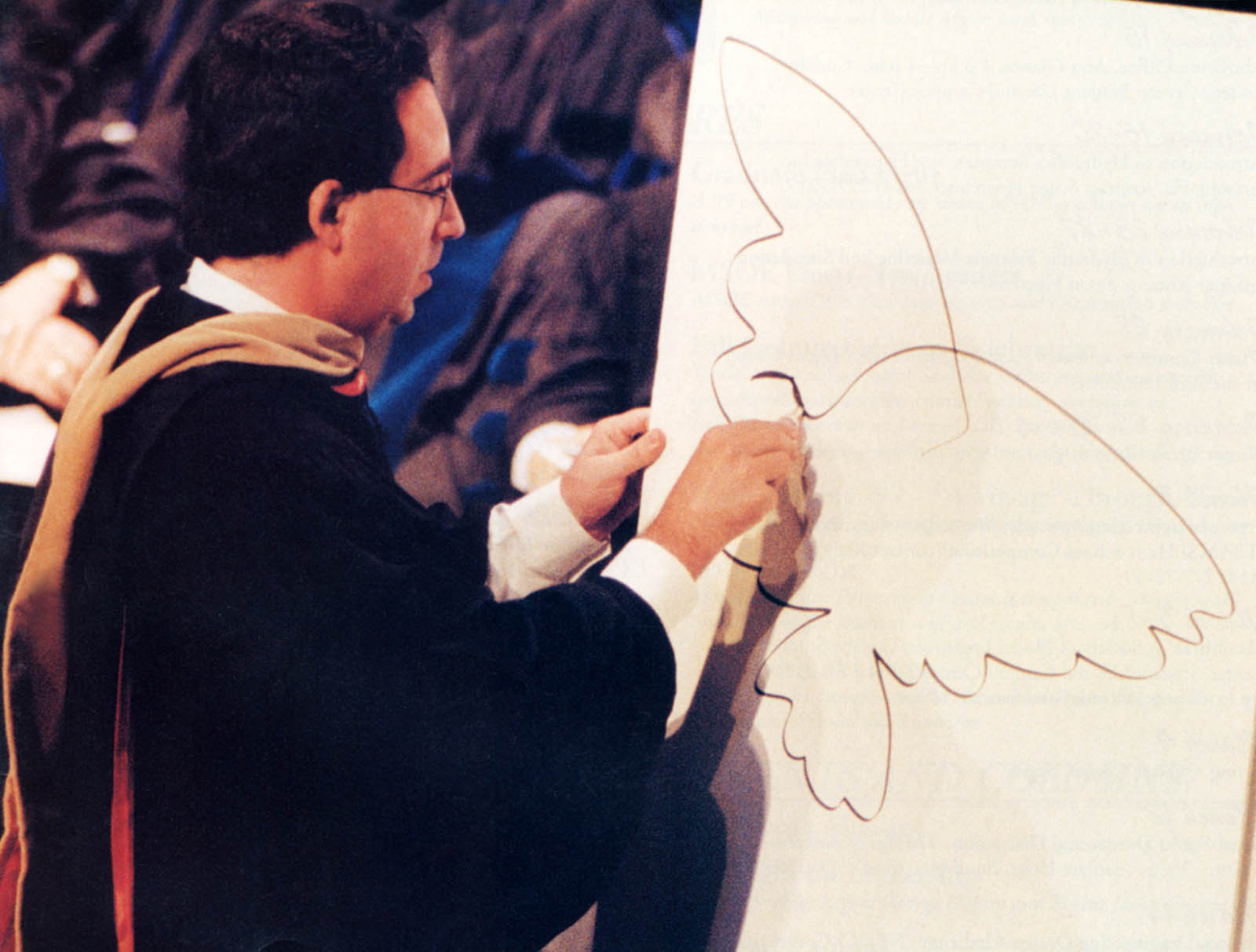 The Journal Sentinel said of the ceremony's after-party, "If it wasn't the party of the year, it was sure the place everybody wanted to be Nov. 21. We're speaking of the reception for Santiago Calatrava at the Milwaukee School of Engineering student center, where more than 300 guests gathered, eager to meet and greet the architect of the Milwaukee Art Museum's new addition."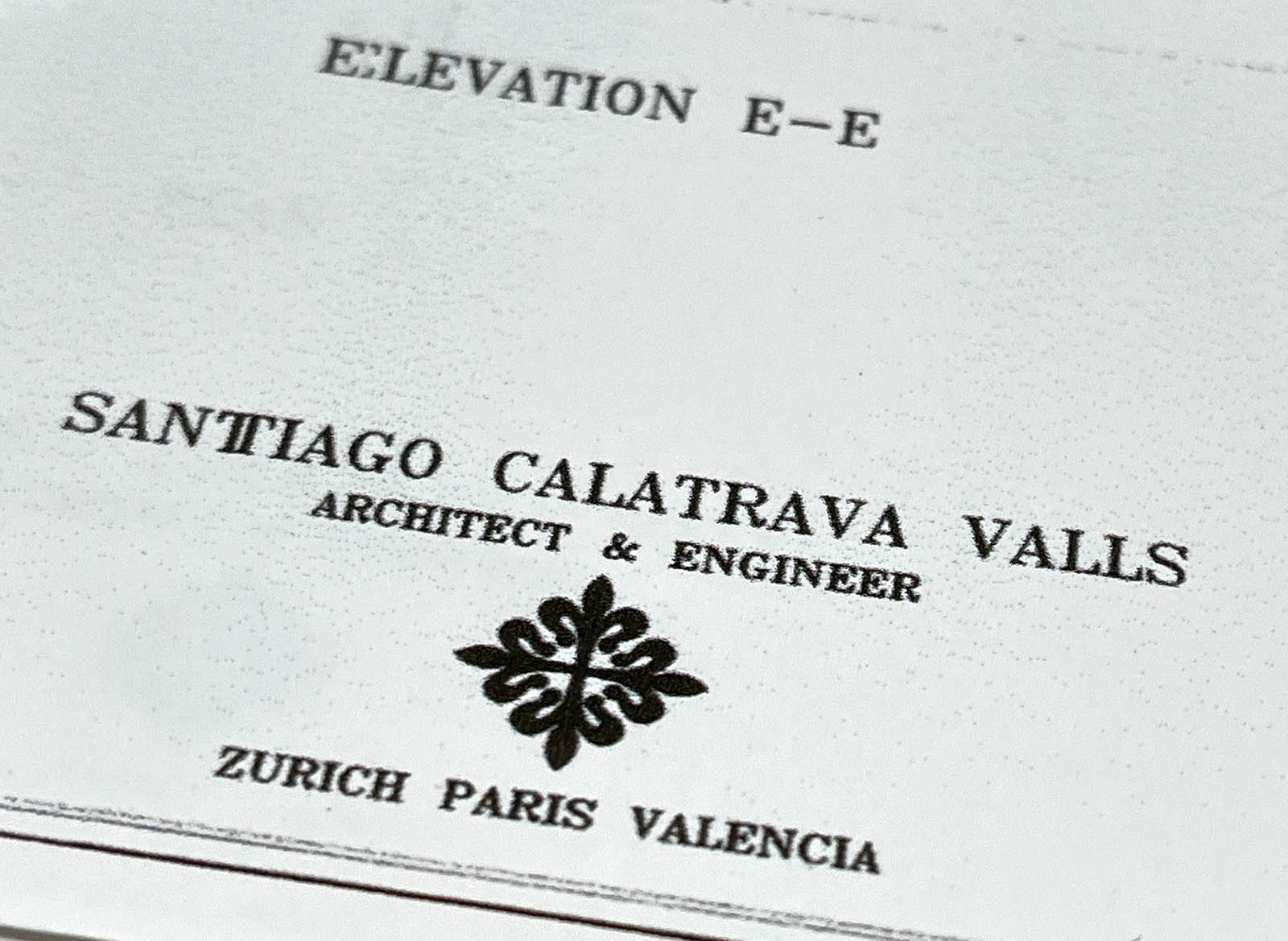 Just short of two years later – in early July 1999 – the Downtown engineering school announced plans for a new gymnasium and classroom building that was to be designed by none other than Santiago Calatrava.
"School officials said they already have pledges of as much as $11 million for land acquisition and construction and, if everything falls into place, could begin construction as early as next year, with completion by the end of 2002," wrote the daily paper.
"If that happens, the facility – on a city-owned parking lot at the southwest corner of North Broadway and East Knapp Street – would make Milwaukee the first city in the United States to have not one but two structures by Calatrava, whose gravity-defying buildings and bridges in Europe and Canada have vaulted him into the ranks of international superstardom."
But, wisely, Mayor John O. Norquist noted that many details of the project still needed sorting. Not least of those was a dispute with Grace Lutheran Church, which had ideas of its own for the site of the planned building, where it hoped to erect an addition.
Norquist, however, raved about Calatrava, saying, "He has obviously fallen in love with Milwaukee; he's an urbanist, and he understands the city. It would be exciting to have another of his buildings," and even though Calatrava vowed a design sensitive to the Henry Koch-designed Grace Lutheran building, but the hurdles were real.
"Until the school acquires the land, it can't officially contract with Calatrava," wrote architecture critic Whitney Gould. "But MSOE President Hermann Viets unveiled several sketches by Calatrava showing a curvy structure at the Knapp Street corner and a covered, glassy walkway along Broadway, with a tree-lined terrace on top and dramatic arches below.
"The walkway would not only animate the street, Viets said, but act as a circulator or hallway connecting different parts of the building. '(The building) would be a spectacular boon to the area, creating a beautiful new entrance to the city,' Viets said. 'When you have something like this, the land around it immediately becomes that much more valuable'."
The planned removal of the Park East freeway spur, Viets said, made the project even better.
In December 1999, Calatrava's studio in Zurich sent a model – with moveable brise soleil – and watercolor sketches to MSOE in a wooden crate.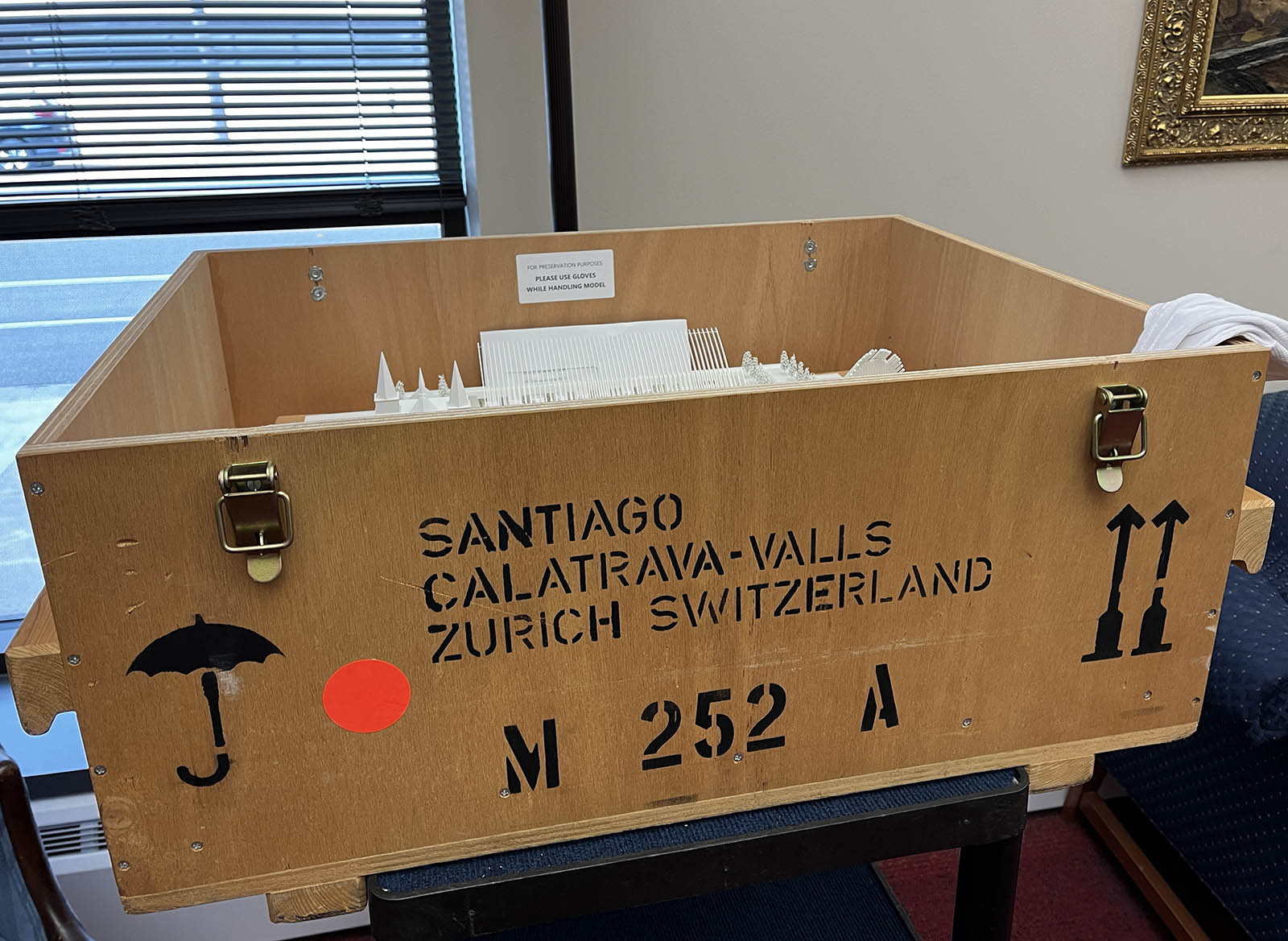 "We have the pleasure to submit you enclosed the model for the ... project," wrote David Mizrahi to Viets in an accompanying letter dated Dec. 17. "Also enclosed you'll find the corresponding sketches and plans.
"We have implemented the requested functions, such as the main gymnasium, parking, (and) service areas, as well as the facilities for the Grace Church, trying to create a solution that answers not only to the needs of the owners but also those of the City of Milwaukee. We hope we have satisfied your expectations."
In fact, there were dozens of watercolors, on roughly 24x36-inch sheets, made by Calatrava, showing elevations, aerial views and studies of specific features.
Another model, in clear acrylic, was later made in the school's new rapid prototyping center.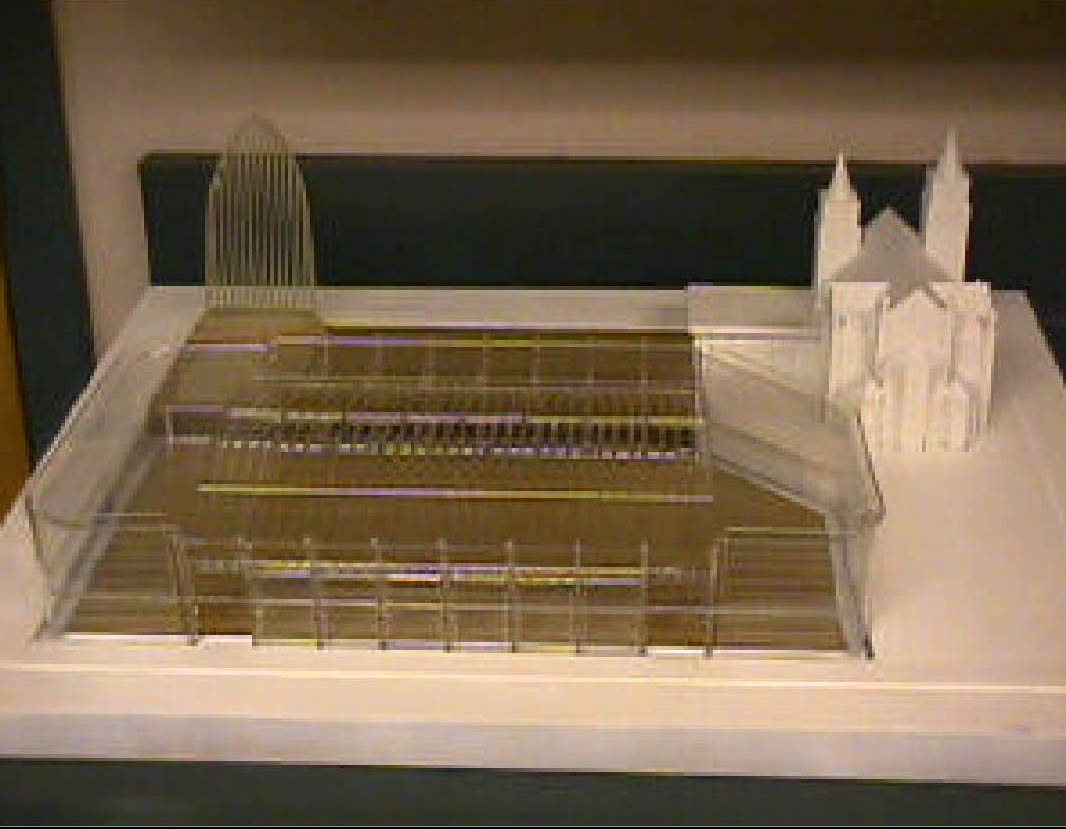 The design was for a long low building on the southwest corner of Knapp and Broadway with an almost Art Museum or Oculus-style pavilion on the north end and a long section with two parallel brise soleil sections running south toward the church, opening toward the west.
In addition to the terrace on the Broadway side, ramps on Knapp and Juneau would lead up to another one running along the Market Street side of the building.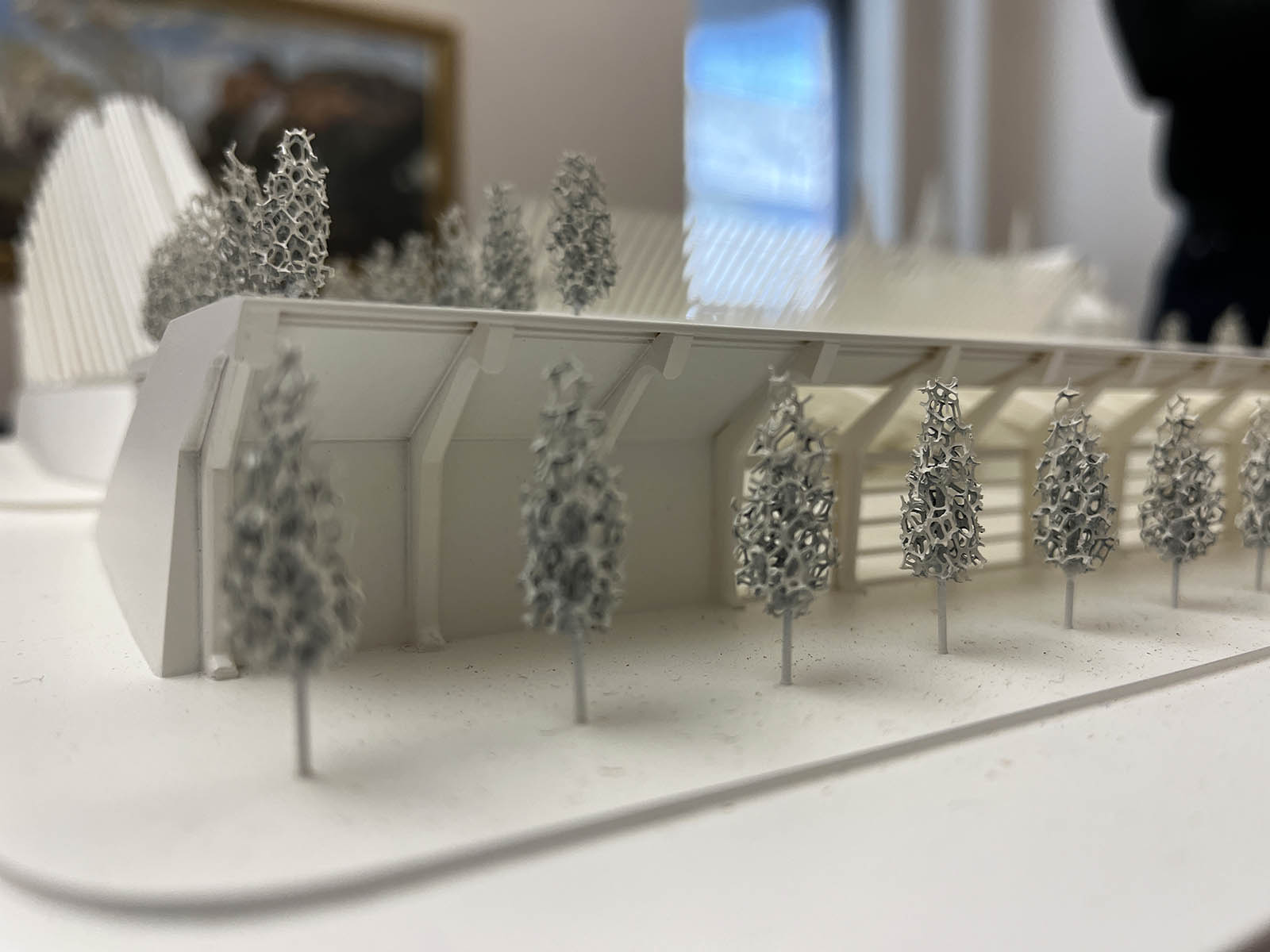 By this point, the cost of the MAM expansion had swelled, but Viets didn't blink.
"Money, another potential stumbling block in any project of this size, doesn't seem to faze the MSOE crowd," Gould wrote. "Although the building's total cost is unknown, Viets said he didn't expect it to be anywhere near the $50 million price tag for the art museum expansion. Viets said the Robert & Pat Kern Family Foundation has pledged $9 million for the building, which will be known as the Kern Health Center ... Another regent, Eckhart Grohmann, and his wife, Ischi, have promised $1 million to $2 million for land acquisition."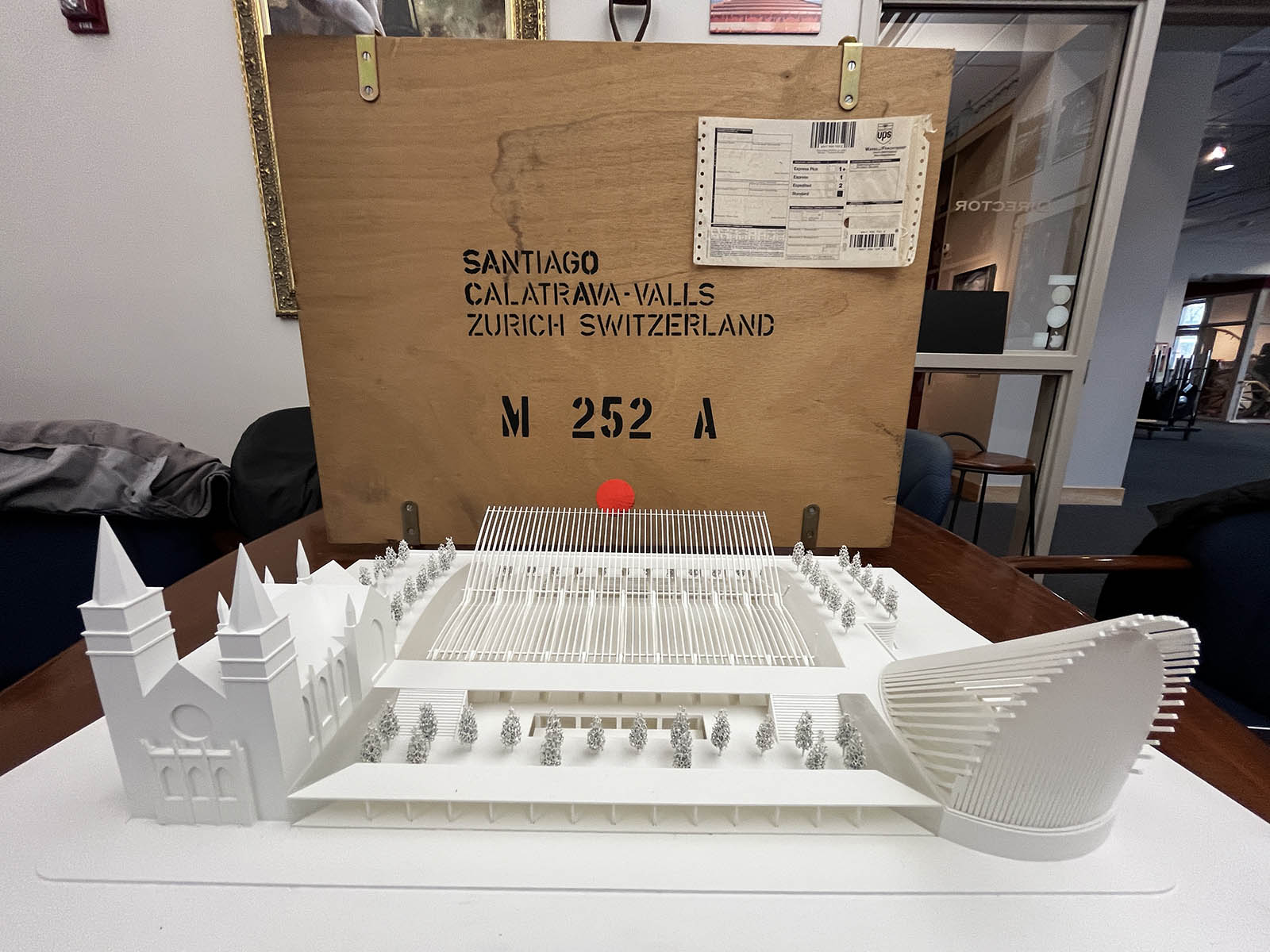 Grohmann would later donate money to MSOE to buy and renovate a building and maintain the campus museum inside it that bears his name and houses his collection of art.
One local architect, Brian L. Miller, in a letter to the editor, urged the city not to put all its design eggs into one architect's basket.
"I hope that as Milwaukeeans discover the benefits of world-class architecture, architects other than Santiago Calatrava can be considered," he wrote. "There are untold numbers of worthwhile practitioners, any one of whom is certainly capable of designing exquisite buildings for our city. What about Morphosis? (Antoine) Predock? Frank Gehry? Robert (A.M.) Stern?
"And I would encourage owners and developers to allow the local firms the freedom that was allowed Calatrava."
But Miller was too late. Milwaukee had contracted Calatrava fever.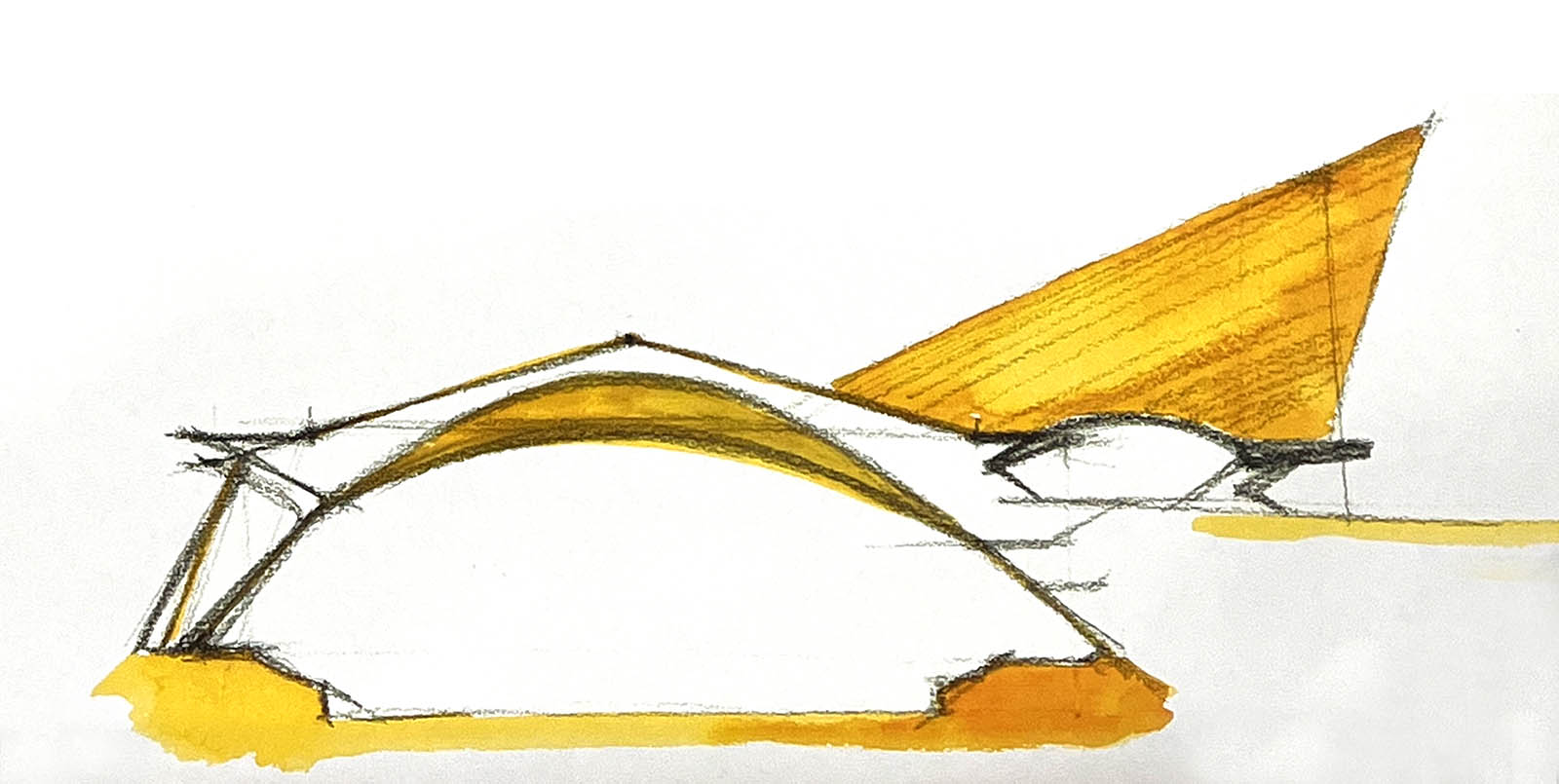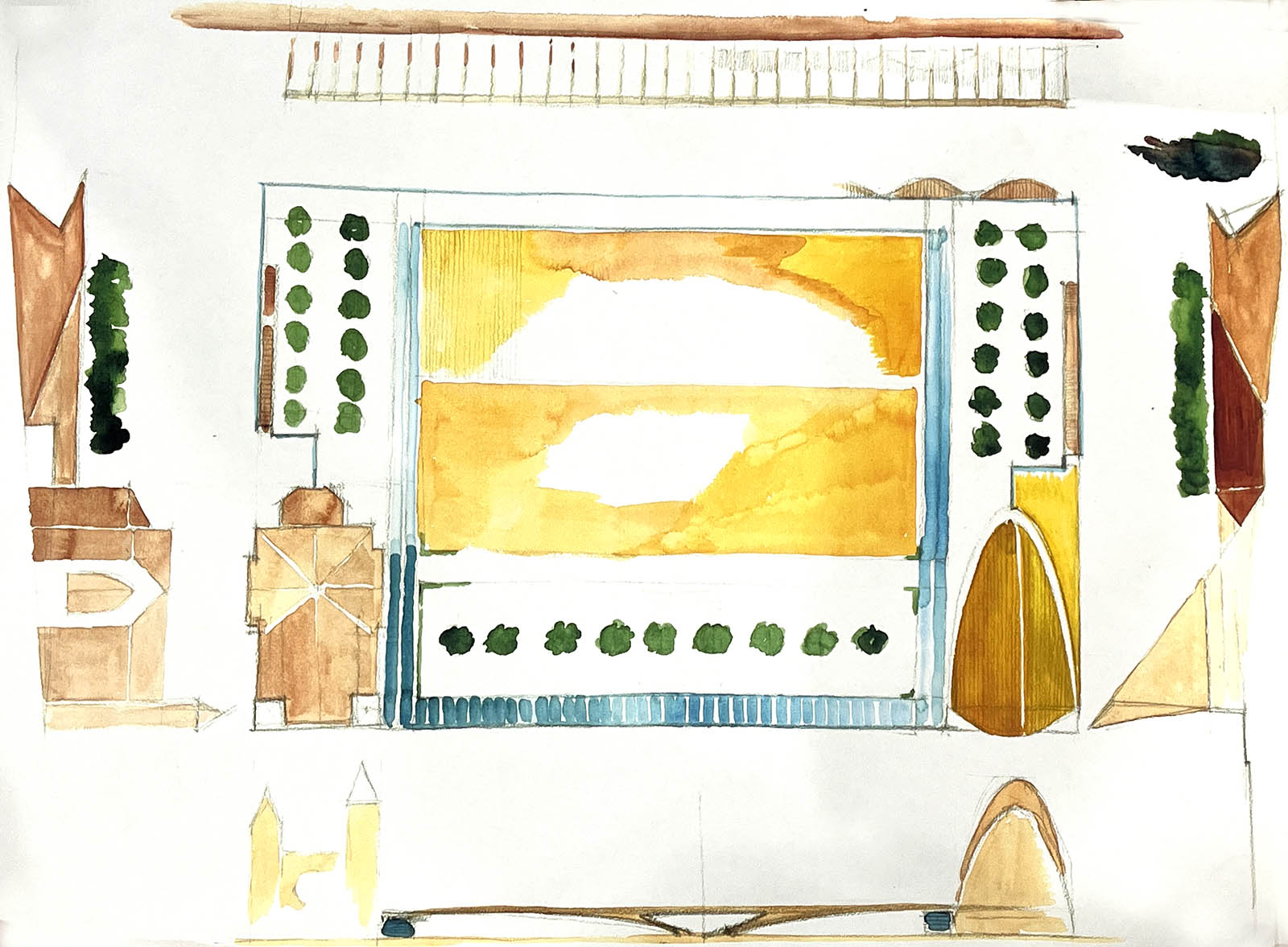 By September 1999, a third project was announced: a curvaceous pedestrian bridge spanning the Milwaukee River just south of North Avenue at Caesar's Park. The bridge was to be constructed of the same carbon fiber used in the Milwaukee Art Museum's brise soleil "wings," making it the first span of its kind in the world.
What no one could be sure of – in addition to the cost and the source of funding – was what it would look like. Calatrava, it seems, had only submitted a series of watercolors showing a quintet of possible designs.
Gould, apparently, had seen them and wrote, "They range from a gently curved, Venetian-style span to a modified parabola and a cabled bridge with a slanting pylon, reminiscent of what he plans for the Art Museum."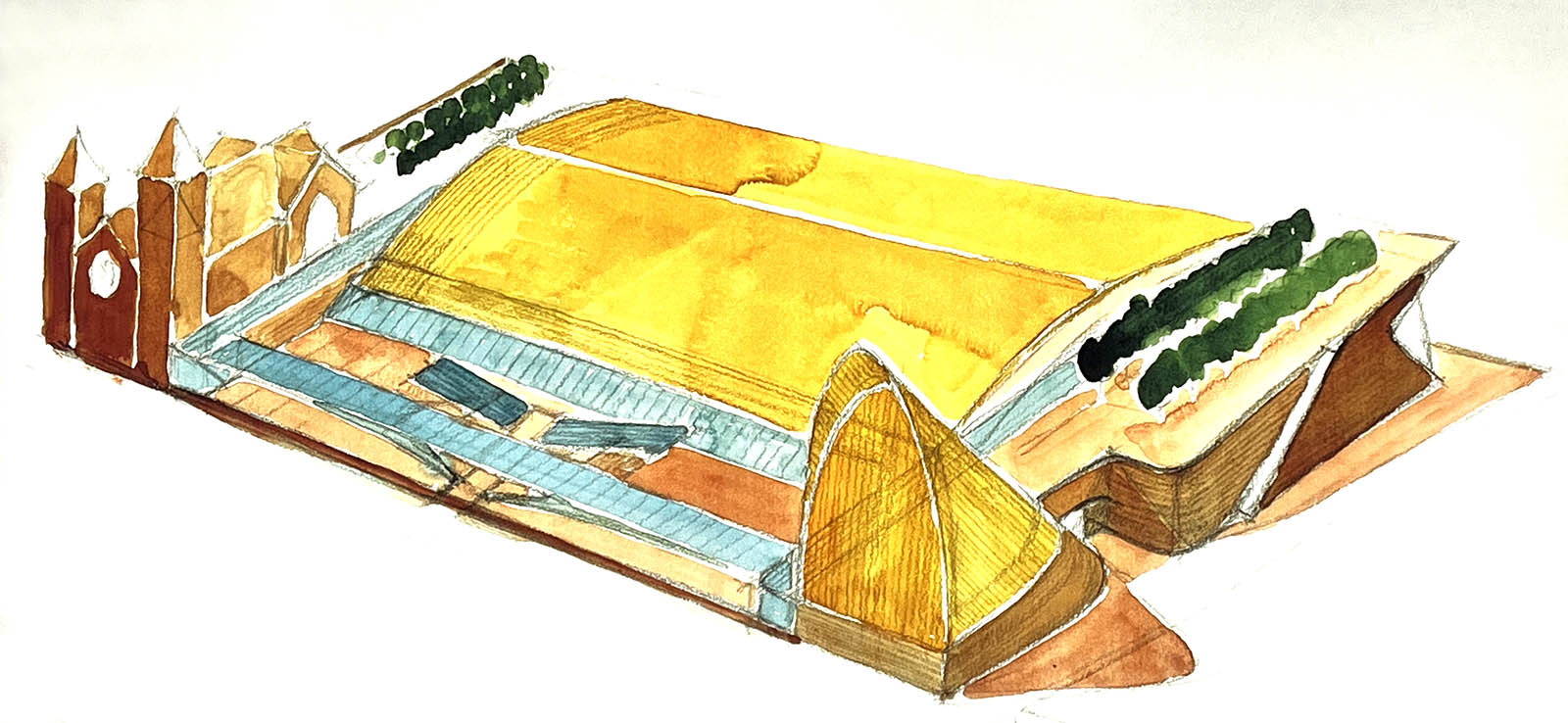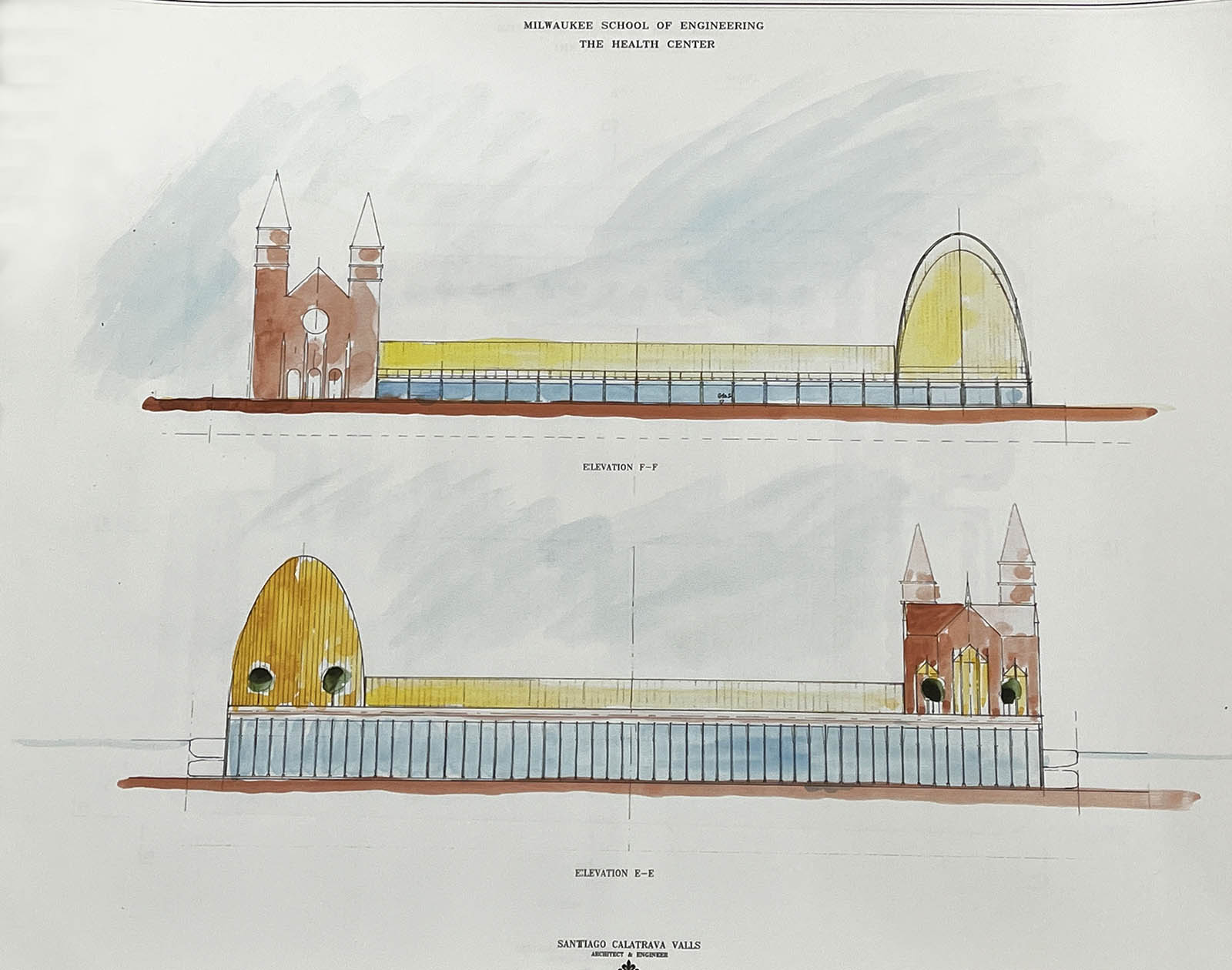 Gould added that the cost of the bridge was, "into the several millions," according to someone closely aligned with the project. "But nowhere near the $50 million price tag for the art museum project."
Sound familiar?
"When added to other Calatrava-designed projects in the works here – his expansion of the Milwaukee Art Museum on the lakefront and a planned gymnasium and classroom building for the Milwaukee School of Engineering – the new span would make Milwaukee the only city in North America to have a critical mass of works by the Spanish-born superstar," wrote Gould, who died 2019.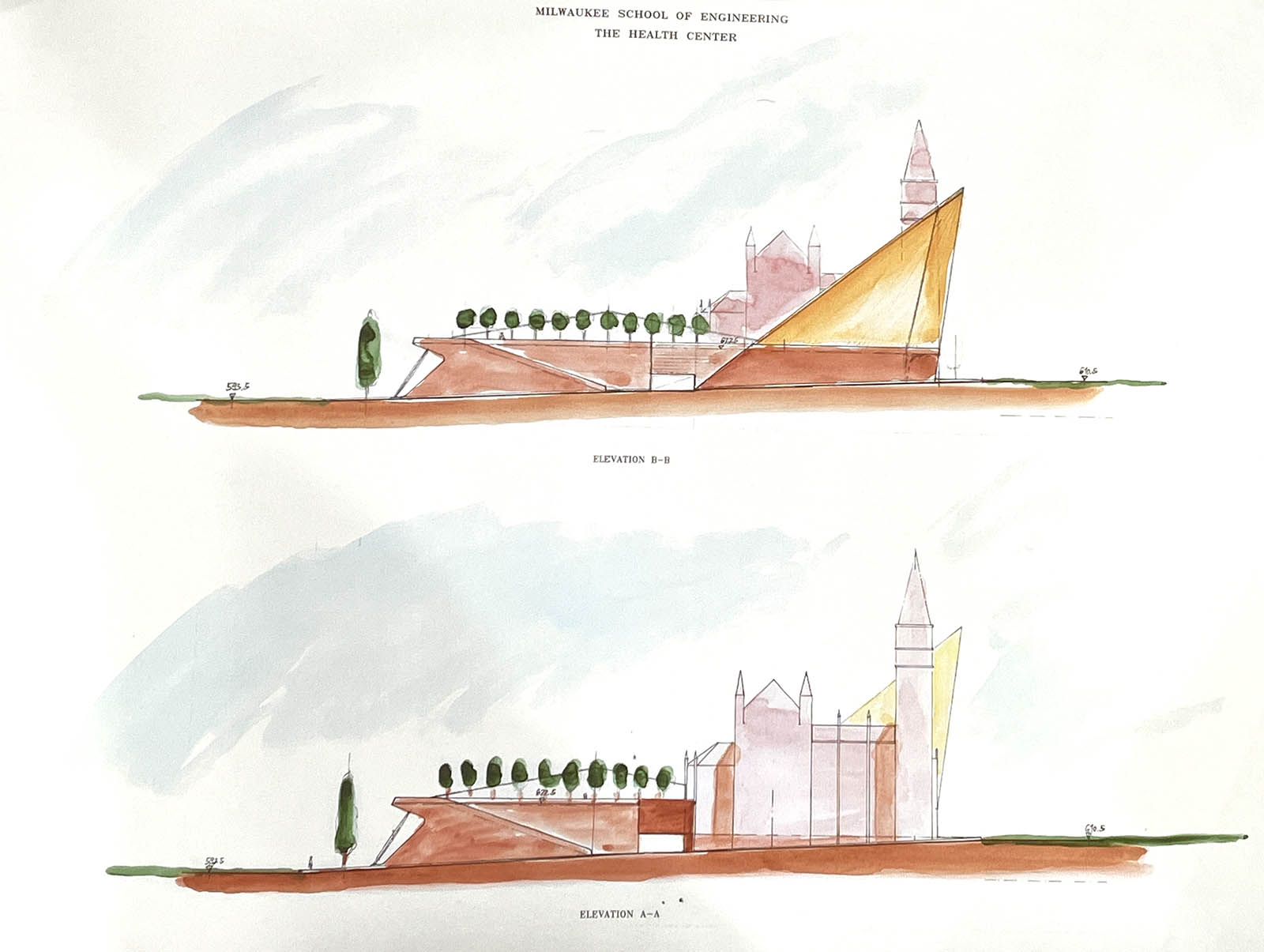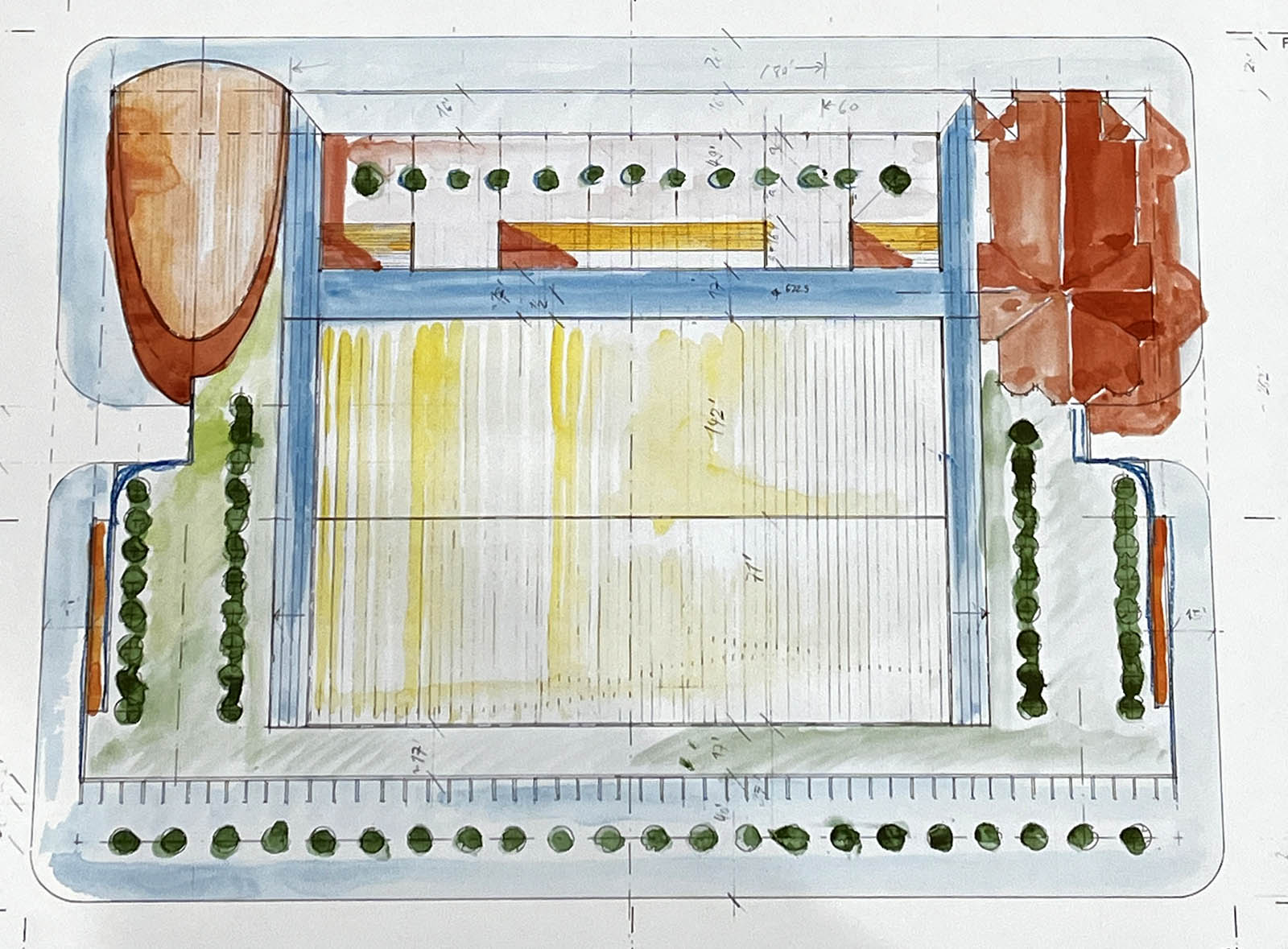 "That, in turn, could boost the city's potential as a tourist destination."
Meanwhile, Calatrava commented from his office in Zurich, telling Gould, "It will be a beautiful trilogy, I hope."
"Calatrava said his decision to make Milwaukee a 'little museum' for his work should be understood 'in pure human relations terms'," she wrote.
"His four-year experience with the museum project has been such a happy one, he said, 'that I belong a little bit to this place, I think. I love the city and I love the people. They care so deeply about their city, and that motivates me unbelievably much'."
Make that four projects...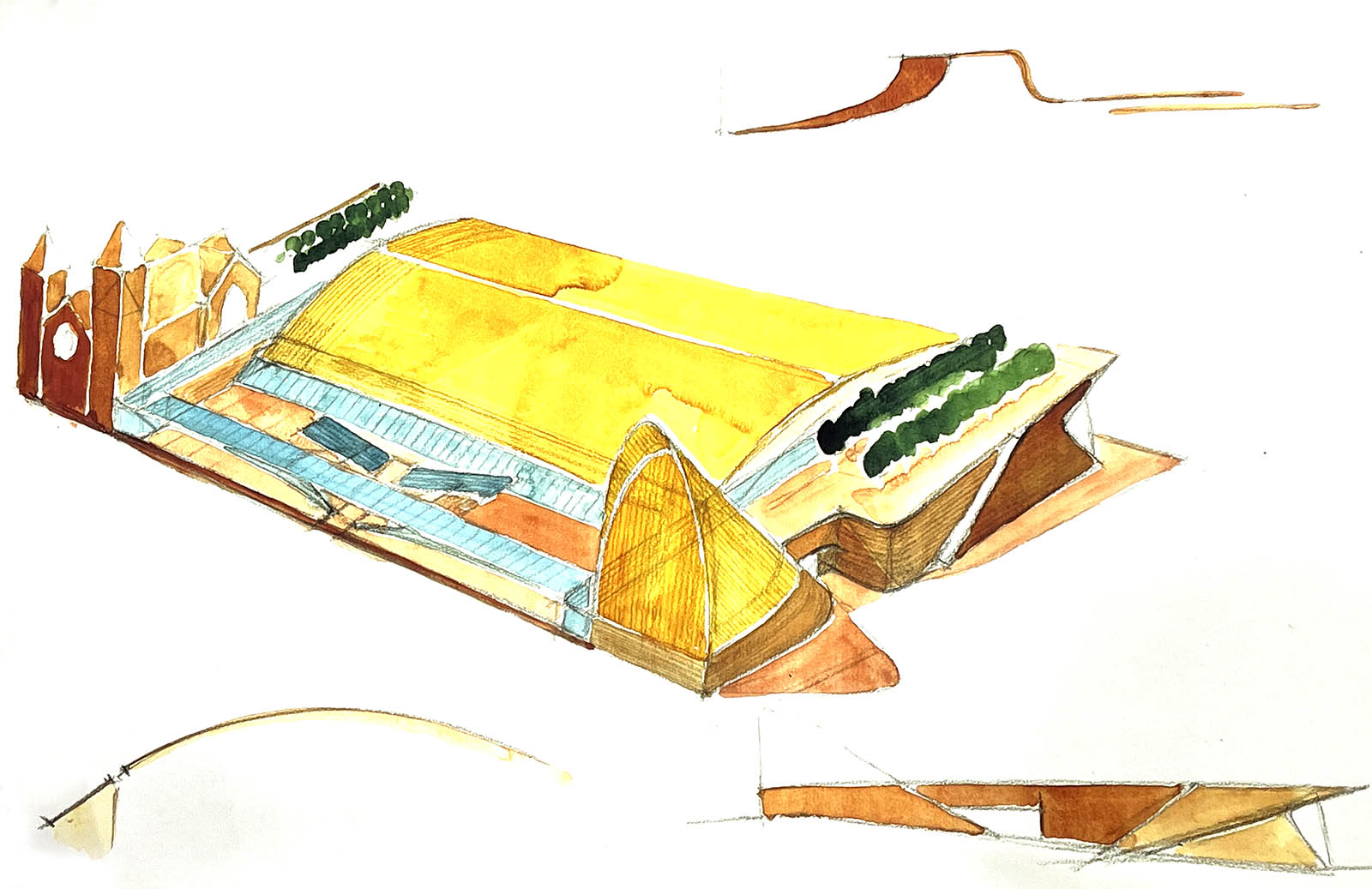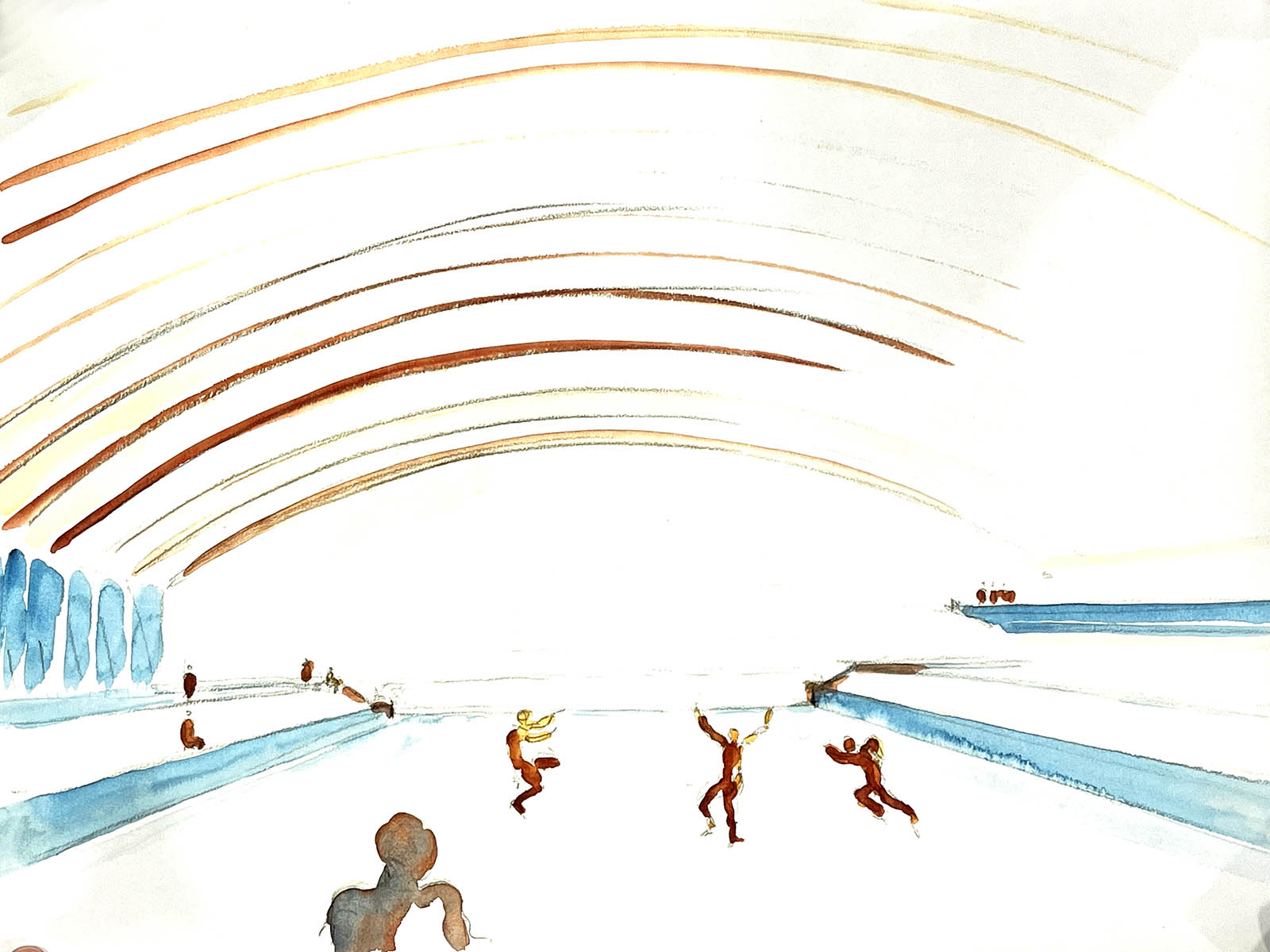 By spring 2000, as the museum was under construction and discussions for the MSOE gym and the pedestrian bridge projects were moving along, Calatrava's name was bandied as a potential architect for a skywalk spanning Wisconsin Avenue to connect the Hilton Milwaukee City Center with the new Midwest Express Center (now the Wisconsin Center) at 5th Street.
Steve Marcus, CEO of the Marcus Corp., which owns the Hilton, told the press, "That's one of the options we're considering ... (it's) a thought at this point."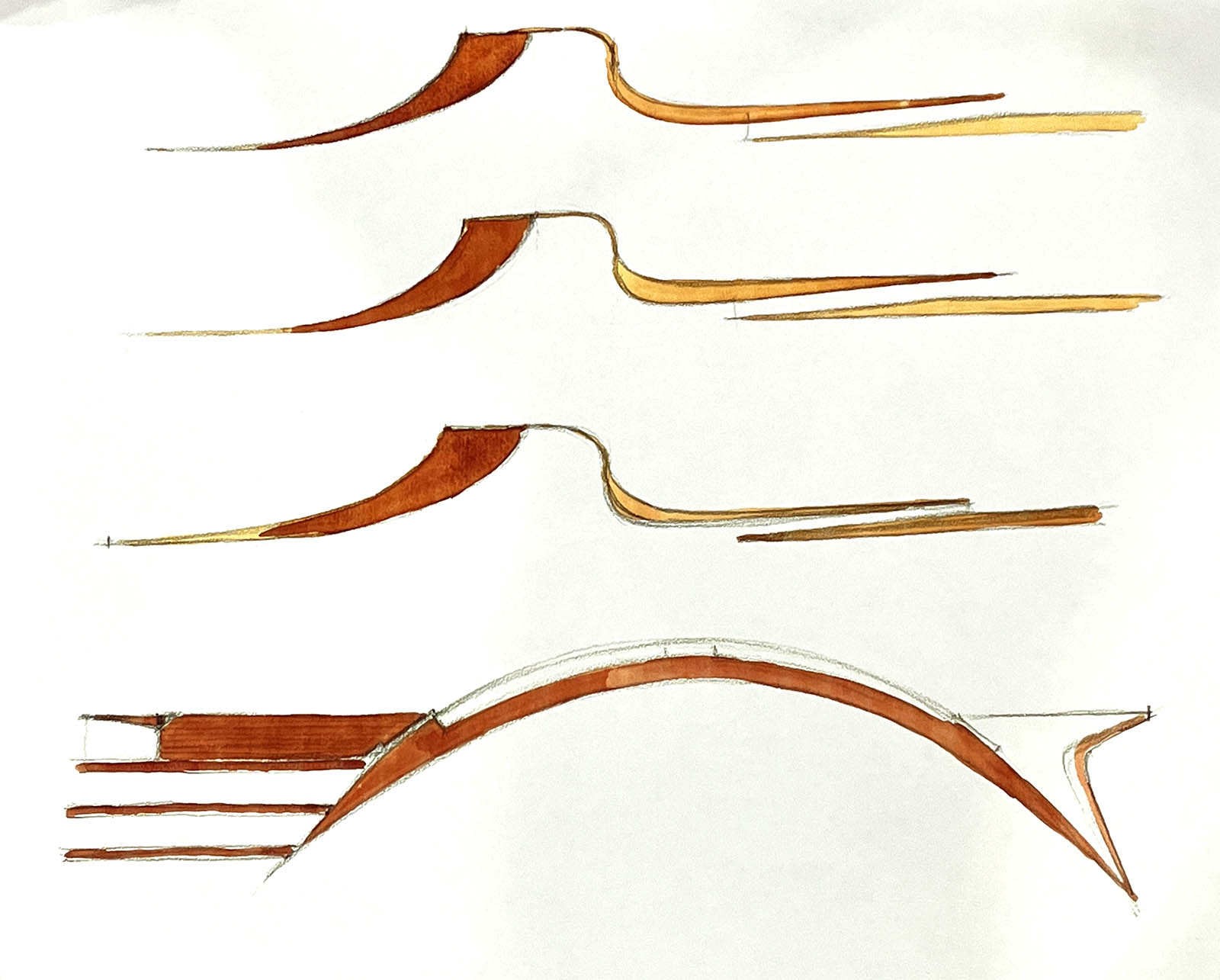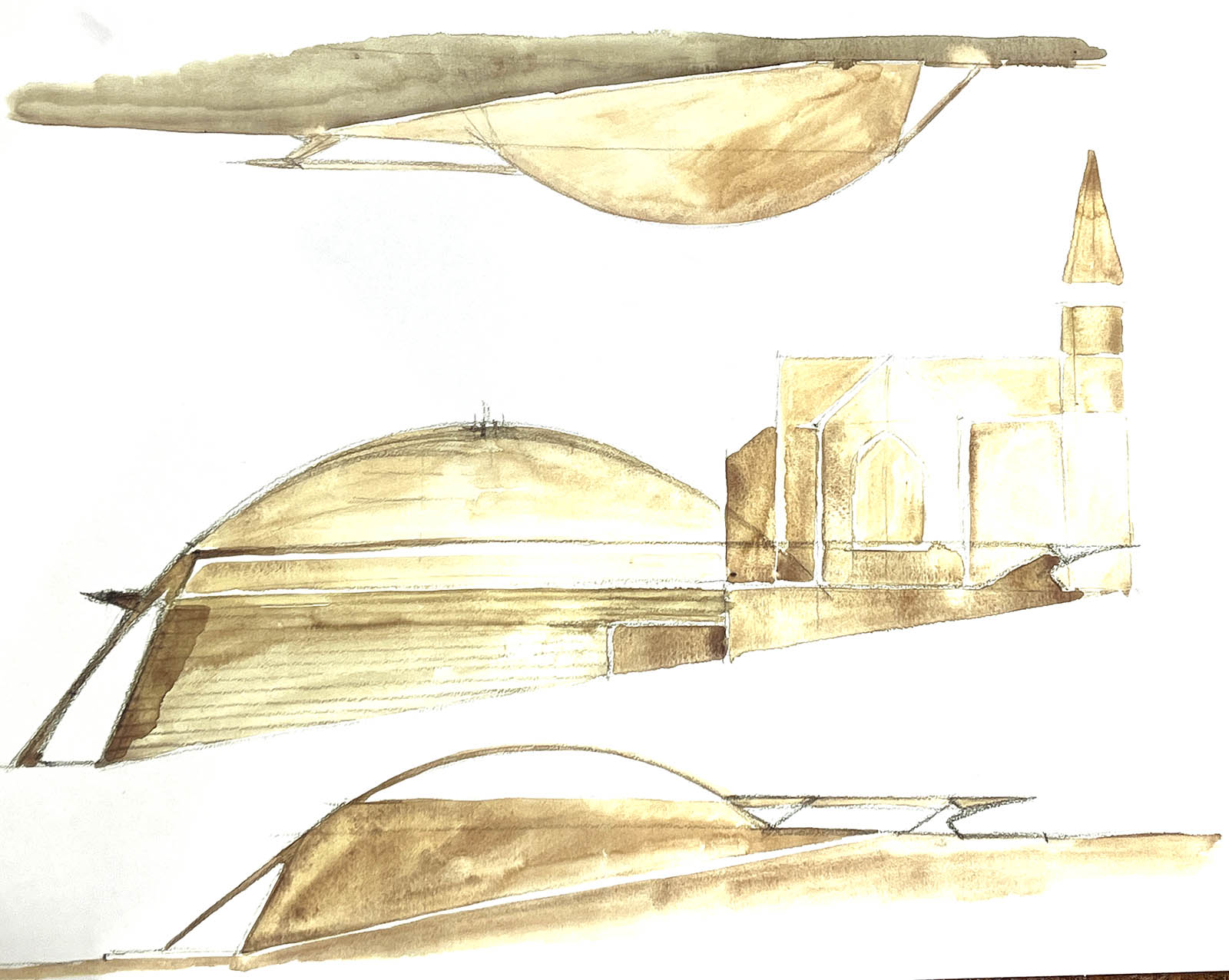 It got far enough along that Calatrava sent a sketch – the architect is an inveterate sketcher, drawer and watercolorist – which local business leaders who had seen it called, "Beautiful (and) breathtaking," according to a Journal Sentinel article by Gould, co-written with reporter Rick Romell.
In fact, Marcus recalls now that there were two sketches, though he cannot say where they are today.
For once, someone who proposed a Calatrava project seemed realistic about the potential price tag.
"Asked whether such a skywalk could be built in a way that was economically feasible for his company, Marcus said no, then laughed and added: 'Well, I don't know. You know, I've always been interested in art in public places'," wrote Gould and Romell.
However, Frank Gimbel, chairman of the Wisconsin District – which agreed to fund $650,000 of the skywalk – warned the district wouldn't pay more.
"Steve did mention to me that he was interested in exploring something special with the skywalk, and he mentioned Calatrava's name ... I told him don't come back and visit us for the money," Gimbel said, according to the article by Gould and Romell. "If you plan to do something real, real elaborate, our door is 'do not disturb' on the outside."
Meanwhile, Bob Greenstreet, then dean of UWM's School of Architecture and Urban Planning suggested that Milwaukee, "could become Calatravaville."
If only he'd known ...
On Aug. 1, 2000, just a couple months later, news emerged that Calatrava was being considered for a new condo tower on the University Club's adjacent parking lot on Prospect Avenue, between Kilbourn and Wells.
According to Paul Votto, who was then president of Burke Properties, when owner John Burke – who donated more than a million dollars for the naming rights to the Art Museum addition's brise soleil – heard that the club was going to sell the lot for development, he jumped on it.
"John went after it very hard, and he ultimately ended up negotiating a contract with the University Club to acquire the property to build a condominium tower on it," Votto recalls. "His plan all along, that nobody knew about in the beginning, was he planned to retain Calatrava to design the building."
Burke inked a deal for the land and then signed a contract with Calatrava.
"It was quite a contract, as I recall," says Votto. "We had never entered into a contract like that with an architect because it was basically, 'Pay me a huge fee and I will design you a building. I'm not doing any architectural drawings. I design it, go hire Kahler Slater to do the working drawings.'
"It seemed basically the same deal like he had with the art museum. 'Pay me three times what you'd normally pay an architect for the whole job, but I'm only going to do the first part.' But John was so much committed to it, he was, 'Yeah, okay. I'm in'."
So Burke flew Calatrava into town with an assistant (believed to be David Mizrahi) for a meeting to discuss the project. While some news reports mentioned Calatrava drawings for the tower, Votto says no such drawings existed. However, Calatrava did have some exciting images to share.
"(Calatrava) came in and we spent probably three hours or so," Votto remembers. "It was just four of us in the room: John Burke, Santiago Calatrava, his assistant David, and myself. It was fascinating. One of the highlights of my career (was) to be in a room with (them) for a few hours.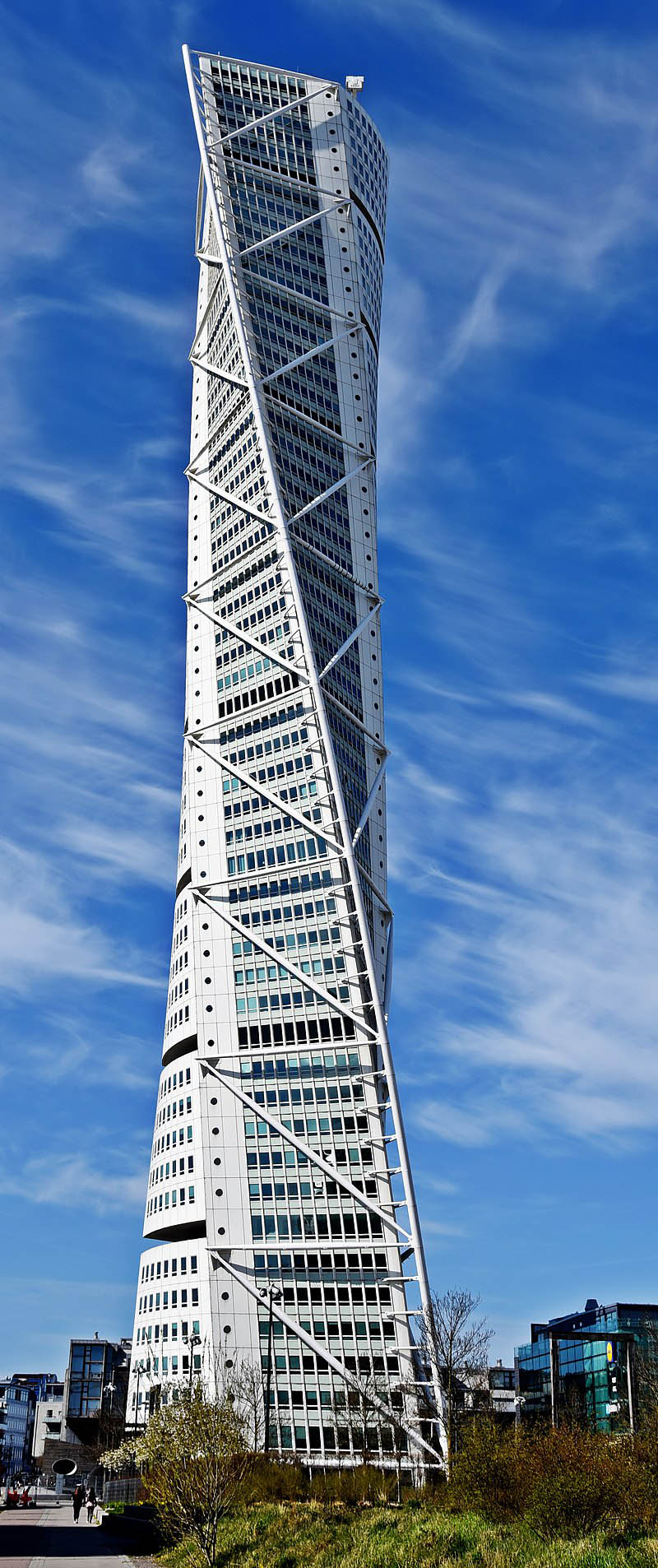 "John shared his vision, what he was trying to do. Calatrava then shared his thoughts. And I remember him playing a video and describing a project that he was working on in Malmo, Sweden that is now called Turning Torso. Incredible building."
Votto wonders if Calatrava might have been considering using the design in Milwaukee if the project didn't come to fruition in Malmo. (NOTE: The building was completed in Sweden in 2005.)
"I realized later that Turning Torso may not have been as far along as maybe we assumed it was," he says.
"I don't know if Calatrava had his deal completely sewed up in Malmo. Maybe he did, maybe he didn't. I've always assumed either Calatrava had in his mind that, 'Hey, if the Malmo deal doesn't go through, maybe I can take something like Turning Torso and make it work in Milwaukee,' or even if he knew, 'Yeah, I've got my deal sewed up in Malmo,' he was giving us a sense of the incredible building that he could design for Milwaukee.
"I left there going, 'Wow, this could be really cool!' And I think John came away saying, 'Yeah, this could be super. And it's a super expensive gift to the city of Milwaukee'."
By now, word was out via a letter to club members, followed by news reports.
"We all know the excitement (Calatrava) has generated with his spectacular design for the new Milwaukee Art Museum addition, and we are certain he will come up with an awe-inspiring concept for the residential tower," wrote University Club President Tony Meyer in the letter.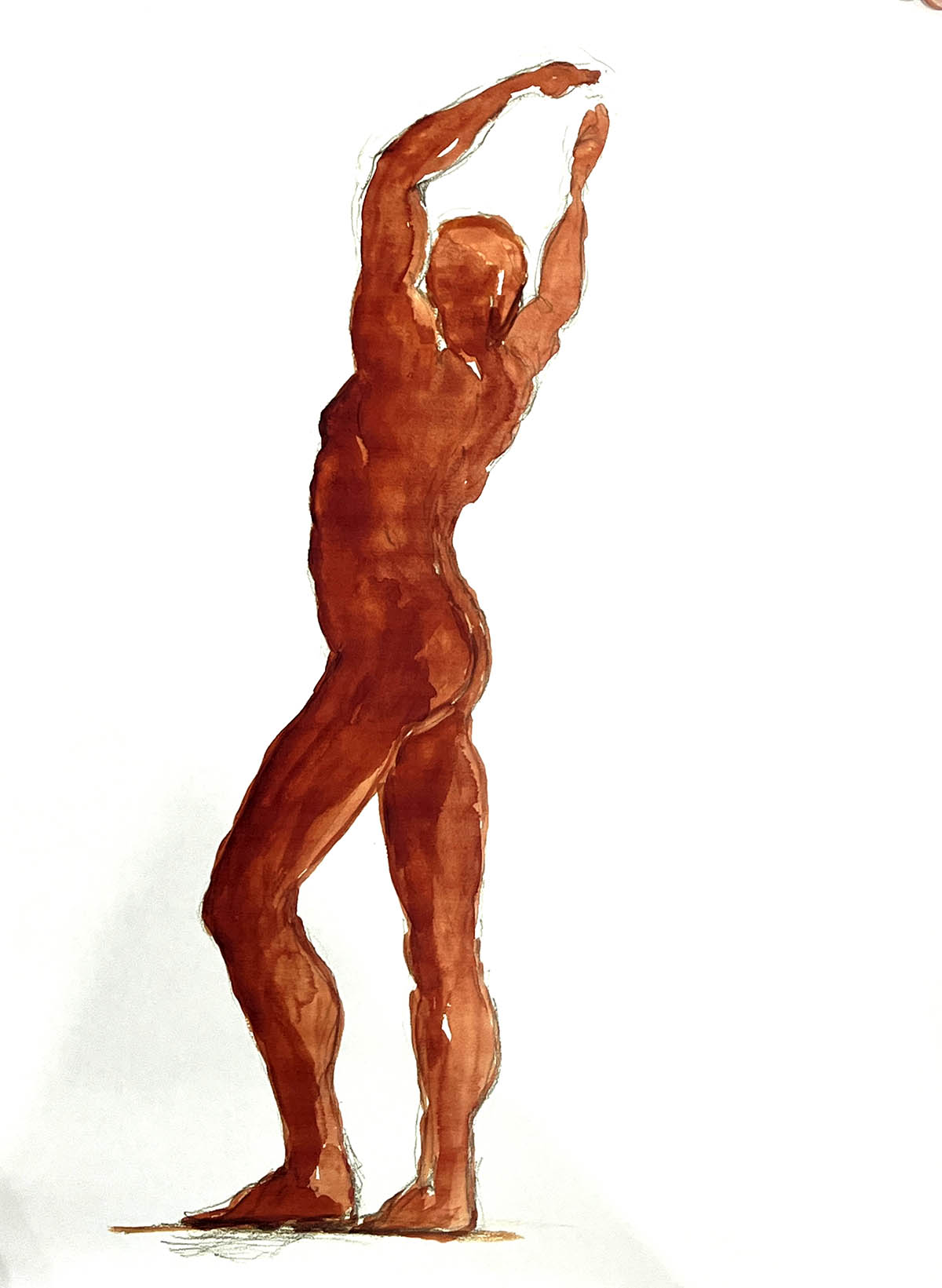 It bears noting that by this time, the cost of the Art Museum addition had risen to $75 million, and by the following month, Gould reported that it ramped up again to $97.6 million.
By then, however, the odds for building any of the four prospective projects had begun to topple, and the skywalk was the first to go.
In late January 2001, Calatrava returned to Milwaukee – his 28th visit to the city, according to art critic Jim Auer – to work on the MAM and MSOE projects, but by March 4, Gould would write that almost all the additional projects had been canceled.
"Of four other potential Calatrava projects here – a gym and health center for the Milwaukee School of Engineering, a skywalk across Wisconsin Avenue, a condo tower next to the University Club and a pedestrian bridge over the Milwaukee River – only the bridge remains afloat," she wrote.
"Fear of unmanageable costs is said to have been a factor in the demise of the others."
"Calatrava has raised people's consciousness and also their caution," she quoted architect Charles Engberg, president of Engberg Anderson Architects, as saying. "Clients may want wonderful buildings, but they now see it could also be very expensive."
In September 2002, nearly a year after the celebrated opening of the beloved Quadracci Pavilion, the daily paper reported the demise of the last of the Calatrava proposals.
"Dreams of a Calatrava-designed pedestrian bridge over the Milwaukee River near North Avenue have collapsed," wrote Gould. Part of the issue in this case was a local landowner seeking a huge payday on property required for the project.
The crumbling of the University Club tower project, however, had nothing to do with costs at the Art Museum, according to Votto.
"The City of Milwaukee decided to pull the rug out from underneath us," he says, noting that the city had listed for sale a small grassy patch and a vacated right-turn lane on the southwest corner of Kilbourn and Prospect, adjacent to the University Club tower site, hoping to land a developer who would put another tower there.
"Out of the blue," says Votto, "John caught wind of this before it actually happened. Our response was effectively, 'We'll buy the land from you,' and we offered, I think ultimately we determined it was the highest price that was offered. John was willing to pay.
"'Tell us what you want. If you're just looking for some cash, we'll buy the land from you. We'll take the building, we'll shift it slightly to the north, center it a little bit, and we'll take the remaining land, the land that was the park area' – John was big into public art – 'we'll turn that into a open-to-the-public sculpture garden, so it'll still be park-like. It'll be open to the public, it'll have beautiful sculptures in it.'
"John said, 'I'll put one incredible icon building here. I'll give you your money, one incredible icon building, and all the rest.' And they turned him down. And they took (another developer's) deal. John was livid about it."
The city was banking, it seems, on property tax revenue generated by two towers on the block rather than a single superblock tower.
While Burke kept a close eye on the rising costs at the Art Museum – a project with which he was closely associated – Votto says it wouldn't have made a difference.
"John was in a position where he didn't really have to build to a price," he says. "He was torn between John Burke the real estate developer and John Burke the, 'I just want to do something really cool and put my ego out there.'
"And he loved the city. He loved Milwaukee and he wanted beautiful things for it. So I think at the end of the day, he would've pushed the envelope on what something costs."
Post-Calatrava
While the skywalk, bridge, condo tower (and the condo tower next door that effectively killed the Calatrava plan) and Kern Center were all built, none of them was designed by Santiago Calatrava, and Milwaukee was not to become Calatraville ... or was it?
After talking to local architects, Gould wrote that Calatrava's style could be found in projects all around the city ... projects that he did not design, but that were influenced by his stark white exterior and alluring shapes.
"Architects say that other modernist projects for which Calatrava helped smooth the way include the Third District police station under way on North 49th Street; a new 6th Street Viaduct, which will have cabled pylons; two proposed condo towers Downtown; and several developments in the Historic Third Ward, including an artsy extension of the Downtown RiverWalk, stylish restaurants such as Sauce and Nanakusa, and the William F. Eisner Museum of Advertising & Design," she wrote.
Then, there was Discovery World.
When McClintock Architects' initial designs for the science center's new lakefront home adjacent to the Art Museum were released, many noticed similarities between the proposed structure and the Quadracci Pavilion next door.
"The all-white, sail-like building would house exhibits designed to promote stewardship of freshwater resources," wrote Gould in December 2002. "While the concept has won widespread acclaim, critics have faulted the design for its similarity to Santiago Calatrava's winged addition to the nearby art museum."
Gould wrote that Calatrava himself was "reportedly distressed" by the design.
Although Discovery World underwriter and mastermind Michael Cudahy assured Gould that the building would not be redesigned, it ultimately was, after the critic later opined, "Like a generation of postmodern buildings whose historicist references were meant to honor our Old World architecture but cheapened it instead, Pier Wisconsin's Calatrava wannabe stands to devalue the real thing, undermining the recent progress Milwaukee has made toward innovative design.
"Instead of building an imitation Calatrava or an echo of an echo, Pier Wisconsin's architects should be encouraged to honor the principles embodied in the museum addition. Buoyancy. Transparency. Respect for the past. Urbanism."
While it remains what one might call Calatrava white (much like the Moderne near the Deer District and The Couture, currently under construction across the street from MAM), Discovery World no longer looks like a "wannabe."
It's intriguing to consider what could have been. But Paul Votto says that there could've been such a thing as too much.
"It's interesting as you try to think about what would've been if, say, Turning Torso or something like it happened here," he says. "Would that have influenced the next building down the street?
"We've seen that in Chicago, of course. At some point developers try to outcompete each other."
When I interviewed Calatrava recently, he said, "I came here with a lot of expectation, and of course with a lot of feelings, knowing the place and knowing the significance of this work I could do."
I didn't get the chance to ask if he ever expected the sheer quantity of work he would be asked to consider doing in Milwaukee, and if he would have, at some point, said, "enough."
"I think there's a limit to it," Votto opines. "I think even Calatrava would've known that there was a limit to it. It was early on in his career, so I'm sure he'd be a lot less flexible today. Maybe he could have done a couple small things or something. But I think there would've been diminishing returns."
(NOTE: While most, it not all, of Calatrava's sketches and watercolors for most of these unrealized projects exist(ed), finding them has not been easy. Due to non-disclosure agreements with clients, Calatrava's office is unwilling to share any of them, should they exist in his archive. Digging through a number of local archives has turned up nothing, except in the case of MSOE, which is why all of the images in this article are related to that project. If any potential clients have those drawings, please contact me.)
Born in Brooklyn, N.Y., where he lived until he was 17, Bobby received his BA-Mass Communications from UWM in 1989 and has lived in Walker's Point, Bay View, Enderis Park, South Milwaukee and on the East Side.
He has published three non-fiction books in Italy – including one about an event in Milwaukee history, which was published in the U.S. in autumn 2010. Four more books, all about Milwaukee, have been published by The History Press.
With his most recent band, The Yell Leaders, Bobby released four LPs and had a songs featured in episodes of TV's "Party of Five" and "Dawson's Creek," and films in Japan, South America and the U.S. The Yell Leaders were named the best unsigned band in their region by VH-1 as part of its Rock Across America 1998 Tour. Most recently, the band contributed tracks to a UK vinyl/CD tribute to the Redskins and collaborated on a track with Italian novelist Enrico Remmert.
He's produced three installments of the "OMCD" series of local music compilations for OnMilwaukee.com and in 2007 produced a CD of Italian music and poetry.
In 2005, he was awarded the City of Asti's (Italy) Journalism Prize for his work focusing on that area. He has also won awards from the Milwaukee Press Club.
He can be heard weekly on 88Nine Radio Milwaukee talking about his "Urban Spelunking" series of stories.