In 1988, The Wisconsin Historical Society's Architectural Inventory called William Howard House – built in 1854 – "one of the oldest known standing frame houses in the city." Nearly 30 years later, it ain't getting any younger.
(Urban Spelunking fans may remember I wrote about an 1859 house in Brewers Hill in February, suggesting it was among the city's oldest. This one is older still. Though THIS one is even older.)
Current owner Aliza Baran says she and her husband Mark heard that the home is the second-oldest surviving wooden structure in the city, after the Benjamin Church House, which was built circa 1843-44 and moved from Kilbourntown to its current location in Estabrook Park in 1938.

(PHOTO: Aliza Baran)
However, 418 S. 4th St., also in Walker's Point, was constructed around 1846, which would push the Howard house down to at least third-oldest. And it is likely a bit lower on a list that should also include the Layton House Hotel on Forest Home Avenue (1849), The Mitchell home (now The Wisconsin Club, 1848), Charles Whitnall House on Locust Street (1851) and a few other private residences that survive.
Regardless of where exactly it sits on the list, it is clearly among the oldest. And great news for folks who would love to live in a classic old Milwaukee house, the Greek Revival home – at 910 S. 3rd St. in Walker's Point – has been renovated and treated kindly and is for sale.
It was recently listed in The New York Times.
What does the Times say?
"Beautifully restored 1850s-era Simplified Greek Revival. Original pocket doors provide a spacious feel, joining the living room with its natural fireplace to the family room and its built-in bookcases. Maple hardwood floors throughout. Updated kitchen with porch, mudroom and full bath complete the first floor. Upstairs you will find three bedrooms and a renovated full bathroom with claw foot tub (pictured above). Entertain on the patio under the gorgeous pergola. Key updates since 2013 include tear-off roof, new gutters,high efficiency furnace and A/C, power-vented water heater, new electric panel, new washer/dryer, dishwasher and refrigerator."
What the Times doesn't say...
William Howard House was built, you'll be unsurprised to hear, by canal and cargo ship worker William Howard, a Fort Ann, New York native, who worked on the Erie Canal.

This basement support post was replaced but kept by the owners.
Howard, born in 1812, moved to Milwaukee in 1836 with his wife Eliza Jane Till, born in Fort Edward, New York in 1818. That's pretty early days for a city that wasn't even officially chartered until 10 years later. Howard, clearly, was a Milwaukee pioneer, though he remained a working man, laboring on cargo ships until his death in 1881.
Interestingly, the 1850, 1860, 1870 and 1880 censuses describe Howard as an engineer, suggesting he may have either been more than a common laborer. The fact that in 1870 he had a domestic servant may further support that idea.
Howard built his home facing Walker Street and it was a beaut.
The Howard home can be seen in its original position facing Walker Street at the top left in this 1872
bird's eye view map of Milwaukee.
"The Howard House is one of the best remaining examples of the Greek Revival Style in the city," notes the reliable "Built in Milwaukee" book, published in 1983. "Of note is the recessed entry framed by pilasters and a classical entablature; full sidelights (pictured below) and a glazed transom surround the door."
According to the 1978 nomination form for historic landmark status for the Walker's Point neighborhood, "The ends of the gable return in a manner characteristic of the Greek Revival. Sided in 1937 (NOTE: with asbestos shingles, by then-owner, Mrs. Mary Grodisek), the house recently has been restored, making it the finest example of the Greek Revival in the district. Other Greek Revival houses, most of a more modest nature, are found at 627 S. 4th St.; 700-02 and 904 S. 6th St.; 653,701,722 and 744 W. Bruce St.; 316 W. Scott St.; and 705 W. Virginia St."
"The symmetrical window placement and squat proportions are characteristic of the style," Megan Daniels wrote of the Howard House in her book, "Milwaukee's Early Architecture," "while the gable returns and pilasters at the entrance exhibit the simplification of the style as it migrated to the Midwest."
According to a undated and unidentified clipping from a neighborhood brochure, provided by the Barans, "Despite the home's small size, as many as nine persons – which included Howard's son-in-law (cigar dealer George Greenleaf) and granddaughter (infant Leslie), a boarder (dredging laborer Elisha Clark), as well as a servant (16-year-old Laura Larson) – were listed as living at the home in the 1870 census."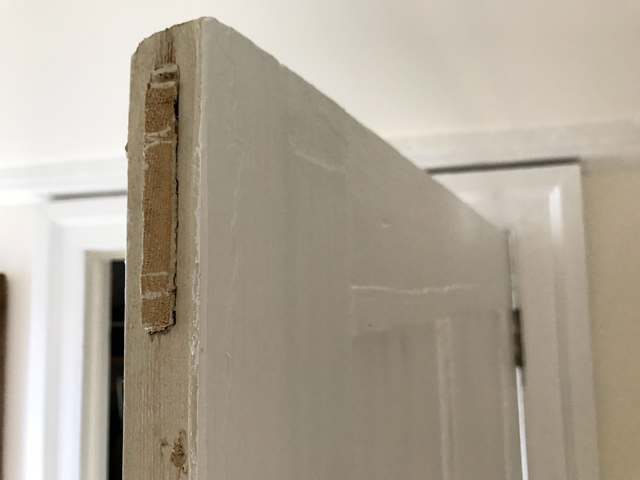 Even the closet doors are sturdily constructed.
Of course, the 56-year-old Howard's family lived there, too – his wife Eliza and daughters Adda (age 26 and married to Greenleaf), Clara (14) and Lizzie (11).
A decade later, only Howard – described by the census taker as an "ingeneur" – and his wife lived there with 21-year-old Lizzie and their infant granddaughter Lauressa Farrel.
Three years after Howard's death, the Lindemann family – German immigrants to Milwaukee in 1863 – became owners of the home.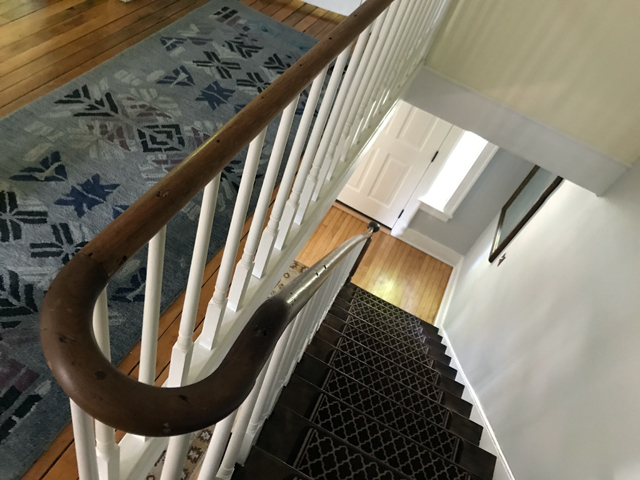 In 1895, the Howard home was moved further back on its lot and turned 90 degrees to face South 3rd Street. Orville Webber's brick Queen Anne style home was then built on the northern end of the lot, on Walker, but also facing 3rd.
Howard's house is of balloon frame construction, a method developed in the 1830s that allowed for homes to be more quickly and inexpensively constructed.
Lighter studs replaced heavier posts and they were nailed together rather than connected by wooden joints in a medieval process called joinery. The home, therefore, is likely among the earlier examples of this revolutionary home building method in Milwaukee.
Interestingly, a series of wooden pins can be found binding joists in the home, including along the foundation sill, which suggests it was built in a hybrid style.
The house has undergone changes over the years, of course, not limited to its relocation and those 1937 asbestos tiles meant to mimic brick. In the 1940s or '50s a bay window was cut into the front of the home, too. The positioning of doorways between the kitchen and bathroom were altered, too.
A 1954 plan to turn an upstairs bedroom into a kitchen to create a duplex was nixed by city inspectors.
Luckily, a renovation, funded in part by the Women's Club, allowed the Walker's Point Development Corp. to do a renovation that the WPDC then used as a model for restoration work on neighborhood homes. Further work was done at the start of the 1990s.
Then Susannah Pierce bought the place around 1993 and opened it up for Historic Milwaukee's Spaces & Traces Tour in 2006. It was featured in the daily newspaper at that time.
For me, the most striking features inside are the dining room floor, striped with alternating walnut and maple...
... the pocket doors to the living room...
... and the strip of early wallpaper that was uncovered during work and left exposed for all to enjoy...
Outside, there's a cozy back porch on the south facade, and, to the north, this great pergola...
The Barans moved in about five years ago and have worked to bring the house back to its original glory, too.
"Maintenance was deferred," says Aliza Baran. "Another woman came in and bought it, lived here for nine months, and when we came in it looked like a foreclosure. We repainted, we sanded, stripped everything, all the wood in this house.
"There was so many years of paint on all these windows, you couldn't even see the detail anymore. I have a very intimate relationship with all of the windows in this house."
But Baran says, they fell in love with the place as soon as they saw it. But they didn't immediately realize just how long a history it had. That came later.
"It was for sale by owner," says Baran. "And it was listed as being built in 1900, which is often what the city does when homes were built before, 1880-something, right? I remember coming up here with our home inspector after we had an accepted offer. I was like, 'Do you really think this house was built in 1900?'
"I just had a gut feeling something was really different about this home, the layout of the home, the style of the home and I started doing research at the Historical Society in the library and we found some articles online about this house."
Now, despite the fact that they're leaving, the Barans really appreciate the home and its story and their departure is bittersweet, says Aliza Baran.
"I love this house," she says, and I can see it as she shows me around. "I cried when the sign went out front. We're going because I had a photo studio over on Pittsburgh and 2nd, and when that building sold, I had to move. So we're moving to a place where there's a three-car garage, with a lofted space and that's going to become my photo studio."
The couple lived in a small puddler's cottage in Bay View before they purchased the William Howard House. The new home is on the East Side, where Baran's husband Mark was raised, so it's also something of a homecoming for him.
Their departure closes another chapter in the long history of the William Howard House, but it also opens yet another.
Born in Brooklyn, N.Y., where he lived until he was 17, Bobby received his BA-Mass Communications from UWM in 1989 and has lived in Walker's Point, Bay View, Enderis Park, South Milwaukee and on the East Side.
He has published three non-fiction books in Italy – including one about an event in Milwaukee history, which was published in the U.S. in autumn 2010. Four more books, all about Milwaukee, have been published by The History Press.
With his most recent band, The Yell Leaders, Bobby released four LPs and had a songs featured in episodes of TV's "Party of Five" and "Dawson's Creek," and films in Japan, South America and the U.S. The Yell Leaders were named the best unsigned band in their region by VH-1 as part of its Rock Across America 1998 Tour. Most recently, the band contributed tracks to a UK vinyl/CD tribute to the Redskins and collaborated on a track with Italian novelist Enrico Remmert.
He's produced three installments of the "OMCD" series of local music compilations for OnMilwaukee.com and in 2007 produced a CD of Italian music and poetry.
In 2005, he was awarded the City of Asti's (Italy) Journalism Prize for his work focusing on that area. He has also won awards from the Milwaukee Press Club.
He can be heard weekly on 88Nine Radio Milwaukee talking about his "Urban Spelunking" series of stories.